Abstract
Seven lignans including four lignan glycosides and three lignans were isolated from 70% methanolic extract of defatted sesame seeds. The chemical structures of the isolated compounds were identified by UV, 1H and 13C NMR, and HR-MS spectra. To overcome the difficulty and high cost for the preparation of lignans, the single reference standard method for the simultaneous determination of multi-components (SSDMC) with high-performance liquid chromatography (HPLC) was developed for simultaneous quantification of four lignin glycosides in sesame seeds. All four lignin glycosides had good linear concentration-measurement relationships (r2 ≥ 0.9992). The relative deviation of the method was less than 4.9% for intra- and inter-day assays and the average recovery varied from 93.3 to 101.2%. The method was also successfully applied to determine four lignan glycosides in eighteen white sesame seeds and ten black sesame seeds. The results demonstrated that the single reference standard method could be used for quality control of sesame seeds and related products since the reference standards are not commercially available.
This is a preview of subscription content, log in to check access.
Access options
Buy single article
Instant access to the full article PDF.
US$ 39.95
Price includes VAT for USA
Subscribe to journal
Immediate online access to all issues from 2019. Subscription will auto renew annually.
US$ 99
This is the net price. Taxes to be calculated in checkout.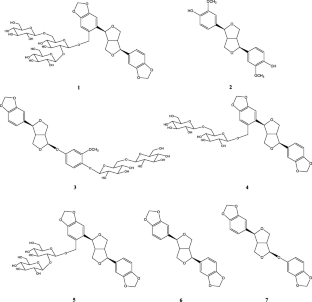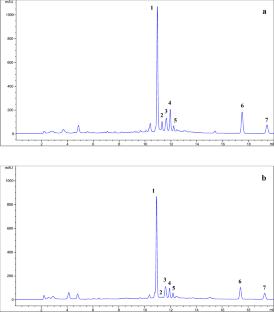 References
Cardoso CA, Oliveira GMM, Gouveia LAV, Moreira ASB, Rosa G (2018) The effect of dietary intake of sesame (Sesamumindicum L.) derivatives related to the lipid profile and blood pressure: a systematic review. Crit Rev Food Sci Nutr 58:116–125

Chen JC, Chen YZ, Tian JJ, Ge HF, Liang XF, Xiao JB, Lin HT (2018) Simultaneous determination of four sesame lignans and conversion in Monascus aged vinegar using HPLC method. Food Chem 256:133–139

Dar AA, Arumugam N (2013) Lignans of sesame: purification methods, biological activities and biosynthesis-a review. Bioorg Chem 50:1–10

Dar AA, Verma NK, Arumugam N (2015) An updated method for isolation, purification and characterization of clinically important antioxidant lignans-sesamin and sesamolin, from sesame oil. Ind Crop Prod 64:201–208

Gao XY, Jiang Y, Lu JQ, Tu PF (2009) One single standard substance for the determination of multiple anthraquinone derivatives in rhubarb using high-performance liquid chromatography-diode array detection. J Chromatogr A 1216:2118–2123

Hou JJ, Wu WY, Da J, Yao S, Long HL, Yang Z, Cai LY, Yang M, Liu X, Jiang BH, Guo DA (2011) Ruggedness and robustness of conversion factors in method of simultaneous determination of multi-components with single reference standard. J Chromatogr A 1218:5618–5627

Jan KC, Hwang LS, Ho CT (2009a) Biotransformation of sesaminol triglucoside to mammalian lignans by intestinal microbiota. J Agric Food Chem 57:6101–6106

Jan KC, Hwang LS, Ho CT (2009b) Tissue distribution and elimination of sesaminol triglucoside and its metabolites in rat. Mol Nutr Food Res 53:815–825

Jan KC, Ku KL, Chu YH, Hwang LS, Ho CT (2010) Tissue distribution and elimination of estrogenic and anti-inflammatory catechol metabolites from sesaminol triglucoside in rats. J Agric Food Chem 58:7693–7700

Katsuzaki H, Kawakishi S, Osawa T (1994) Sesaminol glucosides in sesame seeds. Phytochemistry 35:773–776

Li P, Qi LW, Liu EH, Zhou JL, Wen XD (2008) Analysis of Chinese herbal medicines with holistic approaches and integrated evaluation models. Trends Anal Chem 27:66–77

Liu W, Zhang JS, Han W, Liu YF, Feng J, Tang CH, Feng N, Tang QJ (2017) One single standard substance for the simultaneous determination of 17 triterpenes in Ganoderma lingzhi and its related species using high-performance liquid chromatography. J Chromatogr B 1068:49–55

Lu WY, Niu YG, Yang HS, Sheng Y, Shi HM, Yu LL (2014) Simultaneous HPLC quantification of five major triterpene alcohol and sterol ferulates in rice bran oil using a single reference standard. Food Chem 148:329–334

Ma J, Qi LW, Li HJ, Li P (2012) A segmental monitoring strategy based on variable wavelength detection for quality control of three Polygonaceae herbs. J Pharm Biomed Anal 62:155–161

Mikropoulou EV, Petrakis EA, Argyropoulou A, Mitakou S, Halabalaki M, Skaltsounis LA (2019) Quantification of bioactive lignans in sesame seeds using HPTLC densitometry: comparative evaluation by HPLC-PDA. Food Chem 288:1–7

Moazzami AA, Andersson RE, Kamal-Eldin A (2006a) HPLC analysis of sesaminol glucosides in sesame seeds. J Agric Food Chem 54:633–638

Moazzami AA, Andersson RE, Kamal-Eldin A (2006b) Characterization and analysis of sesamolinol diglucoside in sesame seeds. Biosci Biotechnol Biochem 70:1478–1481

Moazzami AA, Haese SL, Kamal-Eldin A (2007) Lignan contents in sesame seeds and products. Eur J Lipid Sci Technol 109:1022–1027

Nair A, Kuwahara A, Nagase A, Yamaguchi H, Yamazaki T, Hosoya M, Omura A, Kiyomoto K, Yamaguchi M, Shimoyama T, Takahashi S, Nakayama T (2013) Purification, gene cloning, and biochemical characterization of a β-glucosidase capable of hydrolyzing sesaminol triglucoside from Paenibacillus sp. KB0549. PloS One 8:e60538

Namiki M (1995) The chemistry and physiological functions of sesame. Food Rev Int 11:281–329

Namiki M (2007) Nutraceutical functions of sesame: a review. Crit Rev Food Sci Nutr 47:651–673

Ou QP, Jiang W, Pan YP, Zheng Y, Qian XP, Jin HZ (2016) Lignans from the aerial parts of Lespedeza cuneata. Chem Nat Compd 52:888–890

Peng Z, Xu YY, Meng QR, Raza H, Zhao XQ, Liu B, Cao D (2016) Preparation of sesaminol from sesaminol triglucoside by β-glucosidase and cellulase hydrolysis. J Am Oil Chem Soc 93:765–772

Reshma MV, Balachandran C, Arumughan C, Sunderasan A, Sukumaran D, Thomas S, Saritha SS (2010) Extraction, separation and characterisation of sesame oil lignan for nutraceutical applications. Food Chem 120:1041–1046

Rostami M, Farzaneh V, Boujmehrani A, Mohammadi M, Bakhshabadi H (2014) Optimizing the extraction process of sesame seed's oil using response surface method on the industrial scale. Ind Crop Prod 58:160–165

Ryu SN, Ho CT, Osawa T (1998a) High performance liquid chromatographic determination of antioxidant lignan glycosides in some varieties of sesame. J Food Lip 5:17–28

Ryu SN, Kim KS, Bang JK, Lee BH (1998b) Quatitative determination of sesaminol glucosides in sesame seed. Korean J Crop Sci 43:209–213

Wang ZM, Gao HM, Fu XT, Wang WH (2006) Multi-components quantitation by one marker new method for quality evaluation of Chinese herbal medicine. China J Chin Mater Med 31:1925–1928

Wikul A, Damsud T, Kataoka K, Phuwapraisirisan P (2012) (+)-Pinoresinol is a putative hypoglycemic agent in defatted sesame (Sesamum indicum) seeds though inhibiting α-glucosidase. Bioorg Med Chem Lett 22:5215–5217

Wu LX, Yu L, Ding XX, Li PW, Dai XH, Chen XM, Zhou HY, Bai YZ, Ding J (2017) Magnetic solid-phase extraction based on graphene oxide for the determination of lignans in sesame oil. Food Chem 217:320–325

Xie J, Li J, Liang J, Luo P, Qing LS, Ding LS (2016) Determination of contents of catechins in oolong teas by quantitative analysis of multi-components via a single marker (QAMS) method. Food Anal Methods 10:363–368
Ethics declarations
Conflict of Interest
The authors declare that they have no conflict of interest.
Ethical Approval
This article does not contain any studies with human or animal subjects.
Informed Consent
A statement regarding "informed consent" is not applicable.
Additional information
Publisher's Note
Springer Nature remains neutral with regard to jurisdictional claims in published maps and institutional affiliations.
About this article
Cite this article
Long, H., Zhou, C., Shi, H. et al. Simultaneous HPLC Quantification of Four Lignan Glycosides in Sesame Seeds with the Single Reference Standard Method. Food Anal. Methods (2020). https://doi.org/10.1007/s12161-020-01785-5
Received:

Accepted:

Published:
Keywords
HPLC

Sesame seed

Lignan glycoside

Relative response factors