Abstract
A sensitive and rapid method for the simultaneous analysis of artificial sweeteners, aspartame, acesulfame, cyclamate, saccharine, and phenylalanine in water samples using solid-phase and large-volume sample stacking-capillary electrophoresis (SPE-LVSS-CE) has been developed. Under optimal conditions, the proposed method had a linear range of 0.08 to 2.0 mg L−1, with limits of detection ranging from 0.03 to 0.18 mg L−1 with inter- and intraday repeatabilities < 10% (as a relative standard deviation) in all cases. The enrichment factor obtained was in a range from 20 to 89 times for each artificial sweetener compared with a conventional capillary zone electrophoresis (CZE). The method is adequate to analyze artificial sweeteners in water samples with different ionic strengths. The proposed method was employed in the analysis of 20 samples including drinking water such as mineral water, distilled water, spring water, and tap water. Nine of the tested samples were positive for the presence of aspartame, saccharine, and acesulfame with concentrations between 0.19 and 0.75 mg L−1, 0.08 mg L−1, and 0.08 mg L−1, respectively. The SPE-LVSS-CE is a robust, easy, fast, and efficient strategy for online preconcentration of artificial sweeteners in complex matrices.

Access options
Buy single article
Instant access to the full article PDF.
USD 39.95
Price includes VAT (USA)
Tax calculation will be finalised during checkout.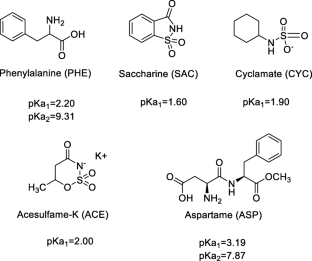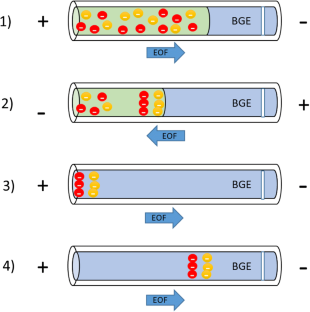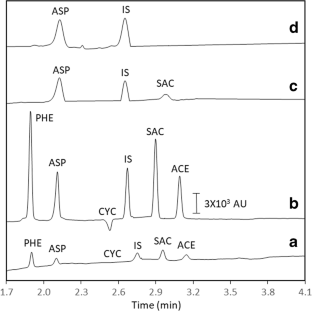 Acknowledgments
The authors wish to thank Programa para el Desarrollo Profesional Docente, para el Tipo Superior (PRODEP) for the approved project in the incorporation of new PTC (Profesores de Tiempo Completo)
Funding
This study was financially supported by Consejo Nacional de Ciencia y Tecnología (CONACyT) (Project INFR-2014-227999 and Retention Grant no. 251112).
Ethics declarations
Conflicts of Interest
Lorena Camargo Medrano declares that she has no conflict of interest. Juan Francisco Flores-Aguilar declares that he has no conflict of interest. Gabriela Islas declares that she has no conflict of interest. José Antonio Rodríguez declares that he has no conflict of interest. Israel Samuel Ibarra declares that he has no conflict of interest.
Research Involving Human Participants and/or Animals
Ethical Approval
This article does not contain any studies with human participants or animals performed by any of the authors.
Informed Consent
Not applicable.
About this article
Cite this article
Medrano, L.C., Flores-Aguilar, J.F., Islas, G. et al. Solid-Phase Extraction and Large-Volume Sample Stacking-Capillary Electrophoresis for Determination of Artificial Sweeteners in Water Samples. Food Anal. Methods 12, 526–533 (2019). https://doi.org/10.1007/s12161-018-1383-y
Received:

Accepted:

Published:

Issue Date:
Keywords
Artificial sweeteners

Capillary electrophoresis

Large-volume sample staking

On-line pre-concentration