Abstract
Purpose
To determine the prognostic and predictive value of early metabolic response assessed by a change in standardized uptake value (SUV) on interim 18F-FDG PET in patients with esophageal cancer undergoing neoadjuvant chemoradiotherapy.
Methods
PubMed and Embase were searched up until 10 September, 2020, for studies evaluating a change in SUV on interim 18F-FDG PET for predicting a pathologic response, progression-free survival (PFS), or overall survival (OS) in patients with esophageal cancer. The sensitivity and specificity for predicting a pathologic response were pooled using bivariate and hierarchical summary receiver operating characteristic (HSROC) models. Meta-analytic pooled hazard ratios (HRs) and their 95% confidence intervals (CIs) were derived using a random-effects model.
Results
A total of 11 studies (695 patients) were included in the meta-analysis. For nine studies assessing predictive accuracy, the pooled sensitivity and specificity of an early metabolic response for predicting a pathologic response were 0.80 (95% CI 0.61–0.91) and 0.54 (95% CI 0.45–0.63), respectively. The area under the HSROC curve was 0.64 (95% CI 0.60–0.68). Across the nine studies assessing prognostic value, an early metabolic response determined by interim PET showed pooled HRs for predicting PFS and OS of 0.44 (95% CI, 0.30–0.63) and 0.42 (95% CI, 0.31–0.56), respectively.
Conclusion
Change in SUV on interim 18F-FDG PET had significant prognostic value and moderate predictive value for a pathologic response in esophageal cancer treated with neoadjuvant chemoradiotherapy. Interim 18F-FDG PET may help prognostic stratification and guide treatment planning in oncologic practice.
Access options
Buy single article
Instant access to the full article PDF.
US$ 39.95
Tax calculation will be finalised during checkout.
Subscribe to journal
Immediate online access to all issues from 2019. Subscription will auto renew annually.
US$ 79
Tax calculation will be finalised during checkout.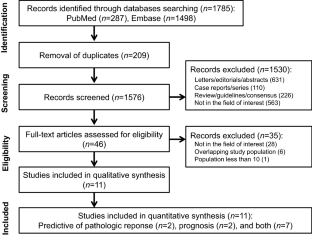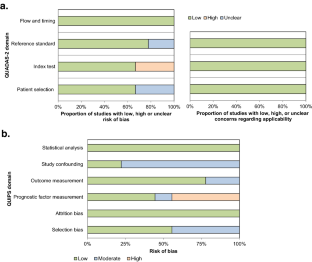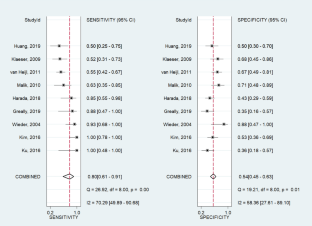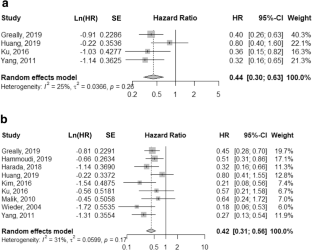 References
1.

Lagergren J, Smyth E, Cunningham D, Lagergren P. Oesophageal cancer. Lancet. 2017;390:2383–96.

2.

van Hagen P, Hulshof MC, van Lanschot JJ, Steyerberg EW, van Berge Henegouwen MI, Wijnhoven BP, et al. Preoperative chemoradiotherapy for esophageal or junctional cancer. N Engl J Med. 2012;366:2074–84.

3.

Ajani JA, D'Amico TA, Bentrem DJ, Chao J, Corvera C, Das P, et al. Esophageal and esophagogastric junction cancers, version 2.2019, NCCN clinical practice guidelines in oncology. J Natl Compr Cancer Netw. 2019;17:855–83.

4.

Berger AC, Farma J, Scott WJ, Freedman G, Weiner L, Cheng JD, et al. Complete response to neoadjuvant chemoradiotherapy in esophageal carcinoma is associated with significantly improved survival. J Clin Oncol. 2005;23:4330–7.

5.

Bedenne L, Michel P, Bouche O, Milan C, Mariette C, Conroy T, et al. Chemoradiation followed by surgery compared with chemoradiation alone in squamous cancer of the esophagus: FFCD 9102. J Clin Oncol. 2007;25:1160–8.

6.

Monjazeb AM, Riedlinger G, Aklilu M, Geisinger KR, Mishra G, Isom S, et al. Outcomes of patients with esophageal cancer staged with [(18)F]fluorodeoxyglucose positron emission tomography (FDG-PET): can postchemoradiotherapy FDG-PET predict the utility of resection? J Clin Oncol. 2010;28:4714–21.

7.

Jeong Y, Kim JH, Kim SB, Yoon DH, Park SI, Kim YH, et al. Role of surgical resection in complete responders on FDG-PET after chemoradiotherapy for locally advanced esophageal squamous cell carcinoma. J Surg Oncol. 2014;109:472–7.

8.

Greally M, Chou JF, Molena D, Rusch VW, Bains MS, Park BJ, et al. Positron-emission tomography scan-directed chemoradiation for esophageal squamous cell carcinoma: no benefit for a change in chemotherapy in positron-emission tomography nonresponders. J Thorac Oncol. 2019;14:540–6.

9.

Hammoudi N, Hennequin C, Vercellino L, Costantini A, Valverde A, Cattan P, et al. Early metabolic response to chemoradiotherapy by interim FDG PET/CT is associated with better overall survival and histological response in esophageal cancers. Dig Liver Dis. 2019;51:887–93.

10.

Harada K, Wang X, Shimodaira Y, Sagebiel T, Bhutani MS, Lee JH, et al. Early metabolic change after induction chemotherapy predicts histologic response and prognosis in patients with esophageal cancer: secondary analysis of a randomized trial. Target Oncol. 2018;13:99–106.

11.

Huang TC, Lin CC, Wu YC, Chia-Hsien Cheng J, Lee JM, Wang HP, et al. Phase II study of metabolic response to one-cycle chemotherapy in patients with locally advanced esophageal squamous cell carcinoma. J Formos Med Assoc. 2019;118:1024–30.

12.

Kim SJ, Koo PJ, Chang S. Predictive value of repeated F-18 FDG PET/CT parameters changes during preoperative chemoradiotherapy to predict pathologic response and overall survival in locally advanced esophageal adenocarcinoma patients. Cancer Chemother Pharmacol. 2016;77:723–31.

13.

Klaeser B, Nitzsche E, Schuller JC, Koberle D, Widmer L, Balmer-Majno S, et al. Limited predictive value of FDG-PET for response assessment in the preoperative treatment of esophageal cancer: results of a prospective multi-center trial (SAKK 75/02). Onkologie. 2009;32:724–30.

14.

Ku GY, Bains MS, Park DJ, Janjigian YY, Rusch VW, Rizk NP, et al. Phase II study of bevacizumab and preoperative chemoradiation for esophageal adenocarcinoma. J Gastrointest Oncol. 2016;7:828–37.

15.

Malik V, Lucey JA, Duffy GJ, Wilson L, McNamara L, Keogan M, et al. Early repeated 18F-FDG PET scans during neoadjuvant chemoradiation fail to predict histopathologic response or survival benefit in adenocarcinoma of the esophagus. J Nucl Med. 2010;51:1863–9.

16.

van Heijl M, Omloo JM, van Berge Henegouwen MI, Hoekstra OS, Boellaard R, Bossuyt PM, et al. Fluorodeoxyglucose positron emission tomography for evaluating early response during neoadjuvant chemoradiotherapy in patients with potentially curable esophageal cancer. Ann Surg. 2011;253:56–63.

17.

Wieder HA, Brucher BL, Zimmermann F, Becker K, Lordick F, Beer A, et al. Time course of tumor metabolic activity during chemoradiotherapy of esophageal squamous cell carcinoma and response to treatment. J Clin Oncol. 2004;22:900–8.

18.

Yang Y, Yang Z, Han A, Feng R, Ma Y, Kong L, et al. Prediction of the outcome of definitive chemoradiation by decrease in F-18 FDG uptake in nonsurgical esophageal squamous cell cancer. Clin Nucl Med. 2011;36:860–6.

19.

Moher D, Liberati A, Tetzlaff J, Altman DG, Group P. Preferred reporting items for systematic reviews and meta-analyses: the PRISMA statement. PLoS Med. 2009;6:e1000097.

20.

Whiting PF, Rutjes AW, Westwood ME, Mallett S, Deeks JJ, Reitsma JB, et al. QUADAS-2: a revised tool for the quality assessment of diagnostic accuracy studies. Ann Intern Med. 2011;155:529–36.

21.

Hayden JA, van der Windt DA, Cartwright JL, Cote P, Bombardier C. Assessing bias in studies of prognostic factors. Ann Intern Med. 2013;158:280–6.

22.

Lee J, Kim KW, Choi SH, Huh J, Park SH. systematic review and meta-analysis of studies evaluating diagnostic test accuracy: a practical review for clinical researchers-part II Statistical methods of meta-analysis. Korean J Radiol. 2015;16:1188–96.

23.

Deeks JJ, Macaskill P, Irwig L. The performance of tests of publication bias and other sample size effects in systematic reviews of diagnostic test accuracy was assessed. J Clin Epidemiol. 2005;58:882–93.

24.

Higgins JP, Thompson SG, Deeks JJ, Altman DG. Measuring inconsistency in meta-analyses. BMJ. 2003;327:557–60.

25.

Guyot P, Ades AE, Ouwens MJ, Welton NJ. Enhanced secondary analysis of survival data: reconstructing the data from published Kaplan-Meier survival curves. BMC Med Res Methodol. 2012;12:9.

26.

Egger M, Smith GD, Schneider M, Minder C. Bias in meta-analysis detected by a simple, graphical test. BMJ. 1997;315:629–34.

27.

Mandard AM, Dalibard F, Mandard JC, Marnay J, Henry-Amar M, Petiot JF, et al. Pathologic assessment of tumor regression after preoperative chemoradiotherapy of esophageal carcinoma. Clinicopathol Correl Cancer. 1994;73:2680–6.

28.

Kroese TE, Goense L, van Hillegersberg R, de Keizer B, Mook S, Ruurda JP, et al. Detection of distant interval metastases after neoadjuvant therapy for esophageal cancer with 18F-FDG PET(/CT): a systematic review and meta-analysis. Dis Esophagus. 2018;31:1–9.

29.

Chen YM, Pan XF, Tong LJ, Shi YP, Chen T. Can 18F-fluorodeoxyglucose positron emission tomography predict responses to neoadjuvant therapy in oesophageal cancer patients? A meta-analysis. Nucl Med Commun. 2011;32:1005–10.

30.

Cong L, Wang S, Gao T, Hu L. The predictive value of 18F-FDG PET for pathological response of primary tumor in patients with esophageal cancer during or after neoadjuvant chemoradiotherapy: a meta-analysis. Jpn J Clin Oncol. 2016;46:1118–26.

31.

Zhu W, Xing L, Yue J, Sun X, Sun X, Zhao H, et al. Prognostic significance of SUV on PET/CT in patients with localised oesophagogastric junction cancer receiving neoadjuvant chemotherapy/chemoradiation:a systematic review and meta-analysis. Br J Radiol. 2012;85:e694-701.

32.

Xi M, Liao Z, Hofstetter WL, Komaki R, Ho L, Lin SH. (18)F-FDG PET response after induction chemotherapy can predict who will benefit from subsequent esophagectomy after chemoradiotherapy for esophageal adenocarcinoma. J Nucl Med. 2017;58:1756–63.

33.

Lerttanatum N, Tharavej C, Chongpison Y, Sanpavat A. Comparison of tumor regression grading system in locally advanced esophageal squamous cell carcinoma after preoperative radio-chemotherapy to determine the most accurate system predicting prognosis. J Gastrointest Oncol. 2019;10:276–82.

34.

Brucher BL, Stein HJ, Zimmermann F, Werner M, Sarbia M, Busch R, et al. Responders benefit from neoadjuvant radiochemotherapy in esophageal squamous cell carcinoma: results of a prospective phase-II trial. Eur J Surg Oncol. 2004;30:963–71.

35.

Hermann RM, Horstmann O, Haller F, Perske C, Christiansen H, Hille A, et al. Histomorphological tumor regression grading of esophageal carcinoma after neoadjuvant radiochemotherapy: which score to use? Dis Esophagus. 2006;19:329–34.

36.

Ku GY, Kriplani A, Janjigian YY, Kelsen DP, Rusch VW, Bains M, et al. Change in chemotherapy during concurrent radiation followed by surgery after a suboptimal positron emission tomography response to induction chemotherapy improves outcomes for locally advanced esophageal adenocarcinoma. Cancer. 2016;122:2083–90.

37.

Lordick F, Ott K, Krause BJ, Weber WA, Becker K, Stein HJ, et al. PET to assess early metabolic response and to guide treatment of adenocarcinoma of the oesophagogastric junction: the MUNICON phase II trial. Lancet Oncol. 2007;8:797–805.

38.

zum Buschenfelde CM, Herrmann K, Schuster T, Geinitz H, Langer R, Becker K, et al. (18)F-FDG PET-guided salvage neoadjuvant radiochemotherapy of adenocarcinoma of the esophagogastric junction: the MUNICON trial. J Nucl Med. 2011;52:1189–96.

39.

de Geus-Oei LF, Slingerland M. PET-guided treatment algorithms in oesophageal cancer: the promise of the near future! J Thorac Dis. 2017;9:2736–9.

40.

Swisher SG, Erasmus J, Maish M, Correa AM, Macapinlac H, Ajani JA, et al. 2-Fluoro-2-deoxy-d-glucose positron emission tomography imaging is predictive of pathologic response and survival after preoperative chemoradiation in patients with esophageal carcinoma. Cancer. 2004;101:1776–85.

41.

Erasmus JJ, Munden RF, Truong MT, Ho JJ, Hofstetter WL, Macapinlac HA, et al. Preoperative chemo-radiation-induced ulceration in patients with esophageal cancer: a confounding factor in tumor response assessment in integrated computed tomographic-positron emission tomographic imaging. J Thorac Oncol. 2006;1:478–86.
Ethics declarations
Conflict of interest
The authors declare no conflicts of interests.
Additional information
Publisher's Note
Springer Nature remains neutral with regard to jurisdictional claims in published maps and institutional affiliations.
Supplementary Information
Below is the link to the electronic supplementary material.
About this article
Cite this article
Han, S., Kim, Yi., Woo, S. et al. Prognostic and predictive values of interim 18F-FDG PET during neoadjuvant chemoradiotherapy for esophageal cancer: a systematic review and meta-analysis. Ann Nucl Med (2021). https://doi.org/10.1007/s12149-021-01583-x
Received:

Accepted:

Published:
Keywords
Esophageal neoplasms

Fluorodeoxyglucose F18

Positron emission tomography

Neoadjuvant therapy

Prognosis