Abstract
There existed a lack of measuring instruments to clarify employees' psychological motivation for working overtime, which challenged the management of employees' occupational safety and health. Therefore, this article conducted three studies to develop and validate the Motivation for Overtime Work among Chinese Employees (MOW-CE) questionnaire. Study 1 developed the initial questionnaire, consisting of 55 questions. Study 2 involved a formal questionnaire exploring overtime work motivation, which was based on the data obtained from 208 valid questionnaires. Reliability analysis, item analysis, and principal component analysis were carried out to examine six factors, including promotion, belongingness, survival, companion, standard, and aimless, consisting of 21 items. Based on these data, Study 2 constructed the progressive model of external–internal overtime work motivation. Finally, Study 3 validated the formal questionnaire by analyzing the data obtained from 1412 valid questionnaires. The results of the confirmatory factor analysis showed good convergence validity and structural discrimination, and the questionnaire also passed the reliability test. This study proposes a new questionnaire that facilitates an understanding of why individuals work overtime according to an advanced model of external-internal motivations.
Access options
Buy single article
Instant access to the full article PDF.
US$ 39.95
Tax calculation will be finalised during checkout.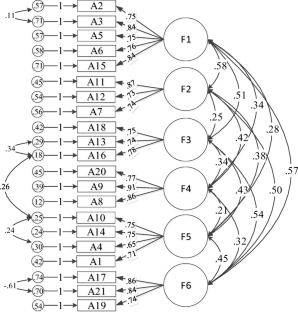 Data Availability
The datasets generated and/or analyzed during the current study are available from the corresponding author on reasonable request.
References
Afota, M. C., Ollier-Malaterre, A., & Vandenberghe, C. (2019). How supervisors set the tone for long hours: Vicarious learning, subordinates' self-motives and the contagion of working hours. Human Resource Management Review, 29(4), 100673.

Alessandri, G., Longis, E. D., Perinelli, E., Balducci, C., & Borgogni, L. (2020). The costs of working too hard: Relationships between workaholism, job demands, and prosocial organizational citizenship behavior. Journal of Personnel Psychology, 19(1), 24–32.

Amabile, T. M., Hill, K. G., Hennessey, B. A., & Elizabeth, T. (1994). The work preference inventory: Assessing intrinsic and extrinsic motivational orientations. Journal of Personality and Social Psychology, 66(5), 950–967.

Antoni, C. H., Baeten, X., Perkins, S. J., Shaw, J. D., & Vartiainen, M. (2017). Reward management: Linking employee motivation and organizational performance. Journal of Personnel Psychology, 16(2), 57–60.

Barlas, B., & Izci, F. B. (2018). Individual and workplace factors related to fatal occupational accidents among shipyard workers in Turkey. Safety Science, 101, 173–179.

Beblo, M., & Goerges, L. (2018). On the nature of nurture. The malleability of gender differences in work preferences. Journal of Economic Behavior & Organization, 151, 19–41.

Bleijenbergh, I., Gremmen, I., & Peters, P. (2016). Timing ambition: How organisational actors engage with the institutionalised norms that affect the career development of part-time workers. Scandinavian Journal of Management, 32(4), 179–188.

Bollen, K. A. (1989). Structural equations with latent variables. New York: Wiley.

Bourdeau, S., Ollier-Malaterre, A., & Houlfort, N. (2019). Not all work-life policies are created equal: Career consequences of using enabling versus enclosing work-life policies. Academy of Management Review, 44(1), 172–193.

Chi, M., George, J. F., Huang, R., & Wang, P. (2020). Unraveling sustainable behaviors in the sharing economy: An empirical study of bicycle-sharing in China. Journal of Cleaner Production, 260, 120962.

Cho, E., & Chew, I, A. (2019). Work-life balance among self-initiated expatriates in Singapore: Definitions, challenges, and resources. Current Psychology. https://doi.org/10.1007/s12144-019-00413-8

Cortés, P., & Pan, J. (2019). When time binds: Substitutes for household production, returns to working long hours, and the skilled gender wage gap. Journal of Labor Economics, 37(2), 351–398.

Deci, E. L., & Ryan, R. M. (1985). Intrinsic motivation and self-determination in human behavior. New York, NY: Plenum Publishing Co..

Deci, E. L., Eghrari, H., Patrick, B. C., & Leone, D. R. (2010). Facilitating internalization: The self-determination theory perspective. Journal of Personality, 62, 119–142.

Fitzgerald, J. B., Jorgenson, A. K., & Clark, B. (2015). Energy consumption and working hours: A longitudinal study of developed and developing nations, 1990–2008. Environmental Sociology, 1, 213–223.

Glaser, B. G., & Strauss, A. L. (1967). The discovery of grounded theory: Strategies for qualitative research. Chicago: Aldine Publishing Company.

Golden, L., & Wiens-Tuers, B. (2005). Mandatory overtime work in the United States: Who, where, and what? Labor Studies Journal, 30(1), 1–26.

Gottfried, A. E. (1983). Intrinsic motivation in young children. Young Children, 39, 64–73.

Hannerz, H., & Soll-Johanning, H. (2018). Working hours and all-cause mortality in relation to the EU working time directive: A danish cohort study. European Journal of Public Health, 28(5), 810–814.

Hino, A., Inoue, A., Mafune, K., & Hiro, H. (2019). The effect of changes in overtime work hours on depressive symptoms among Japanese white-collar workers: A 2-year follow-up study. Journal of Occupational Health, 61, 320–327.

Hunter, E. M., Clark, M. A., & Carlson, D. S. (2019). Violating work-family boundaries: Reactions to interruptions at work and home. Journal of Management, 45(3), 1284–1308.

Kanae, K., Mutsuhiro, N., Mariko, N., Toyoto, I., Katsuyuki, M., & Eiji, Y. (2006). Effect of overtime work and insufficient sleep on postural sway in information-technology workers. Journal of Occupational Health, 48, 65–68.

Kanfer, R., Frese, M., & Johnson, R. E. (2017). Motivation related to work: A century of progress. Journal of Applied Psychology, 102, 338–355.

Kang, J. H., Matusik, J. G., & Barclay, L. A. (2017). Affective and normative motives to work overtime in Asian organizations: Four cultural orientations from confucian ethics. Journal of Business Ethics, 140, 115–130.

Kline, R. B. (1998). Principles and practice of structural equation modeling. New York: Guilford Press.

Ko, Y. J., & Choi, J. N. (2019). Overtime work as the antecedent of employee satisfaction, firm productivity, and innovation. Journal of Organizational Behavior, 40(3), 282–295.

Krahé, C., Paloyelis, Y., Sambo, C. F., & Aikaterini, F. (2014). I like it when my partner holds my hand: Development of the responses and attitudes to support during pain questionnaire (RASP). Frontiers in Psychology, 5, 1027.

Kuroda, S. (2010). Do Japanese work shorter hours than before? Measuring trends in market work and leisure using 1976–2006 Japanese time-use survey. Journal of the Japanese & International Economies, 24, 481–502.

Kuvaas, B., & Dysvik, A. (2010). Perceived investment in employee development, intrinsic motivation and work performance. Human Resource Management Journal, 19, 217–236.

Liu, B., Chen, H., & Gan, X. (2019a). How much is too much? The influence of work hours on social development: An empirical analysis for OECD countries. International Journal of Environment Research and Public Health, 15, 1039.

Liu, B., Chen, H., Yang, X., & Hou, C. M. (2019b). Why work overtime? A systematic review on the evolutionary trend and influencing factors of work hours in China. Frontiers in Public Health, 7, 343.

Lu, L., Chou, C., Zeng, Y, L., & Cooper, C. (2020). Personal and social resources in coping with long hours of the Chinese work condition: The dual roles of detachment and social motivation. The International Journal of Human Resource Management. https://doi.org/10.1080/09585192.2020.1779778, 1, 35.

Mäkinen, T., Kestilä, L., Borodulin, K., Martelin, T., Rahkonen, O., Leino-Arjas, P., & Prättälä, R. (2010). Occupational class differences in leisure-time physical inactivity-contribution of past and current physical workload and other working conditions. Scandinavian Journal of Work Environment & Health, 36(1), 62–70.

Mazloumi, A., Rostamabadi, A., Saraji, G. N., & Foroushani, A. R. (2012). Work ability index and its association with psychosocial factors in one of the petrochemical industries in Iran. Journal of Occupational Health, 54(2), 112–118.

Mcclelland, D. C. (1987). Human motivation. Cambridge: Cambridge University Press.

Michaelson, C., Pratt, M. G., Grant, A. M., & Dunn, C. P. (2014). Meaningful work: Connecting business ethics and organization studies. Journal of Business Ethics, 121(1), 77–90.

Murray, H. A. (1938). Explorations in personality. New York: Oxford University Press.

Olafsen, A. H., Deci, E. L., & Halvari, H. (2018). Basic psychological needs and work motivation: A longitudinal test of directionality. Motivation and Emotion, 42(2), 178–189.

Oudeyer, P. Y., Gottlieb, J., & Lopes, M. (2016). Intrinsic motivation, curiosity, and learning: Theory and applications in educational technologies. Progress in Brain Research, 229, 257–284.

Rocchi, M., Pelletier, L., Cheung, S., Daniel, B., & Simon, B. (2017). Assessing need-supportive and need-thwarting interpersonal behaviours: The interpersonal Behaviours questionnaire (IBQ). Personality & Individual Differences, 104, 423–433.

Rockmann, K. W., & Ballinger, G. A. (2017). Intrinsic motivation and organizational identification among on-demand workers. Journal of Applied Psychology, 102, 1305–1316.

Shin, I., & Jung, H. (2019). Differential roles of self-determined motivations in describing job crafting behavior and organizational change commitment. Current Psychology. https://doi.org/10.1007/s12144-019-00265-2.

Tsai, M. C., Nitta, M., Kim, S. W., & Wang, W. (2016). Working overtime in East Asia: Convergence or divergence? Journal of Contemporary Asia, 46(4), 700–722.

Wagner-Hartl, V., & Kallus, K. W. (2018). Investigation of psychophysiological and subjective effects of long working hours – Do age and hearing impairment matter? Frontiers in Psychology, 8, 2167.

Wang, X. H., Kim, T. Y., & Lee, D. R. (2016). Cognitive diversity and team creativity: Effects of team intrinsic motivation and transformational leadership. Journal of Business Research, 69, 3231–3239.

Weidhaas, A, D. (2017). Invisible labor and hidden work. In C. Scott & L. Lewis(Eds), The international encyclopedia of organizational communication. https://doi.org/10.1002/9781118955567.wbieoc095.

Winter, D. G. (1991). Manual for scoring motive imagery in running text (3rd edition). Michigan: University of Michigan Press.

Xu, X., Peng, Y., Zhao, P., Hayes, R., & Jimenez, W. P. (2019). Fighting for time: Spillover and crossover effects of long work hours among dual-earner couples. Stress and Health, 35(4), 491–502.

Yang, M., Chen, H., & Li, S. (2019). The influence of working time characteristics on employee perceptions of physical and mental health: The moderating role of value orientations. Current Psychology. https://doi.org/10.1007/s12144-019-00483-8.
Funding
This research was funded by the Think Tank of Green Safety Management and Policy Science (2018 "Double First-Class" Initiative Project for Cultural Evolution and Creation of CUMT), grant number[2018WHCC03], the National Natural Science Funding of China, grant number[71673271], Jiangsu Philosophy and Social Sciences Excellent Innovation Cultivation Team, grant number[2017ZSTD031], 13th Five Year" Brand Discipline Construction Funding Project of China University of Mining and Technology, grant number[2017], the Social Science Funding of Jiangsu Province[20GLC009].
Ethics declarations
Conflict of Interest
The Authors Declare that the Research Was Conducted in the Absence of any Commercial or Financial Relationships that Could Be Construed as a Potential Conflict of Interest, and all Authors Approved the Final Manuscript
Ethics Statement
This study was carried out in accordance with the recommendations outlined by the Ethical Codes of Consulting and Clinical Psychology of the Chinese Psychological Society. The protocol was approved by the Ethics Committee of the China Occupational Safety and Health Association-Occupational Mental Health Professional Committee, and all participants in our study provided their written informed consent in accordance with the Declaration of Helsinki.
Additional information
Publisher's note
Springer Nature remains neutral with regard to jurisdictional claims in published maps and institutional affiliations.
Bei Liu and Hong Chen are Co-first authors
About this article
Cite this article
Liu, B., Chen, H., Hou, C. et al. The structure and measurement of overtime work: A scale development study among Chinese employees. Curr Psychol (2021). https://doi.org/10.1007/s12144-020-01259-1
Keywords
Overtime work motivation

External motivation

Internal motivation

Chinese employees

Questionnaire