Abstract
This research explored a taxonomy combining social anxiety and assertiveness and further applied a cognitive approach for predicting those constructs in adolescents. Participants were 679 adolescents (mean age = 16.68; 61.3% female) who self-reported on interpersonal assertive schemas, negative automatic social thoughts, social anxiety, and assertive behavior. Social anxiety and assertive behavior were grouping variables in a cluster analysis, resulting in three groups: assertive, indifferent, and socially anxious adolescents. The moderator role of the groups was then studied within a structural equation model proposing both social anxiety and assertive behavior to be predicted by cognitive schemas and automatic thoughts. This model fitted all three groups, portraying assertive behavior as directly predicted by cognitive structures whereas social anxiety was directly dependent on automatic thoughts. Assertive deficit and social anxiety seem to co-occur and fit within a theoretical and practical cognitive approach, demanding careful consideration of specific symptomology in adolescent social anxiety.
This is a preview of subscription content, log in to check access.
Access options
Buy single article
Instant access to the full article PDF.
US$ 39.95
Price includes VAT for USA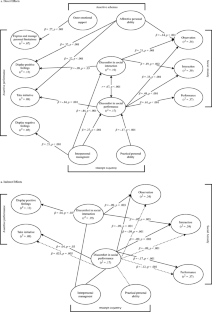 Notes
1.

Even though the items addressing the assertive interaction dimension resemble those used for assessing assertive performance (see Scale for Interpersonal Behavior below), this dimension was kept in the current work because it relates to an affective (and not a behavioral) aspect of the construct.

2.

The observation and interaction dimensions were tested as higher order factors, composed by three and two first order factors, respectively, whereas the performance dimension was taken as a first order factor.
References
Albano, A. M., & DiBartolo, P. M. (2007). Cognitive-behavioral therapy for social phobia in adolescents - stand up, speak out. NY: Oxford University Press.

Alberti, R., & Emmons, M. (2008). Your perfect right – Assertiveness and equality in your life and relationships guide to assertive living (9th ed.). California: Impact Publishers.

Aoki, S., Mearns, J., & Kurpius, S. (2017). Social anxiety and assertiveness: The role of self-beliefs in Asian Americans and European Americans, Journal of Mental Health Counseling, 39(3), 263-274. Doi: 10.17744/mehc.39.3.06.

Arrindell, W. A., Sanderman, R., Hageman, W., Pickersgill, M. J., Kwee, M. G. T., Vandermolen, H. T., & Lingsma, M. M. (1990). Correlates of assertiveness in normal and clinical-samples - a multidimensional approach. Advances in Behaviour Research and Therapy, 12(4), 153–282. https://doi.org/10.1016/0146-6402(90)90004-A.

Arrindell, W. A., Sanavio, E., & Sica, C. (2002). Introducing a short form version of the scale for interpersonal behaviour (s-SIB) for use in Italy. Psicoterapia Cognitiva E Comportamentale, 8(1), 3–18.

Blöte, A. W., & Westenberg, P. M. (2007). Socially anxious adolescents' perception of treatment by classmates. Behaviour Research and Therapy, 45(2), 189–198. https://doi.org/10.1016/j.brat.2006.02.002.

Blöte, A. W., Kint, M. J. W., & Westenberg, P. M. (2007). Peer behavior toward socially anxious adolescents: Classroom observations. Behaviour Research and Therapy, 45(11), 2773–2779. https://doi.org/10.1016/j.brat.2007.06.011.

Calvete, E., Orue, I., & Hankin, B. L. (2013). Early maladaptive schemas and social anxiety in adolescents: The mediating role of anxious automatic thoughts. Journal of Anxiety Disorders, 27(3), 278–288. https://doi.org/10.1016/j.janxdis.2013.02.011.

Clark, D. M. (2005). A cognitive perspective on social phobia. In W. R. Crozier & L. E. Alden (Eds.), The essential handbook of social anxiety for clinicians (pp. 193–218). N.Y.: John Wiley & Sons Ltd..

Cunha, M., Pinto-Gouveia, J. P., & Salvador, M. C. (2008). Social fears in adolescence – The social anxiety and avoidance scale for adolescents. European Psychologist, 13(3), 197–213. https://doi.org/10.1027/1016-9040.13.3.197.

Erwin, E. (2002). Adolescent perceptions of relevant social problems. Journal of Child and Adolescent Psychiatric Nurse, 15(1), 24–34.

Essau, C., Sasagawa, S., & Frick, P. (2006). Callous-unemotional traits in a community sample of adolescents. Assessment, 13(4), 454–469. https://doi.org/10.1177/1073191106287654.

Essau, C., Lewinsohn, P. M., Olaya, B., & Seeley, J. R. (2014). Anxiety disorders in adolescents and psychosocial outcomes at age 30. Journal of Affective Disorders, 163, 125–132. https://doi.org/10.1016/j.jad.2013.12.033.

Fergus, T. A., Valentiner, D. P., Kim, H. S., & Stephenson, K. (2009). The social thoughts and beliefs scale: Psychometric properties and its relation with interpersonal functioning in a non-clinical sample. Cognitive Therapy and Research, 33(4), 425–431. https://doi.org/10.1007/s10608-008-9214-x.

Frymier, A. B. (2005). Students' classroom communication effectiveness. Communication Quarterly, 53(2), 197–212.

Furmark, T. (2002). Social phobia: Overview of community surveys. Acta Psychiatrica Scandinavica, 105(2), 84–93.

Hair Jr., J. F., Black, W. C., Babin, B. J., & Anderson, R. E. (2014). Multivariate data analysis (7th ed.). Essex: Pearson Education Limited.

Hirsch, C. R., & Clark, D. M. (2004). Information-processing bias in social phobia. Clinical Psychology Review, 24(7), 799–825. https://doi.org/10.1016/j.cpr.2004.07.005.

Hodson, K. J., McManus, F. V., Clark, D. M., & Doll, H. (2008). Can Clark and Wells' (1995) cognitive model of social phobia be applied to young people? Behavioural and Cognitive Psychotherapy, 36(04), 449–461. https://doi.org/10.1017/S1352465808004487.

Inderbitzen-Nolan, H. M., Anderson, E. R., & Johnson, H. S. (2007). Subjective versus objective behavioral ratings following two analogue tasks: A comparison of socially phobic and non-anxious adolescents. Journal of Anxiety Disorders, 21(1), 76–90. https://doi.org/10.1016/j.janxdis.2006.03.013.

Kodal, A., Bjelland, I., Gjestad, R., Wergeland, G. J., HAvik, O. E., et al. (2017). Subtyping social anxiety in youth. Journal of Anxiety Disorders, 49, 40–47. https://doi.org/10.1016/j.anxdis.2017.03.009.

Korkmaz, S., Goksulik, D., & Zararsiz, G. (2014). MV: An R package for assessing multivariate normality. The R Journal, 6(2), 151–162.

Levitan, M., & Nardi, A. E. (2009). Social skill deficits in socially anxious subjects. World Journal of Biological Psychiatry, 10(6), 702–709. https://doi.org/10.3109/15622970802255919.

Little, T. D., Rhemtulla, M., Gibson, K., & Schoemann, A. M. (2013). Why the items versus parcels controversy needn't be one. Psychological Methods, 18(3), 285–300. https://doi.org/10.1037/a0033266.

Marchezini-Cunha, V., & Tourinho, E. (2010). Assertiveness and self-control: A behavior-analytic interpretation. Psicologia: Teoria E Pesquisa, 26, 295–303.

Masia-Warner, C., Fisher, P. H., Shrout, P. E., Rathor, S., & Klein, R. C. (2007). Treating adolescents with social anxiety disorder in school: An attention control trial. Journal of Child Psychology and Psychiatry, 48(7), 376–386. https://doi.org/10.1111/j.1469-7610.2007.01737.x.

Matsunaga, M. (2008). Item parceling in structural equation modeling: A primer. Communication Methods and Measures, 2(4), 260–293. https://doi.org/10.1080/19312450802458935.

Miers, A. C., Blöte, A. W., Bokhorst, C. L., & Westenberg, P. M. (2009). Negative self-evaluations and the relation to performance level in socially anxious children and adolescents. Behaviour Research and Therapy, 47(12), 1043–1049. https://doi.org/10.1016/j.brat.2009.07.017.

Miers, A. C., Blote, A. W., & Westenberg, P. M. (2010). Peer perceptions of social skills in socially anxious and nonanxious adolescents. Journal of Abnormal Child Psychology, 38(1), 33–41. https://doi.org/10.1007/s10802-009-9345-x.

Miers, A. C., Blöte, A. W., & Westenberg, M. M. (2011). Negative social cognitions in socially anxious youth: Distorted reality or a kernel of truth? Journal of Child and Family Studies, 20(2), 214–223. https://doi.org/10.1007/s10826-010-9423-2.

Miers, A. C., Blote, A. W., de Rooij, M., Bokhorst, C. L., & Westenberg, P. M. (2013). Trajectories of social anxiety during adolescence and relations with cognition, social competence, and temperament. Journal of Abnormal Child Psychology, 41(1), 97–110. https://doi.org/10.1007/s10802-012-9651-6.

Muthén, L. K., & Muthén, B. O. (2012). Mplus User's Guide (7th ed.), Los Angeles, CA: Muthén & Muthén.

Nunnally, J. C. (1978). Psychometric theory (2nd ed.). NY: McGraw-Hill.

Rakus, R. (1991). Assertive behavior - theory, research and training. London, England: Routledge.

Steffen, P.R., Elliot, C.H., Lassen, M.K., Olsen, J., & Smith, L.L. (2016). Expanding schema conceptualisation and assessment: Towards a richer understanding of adaptive and maladaptive functioning. Australian Journal of Psychology, 69(3), 200-209. doi: 10.111/ajpy.12141

Stravynski, A., Kyparissis, A., & Amado, D. (2010). Social phobia as a deficit in social skills. In S. G. Hoffman & P. M. DiBartolo (Eds.), Social anxiety: Clinical, developmental, and social perspectives (2nd ed., pp. 147–180). USA: Elsevier.

Turner, S. M., Johnson, M. R., Beidel, D. C., Heiser, N. A., & Lydiard, R. B. (2003). The social thoughts and beliefs scale: A new inventory for assessing cognitions in social phobia. Psychological Assessment, 15(3), 384–391. https://doi.org/10.1037/1040-3590.15.3.384.

Vagos, P., & Pereira, A. (2010). A proposal for evaluating cognition in assertiveness. Psychological Assessment, 22(3), 657–665. https://doi.org/10.1037/a0019782.

Vagos, P., & Pereira, A. (2016). A cognitive perspective for understanding and training assertiveness. European Psychologist, 21(2), 109–121. https://doi.org/10.1027/1016-9040/a000250.

Vagos, P. & Pereira, A. (2018). Towards a cognitive understanding on assertiveness: Effects of cognition and distress on different expressions of assertive behaviour. Journal of Rational-Emotional and Cognitive-Behavioral Therapy. doi: 10.10047/s10942-018-0296-4

Vagos, P., Pereira, A., & Beidel, D. C. (2010). Adaptação e validação de uma escala de medida de cognição na ansiedade social [adaptation and validation of a scale for cognition in social anxiety]. Avaliação Psicológica, 9(3), 393–402.

Vagos, P., Pereira, A., & Cunha, M. (2013). Evaluating social fears in late adolescence: Study with a Portuguese sample. European Journal of Developmental Psychology, 11(13), 373–385. https://doi.org/10.1080/17405629.2013.841093.

Vagos, P., Pereira, A., & Arrindell, W. (2014a). Validação da versão reduzida da Escala de Comportamento Interpessoal Para adolescentes Portugueses [validation of the short scale for interpersonal behavior for Portuguese adolescents]. Psicologia: Reflexão E Crítica, 27(3), 452–461. https://doi.org/10.1590/1678-7153.201427305.

Vagos, P., Rijo, D., Santos, I. M., & Marsee, M. A. (2014b). Forms and functions of aggression in adolescents: Validation of the Portuguese version of the peer conflict scale. Journal of Psychopathology and Behavioral Assessment, 36(4), 570–579. https://doi.org/10.1007/s10862-014-9421-6.

Van Dam Baggen, R., & Kraaimaat, F. W. (2000). Social skills training in two subtypes of psychiatric inpatients with generalized social phobia. Scandinavian Journal of Behaviour Therapy, 29(1), 14–21.
Availability of Data and Material
The datasets generated during and/or analysed during the current study are available from the corresponding author on reasonable request.
Funding
The work was funded by the Portuguese Foundation for Science and Technology under a doctoral fellowship grant awarded to the first author (SFRH/BD/29574/2006).
Ethics declarations
All procedures performed in this study that involved human participants were in accordance with the ethical standards of the University of Coimbra and with the 1964 Helsinki declaration and its later amendments or comparable ethical standards. The study was approved by the national ministry for education. Informed consent was obtained from all individual participants included in the study and, for underage participants, from their parents and/or legal guardians.
Conflict of Interest/ Competing Interest
On behalf of all authors, the corresponding author states that there is no conflict of interest. Though funding was received for this research it could not have influenced the outcomes of the research. The sponsor had no role in the design of the study, data collection, analysis and interpretation of data, writing of the report, and decision to submit the article for publication. This manuscript is based on data also used on the doctoral dissertation of the first author.
Additional information
Publisher's Note
Springer Nature remains neutral with regard to jurisdictional claims in published maps and institutional affiliations.
About this article
Cite this article
Vagos, P., Pereira, A. Revisiting a taxonomy of social anxiety and assertiveness in adolescence: evidence for a cognitive approach. Curr Psychol (2020). https://doi.org/10.1007/s12144-020-00823-z
Keywords
Social anxiety

Assertiveness

Adolescence

Cognitive models

Structural equation modelling