Abstract
Although resettlement allows for refugees to live in a safer place, there are many issues that accompany this drastic life change. The purpose of this study was to comprehensively examine the literature on the life experiences of refugees in Canada to identify the challenges that they face and their unmet needs, as well as potential sources of support. Five databases were systematically searched for articles published in the last decade that included data on the life experience of refugees in Canada. Findings were analysed in depth to generate emergent themes and synthesize common findings across studies. The review found 26 articles on the life experiences of refugees, 23 of which were qualitative studies, as well as 1 quantitative and 2 mixed methods studies. The main challenges experienced by refugees included loss or change in identity, gender role conflicts, language barriers, lack of recognition of previous education or experience, and perceived lack of support and discrimination. This comprehensive review highlights the unmet needs and complex barriers that are experienced by refugees in Canada and directs attention to priorities for future research. Differences in language, culture, and social support lead to challenges in integration and accessing services among refugees in Canada, which may have potential policy implications.
This is a preview of subscription content, log in to check access.
Access options
Buy single article
Instant access to the full article PDF.
US$ 39.95
Tax calculation will be finalised during checkout.
Subscribe to journal
Immediate online access to all issues from 2019. Subscription will auto renew annually.
US$ 99
Tax calculation will be finalised during checkout.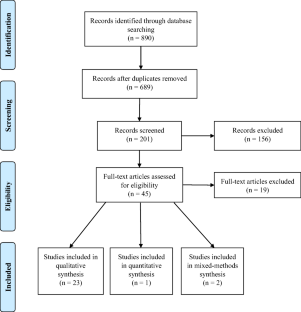 References
Arksey, H., & O'Malley, L. (2005). Scoping studies: towards a methodological framework. International Journal of Social Research Methodology, 8(1), 19–32.

Baffoe, M. (2006). Navigating two worlds: culture and cultural adaptation of immigrant and refugee youth in a Quebec (Canadian) educational context (Ph.D.). Montreal, QC: McGill University.

Berman, H., Girón, E. R., & Marroquín, A. P. (2009). A narrative study of refugee women who have experienced violence in the context of war. Canadian Journal of Nursing Research, 41(1), 144–165.

Bisson, M. (2012). Successfully adapting to Canada: refugee youths share their expertise (Ph.D.). Calgary, AB: University of Calgary.

Carranza, M. E. (2007). Building resilience and resistance against racism and discrimination among Salvadorian female youth in Canada. Child & Family Social Work, 12(4), 390–398.

Dachyshyn, D. M. (2008). Refugee families with preschool children: adjustment to life in Canada. In L. D. Adams & A. Kirova (Eds.), Global migration and education: Schools, children and families (pp. 251–262). Mahwah, NJ: Erlbaum.

Edge, S., & Newbold, B. (2013). Discrimination and the health of immigrants and refugees: exploring Canada's evidence base and directions for future research in newcomer receiving countries. Journal of Immigrant and Minority Health, 15(1), 141–148.

El-Bialy, R., & Mulay, S. (2015). Two sides of the same coin: Factors that support and challenge the wellbeing of refugees resettled in a small urban center. Health & Place, 35, 52–59.

Ertorer, S. E. (2014). Managing identity in the face of resettlement. Identity, 14(4), 268–285.

Fozdar, F., & Torezani, S. (2008). Discrimination and well-being: perceptions of refugees in Western Australia. International Migration Review, 42(1), 30–63.

Gangamma, R. (2018). A phenomenological study of family experiences of resettled Iraqi refugees. Journal of Marital and Family Therapy, 44(2), 323–335.

George, M. (2013). Sri Lankan Tamil refugee experiences: a qualitative analysis. International Journal of Culture and Mental Health, 6(3), 170–182.

Government of Canada, Department of Immigration, Refugees and Citizenship Canada (2017). How Canada's Refugee System Works. https://www.canada.ca/en/immigration-refugees-citizenship/services/refugees/canada-role.html. Accessed 8 February 2019.

Guzder, J. (2011). Women who jump into wells: reflections on suicidality in women from conflict regions of the Indian subcontinent. Transcultural Psychiatry, 48(5), 585–603.

Hadley, C., & Patil, C. (2009). Perceived discrimination among three groups of refugees resettled in the USA: associations with language, time in the USA, and continent of origin. Journal of Immigrant and Minority Health, 11(6), 505–512.

Huddleston, T., Bilgili, O., Joki, A., & Vankova, Z. (2015). Migrant integration policy index. CIDOB and MPG: Barcelona/ Brussels.

Hussen, A. (2018). Annual Report to Parliament on Immigration: Government of Canada. 2018. https://www.canada.ca/en/immigration-refugees-citizenship/corporate/publications-manuals/annual-report-parliament-immigration-2018/report.html. Accessed 8 February 2019.

Hynie, M., Crooks, V. A., & Barragan, J. (2011). Immigrant and refugee social networks: determinants and consequences of social support among women newcomers to Canada. Canadian Journal of Nursing Research, 43(4), 26–46.

Jorden, S., Matheson, K., & Anisman, H. (2009). Supportive and unsupportive social interactions in relation to cultural adaptation and psychological distress among Somali refugees exposed to collective or personal traumas. Journal of Cross-Cultural Psychology, 40(5), 853–874.

Kalich, A., Heinemann, L., & Ghahari, S. (2016). A scoping review of immigrant experience of health care access barriers in Canada. Journal of Immigrant and Minority Health, 18(3), 697–709.

Kanji, Z., & Cameron, B. L. (2010). Exploring the experiences of resilience in Muslim Afghan refugee children. Journal of Muslim Mental Health, 5(1), 22–40.

Lee, E. O., & Brotman, S. (2011). Identity, refugeeness, belonging: experiences of sexual minority refugees in Canada. Canadian Review of Sociology, 48(3), 241–274.

Lovink, A. R. (2010). The adaptation of South Sudanese Christian refugees in Ottawa, Canada: Social capital, segmented assimilation and religious organization (Ph.D.). Ottawa: University of Ottawa.

Morantz, G., Rousseau, C., Banerji, A., Martin, C., & Heymann, J. (2013). Resettlement challenges faced by refugee claimant families in Montreal: Lack of access to child care. Child & Family Social Work, 18(3), 318–328.

Murray, D. A. (2014). The (not so) straight story: Queering migration narratives of sexual orientation and gendered identity refugee claimants. Sexualities, 17(4), 451–471.

Ndengeyingoma, A., Montigny, F., & Miron, J.-M. (2014). Development of personal identity among refugee adolescents: facilitating elements and obstacles. Journal of Child Health Care, 18(4), 369–377.

Ricento, T. (2013). Dis-citizenship for refugees in Canada: the case of Fernando. Journal of Language, Identity & Education, 12(3), 184–188.

Saavedra, M. (2009). Dilemmas and opportunities in gender and sport-in-development. In R. Levermore & A. Beacom (Eds.), Sport and International Development (pp. 124–155). London, UK: Palgrave Macmillan.

Shishehgar, S., Gholizadeh, L., DiGiacomo, M., Green, A., & Davidson, P. M. (2017). Health and socio-cultural experiences of refugee women: an integrative review. Journal of Immigrant and Minority Health, 19(4), 959–973.

Simich, L., Beiser, M., & Mawani, F. N. (2003). Social support and the significance of shared experience in refugee migration and resettlement. Western Journal of Nursing Research, 25(7), 872–891.

Stack, J. A., & Iwasaki, Y. (2009). The role of leisure pursuits in adaptation processes among Afghan refugees who have immigrated to Winnipeg, Canada. Leisure Studies, 28(3), 239–259.

Stewart, M., Simich, L., Beiser, M., Makumbe, K., Makwarimba, E., & Shizha, E. (2011). Impacts of a social support intervention for Somali and Sudanese refugees in Canada. Ethnicity and Inequalities in Health and Social Care, 4(4), 186–199.

Stewart, M., Simich, L., Shizha, E., Makumbe, K., & Makwarimba, E. (2012). Supporting African refugees in Canada: insights from a support intervention. Health & Social Care in the Community, 20(5), 516–527.

Stewart, M., Dennis, C.-L., Kariwo, M., Kushner, K. E., Letourneau, N., Makumbe, K., Makwarimba, E., & Shizha, E. (2015). Challenges faced by refugee new parents from Africa in Canada. Journal of Immigrant and Minority Health, 17(4), 1146–1156.

Tachble, A. (2010). Fathering perceptions and experiences of Ethiopian immigrant/refugee men in a Canadian urban centre (Ph.D.). Calgary: University of Calgary.

Walsh, C. A., Este, D., & Krieg, B. (2006). The enculturation experience of Roma refugees: a Canadian perspective. British Journal of Social Work, 38(5), 900–917.

Walsh, C. A., Este, D., Krieg, B., & Giurgiu, B. (2011). Needs of refugee children in Canada: what can Roma refugee families tell us? Journal of Comparative Family Studies, 42(4), 599–613.

Williams, N. (2011). A critical review of the literature: engendering the discourse of masculinities matter for parenting African Refugee men. American Journal of Men's Health, 5(2), 104–117.

Wong, A. H. (2013). An exploratory study of resilience in refugee post-secondary students (Ph.D.). Edmonton: University of Alberta.
Acknowledgements
We are grateful to Paola Durando, Queen's University Health Sciences Librarian, for her help in developing the search strategy and obtaining relevant articles.
Ethics declarations
Conflict of Interest
The authors declare that they have no conflict of interest.
Ethical Approval
This article does not contain any studies with human participants or animals performed by any of the authors.
Additional information
Publisher's Note
Springer Nature remains neutral with regard to jurisdictional claims in published maps and institutional affiliations.
About this article
Cite this article
Ghahari, S., Lui, J., Nagra, S. et al. The Life Experiences of Refugees in Canada: A Comprehensive Scoping Review to Identify Unmet Needs and Barriers. Int. Migration & Integration 21, 1249–1261 (2020). https://doi.org/10.1007/s12134-019-00727-3
Keywords
Refugees

Integration

Well-being

Post-migration stress