Abstract
This study examined the challenges and critical psychosocial needs of Syrian refugee families with young children in Western Canada, and the role of cultural brokering in facilitating their psychosocial adaptation. Using a community-based participatory research approach and an adapted critical incident method, the study involved nine Arabic-speaking cultural brokers who were working with Syrian refugee families using holistic supports during early resettlement. Data collected through focus groups and semi-structured interviews are presented in five illustrative case studies, and reveal that Syrian families struggled with feeling safe and secure in Canada, adjusting to the changing roles in the family, and trying to find meaning in their lives. These struggles were attributed to families' overall challenges navigating various domains of integration (i.e., health, social services, and education), resulting in a heavy reliance on cultural brokers for social linking and bonding activities (Ager & Strang, Journal of Refugee Studies, 21, 166–191, 2008), including connecting families to needed supports and helping family members build relationships with one another. Challenges faced by families mapped onto the five psychosocial needs of Silove's (Intervention, 11, 237–248, 2013) Adaptation after Persecution and Trauma (ADAPT) conceptual framework as well as most of the core domains of Ager and Strang's (Journal of Refugee Studies, 21, 166–191, 2008) Social Integration framework. This study provides evidence for the use of both of these frameworks in further studies involving Syrian refugee populations; they proved useful for understanding how families, over time, can develop necessary skills to engage on their own in linking activities with various Canadian institutions and bridging activities with communities at large.
This is a preview of subscription content, log in to check access.
Access options
Buy single article
Instant access to the full article PDF.
US$ 39.95
Price includes VAT for USA
Subscribe to journal
Immediate online access to all issues from 2019. Subscription will auto renew annually.
US$ 99
This is the net price. Taxes to be calculated in checkout.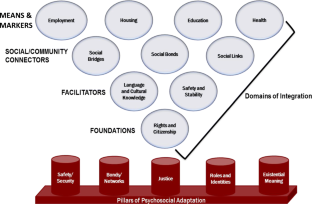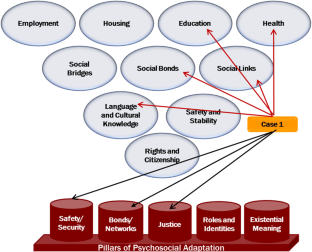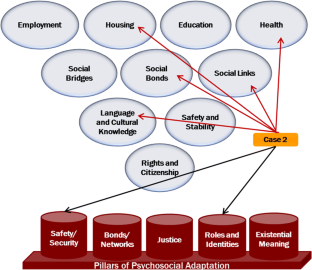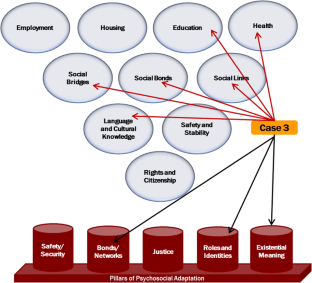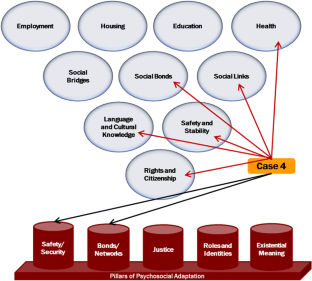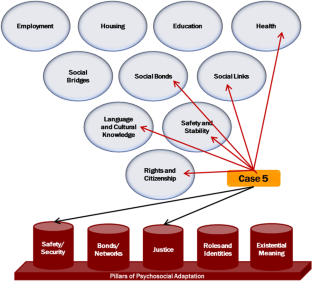 References
Abo-Hilal, M., & Hoogstad, M. (2013). Syrian mental health professionals as refugees in Jordan: establishing mental health services for fellow refugees. Intervention, 11(1), 89–93.

Ager, A., & Strang, A. (2008). Understanding integration: a conceptual framework. Journal of Refugee Studies, 21, 166–191.

Ahmed, A., Bowen, A., & Xin Feng, C. (2017). Maternal depression in Syrian refugee women recently moved to Canada: a preliminary study. BMC Pregnancy and Childbirth, 17, 1–11. https://doi.org/10.1186/s12884-017-1433-2.

Allman, D., Myers, T., & Cockerill, R. (1997). Concepts, definitions and models for community-based HIV prevention research in Canada. Toronto: University of Toronto.

Bates, L., Baird, D., Johnson, D. J., Lee, R. E., Luster, T., & Rehagen, C. (2005). Sudanese refugee youth in foster care: the "lost boys" in America. Child Welfare Journal, 84, 631–648.

Braun, V., & Clarke, V. (2006). Using thematic analysis in psychology. Qualitative Research in Psychology, 3, 77–101.

Briskman, L., & Latham, S. (2017). Refugees, Islamophobia, and Ayaan Hirsi Ali: challenging social work co-option. Journal of Women and Social Work, 32(1), 108–111. https://doi.org/10.1177/0886109916685801.

Carter, T. A., & Osborne, J. (2009). Housing and neighborhood challenges in refugee resettlement in declining inner city neighborhoods: a winning case study. Journal of Immigrant & Refugee Studies, 7, 308–327. https://doi.org/10.1080/15562940903150097.

Cicchetti, D., Toth, S. L., & Lynch, M. (1997). Child maltreatment as an illustration of the effects of war on development. In D. Cicchetti & S. L. Toth (Eds.), Developmental perspectives on trauma:Theory, research, and intervention (pp. 227–262). Rochester: University of Rochester Press.

Citizenship and Immigration Canada. (2017a). Population profile: Syrian refugees. Retrieved from http://www.cic.gc.ca/english/refugees/welcome/index.asp

Citizenship and Immigration Canada. (2017b). Retrieved from http://www.cic.gc.ca/english/refugees/welcome/milestones.asp

Connor, J. J., Hunt, S., Finsaas, M., Ciesinski, A., Ahmed, A., & Robinson, B. E. (2016). From Somalia to U.S.: shifts in gender dynamics from the perspective of female Somali refugees. Journal of Feminist Family Therapy, 28, 1–29. https://doi.org/10.1080/08952833.2015.1130546.

Dyregrov, A., Gupta, L., Gjestad, R., & Mukanoheli, E. (2000). Trauma exposure and psychological reactions to genocide among Rwandan children. Journal of Traumatic Stress, 13, 3–19.

Enns, R., Kirova, A., & Connolly, D. (2013). Examining bonding and bridging activities in the context of a common spaces approach to integration. Canadian Ethnic Studies, 45, 39–63.

Enns, R., Okeke-Ihejirika, P., Kirova, A., & McMenemy, C. (2017). Refugee health care in Canada: responses to the 2012 changes to the Interim Federal Health Program. Special Issue. International Journal of Migration and Border Studies, 3(1), 24–42.

Flanagan, J. C. (1954). The critical incident technique. Psychological Bulletin, 51, 327–358.

Ghumman, U., McCord, C. E., & Chang, J. E. (2016). Posttraumatic stress disorder in Syrian refugees: a review. Canadian Psychology, 57(4), 246–253. https://doi.org/10.1037/cap0000069.

Hadfield, K., Ostrowski, A., & Ungar, M. (2017). What can we expect of the mental health and well-being of Syrian refugee children and adolescents in Canada? Canadian Psychology, 58(2), 194–201. https://doi.org/10.1037/cap0000102.

Harvey, M. S., Mondesir, A., & Aldrich, H. (2007). Fostering resilience in traumatized communities: a community empowerment model of intervention. Journal of Aggression, Maltreatment & Trauma, 14(1/2), 265–285. https://doi.org/10.1300/J146v14n01_02.

Hassan, G., Kirmayer, L. J., Ventevogel, P., Mekki-Berrada, A., Quosh, C., el Chammay, R., Deville-Stoetzel, J. B., Youssef, A., Jefee-Bahloul, H., Barktell-Oteo, A., Coutts, A., & Song, S. (2015). Culture, context and the mental health and psychosocial wellbeing of Syrians: a review for mental health and psychosocial support staff working with Syrians affected by armed conflict. Geneva: UNHCR.

Husain, A., & Howard, S. (2017). Religious microaggressions: a case study of Mulsim Americans. Journal of Ethnic & Cultural Diversity in Social Work, 26(1), 139–152. https://doi.org/10.1080/15313204.2016.1269710.

Immigration, Refugees and Citizenship Canada. (2016). Setting the context: Syrian refugee resettlement in Canada. Rederived from: http://www.sshrc.ualberta.ca/en/Toolkit/Resources/~/media/Social%20Sciences%20and%20Humanities%20Research%20Council/Refugee_Resettlement-BackgroundCanada_(2016).pdf. Accessed December 2017.

Israel, B. A., Schulz, A. J., Parker, E. A., Becker, A. B., Allen, A. J., & Guzman, J. R. (2003). Critical issues in developing and following community based participatory research principles. In M. Minkler & N. Wallerstein (Eds.), Community based participatory research for health (pp. 53–76). San Francisco: Jossey Bass.

Jezewski, M. (1990). Culture brokering in migrant farmworker health care. Western Journal of Nursing Research, 12, 497–513.

Kanji, Z., & Cameron, B. L. (2010). Exploring the experiences of resilience in Muslim Afghan refugee children. Journal of Muslim Mental Health, 5(1), 22–40.

Kirova, A. (2010). Children's representations of cultural scripts in play: facilitating transition from home to preschool in an intercultural early learning program for refugee children. Diaspora, Indigenous and Minority Education, 4, 74–91.

Klingman, A. (2002). Children under stress of war. In A. M. La Greca, W. K. Silverman, E. M. Vernberg, & M. C. Roberts (Eds.), Helping children cope with disasters and terrorism (pp. 359–380). Washington, DC: American Psychological Association.

Kroo, A., & Nagy, H. (2011). Postttraumatic growth among traumatized Somali refugees in Hungary. Journal of Loss and Trauma, 16, 440–458. https://doi.org/10.1080/15325024.2011.575705.

Lake, S. (2016). Not so universal health care: the neglect of immigrant and refugee health in Canada. The University of British Columbia Medical Journal, 7(2), 38–39.

Mayan, M. (2009). Essentials of qualitative inquiry. Walnut Creek: Left Coast Press.

McFarlane, C. A., Kaplan, I., & Lawrence, J. A. (2011). Psychosocial indicators of wellbeing for resettled refugee children and youth: conceptual and developmental directions. Child Indicators Research, 4, 647–677.

Özer, S., Şirin, S., & Oppedal, B. (2013). Bahçe şehir study of Syrian refugee children in Turkey. Retrieved from https://www.fhi.no/globalassets/dokumenterfiler/moba/pdf/bahcesehir-study-report.pd.

Parker, E., Margolis, L. H., Eng, E., & Henriquez-Roldan, C. (2003). Assessing the capacity of health departments to engage in community-based participatory public health. American Journal of Public Health, 93(3), 472–476.

Punamäki, R. L., Qouta, S., & El-Sarraj, E. (2001). Resiliency factors predicting psychological adjustment after political violence among Palestinian children. International Journal of Behavioral Development, 25, 256–267.

Putnam, R. D. (1993). The prosperous community. The American Prospect, 4(13). Retrieved from https://prospect.org/article/prosperous-community-social-capital-and-public-life. Accessed December 2017.

Seddio, K. (2017). Trauma, psychopathology, and the refugee crisis: a call to action. American Journal of Public Health, 107(7), 1044–1045. https://doi.org/10.2105/AJPH.2017.303857.

Sidorchuk, A., Engström, K., Johnson, C. M., Kayser Leeoza, N., & Möller, J. (2017). Employment status and psychological distress in a population-based cross-sectional study in Sweden: the impact of migration. BMJ, 7(4), e014698. https://doi.org/10.1136/bmjopen-2016-014698.

Silove, D. (2000). A conceptual framework for mass trauma: Implications for adaptation, intervention and debriefing. In B. Raphael & J. P. Wilson (Eds.), Psychological debriefing: Theory, practice and evidence (pp. 337–350). New York: Cambridge.

Silove, D. (2006). The impact of mass psychological trauma on psychosocial adaptation among refugees. In G. Reyes & G. A. Jacobs (Eds.), Handbook of international disaster psychology: refugee mental health (pp. 1–17). Westport: Praeger Publishers/Greenwood Publishing Group.

Silove, D. (2013). The ADAPT model: a conceptual framework for the mental health and psychosocial programming in post conflict settings. Intervention, 11, 237–248.

Soykoek, S., Mall, V., Nehring, I., Henningsen, P., & Aberl, S. (2017). Post traumatic stress disorder in Syrian children of a German refugee camp. The Lancet, 10072(389), 903–904.

Stewart, M., Simich, L., Shizha, E., Makumbe, K., & Makwarimba, E. (2012). Supporting African refugees in Canada: insights from a support intervention. Health and Social Care in the Community, 20, 516–527.

Werner, E. E. (2012). Children and war: risk, resilience, and recovery. Development and Psychopathology, 24, 553–558.

Yohani, S. (2013). Educational cultural brokers facilitating the school adaptation of refugee children and families: challenges and opportunities. Journal of International Migration and Integration, 14(1), 61–79.

Yohani, S. (2015). Applying the ADAPT psychosocial model to war-affected children and adolescents. SAGE Open, 5, 1–18. https://doi.org/10.1177/2158244015604189.

Yohani, S., & Larsen, D. (2009). Hope lives in the heart: refugee and immigrant children's perceptions of hope engendering sources during early years of resettlement. Canadian Journal of Counselling, 43, 246–264.

Yonas, M. A., Aronson, R., Schaal, J., Eng, E., Hardy, C., & Jones, N. (2013). Critical incident technique: an innovative participatory approach to examine and document racial disparities in breast cancer healthcare services. Health Education Research, 28, 748–759.
Acknowledgements
The authors wish to acknowledge the support received by Social Sciences Humanities Research Council (SSHRC) for this research project. The authors also wish to acknowledge the invaluable contributions of the partner organizations for the research project, and most of all, the contributions of the cultural brokers who devoted many hours of their valuable time to participate in this research.
Additional information
Publisher's Note
Springer Nature remains neutral with regard to jurisdictional claims in published maps and institutional affiliations.
About this article
Cite this article
Yohani, S., Kirova, A., Georgis, R. et al. Cultural Brokering with Syrian Refugee Families with Young Children: An Exploration of Challenges and Best Practices in Psychosocial Adaptation. Int. Migration & Integration 20, 1181–1202 (2019). https://doi.org/10.1007/s12134-019-00651-6
Keywords
Psychosocial adaptation

Refugees

Refugee families

Refugee children

Cultural brokers

Psychological Trauma

Social integration

Refugee health

Community-based participatory research

Critical incidents