Abstract
This paper pilots a different approach to the study of informal settlements, typically conceived as chaotic, disorganised and lacking social cohesion. We provide a different reading of social life in an informal settlement. While its social life may be different from other parts of the urban metropolis, its social relations are not absent. Through the use of network theory, we will demonstrate that social relations in settlements have developed a considerable level of complexity. Using the case study of Mathare Valley, an informal settlement in Nairobi, we explore the dynamics of social networks with the aim of providing a more integrated understanding of life in slums. Based on survey data, focus groups/workshops and interviews, we established that residents depend on a network of strong, highly familial ties. Life is typically defined by neighbourhood bonds and friendship. This structure underpins the development of referral systems to access services and find work. The settlement has a syncretic governance structure made up of governmental and self-styled leaders who act as gatekeepers to varying degrees. We geo-coded data to conduct a more detailed social network analysis, which revealed the positive attributes of networking as opportunities for innovation and forming weaker ties within and beyond the settlement. The negative aspects of strong ties lead to the exclusion of more vulnerable residents. In conclusion, we propose the social networks approach as essential in understanding informal settlements. A holistic understanding of informal settlements will not only overcome narrow conceptions but may also encourage networked thinking for urban planning and design.
This is a preview of subscription content, log in to check access.
Access options
Buy single article
Instant access to the full article PDF.
US$ 39.95
Price includes VAT for USA
Subscribe to journal
Immediate online access to all issues from 2019. Subscription will auto renew annually.
US$ 99
This is the net price. Taxes to be calculated in checkout.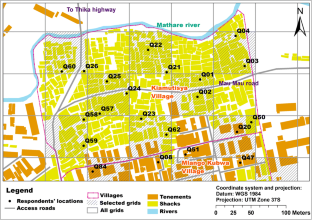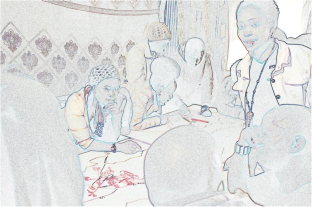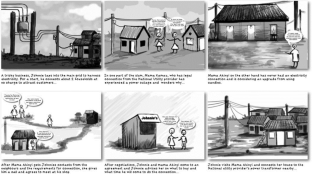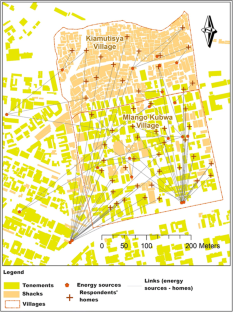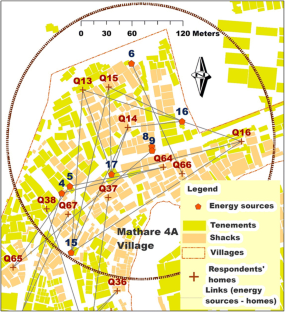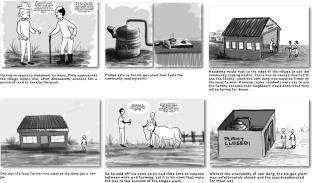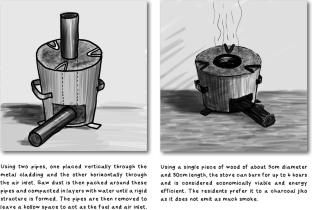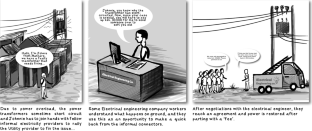 Notes
1.

Within a context of network theory, the term interaction will refer to personalised exchanges within close proximity, whereas relations refer more broadly to different levels (low to high) of interdependence between people within the informal settlement.
References
Aldrich, H. E., & Zimmer, C. (1986). Entrepreneurship through social networks. In D. L. Sexton & R. W. Smiler (Eds.), The art and science of entrepreneurship (pp. 3–23). Cambridge: Ballinger.

Ambole, A., Kaviti Musango, K. J., Buyana, K., Ogot, M., Anditi, C., Mwau, B., Kovacic, Z., Smit, S., Lwasa, S., Nsangi, G., Sseviiri, H., & Brent, C. A. (2019). Mediating household energy transitions through co-design in urban Kenya, Uganda and South Africa. Energy Research & Social Science, 55, 208–217.

Amuyunzu-Nyamongo, M., & Chika Ezeh, A. (2005). A qualitative assessment of support mechanisms in informal settlements of Nairobi. Kenya, Journal of Poverty, 9(3), 89–107.

Anderson, B. (1991). Imagined communities: reflections on the origin and spread of nationalism (2nd ed.). London: Verso.

Auma, M., & Anyango, J. (2017) "Night of horror as gang raids Mathare slums." Accessed 10th April 2019: https://www.standardmedia.co.ke/article/2001251428/night-of-horror-as-gang-raids-mathare-slums

Ayuku, O. D., Kaplan, C., Baars, H., & de Vries, M. (2004). Characteristics and personal social networks of the on-the-street, off-the-street, sheltered and school children in Eldoret, Kenya. International Social Work, 47(3), 293–311.

Bourdieu, P. (1986). The forms of capital. In J. G. Richardson (Ed.), Handbook of theory and research for the sociology of education (pp. 241–258). New York: Greenwood Press.

Brown, J. J., & Reingen, P. H. (1987). Social ties and word-of-mouth referral behaviour. Journal of Consumer Research, 14(3), 350–362.

Burt, R. S. (1992) Structural holes: the social structure of competition. Cambridge; MA: Harvard University Press.

Burt, R. S. (2004). Structural holes and good ideas. American Journal of Sociology, 110(2), 349–399.

Burt, R. S. (2005). Brokerage and closure: an introduction to social capital. Oxford: Oxford University Press.

Cross, J., & Murray, D. (2018). The afterlives of solar power: waste and repair off the grid in Kenya. Energy Research & Social Science, 44, 100–109.

Dobrow, S., & Higgins, M. (2005). Developmental networks and professional identity: a longitudinal study. Career Development International, 10(6/7), 567–583.

Dovey, K. (2012). Informal urbanism and complex adaptive assemblage. International Development Planning Review, 34(4), 349–368.

Eisenstadt, S. N. (1961). Anthropological studies of complex societies. Current Anthropology, 2(3), 201–222.

Freeman, L. C. (1979) Centrality in social networks. A conceptual clarification, Social Networks, 1: 215–239.

Gettleman, J. (2006). Accessed 10th April 2019: "Chased by gang violence, residents flee Kenyan slum" https://www.nytimes.com/2006/11/10/world/africa/10kenya.html

Ghosh, N., & Goswami, A. (2014). Altruism, social networks, and social capital: some interlinkages. In Sustainability science for social, economic, and environmental development (pp. 33–38). Hershey: IGI Global.

Gould, R., & Fernandez, R. (1989). Structures of mediation: a formal approach to brokerage in transaction networks. Sociological Methodology, 19, 89–126.

Granovetter, M. (1973). The strength of weak ties. American Journal of Sociology, 78(6), 1360–1380.

Granovetter, M. (1995). Getting a job: a study of contacts and careers (2nd ed.). Chicago: University of Chicago Press.

Gutberlet, J., Kain, J. H., Nyakinya, B., Oloko, M., Zapata, P., & Zapata Campos, M. J. (2017). Bridging weak links of solid waste management in informal settlements. The Journal of Environment & Development, 26(1), 106–131.

Harte, W., Hastings, P. A., & Childs, I. R. (2006). Community politics: a factor eroding hazard resilience in a disadvantaged community, Imizamo Yethu, South Africa. In social change in the 21st Century Conference 2006. Brisbane: Carseldine.

Jansen, G. R. M. (1993). Commuting: home sprawl, job sprawl, traffic Jams. In I. Salomon, P. Bovy, & J. P. Orfeuil (Eds.), A billion trips a day. Transportation Research, Economics and Policy (pp. 101–127). Dordrecht: Springer.

Kadushin, C. (2011). Understanding social networks: theories, concepts, and findings. Oxford: Oxford University Press.

Karekezi, S., Kimani, J., & Onguru, O. (2008). Energy access among the urban poor in Kenya. Energy for Sustainable Development, 12(4), 38–48.

Kassahun, S. (2015). Social capital and trust in slum areas: the case of Addis Ababa, Ethiopia. Urban Forum, 26(2), 171–185.

Katz, E., & Lazarsfeld, P. (1955). Personal influence. New York: Free Press.

Kenya National Bureau of Statistics Kenya (KNBS). (2019) Kenya Population and Housing Census (KPHC). Kenya: Kenya National Bureau of Statistics.

Kigochie, P. W. (2001). Squatter rehabilitation projects that support home-based enterprises create jobs and housing: the case of Mathare 4A, Nairobi. Cities, 18(4), 223–233.

Kinuthia, M. (1988). Social networks: ethnicity and the informal sector in Nairobi. Working Paper No. 463, Nairobi: Institute of Development Studies, University of Nairobi.

Kovacic, Z., Musango, K. J., Ambole, A., Buyana, K., Smit, S., Anditi, C., Mwau, B., Ogot, M., Lwasa, S., Brent, A. C., Nsangi, G., & Sseviiri, H. (2019). Interrogating differences: a comparative analysis of Africa's informal settlements. World Development, 122, 614–627.

Kuiper, K. (2012) Slum, Encyclopædia Britannica, https://www.britannica.com/topic/slum [accessed March 13, 2020].

Lambe, F., & Senyagwa, J. (2015). Identifying behavioural drivers of cookstove use: a household study in Kibera (p. 6). Nairobi: Stockholm Environment Institute.

Latour, B. (2007). Reassembling the social: an introduction to actor-network theory. Oxford: Oxford University Press.

Laumann, E., Siegel, P., & Hodge, R. W. (1970). The logic of social hierarchies. Chicago: Markham.

Luhmann, N. (1977). Differentiation of society. The Canadian Journal of Sociology / Cahiers Canadiens De Sociologie, 2(1), 29–53.

Mberu, B. U., Ezeh, A. C., Chepngeno-Langat, G., Kimani, J., Oti, S., & Beguy, D. (2013). Family ties and urban–rural linkages among older migrants in Nairobi informal settlements. Population, Space and Place, 19(3), 275–293.

McCulloh, I., Armstrong, H. L., & Johnson, A. N. (2013). Social network analysis with applications. Hoboken: John Wiley & Sons.

McFarlane, C. (2011). Assemblage and critical urbanism. City, 15(2), 204–224.

Meagher, K. (2006). Social capital, social liabilities, and political capital: social networks and informal manufacturing in Nigeria. African Affairs, 105(421), 553–582.

Mollica, K., Gray, B., & Treviño, L. (2003). Racial homophily and its persistence in newcomers' social networks. Organization Science, 14(2), 123–136.

Morgner, C. (2014). Anti-social behaviour and the London 'riots': social meaning-making of the anti-social'. In S. Pickard (Ed.), Anti-social behaviour in Britain: Victorian and contemporary perspectives (pp. 92–101). London: Palgrave.

Morgner, C. (2018). Trust and society: suggestions for further development of Niklas Luhmann's theory of trust. Canadian Review of Sociology/Revue canadienne de sociologie, 55(2), 232–256.

Morgner, C. (Ed.). (2020). Rethinking relations and social processes: J. Dewey and the notion of 'trans-action'. New York: Palgrave Macmillan.

Musalia, J. (2006). Gender, children and family planning networks in Kenya. The Social Science Journal, 43, 167–172.

Muungano Support Trust; Slum Dwellers International (SDI). (2011) University of Nairobi | Dept. of Urban and Regional Planning; University of California, Berkeley | Dept. of City& Regional Planning. Mathare Valley, Nairobi, Kenya 2011 Collaborative Upgrading Plan.

Omulo, C. (2019). "7,900 clinics operating illegally in Nairobi, committee reports" Accessed 29th April 2019: https://mobile.nation.co.ke/counties/nairobi/7900-clinics-operating-illegally-/3112260-5065806-jggesk/index.html

Otieno, W. (2016). "The sad tale of Mathare Valley Slums" https://www.standardmedia.co.ke/ureport/story/2000220296/the-sad-tale-of-mathare-valley-slums. Accessed 07 Oct 2019

Richerson, P. J., & Boyd, R. (1999). Complex societies. Human Nature, 10, 253–289.

Salon, D., & Gulyani, S. (2019). Commuting in urban Kenya: unpacking travel: demand in large and small Kenyan cities. Sustainability, 11(14), 1–22.

Samaio, A. (2018) The new frontlines are in the slums, foreign policy, 7 March, https://foreignpolicy.com/2018/07/03/the-new-frontlines-are-in-the-slums/[accessed 03.02.2020].

Serneels, P. (2007). The nature of unemployment among young men in urban Ethiopia. Review of Development Economics, 11(1), 170–186.

Thomson, S. (2013). Agency as silence and muted voice: the problem-solving networks of unaccompanied young Somali refugee women in Eastleigh. Nairobi, Conflict, Security & Development, 13(5), 589–609.

United Nations Human Settlements Programme. (2003). The challenge of slums. London: Earthscan Publications.

Van Stapele, N. (2010). Maisha bora, kwa nani? A cool life, for whom? Mediations of masculinity, ethnicity, and violence in a Nairobi slum mediations of violence in Africa (pp. 107-140): Brill.

Vidal, J. (2018) The 100 million city: is 21st century urbanisation out of control?, The Guardian, 19 March, https://www.theguardian.com/cities/2018/mar/19/urban-explosion-kinshasa-el-alto-growth-mexico-city-bangalore-lagos[accessed 03.02.2020].

Wellman, B. (1979). The community question: the intimate network of East Yorkers. American Journal of Sociology, 84, 1201–1231.

White, H. C. (1992). Identity and control: a structural theory of social action. Princeton: Princeton University Press.

Whyte, W. F. (1943). Street corner society. Chicago: University of Chicago Press.
Acknowledgements
The writing of this paper did not receive any specific funding. However, the CoDEC research project referred to in this paper was supported by Leading Integrated Research for Agenda 2030 In Africa (LIRA2030) program from 2017 to 2019. LIRA2030 is a five-year program aimed at supporting collaborative research projects led by early-career researchers across Africa. The program is being implemented by the International Science Council (ISC), in partnership with the Network of African Science Academies (NASAC), with support from the Swedish International Development Cooperation Agency (Sida). Additional funding for policy work in Kenya came from the Africa Climate Change Leadership (AfriCLP) program. AfriCLP is managed by University of Nairobi and is funded by the International Development Research Centre (IDRC). The corresponding author visited Kenya with support from the Leicester Institute of Advanced Studies, University of Leicester, UK. Stellenbosch University Research Office and Stellenbosch University International supported the CoDEC research project with a 2-year Postdoctoral Fellowship and project team mobility exchanges respectively.
Additional information
Publisher's Note
Springer Nature remains neutral with regard to jurisdictional claims in published maps and institutional affiliations.
About this article
Cite this article
Morgner, C., Ambole, A., Anditi, C. et al. Exploring the Dynamics of Social Networks in Urban Informal Settlements: the Case of Mathare Valley, Kenya. Urban Forum (2020). https://doi.org/10.1007/s12132-020-09389-2
Keywords
Social network

Urban planning

Informal settlement

Strong ties

Kenya