Abstract
This paper examines the early precursors of organized criminal subcultures using the U.S.-Mexico border city of El Paso, Texas as a case-study. El Paso is known as the birthplace of the pachuco; the Mexican Americans' original street-oriented subculture. It formed the basis for the numerous delinquent groups that would emerge there throughout the decades, ultimately producing a binational organized crime syndicate called the Barrio Azteca. This barrio-prison-cartel hybrid is a modern group with deep roots in the street-gang subcultures of the region. The current study shows that its ties to drug gangs in Ciudad Juárez and subsequent federal prosecutions were recent catalysts in its escalation as a unique cross-border entity. The work is informed by archival material, police data, and multi-faceted fieldwork with gang members and police. It illustrates how the El Paso-Juárez metroplex has fostered particular criminological dynamics not seen in any other place in the U.S. to date.
This is a preview of subscription content, log in to check access.
Access options
Buy single article
Instant access to the full article PDF.
US$ 39.95
Tax calculation will be finalised during checkout.
Subscribe to journal
Immediate online access to all issues from 2019. Subscription will auto renew annually.
US$ 99
Tax calculation will be finalised during checkout.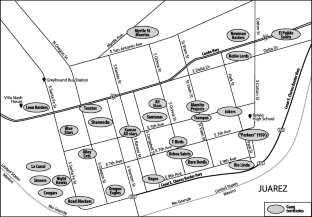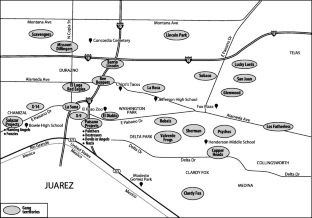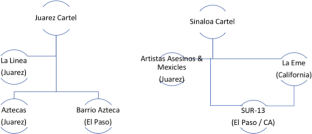 Notes
1.

A US vicinity inhabited by impoverished Latinos and typically isolated from other, more affluent parts of the settlement.

2.

An historical analysis of gang violence in Texas (Tapia forthcoming) shows that such violent incidents were not characteristic of youth gangs in other cities in this era.

3.

4.

Gundur (2017) for example, reported having difficulties finding willing gatekeepers in the gang-crime fieldwork in El Paso-Juarez he conducted for his dissertation.

5.

In 1925, 23-year-old Gabriel Ramirez was referred to as "El Paso's super criminal" by the police (El Paso Herald Post, 1925), and was jailed in LA after four different failed attempts to apprehend him in El Paso. Sought on murder charges, he entered into a series of shootouts and up-close physical struggles with police before fleeing to LA and eventually being caught there.

6.

The implication of the number 13 is a supposed connection to the California Mexican Mafia (EME) prison gang, the parent group to the SUR-13.

7.

In the borderland region, however, with its proximity to and strong ties to California in the Latino population, the purity of the transplantation process is often considerable.

8.

Varrio Berino Heights-13, for example, is an area gang who were said to be reprimanded by some larger Sureño authority for "not having permission" to start up a 13 set, unlike their enemies, the Varrio Anthony Locos (VALs-13), who were a sanctioned set ("Chuy", personal communication in 2016).

9.

10.

Del Sherman Territory is currently listed with 24 members in the El Paso Police Department gang database and the Sherman Park Locos are listed with only three members.

11.

Barrio Logan of San Diego, CA (no relation to Barrio Logan Heights of El Paso) once had a profile similar to that of the Barrio Azteca, as it was said to have become involved with the cartel in Tijuana for some time in the 1990s (Sullivan 1999; United Gangs 2017). Other details of this relationship and those of several Texas-based gangs with similar ties to northern Mexican cartels are discussed further in this paper's Conclusion.

12.

Some detached observers have aptly referred to the BA as one of the world's most dangerous gangs (e,g. Casey 2010). While this title is often given to MS-13 by the press and politicians in hyperbolic fashion, by comparison to the BA, it has proven to be a glib misnomer. Ward (2013) illustrated that the roots and evolution of MS-13 are not much different than most U.S. Latino street gangs for example. Under the Trump presidency, former Attorney General Jeff Sessions has exploited the false sense of danger posed by MS-13 to the general public to further politicize the issue of Latinos and crime.

13.

In his pioneering work on the BA, Gundur (2018, 2019a, b) interviewed and relied on the written memoir of Jose (Raulio) Rivera-Fierro, who claims to be the founder of the BA in the Texas prison system's Coffield Unit in 1986. By Rivera-Fierro's account, the BA was formed to ward off pressures from warring Latino prison gangs, noting that the BA initially had no formal structure or membership initiation rituals because the El Paso-Juárez based inmates all knew each other from the street, were already unified in prison, and had a reputation for toughness. El Paso law enforcement intelligence on the gang's history considers Rivera-Fierro to be one of several "founders", noting there are different gang genesis stories told among a small group of founders in which one or another assumes the role of "hero" (Chavez 2019).

14.

Some of Gundur's (2019a) research subjects did not believe this hegemonic characterization of Ravelo to be credible considering his unremarkable presence and role in the gang in the past, but no definitive challenge to the narrative was presented.

15.

While this arrangement stood for well over a decade, Juárez police commented on the recent friction between the BA and La Linea, perhaps causing them to split up. In late 2017, an executed corpse was hung from a bridge at the border between Santa Teresa and Anapra,on the western outskirts of Juárez with a "narcomanta" (message) scrawled on it. This prompted the comments from Juárez authorities to the press (Tiempo 2017). Throughout 2018, violence levels increased in Juarez, with speculation by the authorities and the press that splintering, power struggles, and shifting alliances among the gangs in Figure 3 (plus the emergence of new ones) caused the uptick in violence (Esquivel, 2018; Orquiz 2019).

16.

There are active and former members of well-known California Sureño sets such as Colonia Watts, Gary Lomas, and Varrio Nuevo Estrada scattered across El Paso, but as individual groups, their presence is not as prominent as the others mentioned here.

17.

A notable incident occurred in 2011 at Shooter's Billiards in the Devil's Triangle Neighborhood in Northeast El Paso when a high-ranking Sureño/Eme transplant from California was assaulted, stabbed, shot, and "left for dead" by three members of the BA ("Spooky" personal communication in 2017; Ortiz 2011). The intended message was essentially, "this [El Paso/Juarez] is our turf".

18.
References
Agren D (2017) Mexico maelstrom: how the drug violence got so bad. The Guardian (Dec. 26)

Ahlgren, Frank Jr. 1981. Gang life has lost its glamour. El Paso Herald Post, Dec 16, A-1

Barajas L (2002) Drive By Shooting Response Team El Paso Police Department:1–14

Barker T (ed) (2012) North American criminal gangs. Carolina Acad. Press, Durham

Bender SW (2012) Run for the border: vice and virtue in U.S.-Mexico crossings. New York University Press, New York

Borunda D (2008) Ex-Azteca's testimony reveals his ties to FBI. El Paso Times Nov 4

Borunda, Daniel. 2014a. Sureño street gang has grown in El Paso El Paso Times. April 22. Reprinted July 13, 2016

Borunda, Daniel. 2014b. Operations Ome Ce, Stonegarden: Racketeering Investigation 'Disrupts' Barrio Azteca Gang El Paso Times Oct. 12. A-12. 1

Bowden C (2002) Down by the river: drugs, money, murder, and family. Simon & Schuster, NY

Bowden C (2010) Murder City: cd. Juarez and the global Economy's new killing fields. Nation Books, NY

Braddy H (1960) The Pachucos and their argot. Southern Folklore Quarterly XXIV:225–271

Buch J (2013) Zetas and prison gang members enter pleas in San Antonio. San Antonio Express News (Jan. 11)

Campbell H (2009) Drug war zone: frontline dispatches from the streets of El Paso & Juarez. UT Press, Austin

Casey N (2010) Gang questioned in Mexico killings. The Wall Street Journal March 19

Chavez A (2009) 14 alleged Aztecas are arrested in drug case El Paso Times, p May 16

Chavez A (2019) A case study of the El Paso/Juarez prison gang, barrio Azteca. In: Unpublished thesis. Mexico State University, New

Coltharp L (1965) The tongue of the Tirilones: a linguistic study of a criminal argot. University of Alabama Press, Tuscaloosa, AL

Correa-Cabrera G (2013) Security, Migration and the Economy in the Texas-Tamaulipas Border Region Politics & Policy 41(1):65–82

Correa-Cabrera G (2017) Los zetas Inc.: criminal corporations, energy, and civil war in Mexico. University of Texas Press

Davidson T (1974) Chicano prisoners: the key to san Quentin. Holt, Rinehart and Wilson, New York

Decker S, Van Winkle B (1996) Life in the gang. Cambridge University Press

Dibble, Sandra. 2018. Control for street drug trade pushes Tijuana to grisly new record. San Diego Union Tribune. Jan 14. http://www.sandiegouniontribune.com/news/border-baja-california/sd-me-homicides-tijuana-20180102-story.html [accessed Jan. 18]

Durán R (2012) Gang life in two cities: an Insider's journey. Columbia University Press

Duran R (2018) Gang paradox: inequality and miracles on the U.S. – Mexico border. Colombia University Press, NY

Einhorn C (2011) And then there were 8 (on the FBI's list of most wanted fugitives). New York Times, June 24:8

El Paso Herald Post 1925 Career of Crime Believed Ended As El Paso Thug Apprehended in Los Angeles; Shot Finley as Effort Made to Capture Him, April 21:4

El Paso Herald Post (1932) Seek Robber Gang. August 8:7

El Paso Herald Post 1934. Gang Roundup Begun Following Stabbing Feb 26, p. 3

El Paso Herald Post 1936a Two Are Jailed in Gang Slaying Threat Inquiry: Charge Youth Tried to intimidate Trial Witnesses. Feb 19, p. 1

El Paso Herald Post 1936b Gang Attacks Man. Apr. 8, p. 1

El Paso Herald Post (1938) Assault gang Here smashed: charge young girls taken to Sand Hills by boys and attacked. July 6:3

Epstein D (2015) Devils. Deals, and the DEA Propublica (Dec. 17)

Esquivel J Jesus (2018) "Cuidad Juárez, como es sus peores epocas". Proceso September 15

Fleisher M (1995) Beggars & Thieves: lives of urban street criminals. University of Wisconsin Press, Madison

Fong R (1990) The organizational structure of prison gangs: a Texas case study. Fed Probat 54(1):36–44

Garcia MT (1995) Memories of Chicano history: the Life & Narrative of Bert Corona. UC Press, Berkely, CA

Gundur RV (2017) Organizing crime in the margins. Cardiff University, Wales, Doctoral Dissertation

Gundur, R.V. 2018. The changing social organization of prison protection markets. Trends in Organized Crime Feb https://doi.org/10.1007/s12117-018-9332-0.Pp1-20

Gundur, R.V. 2019a. Negotiating violence and protection in prison and on the outside: the organizational evolution of the transnational prison gang barrio Azteca International Criminal Justice Review. (Online first) doi:https://doi.org/10.1177/1057567719836466, 105756771983646

Gundur RV (2019b) Settings matter: examining protection's influence on the illicit drug trade in convergence settings in the Paso del Norte metropolitan area. Crime Law Soc Chang:1–22

Hagedorn J (1988) People and folks: gangs, crime, and the underclass in a Rustbelt City. Lakeview Press, Chicago

Howell J (1999) Youth gang homicide. Crime Delinq 45(2):208–241

Kirk, Harry. 1993. An Historical Review of Gangs and Gang Violence in El Paso, Texas. Sam Houston State University, Law Enforcement Management Institute report. 1–58

Knox G, Houston J, Ed T, McCurrie T, Laskey J (1996) Addressing and testing the migration issue: a summary of recent findings. In: Miller M, Rush J (eds) Gangs: a criminal justice approach, pp 76–85 Cincinnati: ACJS/Anderson Monograph Series

Lira Arredondo Sanchez J, Orozco Z, Ferreira Rodriguez O, Shirk D (2018) The resurgence of violent crime in Tijuana. In: Justice in Mexico policy brief. University of San Diego, February

Maxson CL (1993) Investigating gang migration: contextual issues for intervention. Gang Journal 1:1–8

Maxson CL, Woods KJ, Klein MW (1996) Street gang migration: how big a threat? National Institute of Justice Journal 230:26–31

McCaffrey B, Scales R (2011) Texas border security: a strategic military assessment. A Colgen Report Sept 20:1–182

McKinley, James. 2010. Suspect says Juarez killers pursued jail guard New York times, March 31. http://www.nytimes.com/2010/04/01/world/americas/01mexico.html?mcubz=1 [accessed Oct. 28]

Mirandé A (1987) Gringo justice. University of Notre Dame Press, South Bend, Indiana

Moore J (1978) Homeboys. Temple University Press, Philadelphia

Morales F (2007) La Chihuahuita. El Paso, TX: El Paso/Juarez Historical Museum. OCLC 174149696

Morales G (2008) The Sureño influence on Southern California gangs, in Sureños 2008, Rocky Mountain info. Network:17–33

Moreno ME (2006) Mexican American street gangs, migration, and violence in the Yakima Valley. Pacific Northwest Quarterly 97(3):131–138

O'Deane M (2011) Gang injunctions and abatement: using civil remedies to curb gang related crimes. CRC Press, New York

Olvera J (1984) We could conquer El Paso: with 1,000 members, gangs continue to roam city neighborhoods. El Paso Herald Post Feb 22. P. 1-A

Ornstein J (1983) Linguistic and social aspects of Pachuco Caló: a bilingual variety of the U.S.-Mexico border. In: Hattori S et al (eds) Proceedings of the thirteenth international congress of linguistics. Gakushuin University, Tokyo, pp 832–836

Orquiz M (2019) Cierra el año con 1,247 homicidios. El Diario de Juarez. March 1

Ortiz F (2011) Police arrest 3 men in shooting at shooters billiards. KVIA News. Nov, p 2 http://www.kvia.com/news/police-arrest-3-men-in-shooting-at-shooters-billiards/53341254. [accessed Oct. 5, 2016]

Ortiz Uribe, Monica 2014. Vicious Gang, Barrio Azteca, Gets Its Start In El Paso, NPR. March 25, http://www.npr.org/2014/03/25/294133885/vicious-gang-barrio-azteca-gets-its-start-in-el-paso [accessed Nov. 1, 2017]

Peach, James, and James Williams. 1994. Demographic changes in the El Paso-Juarez-Las Cruces region Estudios Fronterizos, 34, 117–137

Proceso 2006. Pandillas al servicio del Narco. Por redaccion. Feb 5. http://www.proceso.com.mx/97085/pandillas-al-servicio-del-narco [accessed Aug 31, 2017]

Rahm HJ, Weber JR (1958) Office in the alley: report on a project with gang youngsters. UT Austin Hogg Foundation, Austin, Texas

Rivera, Jose. n.d. American Wetback. Unpublished Manuscript

Rojas, Raymundo E. 2007. Where devils fear to tread: the good, the bad, and the ugly of El Paso historic diablo territory. Pluma Fronteriza, Spring

Sanchez, Stephanie. 2009. FBI links fugitive to hundreds of cartel hits. El Paso Times. Oct. 22. 1-A

Santana J, Morales G (2014) Don't mess with Texas: Gangs in the Lonestar state. Create Space Publishing, Columbia, SC

Serrano X (2017) DEA special agent in charge, El Paso intelligence center (EPIC), vol 27. Personal Communication. Oct

Sullivan J (1999) Gangs, hooligans, and anarchists. Pp. 99–128 in Arquilla and Ronfeldt (Eds). Networks and Netwars: The Future of Terror, Crime, and Militancy. Rand Corp, Santa Monica, CA

Tapia M (2014) Latino street gang emergence in the Midwest: strategic franchising or natural migration? Crime Delinq 60(4):592–618

Tapia M (2017) The barrio gangs of San Antonio, Texas, 1915–2015. Texas Christian University Press, Fort Worth, Texas

Tapia M (2018) Barrio criminal networks and prison gang formation in Texas. J Gang Res 25(4):45–63

Tapia, Mike. (Forthcoming) Gang Violence in Texas: 1930–2020 in B.T. Jett and K.W. Howell (Eds.), Violence in Modern Texas, (pp XX) College Station, TX: Texas A&M Press

Texas Department of Public Safety (2015) Texas gang threat assessment Texas fusion center, intelligence and counter terrorism division, pp 1–57

Thrasher F (1927) The gang. University of Chicago Press

Tiempo. 2017. Redaccion. A dos días de terminar diciembre van 79 ejecutados en Ciudad Juárez Dec. 29. http://tiempo.com.mx/noticia/111535-ejecutados_en_ciudad_juarez_ciudad_juarez_homicidios_fiscalia_zona_norte/1. [accessed Jan. 2, 2018]

Triplett R (1997) Youth gangs in Texas, part II. Texas Law Enforcement Management and Administrative Statistics Program 4(4):1–11

U.S. Department of Justice (2011) West Texas high intensity drug trafficking area (HIDTA) drug market analysis. National Drug Intelligence Center, Washington, D.C, pp 1–32

Uhl David and Moses Meglorino (1993) "Chihuahuita in the 1930s: Tough Times in the Barrio." Borderlands 12. El Paso Community College, Library Guides. https://epcc.libguides.com/content.pnp?pid=309255&sid=2621893. [accessed Feb. 10, 2016]

U.S. Department of Justice. 2017. Drug enforcement agency. National Drug Threat Assessment. October. https://www.dea.gov/sites/default/files/2018-07/DIR-040-17_2017-NDTA.pdf. [accessed June. 28, 2018]

United Gangs 2017. Barrio Logan Heights. https://unitedgangs.com/barrio-logan-heights-gang/ [accessed Nov. 5]

University of Texas at El Paso, (UTEP). 1974. Interview with Guillermo Balderas by Oscar Martinez. Int. #148. Apr. 18

University of Texas at El Paso, (UTEP). 1978. Interview with Anonymous by Wendy Thomson. Interview no. 724, April 8

Valdez A (2005) Mexican American youth and adult prison gangs in a changing heroin market. J Drug Issues 35(4):843–868

Valdez A, Enriquez R (2011) Urban street terrorism: the Mexican mafia and the Sureño Trece. Police and Fire Publishing, Santa Ana, CA

Valenzuela-Arce, José Manuel 2013, Juaritos: prohibicionismo, violencia y frontera. Pp. 91-104. En Cruz Sierra, Salvador (Coord.), Vida, muerte y resistencia en Ciudad Juárez. Una aproximación desde la violencia, el géneroy la cultura. COLEF, Tijuana

Vigil JD (1988) Barrio gangs: street life and identity in Southern California. Texas University Press, Austin

Vigil JD (1990) Cholos & gangs: culture change and street youth in L.a. pp. 116-128 in huff (ed.). In: Gangs in America. Sage, New York

Villalobos R (1972) Baby-faced 'El Raton' terrorizing elderly in South El Paso. El Paso Times. August 19

Waldorf D (1993) When the Crips invaded San Francisco: gang migration. Gang Journal 1:11–16

Ward TW (2013) Gangsters without Borders: ethnography of a Salvadoran street gang. Oxford University Press

Yearwood D, Rhyne A (2007) Hispanic/Latino gangs: a comparative analysis of nationally affiliated and local gangs. J Gang Res 14:1–18
Ethics declarations
Ethical approval
All procedures performed in studies involving human participants were in accordance with the ethical standards of the institutional and/or national research committee and with the 1964 Helsinki declaration and its later amendments or comparable ethical standards.
Informed consent
Informed consent was obtained from all individual participants included in the study.
Additional information
Publisher's note
Springer Nature remains neutral with regard to jurisdictional claims in published maps and institutional affiliations.
About this article
Cite this article
Tapia, M. Gangs in the El Paso-Juárez borderland: the role of history and geography in shaping criminal subcultures. Trends Organ Crim 23, 367–384 (2020). https://doi.org/10.1007/s12117-019-09374-7
Keywords
U.S.-Mexico border

Gangs

History