Abstract
While significant efforts have been made to reform the criminal justice system across Latin America, we do not know the conditions under which reform effectively deters homicide, one of many goals of the reform. Drawing on a novel sub-national design in Mexico, I find that criminal procedure reforms aimed at improving due process are not sufficient for deterring homicide in places where non-state actors (i.e. drug cartels) effectively challenge the state's monopoly of violence. I argue that in these settings, citizens are less willing to cooperate with the formal system of justice - despite reform efforts. Without society cooperation, the prosecution is less equipped to investigate, prosecute, and solve crime, resulting in impunity and little deterrence. Importantly, where the state maintains its monopoly of violence, reform is associated with less homicide. In selecting remedies to combat violent crime, therefore, different communities need to pursue different strategies, suggesting that the State can deter violence through fairness.
Access options
Buy single article
Instant access to the full article PDF.
US$ 39.95
Tax calculation will be finalised during checkout.
Subscribe to journal
Immediate online access to all issues from 2019. Subscription will auto renew annually.
US$ 79
Tax calculation will be finalised during checkout.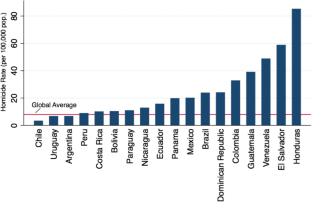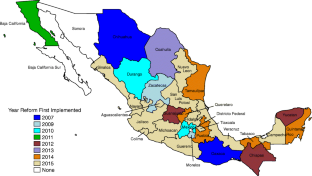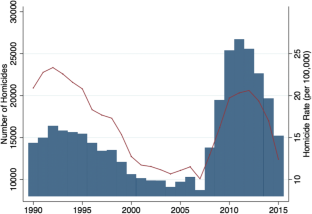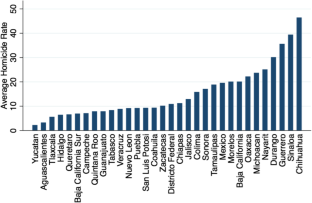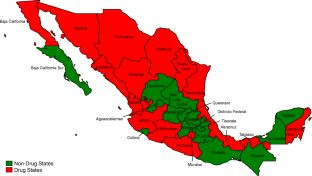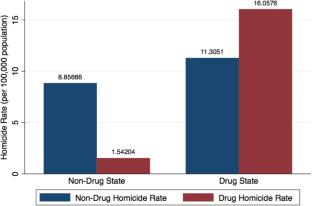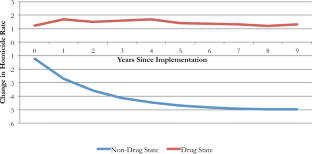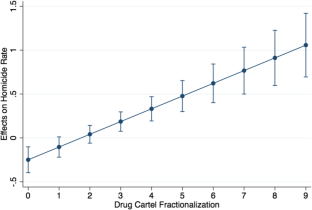 Notes
1.

In Mexico, there are two main jurisdictional levels — federal (fuero federal) and state (fuero comun). I do not distinguish my argument based on which jurisdictional level is responsible for investigation. Regardless of what entity is responsible for investigating crime, I argue that the relationship between legal authorities of all kind and society is fractured in settings where non-state actors challenge the state.

2.

In 2016, SETEC was dissolved. It was created to help with implementation during the rollout phase. After 2016, its responsibilities and resources were dispersed to the state governments who are now each in charge of administering the NCJS. See Ingram (2013) for date of implementation, which I used to validate my coding.

3.

In the state of Oaxaca, SETEC lists 285 municipalities where the NCJS "is currently operational," but I cannot determine in what year those municipalities first implemented the reform. I refer, therefore, to a report by Ingram (2013) that identifies the year the reform was implemented across the eight regions of Oaxaca. As of 2012 - the last year of evaluation in the report - the reform had been implemented in four regions, covering the 285 municipalities listed on the SETEC website. I cannot confirm when the other four regions implemented the reform, so the remaining 315 municipalities in Oaxaca have missing values for the reform.

4.

The third component of the index could be said to speak more to state capacity/presence than cartel conflict. To this charge, I remind readers that my theory is based on threats or challenges to the state and its ability to maintain a monopoly of violence. Therefore, if the state is having to conduct confrontational and often brutal attacks against kingpins, this is clearly a context in which there exist challengers to the state and is precisely what I hope to measure.

5.

In future research, I intend to extend the analysis to the municipal level using other proxies/measures of cartel presence as they become available. Certainly, there are important differences between municipalities in terms of violence, criminal activity, and inter-cartel conflict within one state. It is likely that citizens guide their attitudes about the judiciary and police more so by what happens at the local (municipal) level than at the state level. Still, I argue that, given the saliency of violent crime manifested by the media (Shirk 2010) and the frequency in which cartels move to nearby locations (Dell 2015), evaluating the impact of reform at the state level still has merit.

6.

It is important to acknowledge the fact that conviction rates are very high in Mexico. Judges tend to convict most of those that reach them for a number of reasons including poor investigation, informal quotas, and public pressure (I would like to thank an anonymous reviewer for identifying these "perverse incentives."). Of course, a bigger problem here is that a majority of cases never reach a judge to begin with (Zepeda-Lecuona 2004) so many crimes go unpunished because they are not investigated or fail to reach a judge. Thus, a small percentage of crimes in Mexico are actually punished. As problematic as this is for the criminal justice in Mexico, using the conviction rate - albeit a high conviction rate - to measure the likelihood of punishment and, consequently, its effect on deterring crime can still be valid. Since conviction is highly probable should a suspect reach a judge, individuals should, in theory, be deterred from criminal activity. I make the assumption here that individuals cannot be entirely sure that they will not be sent to a judge.

7.

Theoretically, if the reform is causally related to more homicide in Chihuahua (instead of a null relationship), it could be the case that implementing the reform in a context of extreme violence creates too much uncertainty. That is, when the institutions of law are changed too rapidly in such settings, it creates an unstable situation where powerful non-state actors, can take advantage of the instability by further consolidating their own power. This is consistent with my theory, but perhaps suggests that there is a threshold in which reform or changes to legal processes may be harmful rather than just ineffective. Further qualitative research is needed to evaluate the relationship between homicide and criminal procedure reform in Chihuahua.
References
Aguirre J, Amador Herrera H (2013) Institutional weakness and organized crime in Mexico: the case of Michoacán. Trends in Organized Crime 16(2):221–238

Azaola Elena, Marcelo Bergman (2007) "De mal en peor: las condiciones de vida en las creceles mexicanas." Nueva Sociedad 208

Bayley DH, Perito RM (2010) The police in war. Lynne Rienner Publishers, Boulder

Becker GS (1968) Crime and punishment: an economic approach. J Polit Econ 76:169–217

Beetham D (1991) The legitimation of power. MacMillan, London

Benesh SC (2006) Understanding public confidence in American courts. J Polit 68:697–707

Bergman M, Whitehead L (2009) Criminality, public security, and the challenge to democracy in Latin America. University of Notre Dame Press, Notre Dame

Blume, Laura (2016) "The Old Rules No Longer Apply: Narco Violence against Politicians in Mexico." Prepared for MPSA, Chicago, IL 2016

Bunker RJ (2013) Introduction: the Mexican cartels—organized crime vs. criminal insurgency. Trends in Organized Crime 16(2):129–137

Calleros JC (2009) The unfinished transition to democracy in Latin America. Routledge, New York

Casas-Zamora, Kevin (2013) "The besieged polis: citizen insecurity and democracy in Latin America." Latin America Initiative at Brookings

Corcoran, Patrick (June 27, 2011) "A survey of Mexico's trafficking networks." InSight crime: investigation and analysis of organized crime

Cruz, Jose Miguel and Gema Santamaria. 2014. "Crime and support for extralegal violence in Latin America." Prepared for APSA Washington D.C.

Currie, Elliott. 2013. Crime and punishment in America. Picador

Davila, Ana (April 26, 2016) "Mexican drug cartels and the art of political puppetry." The Huffington post

Davis DE (2006) Undermining the rule of law: democratization and the dark side of police reform in Mexico. Latin American Politics and Society 48(1):55–86

DeBoef S, Keele L (2008) Taking time seriously. Am J Polit Sci 52(1):184–200

Decker S, Wright R, Logie R (1993) Perceptual deterrence among active residential burglars: a research note. Criminology 31(1):135–147

Dell M (2015) Trafficking networks and the Mexican drug war. Am Econ Rev 105(6):1738–1779

Economist, The (2015) "Captured capos."

Economist, The (2016) "Longer jail sentences do deter crime, but only up to a point."

Ehrlich I (1973) Participation in illegitimate activities: a theoretical and empirical investigation. J Polit Econ 81:521–565

Grasmick HG, Bryjak GJ (1980) The deterrent effect of perceived severity of punishment. Social Forces 59(2):471–491

Guerrero Gutierrez E (2010) Security, Drugs, and Violence in Mexico: A Survey. Lantia Consultores, S.C, Washington D.C.

Gujarati DN, Porter DC (2008) Basic econometrics, 5th edn. McGraw Hill Education, New York

Harbaugh, William T., Naci Mocan, Michael S. Visser (2013) Theft and Deterrence. Discussion Paper Series 5813 The Institute for the Study of Labor

Harcourt BE (2001) The illusion of order: the false promise of broken windows policing. Harvard University Press, Cambridge

Hirschi T, Gottfredson M (1983) Age and the explanation of crime. Am J Sociol 89:552–584

Hodgson J (2015) Legitimacy and state responses to terrorism: the UK and France. Oxford University Press, Oxford

Ingram, Matthew C (2013) "Criminal procedure reform in Mexico: where things stand now." Technical report Wilson Center

Karstedt S (2001) Comparing cultures, comparing crime: challenges, prospects and problems for global criminology. Crime Law Soc Chang 36:285–308

Karstedt S (2015) Does democracy matter? Comparative perspectives on violence and democratic institutions. Eur J Criminol 12(4):457–481

Kelling GL, Coles CM (1996) Fixing broken windows. Touchstone, New York

LaFree G (1998) Losing Legitimacy: Street Crime and the Decline of Social Institutions in America. Westview, Boulder

Langer M (2007) Revolution in Latin American criminal procedure: diffusion of legal ideas from the periphery. American Journal of Comparative Law 55:617–676

Ley S (2018) To vote or not to vote: how criminal violence shapes electoral participation. J Confl Resolut 62(9):1963–1990

Ley S, Trejo G (Forthcoming) "High-profile criminal violence: why drug cartels murder government officials and party candidates in Mexico." British Journal of Political Science

McArdle A, Erzen TT (2001) Zero tolerance: quality of life and the new police brutality in new York City. New York University Press, New York

Messner SF, Raffalovich LE, Sutton GM (2010) Poverty, infant mortality, and homicide rates in cross-national perspective: assessments of criterion and construct validity. Criminology 48:509–537

Migdal J (1988) Strong societies and weak states. Princeton University Press, Princeton

Morris SD (2012) Corruption, drug trafficking, and Violence in Mexico. Brown Journal of World Affairs 18(2):29–43

Nivette AE (2011) Cross-national predictors of crime: a meta-analysis. Homicide Stud 15:103–131

O'Donnell GA (1993) On the state, democratization and some conceptual problems: a Latin American view with glances at some postcommunist countries. World Dev 21(8):1355–1369

O'Donnell, Guillermo A (1998) Polyarchies and the (un)rule of law in Latin America. Technical report 254. The Helen Kellogg Institute for International Studies

Osorio, Javier, Livia I. Schubiger and Michael Weintraub. (2016) "Vigilante Mobilization and Local Order: Evidence from Mexico." Prepared for MPSA Chicago, IL 2016

Pasara L (2009) Criminality, public security, and the challenge to democracy in Latin America. University of Notre Dame Press, Notre Dame

Pratt TC, Cullen FT (2005) Assessing macro-level predictors and theories of crime: a meta-analysis. Crime Justice 32:373–450

Pridemore WA, Trent CLS (2010) Do the invariant findings of land, McCall, and Cohen generalize to cross-national studies of social structure and homicide? Homicide Stud 14:296–335

Pruitt D, Peirce RS, McGillicuddy NB, Welton GL, Castrianno LM (1993) Long-term success in mediation. Law Hum Behav 17:313–330

Rios, Viridiana (2016) "The impact of crime and violence on economic sector diversity." The Wilson Center

Rios V, Shirk DA (2011) Drug violence in Mexico: data and analysis through 2010. Trans-Border Institute, San Diego

Rodriguez Ferreira Octavio, David Shirk (2015) Criminal Procedure Reform in Mexico, 2008–2016: The Final Countdown for Implementation. Technical report, Justice in Mexico, University of San Diego

Shirk, David A (2010) Judicial Reform in Mexico: Change and Challenges in the Justice Sector. Technical report, Justice in Mexico

Silverman EB (1999) NYPD Battles Crime: Innovative Strategies in Policing. Northwestern University Press, Evanston

Skocpol Theda (1985) Bringing the State Back in. Cambridge University Press

Snyder R, Duran-Martinez A (2009) Does illegality breed violence? Drug trafficking and state-sponsored protection rackets. Crime Law Soc Chang 52(3):253–273

Sparks JR, Bottoms A, Hay W (1996) Prisons and the problem of order. Cambridge University Press, Cambridge

Sunshine J, Tyler TR (2003) The role of procedural justice and legitimacy in shaping public support for policing. Law Soc Rev 37(3):513–547

Teevan J (1976) Subjective perception of deterrence (continued). J Res Crime Delinq:155–164

Trelles A, Carreras M (2012) Bullets and votes: violence and electoral participation in Mexico. Journal of Politics in Latin America (2):89–123

Tulchin, Joseph S. and Meg Ruthenburg (2006) Toward a society under law: citizens and their police in Latin America. Johns Hopkins Press

Tyler TR (1990) Why people obey the law. Yale University Press, New Haven

Tyler TR (2006) Psychological perspectives on legitimacy and legitimation. Annu Rev Psychol 57:375–400

Tyler TR, Blader SL (2000) Cooperation in groups. Psychology Press, Philadelphia

Tyler TR, Huo YJ (2002) Trust in the law: encouraging public cooperation with the police and courts. Russell-Sage, New York

Tyler TR, Lind EA (1992) A relational model of authority in groups. Adv Exp Soc Psychol 25:115–191

Tyler TR, Rasinski K (1991) Procedural justice, institutional legitimacy, and the acceptance of unpopular U.S. Supreme Court decisions: a reply to Gibson. Law Soc Rev 25(3):621–630

Tyler TR, Boeckmann RJ, Smith HJ, Huo YJ (1997) Social justice in a diverse society. Westview Press, Boulder

Uldriks N (2009) Police reform, security, and human rights in Latin America: an introduction. Lexington Books, Lanham

United Nations Development Report (2013) Citizen Security with a Human Face: Evidence and Proposals for Latin America. Technical report New York: United Nations Development Programme

UNODC (2013) Global study on homicide. Technical report. New York: United Nations Development Programme

Woody, Christopher (March 19, 2016) "How an overlooked impact of Mexico's drug violence is holding back its economy." Business Insider

Zepeda-Lecuona, Guillermo (2004) Crimen sin castigo: procuracion de justicia penal y ministerio publico en Mexico. Centro de Investigacion para el Desarrollo

Zepeda-Lecuona, Guillermo (2010) Los mitos de la prision preventiva en Mexico. Technical report. Washington, D.C.: Open Society Justice Initiative
Ethics declarations
Conflict of interest
I declare that I have no conflict of interest.
Ethical approval
This article does not contain any studies with human participants or animals performed by any of the authors.
Additional information
Publisher's note
Springer Nature remains neutral with regard to jurisdictional claims in published maps and institutional affiliations.
About this article
Cite this article
Huebert, E.T. Criminal procedure reform and the impact on homicide: evidence from Mexico. Trends Organ Crim 24, 42–69 (2021). https://doi.org/10.1007/s12117-019-09362-x
Keywords
Criminal procedure reform

Drug cartels in Mexico

Law and society

Due process

Monopoly of violence