Abstract
If laughter functions to build relationships between individuals, as current theory suggests, laughter should be linked to interpersonal behaviors that have been shown to be critical to relationship development. Given the importance of disclosing behaviors in facilitating the development of intense social bonds, it is possible that the act of laughing may temporarily influence the laugher's willingness to disclose personal information. We tested this hypothesis experimentally by comparing the characteristics of self-disclosing statements produced by those who had previously watched one of three video clips that differed in the extent to which they elicited laughter and positive affect. The results show that disclosure intimacy is significantly higher after laughter than in the control condition, suggesting that this effect may be due, at least in part, to laughter itself and not simply to a change in positive affect. However, the disclosure intimacy effect was only found for observers' ratings of participants' disclosures and was absent in the participants' own ratings. We suggest that laughter increases people's willingness to disclose, but that they may not necessarily be aware that it is doing so.
Access options
Buy single article
Instant access to the full article PDF.
USD 39.95
Price includes VAT (USA)
Tax calculation will be finalised during checkout.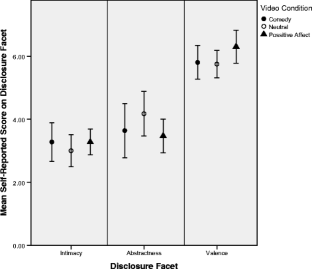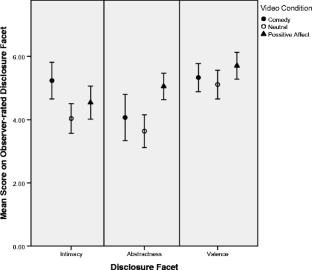 Notes
1.

Since participants completed the study in groups, the data were not strictly independent. For this reason, all analysis reported here were repeated again at the group level using aggregated data (n = 28). The pattern of significant findings was identical in all cases.
References
Bachorowski, J.-A., & Owren, M. J. (2001). Not all laughs are alike: voiced but not unvoiced laughter readily elicits positive affect. Psychological Science, 12, 252–257.

Bem, D. J. (1972). Self-perception theory. In L. Berkowitz (Ed.), Advances in experimental social psychology (Vol. 6, pp. 1–62). New York: Academic.

Berger, C. R., & Calabrese, R. J. (1975). Some explorations in initial interaction and beyond: toward a developmental theory of interpersonal communication. Human Communication Research, 1, 99–112.

Berscheid, E., & Reis, H. T. (1998). Attraction and close relationships. The handbook of social psychology, 4th edition, pp. 193–281.

Chaijale, N. N., Curtis, A. L., Wood, S. K., Zhang, X., Bhatnagar, S., Reyes, B. A. S., Bockstaele, E. V., & Valentino, R. J. (2013). Social stress engages opioid regulation of locus coeruleus norepinephrine neurons and induces a state of cellular and physical opiate dependence. Neuropsychopharmacology, 38, 1–11.

Chaikin, A. L., & Derlega, V. J. (1974). Variables affecting the appropriateness of self-disclosure. Journal of Consulting and Clinical Psychology, 42, 588–593.

Chapman, A. J. (1976). Social aspects of humorous laughter. In A. J. Chapman & H. C. Foot (Eds.), Humour and laughter: Theory, research and applications (pp. 155–185). London: Wiley.

Clark, D. M., & Wells, A. (1995). A cognitive model of social phobia. In R. G. Heimberg, M. Liebowitz, D. A. Hope, & F. Schneier (Eds.), Social phobia: Diagnosis, assessment and treatment. New York: Guilford.

Coleman, L. H., Paternite, C. E., & Sherman, R. C. (1999). A re-examination of deindividuation in synchronous computer-mediated communication. Computers in Human Behavior, 15, 51–65.

Collins, N. L., & Miller, L. C. (1994). Self-disclosure and liking: a meta-analytic review. Psychological Bulletin, 116, 457–475.

Cozby, P. (1973). Self-disclosure: a literature review. Psychological Bulletin, 73–91.

Curley, J. P., & Keverne, E. B. (2005). Genes, brains and mammalian social bonds. Trends in Ecology & Evolution, 20, 561–567.

Curry, O., & Dunbar, R. I. M. (2013). Sharing a joke: the effects of a similar sense of humor on affiliation and altruism. Evolution and Human Behavior, 34, 125–129.

Daft, R. L., & Lengel, R. H. (1986). Organizational information requirements, media richness, and structural design. Management Science, 32, 554–571.

Daft, R. L., Lengel, R. H., & Trevino, L. K. (1987). Message equivocality, media selection and manager performance: implications for information systems. MIS Quarterly, 11, 355–366.

DePaulo, B. M., Kashy, D. A., Kirkendol, S. E., Wyer, M. M., & Epstein, J. A. (1996). Lying in everyday life. Journal of Personality and Social Psychology, 70, 979–995.

Derlega, V., & Berg, J. H. (1993). Self-disclosure. Newbury Park: Sage.

Devereux, P. G., & Ginsburg, G. P. (2001). Sociality effects on the production of laughter. The Journal of General Psychology, 128, 227–240.

Dezecache, G., & Dunbar, R. I. M. (2012). Sharing the joke: the size of natural laughter groups. Evolution and Human Behavior, 33, 775–779.

Dunbar, R. I. M. (2004). The human story. London: Faber.

Dunbar, R. I. M. (2010). The social role of touch in humans and primates: behavioural function and neurobiological mechanisms. Neuroscience and Biobehavioral Reviews, 34, 260–268.

Dunbar, R. I. M. (2012). Bridging the bonding gap: the transition from primates to humans. Philosophical Transactions of the Royal Society, B: Biological Sciences, 367, 1837–1846.

Dunbar, R. I. M., Baron, R., Frangou, A., Pearce, E., van Leeuwen, E. J. C., Stow, J., et al. (2012). Social laughter is correlated with an elevated pain threshold. Proceedings of the Royal Society B: Biological Sciences, 279, 1161–1167.

Flamson, T., & Barrett, H. C. (2008). The encryption theory of humor: a knowledge based mechanism of honest signaling. Journal of Evolutionary Psychology, 6, 261–281.

Forgas, J. P. (2011). Affective influences on self-disclosure: mood effects on the intimacy and reciprocity of disclosing personal information. Journal of Personality and Social Psychology, 100, 449–461.

Freedman, J. L., & Perlick, D. (1979). Rowing, contagion and laughter. Journal of Experimental Social Psychology, 15, 295–303.

Gilead, M., Liberman, N., & Maril, A. (2013). From mind to matter: neural correlates of abstract and concrete mindsets. Social Cognitive and Affective Neuroscience, 8, 341–350.

Goosen, C. (1981). On the function of allogrooming in Old-World monkeys. In A. B. Chiarelli & R. S. Corruccini (Eds.), Primate behaviour and sociobiology (pp. 110–120). Berlin: Springer.

Gosling, S. D., Rentfrow, P. J., & Swann, W. B. (2003). A very brief measure of the Big-Five personality domains. Journal of Research in Personality, 37, 504–528.

Grammer, K. (1990). Strangers meet: laughter and nonverbal signs of interest in opposite-sex encounters. Journal of Nonverbal Behavior, 14, 209–236.

Grammer, K., & EibI-Eibesfeldt, I. (1990). The ritualisation of laughter. Natürlichkeit der Sprache und der Kultur, 18, 192–214.

Greene, K., Derlega, V. J., & Mathews, A. (2006). Self-disclosure in personal relationships. In A. Vangelisti & D. Perlman (Eds.), Cambridge handbook of personal relationships (pp. 409–427). Cambridge: Cambridge University Press.

Ickes, W. J., Wicklund, R. A., & Ferris, C. B. (1973). Objective self-awareness and self-esteem. Journal of Experimental Social Psychology, 9, 202–219.

Ingram, R. E. (1990). Self-focused attention in clinical disorders: review and a conceptual model. Psychological Bulletin, 107, 156–176.

Ipser, J. C., Terburg, Syal, S., Phillips, N., Solms, M., Panksepp, J., Malcolm-Smith, S., Thomas, K., Stein, D. J., & Honk, J. V. (2013). Reduced fear-recognition sensitivity following acute buprenorphine administration in healthy volunteers. Psychoneuroendocrinology, 38, 166–170.

Jourard, S. M. (1971). Self-disclosure: An experimental analysis of the transparent self. Oxford: Wiley.

Keltner, D., & Bonanno, G. A. (1997). A study of laughter and dissociation: distinct correlates of laughter and smiling during bereavement. Journal of Personality and Social Psychology, 73, 687–702.

Keverne, E. B., Martensz, N., & Tuite, B. (1989). Beta-endorphin concentrations in cerebrospinal fluid of monkeys are influenced by grooming relationships. Psychoneuroendocrinology, 14, 155–161.

Kock, N. (2005). Media richness or media naturalness? The evolution of our biological communication apparatus and its influence on our behaviour toward communication tools. IEEE Transactions on Professional Communication, 48, 117–130.

Li, N. P., Griskevicius, V., Durante, K. M., Jonason, P. K., Pasisz, D. J., & Aumer, K. (2009). An evolutionary perspective on humor: sexual selection or interest indication? Social Psychology Bulletin, 35, 923.

Lynch, R. (2010). It's funny because we think it's true: laughter is augmented by implicit preferences. Evolution and Human Behavior, 31, 141–148.

Machin, A. J., & Dunbar, R. I. M. (2011). The brain opioid theory of social attachment: a review of the evidence. Behaviour, 148, 985–1025.

Martin, G. N., & Gray, C. D. (1996). The effects of audience laughter on men's and women's responses to humor. Journal of Social Psychology, 136, 221–223.

Mehu, M. (2011). Smiling and laughter in naturally occurring dyadic interactions: relationship to conversation, body contacts, and displacement activities. Human Ethology Bulletin, 26, 10–28.

Mehu, M., & Dunbar, R. I. M. (2008). Naturalistic observations of smiling and laughter in human group interactions. Behaviour, 145, 1747–1780.

Mor, N., & Winquist, J. (2002). Self-focused attention and negative affect: a meta-analysis. Psychological Bulletin, 128, 638–662.

Naaman, M., Boase, J., & Lai, C. H. (2010). Is it really about me? Message content in social awareness streams. Proceedings of the 2010 ACM conference on computer supported cooperative work (Association for Computing Machinery) (pp. 189–192). Savannah, GA.

Nguyen, M., Bin, Y. S., & Campbell, A. (2012). Comparing online and offline self-disclosure: a systematic review. Cyberpsychology, Behavior and Social Networking, 15, 103–111.

Owren, M. J., & Bachorowski, A. (2003). Reconsidering the evolution of non-linguistic communication: the case of laughter. Journal of Nonverbal Behavior, 27, 183–200.

Pennebaker, J. W. (1985). Traumatic experience and psychosomatic disease: exploring the roles of behavioral inhibition, obsession, and confiding. Canadian Psychology, 26, 82–95.

Provine, R. (2001). Laughter: A scientific investigation. Harmondsworth: Penguin Press.

Provine, R. R., & Fischer, K. R. (1989). Laughing, smiling, and talking: relation to sleeping and social context in humans. Ethology, 83, 295–305.

Resendez, S. L., & Aragona, B. J. (2012). Aversive motivation and the maintenance of monogamous pair bonding. Nature Reviews Neuroscience, 24, 51–60.

Schiffrin, H., Edelman, A., Falkenstern, M., & Stewart, C. (2010). The associations among computer-mediated communication, relationships, and well-being. Cyberpsychology, Behavior and Social Networking, 13, 299–306.

Schino, G., Scucchi, S., Maestripieri, D., & Turillazzi, P. G. (1988). Allogrooming as a tension-reduction mechanism: a behavioural approach. American Journal of Primatology, 16, 43–50.

Spoor, J. R., & Kelly, J. R. (2004). The evolutionary significance of affect in groups: communication and group bonding. Group Processes and Intergroup Relations, 7, 398–412.

Sprecher, S., Treger, S., Wondra, J. D., Hilaire, N., & Wallpe, K. (2013). Taking turns: reciprocal self-disclosure promotes liking in initial interactions. Journal of Experimental Social Psychology, 49, 860–866.

Tamir, D. I., & Mitchell, J. P. (2012). Disclosing information about the self is intrinsically rewarding. Proceedings of the National Academy of Sciences of the United States of America, 109, 8038–8043.

Trope, Y., Ferguson, M., & Raghunathan, R. (2001). Mood as a resource in processing self-relevant information. In J. P. Forgas (Ed.), The handbook of affect and social cognition (pp. 256–274). Mahwah: Erlbaum.

Vettin, J., & Todt, D. (2004). Laughter in conversation. Journal of Nonverbal Behavior, 28, 93–115.

Vlahovic, T., Roberts, S. B. G., & Dunbar, R. I. M. (2012). Effects of duration and laughter on subjective happiness within different modes of communication. Journal of Computer-Mediated Communication, 17, 436–450.

Watson, D., Clark, L. A., & Tellegen, A. (1988). Development and validation of brief measures of positive and negative affect. Journal of Personality and Social Psychology, 54, 1063–1070.
Acknowledgments
AG was supported by the Crewe Graduate Scholarship, Lincoln College Oxford. RD's research is supported by a European Research Council Advanced grant.
About this article
Cite this article
Gray, A.W., Parkinson, B. & Dunbar, R.I. Laughter's Influence on the Intimacy of Self-Disclosure. Hum Nat 26, 28–43 (2015). https://doi.org/10.1007/s12110-015-9225-8
Keywords
Laughter

Self-disclosure

Social relationships

Endorphins

Social bonding