Abstract
Despite higher stages at presentation, patients with high-risk (HR) HPV-related (HPV+) head and neck squamous cell carcinomas (HNSCCs) have better survival rates compared to those with non-HPV-related (HPV−) disease. However, significant comorbidity and the number of patients who suffer failed treatment, recurrent disease, late metastasis, and death are increasing along with the incidence of HPV+ HNSCC. A cytotoxic T-cell-dependent immune response is required to clear these antigenic cancers. This provides a unique opportunity to employ immune modulators in therapy. Galectin-3 (Gal-3) is a lectin and glycoprotein involved in numerous immunosuppressive functions. Inhibitors are currently under clinical investigation for various diseases. Gal-3 expression was evaluated in HR-HPV+ and HPV− HNSCCs and regional lymph node metastases by tissue microarray. HR-HPV+ cases were more likely to be Gal-3-positive (Gal+) [50% (14/28)] than HPV− cases [18% (9/50), p = 0.004]. No difference in the number of Gal+ cases was identified between primary [30% (16/53)] and metastatic [28% (7/25)] cancers (p = 1); 53% (9/17) of primary HPV+ cancers were Gal+ and 45% (5/11) of metastatic HPV+ cancers were Gal+ (p = 1). Nineteen percent (7/36) of primary HPV− cancers were Gal+ and 14% (2/14) of metastatic HPV− cancers were Gal+ (p = 1). Gal-3 positivity was observed in a subset of HNSCC, suggesting a potential role for therapeutic inhibition in this tumor type. The significantly higher rates of expression seen in HR-HPV+ versus HPV− HNSCC suggest particular promise in the setting of HPV infection. The relatively consistent Gal-3 expression rates observed between metastatic and primary tumors argues against progressive Gal-3 expression in metastasis.
This is a preview of subscription content, log in to check access.
Access options
Buy single article
Instant access to the full article PDF.
US$ 39.95
Price includes VAT for USA
Subscribe to journal
Immediate online access to all issues from 2019. Subscription will auto renew annually.
US$ 99
This is the net price. Taxes to be calculated in checkout.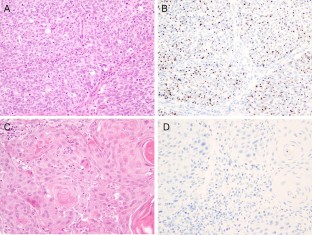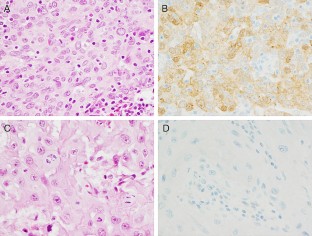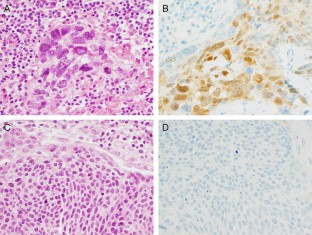 References
1.

Leemans CR, Braakhuis BJM, Brakenhoff RH. The molecular biology of head and neck cancer. Nat Rev Cancer. 2011;11:9–22.

2.

Siegel RL, Miller KD, Jemal A. Cancer statistics, 2016. CA Cancer J Clin. 2015;66:7–30.

3.

Marur S, Forastiere AA. Head and neck squamous cell carcinoma: update on epidemiology, diagnosis, and treatment. Mayo Clin Proc. 2016;91:386–96.

4.

Lee DW, Anderson ME, Wu S, Lee JH. Development of an adenoviral vaccine against E6 and E7 oncoproteins to prevent growth of human papillomavirus-positive cancer. Arch Otolaryngol Head Neck Surg. 2008;134:1316–23.

5.

Gooi Z, Chan JYK, Fakhry C. The epidemiology of the human papillomavirus related to oropharyngeal head and neck cancer. Laryngoscope. 2016;126:894–900.

6.

Marur S, D'Souza G, Westra WH, Forastiere A. HPV-associated head and neck cancer: a virus-related cancer epidemic. Lancet Oncol. 2010;11:781–9.

7.

Koch WM. Clinical features of HPV-related head and neck squamous cell carcinoma: presentation and work-up. Otolaryngol Clin North Am. 2012;45:779–93.

8.

Marklund L, Hammarstedt L. Impact of HPV in oropharyngeal cancer. J Oncol. 2011;2011:509036.

9.

O'Rorke MA, Ellison MV, Murray LJ, Moran M, James J, Anderson LA. Human papillomavirus related head and neck cancer survival: a systematic review and meta-analysis. Oral Oncol. 2012;48:1191–201.

10.

Ruzevick J, Olivi A, Westra WH. Metastatic squamous cell carcinoma to the brain: an unrecognized pattern of distant spread in patients with HPV-related head and neck cancer. J Neurooncol. 2013;112:449–54.

11.

Spanos WC, Nowicki P, Lee DW, Hoover A, Hostager B, Gupta A, et al. Immune response during therapy with cisplatin or radiation for human papillomavirus-related head and neck cancer. Arch Otolaryngol Head Neck Surg. 2009;135:1137–46.

12.

Williams R, Lee DW, Elzey BD, Anderson ME, Hostager BS, Lee JH. Preclinical models of HPV+ and HPV− HNSCC in mice: an immune clearance of HPV+ HNSCC. Head Neck. 2009;31(7):911–8.

13.

Krupar R, Robold K, Gaag D, Spanier G, Kreutz M, Renner K, et al. Immunologic and metabolic characteristics of HPV-negative and HPV-positive head and neck squamous cell carcinomas are strikingly different. Virchows Arch. 2014;465:299–312.

14.

Allen CT, Clavijo PE, Van Waes C, Chen Z. Anti-tumor immunity in head and neck cancer: understanding the evidence, how tumors escape and immunotherapeutic approaches. Cancers (Basel). 2015;7:2397–414.

15.

Farhad M, Rolig AS, Redmond WL. The role of Galectin-3 in modulating tumor growth and immunosuppression within the tumor microenvironment. Oncoimmunology. 2018;7:e1434467.

16.

Kindt N, Journe F, Ghanem GE, Saussez S. Galectins and carcinogenesis: their role in head and neck carcinomas and thyroid carcinomas. Int J Mol Sci. 2017;18:2745.

17.

Wang LP, Chen SW, Zhuang SM, Li H, Song M. Galectin-3 accelerates the progression of oral tongue squamous cell carcinoma via a Wnt/β-catenin-dependent pathway. Pathol Oncol Res. 2013;19(3):461–74.

18.

Weber M, Büttner-Herold M, Distel L, Ries J, Moebius P, Preidl R, et al. Galectin 3 expression in primary oral squamous cell carcinomas. BMC Cancer. 2017;17:906.

19.

Wehrhan F, Büttner-Herold M, Distel L, Ries J, Moebius P, Preidl R, et al. Galectin 3 expression in regional lymph nodes and lymph node metastases of oral squamous cell carcinomas. BMC Cancer. 2018;18:823.

20.

Mesquita JA, Queiroz LMG, Silveira ÉJD, Gordon-Nunez MA, Godoy GP, Nonaka CFW, et al. Association of immunoexpression of the galectins-3 and -7 with histopathological and clinical parameters in oral squamous cell carcinoma in young patients. Eur Arch Oto-Rhino-Laryngol. 2016;273:237–43.

21.

Punt S, Thijssen VL, Vrolijk J, De Kroon CD, Gorter A, Jordanova ES. Galectin-1, -3 and -9 expression and clinical significance in squamous cervical cancer. PLoS ONE. 2015;10:e0128119.

22.

Vuong L, Kouverianou E, Rooney CM, McHugh BJ, Howie SEM, Gregory CD, et al. An orally active galectin-3 antagonist inhibits lung adenocarcinoma growth and augments response to PD-L1 blockade. Cancer Res Cancer Res. 2019;79:1480–92.

23.

Coppock JD, Lee JH. mTOR, metabolism, and the immune response in HPV-positive head and neck squamous cell cancer. World J Otorhinolaryngol Neck Surg. 2016;2:76–83.
Acknowledgments
The authors would like to acknowledge and thank the University of Virginia Biorepository & Tissue Research Facility for their skill and expertise in the construction of the tissue microarray and performance of the in situ hybridization and immunohistochemical assays used in this study.
Ethics declarations
Conflict of interest
No conflict of interest to disclose.
Ethical Approval
This work was approved by the Institutional Review Board of the University of Virginia (IRB #13310).
Additional information
Publisher's Note
Springer Nature remains neutral with regard to jurisdictional claims in published maps and institutional affiliations.
About this article
Cite this article
Coppock, J.D., Mills, A.M. & Stelow, E.B. Galectin-3 Expression in High-Risk HPV-Positive and Negative Head & Neck Squamous Cell Carcinomas and Regional Lymph Node Metastases. Head and Neck Pathol (2020). https://doi.org/10.1007/s12105-020-01195-3
Received:

Accepted:

Published:
Keywords
Galectin 3

Head and neck cancer

Oropharyngeal cancer

Squamous cell carcinoma

Human papilloma virus

Metastasis