Abstract
Sinonasal inverted papilloma (SNIP) is a benign but locally aggressive tumor that has a tendency for recurrence and malignant transformation. The role of human papillomavirus (HPV) in SNIP is controversial. To determine the HPV-DNA prevalence and type distribution in SNIP in two different geographic areas and assess the association between SNIP recurrence and HPV infection, as well as additional potential etiologic factors. Two retrospective cohorts of SNIP patients from Poland and Spain were evaluated. Demographic, tobacco/alcohol use, clinical, and follow-up data were collected. All samples were subject to histopathologic evaluation, DNA quality control, and HPV-DNA detection by PCR. HPV-DNA positive samples and a random sample of HPV-DNA negative cases were further subject to p16INK4a analysis. Proportional-hazards models were used to evaluate the risk of recurrence by selected variables. Seventy-nine SNIP patients (46 from Spain diagnosed between 1995 and 2014, and 33 from Poland diagnosed between 2012 and 2017) were included in the study. HPV-DNA was detected in four patients (5.1%), two from each region, and all four were positive for the HPV11 subtype. Seventeen patients (21.5%) experienced recurrence, with a median time to recurrence of 14 months. No association was identified between lesional HPV-DNA positivity, toxic habits, Krouse stage, or malignant transformation and a higher risk of recurrence. The low prevalence of HPV-DNA in SNIPs suggests that HPV is not a main etiology for development of these lesions. With a lack of association between the evaluated factors and recurrence, further research with larger number of patients and additional biomarkers is warranted to further understand predisposing risk factors.
Access options
Buy single article
Instant access to the full article PDF.
US$ 39.95
Tax calculation will be finalised during checkout.
Subscribe to journal
Immediate online access to all issues from 2019. Subscription will auto renew annually.
US$ 79
Tax calculation will be finalised during checkout.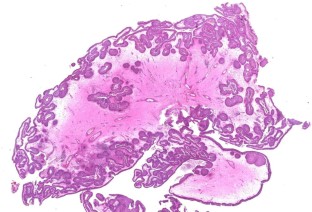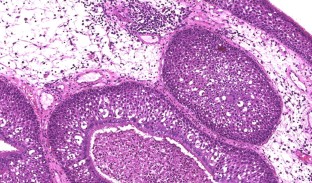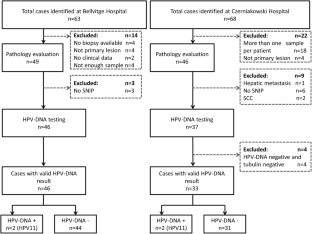 References
1.

Bishop JA. OSPs and ESPs and ISPs, Oh My! An Update on Sinonasal (Schneiderian) Papillomas. Head Neck Pathol. 2017;11(3):269–77.

2.

Hyams VJ. Papillomas of the nasal cavity and paranasal sinuses. A clinicopathological study of 315 cases. Ann Otol Rhinol Laryngol. 1971;80(2):192–206

3.

Lawson W, Schlecht NF, Brandwein-Gensler M. The role of the human papillomavirus in the pathogenesis of Schneiderian Inverted papillomas: an analytic overview of the evidence. Head Neck Pathol. 2008;2:49–59.

4.

Sung-Lyong Hong MD, Bae-Hyun Kim MD, Jung-Hoon Lee MD, Kyu-Sup Cho MD, Hwan-Jung Roh MD. Smoking and malignancy in sinonasal inverted papilloma. Laryngoscope. 2013;123:1087–91.

5.

Re M, Gioacchini FM, Bajraktari A, Tomasetti M, Kaleci S, Rubini C, Bertini A, Magliulo G, Pasquini E. Malignant transformation of sinonasal inverted papilloma and related genetic alterations: a systematic review. Eur Arch Otorhinolaryngol. 2017;274(8):2991–3000.

6.

Beck JC, McClatchey KD, Lesperance MM, Esclamado RM, Carey TE, Bradford CR. Presence of human papillomavirus predicts recurrence of inverted papilloma. Otolaryngol Head Neck Surg. 1995;113:49–55.

7.

Roh HJ, Mun SJ, Cho KS, Hong SL. Smoking, not human papilloma virus infection, is a risk factor for recurrence of sinonasal inverted papilloma. Am J Rhinol Allergy. 2016;30(2):79–82.

8.

Lisan Q, Moya-Plana A, Bonfils P. Association of Krouse classification for sinonasal inverted papilloma with recurrence: a systematic review and meta-analysis. JAMA Otolaryngol Head Neck Surg. 2017;143(11):1104–10.

9.

Attlmayr B, Derbyshire SG, Kasbekar AV, Swift AC. Management of inverted papilloma: review. J Laryngol Otol. 2017;131(4):284–9.

10.

Syrjanen K, Syrjanen S. Detection of human papillomavirus in sinonasal papillomas: systematic review and meta-analysis. Laryngoscope. 2013;123:181–92.

11.

Justice JM, Davis KM, Saenz DA, Lanza DC. Evidence that human papillomavirus causes inverted papilloma is sparse. Int Forum Allergy Rhinol. 2014;4:995–1001.

12.

Zhao RW, Guo ZQ, Zhang RX. Human papillomavirus infection and the malignant transformation of sinonasal inverted papilloma: A meta-analysis. J Clin Virol. 2016;79:36–433.

13.

Krouse JH. Development of a staging system for inverted papilloma. Laryngoscope. 2000;110:965–8.

14.

Castellsagué X, Alemany L, Quer M, et al. HPV involvement in head and neck cancers: comprehensive assessment of biomarkers in 3680 patients. J Natl Cancer Inst. 2016;108(6):djv403.

15.

Westra WH. Detection of human papillomavirus (HPV) in clinical samples: Evolving methods and strategies for the accurate determination of HPV status of head and neck carcinomas. Oral Oncol. 2014;50(9):771–9.

16.

Halec G, Holzinger D, Schmitt M, Flechtenmacher C, Dyckhoff G, Lloveras B, et al. Biological evidence for a causal role of HPV16 in a small fraction of laryngeal squamous cell carcinoma. Br J Cancer. 2013;109(1):172–83.

17.

Gomez-Armayones S, Chimenos-Küstner E, Marí A, Tous S, Penin R, Clavero O, Quiros B, Pavón MA, Taberna M, Alemany L, Servitje O, Mena M. Human papillomavirus in premalignant oral lesions: no evidence of association in a Spanish cohort. PLoS ONE. 2019;14(1):e0210070.

18.

Greenland S. Can meta-analyses be salvaged? Am J Epidemiol. 1994;140:783–7.

19.

Mena M, Taberna M, Monfil L, et al. Might oral HPV in healthy individuals explain differences in HPV-attributable fractions in oropharyngeal cancer? A systematic review and meta-analysis. J Infect Dis. 2018. https://doi.org/10.1093/infdis/jiy715.

20.

Scheel A, Lin GC, McHugh JB, et al. Human papillomavirus infection and biomarkers in sinonasal inverted papillomas: clinical significance and molecular mechanisms. Int Forum Allergy Rhinol. 2015;5(8):701–7.

21.

Udager AM, McHugh JB, Goudsmit CM, et al. Human papillomavirus (HPV) and somatic EGFR mutations are essential, mutually exclusive oncogenic mechanisms for inverted sinonasal papillomas and associated sinonasal squamous cell carcinomas. Ann Oncol. 2018;29(2):466–71.

22.

Elliot A, Näsman A, Westman M, et al. Human papillomavirus and infiltration of CD8- and Foxp3-positive immune cells in sinonasal inverted papillomas. Acta Oto Laryngol. 2019;139(11):1651–2251.

23.

Safadi A, Yafit D, Abu-Ghanem S, et al. The clinical behavior of sinonasal inverted papilloma with cellular dysplasia: case series and review of the literature. Eur Arch Otorhinolaryngol. 2017;274(9):3375–82.

24.

Sahnane N, Ottini G, Turri-Zanoni M, et al. Comprehensive analysis of HPV infection, EGFR exon 20 mutations and LINE1 hypomethylation as risk factors for malignant transformation of sinonasal-inverted papilloma to squamous cell carcinoma. Int J Cancer. 2019;144(6):1313–20.

25.

Rooper LM, Bishop JA, Westra WH. Transcriptionally active high-risk human papillomavirus is not a common etiologic agent in the malignant transformation of Inverted schneiderian papillomas. Head NeckPathol. 2017;11(3):346–53.

26.

Mohajeri S, Lai C, Purgina B, et al. Human papillomavirus: An unlikely etiologic factor in sinonasal inverted papilloma. Laryngoscope. 2018;128(11):2443–7.

27.

Guimerà N, Lloveras B, Alemany L, et al. Laser capture microdissection shows HPV11 as both a causal and a coincidental infection in cervical cancer specimens with multiple HPV types. Histopathology. 2013;63(2):287–92.
Funding
We thank CERCA Program/Generalitat de Catalunya for institutional support. This study has been funded by the Instituto de Salud Carlos III (ie, the Spanish government), the European Regional Development Fund—A Way to Build Europe, through the projects CIBERESP CB06/02/0073 and CIBERONC, CB16/12/0040, from the Agència de Gestió d'Ajuts Universitaris i de Recerca (2017SGR1085) and from the Department of Health of the Generalitat de Catalunya (PERIS-2016-2020, SLT002/16/00404) (personal grants to MM and JFG, respectively).
Ethics declarations
Conflict of interest
Cancer Epidemiology Research Program (LA MM JF BQ OC MP) has received sponsorship for grants from Merck and co, Roche, Reig-jofre, IDT, Hologic, GlaxoSmithKline and Seegene. The rest of authors have declared no conflicts of interest.
Additional information
Publisher's Note
Springer Nature remains neutral with regard to jurisdictional claims in published maps and institutional affiliations.
The original version of this article was revised: The original version of this article unfortunately contained a mistake. Three values in Table 1 were incorrect. In "months of recurrence", range row, the intervals should be in numbers. They should read as 3-83 instead of Mar-83, 9-83 instead of Sep-83 and 3-36 instead of Mar-36. The corrected Table 1 is given below. The original article has been corrected.
M. Mena and X. Gonzalez are co-senior authors.
Electronic supplementary material
Below is the link to the electronic supplementary material.
About this article
Cite this article
Fulla, M., Szafarowski, T., Frias-Gomez, J. et al. Human Papillomavirus and Factors Associated with Recurrence in Sinonasal Inverted Papillomas from Poland and Spain. Head and Neck Pathol 14, 758–767 (2020). https://doi.org/10.1007/s12105-019-01125-y
Received:

Accepted:

Published:

Issue Date:
Keywords
Inverted papilloma

Schneiderian papilloma

Sinonasal papilloma

Human papillomavirus

HPV