Abstract
To prospectively study a series of scleroma patients with a focus on socioeconomic status, clinical presentation, pathology, microbiology, and treatment. A total of 52 patients diagnosed with scleroma were included in the study. Demographic data of the patients were collected and clinical, radiographic, and histopathologic findings were analyzed. Biopsies from atypical patients were sent for electron microscopic examination. Patients were treated both medically and surgically with clinical follow-up to determine outcomes and the incidence of recurrence. Fifty-two patients were included in the study. There were 23 males (44.2%) and 29 females (55.8%). The highest incidence of scleroma was identified in individuals from poor, rural areas in the third to fourth decades of life. The nose was affected in all cases. Other affected sites included the nasopharynx, soft and hard palate, larynx and trachea, lacrimal passages, skin, and gingiva. Some patients had atypical presentations. Complete follow-up of all patients was hindered by non-compliance with clinic visits and the long duration of medical treatment. Recurrence or relapse of the granulomatous lesions after initial improvement occurred in 11 patients (21.2%) within 1 to 3 years. Scleroma is a stubborn, chronic, granulomatous bacterial disease. The diverse presentations may mimic neoplasms and other granulomatous conditions. We present cases with unusual presentations and demonstrate the transmission electron microscopic features of these lesions. Furthermore, we confirm the importance of achieving full eradication of the etiologic bacilli to prevent recurrent disease.
This is a preview of subscription content, log in to check access.
Access options
Buy single article
Instant access to the full article PDF.
US$ 39.95
Tax calculation will be finalised during checkout.
Subscribe to journal
Immediate online access to all issues from 2019. Subscription will auto renew annually.
US$ 99
Tax calculation will be finalised during checkout.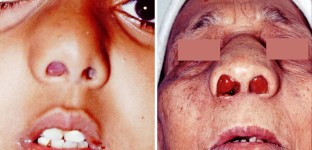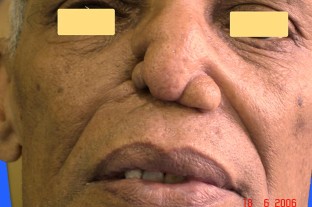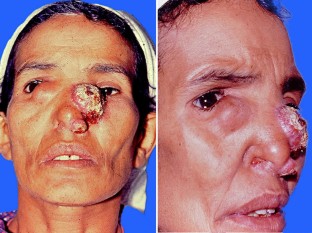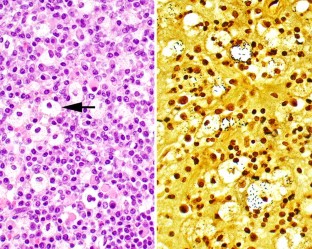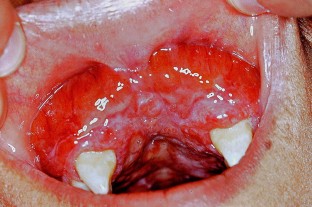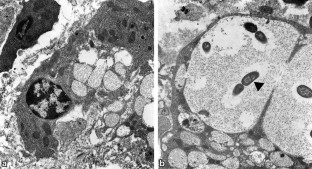 References
1.

Hoffman EO, Harkin JC. The Mikulicz cell in rhinoscleroma. Am J Pathol. 1973;73:147–53.

2.

Umphress B, Raparia K. Rhinoscleroma. Arch Path Lab Med. 2018;142:1533–6.

3.

El Mofty A, Imam A, Botros G, Hamiltom PK, Floyd T. Scleroma in Egypt. Ann Otol Rhinol Laryngol. 1954;63:1031–6.

4.

Gafaar HA, Gafaar AH, Nour YA. Rhinoscleroma: an updated experience through the last 10 years. Acta Otolaryngol. 2007;131:440–6.

5.

Murphy KJ. Scleroma of the trachea associated with Pseudomonas pyocyanea. Thorax. 1966;21:355–8.

6.

Tapia Acana R. Endoscopy of the air passages with special reference to scleroma. Ann Otol Rhinol Laryngol. 1973;982:765–9.

7.

Chatterji P. Scleroma of the antrum and ethmoid. J Laryngol Otol. 1969;83:917–23.

8.

Badrawy B, Safwat F, Fahmy S. Affection of cervical lymph nodes in rhinoscleroma. J Laryngol Otol. 1974;88:261–9.

9.

Hara JH, Lonser ER. Scleroma-Masquerading as intracranial meningioma. Arch Otolaryngol. 1964;79:742–5.

10.

Bahri HC, Bassi NK, Rohatgi MS. Scleroma with intracranial extension. Ann Otol. 1972;81:856–9.

11.

Singh A. Malignant changes in scleroma. Laryngoscope. 1972;82:444–6.

12.

Atef A, Talaat N, El Farouk A, Qotb M, Fathi H, Ilia S. Sinus involvement of rhinoscleroma: a cause of antibiotic resistance and early recurrence after medical treatment. Egypt J Otolaryngol. 2012;28:8–11.

13.

Avery RK, Salman SD, Baker AS. Rhinoscleroma treated with ciprofloxacin: a case report. Laryngoscope. 1995;105:854–6.

14.

Badrawy R. The uvula sign in scleroma of the nasopharynx. Ann Otol Rhinol Laryngol. 1965;74:441–4.

15.

Sedano HO, Carlos RB, Koutlas IG. Respiratory scleroma: a clinicopathologic and ultrastructural study. Oral Surg Oral Med Oral Pathol Oral Radiol Endod. 1996;81:665–71.

16.

Ahmed A, El-Badawy Z, Mohamed I, Abdelhameed W. Rhinoscleroma: a detailed histopathological diagnostic insight. Int J Clin Exp Path. 2015;8:8438–45.

17.

Toppzada HH, Gafaar H, El-Ghazawi I. The role of plasma cells in rhinosc;eroma. ORL. 1977;39:1–13.

18.

Gafaar H, Harada Y. Rhinoscleroma: a scanning electrom microscopic study. ORL. 1976;38:350–7.

19.

Miller RH, Shulman JB, Canalis RF, Ward PH. Klebsiella rhinoscleromatis: a clinical and pathogenic enigma. Otolaryngol Head Neck Surg. 1979;87:212–21.

20.

Badrawy R. The uvula sign in scleroma of the nasopharynx. Ann Otol. 1965;74:441–4.

21.

Soni NK. Scleroma of the lower respiratory tract: a bronchoscopic study. J Laryngol Otol. 1994;108:484–5.

22.

Afaro-Monge JM, Fernandez-Espinosa J. Scleroma of the lower respiratory tract: case report and review of the literature. J Laryngol Otol. 1994;108:161–3.

23.

Amoils CP, Shindo ML. Laryngotracheal manifestations of rhinoscleroma. Ann Otol Laryngol. 1996;106:336–40.

24.

Gaafar HA. Endoscopy of the lower respiratory tract scleroma. Endoscopy. 1983;15:297–9.

25.

Badrawy R. Dacryoscleroma (scleroma of the lachrymal passages). An Otol Rhionl Laryngol. 1962;71:247–54.
Ethics declarations
Conflict of interest
All authors declare that they have no competing interests.
Additional information
Publisher's Note
Springer Nature remains neutral with regard to jurisdictional claims in published maps and institutional affiliations.
About this article
Cite this article
Elwany, S., Fattah, H.A., Mandour, Z. et al. A Myriad of Scleroma Presentations: The Usual and Unusual. Head and Neck Pathol 14, 588–592 (2020). https://doi.org/10.1007/s12105-019-01075-5
Received:

Accepted:

Published:

Issue Date:
Keywords
Rhinoscleroma

Granuloma

Nose

Klebsiella

Tracheostomy