Abstract
Schwannomas commonly occur in the head and neck but infrequently involve the oral cavity and rarely affect the tongue. The clinical and pathologic features of 19 cases of schwannoma arising in the tongue were analyzed. There were 13 males and 6 females ranging in age from 12 to 82 years (mean 34 years; median 29 years). The majority of tumors presented as an asymptomatic mass localized to the anterior two-thirds of the tongue. Histologically, 18 schwannomas exhibited characteristic Antoni A and B areas with the former pattern predominating. One tumor was composed exclusively of cellular Antoni A tissue and was classified as a cellular schwannoma. Tumor encapsulation was variable with nearly half of the lesions lacking a well-defined fibrous capsule. All were strongly and diffusely positive for S-100 protein. No recurrences were observed on clinical follow-up. Schwannoma of the tongue, although rare, should be separated from other types of lingual nerve sheath proliferations and tumors.
This is a preview of subscription content, log in to check access.
Access options
Buy single article
Instant access to the full article PDF.
US$ 39.95
Tax calculation will be finalised during checkout.
Subscribe to journal
Immediate online access to all issues from 2019. Subscription will auto renew annually.
US$ 99
Tax calculation will be finalised during checkout.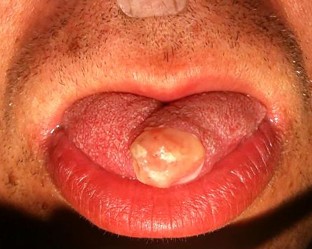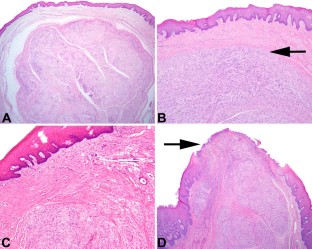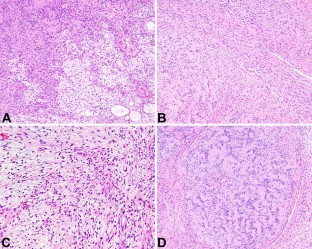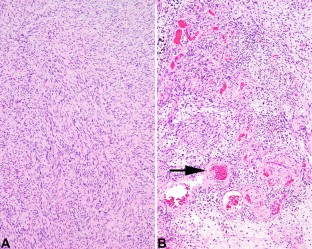 References
1.

Salla JT, Johann AC, Garcia BG, Aguiar MC, Mesquita RA. Retrospective analysis of oral peripheral nerve sheath tumors in Brazilians. Braz Oral Res. 2009;23:43–8.

2.

Alotaiby FM, Fitzpatrick S, Upadhyaya J, Islam MN, Cohen D, Bhattacharyya I. Demographic, clinical and histopathological features of oral neural neoplasms: a retrospective study. Head Neck Pathol. 2019;13:208–14.

3.

do Nascimento GJ, de Albuquerque Pires Rocha D, Galvao HC, de Lisboa Lopes Costa A, de Souza LB. A 38-year review of oral schwannomas and neurofibromas in a Brazilian population: clinical, histopathological and immunohistochemical study. Clin Oral Investig. 2011;15:329–35.

4.

Wright BA, Jackson D. Neural tumors of the oral cavity. A review of the spectrum of benign and malignant oral tumors of the oral cavity and jaws. Oral Surg Oral Med Oral Pathol. 1980;49:509–22.

5.

Cherrick HM, Eversole LR. Benign neural sheath neoplasm of the oral cavity. Report of thirty-seven cases. Oral Surg Oral Med Oral Pathol. 1971;32:900–9.

6.

Shklar G, Meyer I. Neurogenic tumors of the mouth and jaws. Oral Surg Oral Med Oral Pathol. 1963;16:1075–93.

7.

Hatziotia JC, Asprides H. Neurilemoma (schwannoma) or the oral cavity. Oral Surg Oral Med Oral Pathol. 1967;24:510–26.

8.

Cohen M, Wang MB. Schwannoma of the tongue: two case reports and review of the literature. Eur Arch Otorhinolaryngol. 2009;266:1823–9.

9.

Lira RB, Goncalves Filho J, Carvalho GB, Pinto CA, Kowalski LP. Lingual schwannoma: case report and review of the literature. Acta Otorhinolaryngol Ital. 2013;33:137–40.

10.

Bhola N, Jadhav A, Borle R, Khemka G, Bhutekar U, Kumar S. Schwannoma of the tongue in a paediatric patient: a case report and 20-year review. Case Rep Dent. 2014;2014:780762.

11.

Lee EY, Kim JJ, Seok H, Lee JY. Schwannoma of the tongue: a case report with review of literature. Maxillofac Plast Reconstr Surg. 2017;39:17.

12.

Evans DG. Neurofibromatosis type 2 (NF2): a clinical and molecular review. Orphanet J Rare Dis. 2009;4:16.

13.

Hsu YC, Hwang CF, Hsu RF, Kuo FY, Chien CY. Schwannoma (neurilemmoma) of the tongue. Acta Otolaryngol. 2006;126:861–5.

14.

Merker VL, Esparza S, Smith MJ, Stemmer-Rachamimov A, Plotkin SR. Clinical features of schwannomatosis: a retrospective analysis of 87 patients. Oncologist. 2012;17:1317–22.

15.

Sitenga JL, Aird GA, Nguyen A, Vaudreuil A, Huerter C. Clinical features and surgical treatment of schwannoma affecting the base of the tongue: a systematic review. Int Arch Otorhinolaryngol. 2017;21:408–13.

16.

Crawford WH Jr, Korchin L, Greskovich FJ Jr. Neurilemmomas of the oral cavity: report of five cases. J Oral Surg. 1968;26:651–8.

17.

Butler RT, Patel RM, McHugh JB. Head and neck schwannomas: 20-year experience of a single institution excluding cutaneous and acoustic sites. Head Neck Pathol. 2016;10:286–91.

18.

Karamchandani JR, Nielsen TO, van de Rijn M, West RB. Sox10 and S100 in the diagnosis of soft-tissue neoplasms. Appl Immunohistochem Mol Morphol. 2012;20:445–50.

19.

Chrysomali E, Papanicolaou SI, Dekker NP, Regezi JA. Benign neural tumors of the oral cavity: a comparative immunohistochemical study. Oral Surg Oral Med Oral Pathol Oral Radiol Endod. 1997;84:381–90.

20.

Koutlas IG, Scheithauer BW. Palisaded encapsulated ("solitary circumscribed") neuroma of the oral cavity: a review of 55 cases. Head Neck Pathol. 2010;4:15–26.

21.

Bongiorno MR, Pistone G, Arico M. Manifestations of the tongue in Neurofibromatosis type 1. Oral Dis. 2006;12:125–9.

22.

Baden E, Jones JR, Khedekar R, Burns WA. Neurofibromatosis of the tongue: a light and electronmicroscopic study with review of the literature from 1849 to 1981. J Oral Med. 1984;39:157–64.

23.

Pekmezci M, Reuss DE, Hirbe AC, et al. Morphologic and immunohistochemical features of malignant peripheral nerve sheath tumors and cellular schwannomas. Mod Pathol. 2015;28:187–200.

24.

Owosho AA, Estilo CL, Huryn JM, Chi P, Antonescu CR. A clinicopathologic study of head and neck malignant peripheral nerve sheath tumors. Head Neck Pathol. 2018;12:151–9.
Acknowledgments
The views expressed are those of the authors solely and do not represent endorsement from Southern California Permanente Medical Group.
Funding
No external funding was obtained for this study.
Ethics declarations
Conflict of interest
All authors declare that they have no conflict of interest as it relates to this research project.
Ethical Approval
All procedures performed in this retrospective data analysis involving human participants were in accordance with the ethical standards of the institutional review board (IRB #5968), which did not require informed consent.
Additional information
Publisher's Note
Springer Nature remains neutral with regard to jurisdictional claims in published maps and institutional affiliations.
About this article
Cite this article
Thompson, L.D.R., Koh, S.S. & Lau, S.K. Tongue Schwannoma: A Clinicopathologic Study of 19 Cases. Head and Neck Pathol 14, 571–576 (2020). https://doi.org/10.1007/s12105-019-01071-9
Received:

Accepted:

Published:

Issue Date:
Keywords
Schwannoma

Peripheral nerve sheath neoplasm

Neurilemmoma

Tongue neoplasms

Tongue

Lingual

Oral cavity

S100 protein