Abstract
Mucoepidermoid carcinoma (MEC) is the most common malignant tumor of the salivary gland. However, reports of high grade transformation in MEC are extremely rare, and only two cases have so far been described. Recent development of salivary gland pathology revealed recurrent gene rearrangements in many kinds of tumors, including MAML2 fusion of MEC. To date, the MAML2 status of high grade transformed MEC has not been studied. Here we report the first case of minor salivary gland origin high grade transformation in MEC with a MAML2 break apart FISH study. A 73-year-old woman presented with a 1-month history of left mandibular area swelling, and computed tomography and magnetic resonance imaging revealed a mass in the hard palate with various-sized lymphadenopathy of the neck. The resected tumor histologically consisted of two carcinomatous components. Approximately 30% of the tumor showed a conventional MEC feature, while 70% was comprised of a high grade transformed component. In the conventional MEC component, FISH revealed MAML2 rearrangement. High grade transformed cells showed multiple split signals, and the results were interpreted as rearrangement and polyploidy after comparison with 1p/19q FISH as validation. The patient received adjuvant radiation therapy after wide resection with neck dissection and retropharyngeal dissection. Nevertheless, as the remaining tumor grew up rapidly and metastatic lymph nodes were newly revealed, the patient expired 7 months after the diagnosis. We first report regarding a high grade transformation in MEC with polyploidy of the rearranged MAML2 gene and aggressive biological behavior.
Access options
Buy single article
Instant access to the full article PDF.
US$ 39.95
Tax calculation will be finalised during checkout.
Subscribe to journal
Immediate online access to all issues from 2019. Subscription will auto renew annually.
US$ 79
Tax calculation will be finalised during checkout.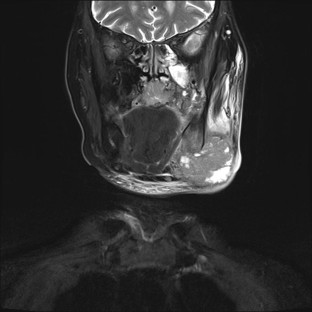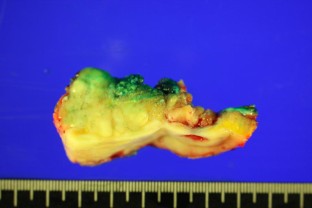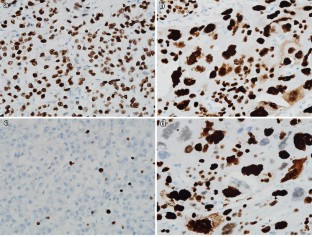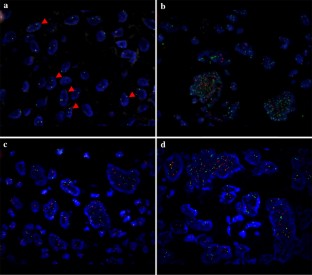 References
1.

Auclair PL, Goode RK, Ellis GL. Mucoepidermoid carcinoma of intraoral salivary glands. Evaluation and application of grading criteria in 143 cases. Cancer. 1992;69:2021–30.

2.

Bai S, Clubwala R, Adler E, Sarta C, Schiff B, Smith RV, Gnepp DR, Brandwein-Gensler M. Salivary mucoepidermoid carcinoma: a multi-institutional review of 76 patients. Head Neck Pathol. 2013;7:105–12.

3.

Nagao T. "Dedifferentiation" and high-grade transformation in salivary gland carcinomas. Head Neck Pathol. 2013;7(Suppl 1):S37–47.

4.

Nagao T, Gaffey TA, Kay PA, Unni KK, Nascimento AG, Sebo TJ, Serizawa H, Minato H, Lewis JE. Dedifferentiation in low-grade mucoepidermoid carcinoma of the parotid gland. Hum Pathol. 2003;34:1068–72.

5.

Subramaniam MM, Ng SB, Seah SB, Anuar D, Soong R, Lee VK. Molecular characterization of dedifferentiated mucoepidermoid carcinoma of the trachea using laser microdissection-based TP53 mutation analysis. Histopathology. 2009;55:472–5.

6.

Griffith CC, Schmitt AC, Little JL, Magliocca KR. New developments in salivary gland pathology: clinically useful ancillary testing and new potentially targetable molecular alterations. Arch Pathol Lab Med. 2017;141:381–95.

7.

Tonon G, Modi S, Wu L, Kubo A, Coxon AB, Komiya T, O'Neil K, Stover K, El-Naggar A, Griffin JD, Kirsch IR, Kaye FJ. t(11;19)(q21;p13) translocation in mucoepidermoid carcinoma creates a novel fusion product that disrupts a Notch signaling pathway. Nat Genet. 2003;33:208–13.

8.

Fehr A, Roser K, Heidorn K, Hallas C, Loning T, Bullerdiek J. A new type of MAML2 fusion in mucoepidermoid carcinoma. Genes Chromosomes Cancer. 2008;47:203–6.

9.

Moller E, Stenman G, Mandahl N, Hamberg H, Molne L, van den Oord JJ, Brosjo O, Mertens F, Panagopoulos I. POU5F1, encoding a key regulator of stem cell pluripotency, is fused to EWSR1 in hidradenoma of the skin and mucoepidermoid carcinoma of the salivary glands. J Pathol. 2008;215:78–86.

10.

Bell D, El-Naggar AK. Molecular heterogeneity in mucoepidermoid carcinoma: conceptual and practical implications. Head Neck Pathol. 2013;7:23–7.

11.

Seethala RR, Dacic S, Cieply K, Kelly LM, Nikiforova MN. A reappraisal of the MECT1/MAML2 translocation in salivary mucoepidermoid carcinomas. Am J Surg Pathol. 2010;34:1106–21.

12.

Henley JD, Geary WA, Jackson CL, Wu CD, Gnepp DR. Dedifferentiated acinic cell carcinoma of the parotid gland: a distinct rarely described entity. Hum Pathol. 1997;28:869–73.

13.

Skalova A, Sima R, Vanecek T, Muller S, Korabecna M, Nemcova J, Elmberger G, Leivo I, Passador-Santos F, Walter J, Rousarova M, Jedlickova K, Curik R, Geierova M, Michal M. Acinic cell carcinoma with high-grade transformation: a report of 9 cases with immunohistochemical study and analysis of TP53 and HER-2/neu genes. Am J Surg Pathol. 2009;33:1137–45.

14.

Nagao T, Gaffey TA, Serizawa H, Sugano I, Ishida Y, Yamazaki K, Tokashiki R, Yoshida T, Minato H, Kay PA, Lewis JE. Dedifferentiated adenoid cystic carcinoma: a clinicopathologic study of 6 cases. Mod Pathol. 2003;16:1265–72.

15.

Seethala RR, Cieply K, Barnes EL, Dacic S. Progressive genetic alterations of adenoid cystic carcinoma with high-grade transformation. Arch Pathol Lab Med. 2011;135:123–30.

16.

Chau Y, Hongyo T, Aozasa K, Chan JK. Dedifferentiation of adenoid cystic carcinoma: report of a case implicating p53 gene mutation. Hum Pathol. 2001;32:1403–7.

17.

Kusafuka K, Takizawa Y, Ueno T, Ishiki H, Asano R, Kamijo T, Iida Y, Ebihara M, Ota Y, Onitsuka T, Kameya T. Dedifferentiated epithelial-myoepithelial carcinoma of the parotid gland: a rare case report of immunohistochemical analysis and review of the literature. Oral Surg Oral Med Oral Pathol Oral Radiol Endod. 2008;106:85–91.

18.

Roy P, Bullock MJ, Perez-Ordonez B, Dardick I, Weinreb I. Epithelial-myoepithelial carcinoma with high grade transformation. Am J Surg Pathol. 2010;34:1258–65.

19.

Pelkey TJ, Mills SE. Histologic transformation of polymorphous low-grade adenocarcinoma of salivary gland. Am J Clin Pathol. 1999;111:785–91.

20.

Simpson RH, Pereira EM, Ribeiro AC, Abdulkadir A, Reis-Filho JS. Polymorphous low-grade adenocarcinoma of the salivary glands with transformation to high-grade carcinoma. Histopathology. 2002;41:250–9.

21.

Ogawa I, Nishida T, Miyauchi M, Sato S, Takata T. Dedifferentiated malignant myoepithelioma of the parotid gland. Pathol Int. 2003;53:704–9.

22.

O'Regan E, Shandilya M, Gnepp DR, Timon C, Toner M. Hyalinizing clear cell carcinoma of salivary gland: an aggressive variant. Oral Oncol. 2004;40:348–52.

23.

Jin R, Craddock KJ, Irish JC, Perez-Ordonez B, Weinreb I. Recurrent hyalinizing clear cell carcinoma of the base of tongue with high-grade transformation and EWSR1 gene rearrangement by FISH. Head Neck Pathol. 2012;6:389–94.

24.

Skalova A, Vanecek T, Majewska H, Laco J, Grossmann P, Simpson RH, Hauer L, Andrle P, Hosticka L, Branzovsky J, Michal M. Mammary analogue secretory carcinoma of salivary glands with high-grade transformation: report of 3 cases with the ETV6-NTRK3 gene fusion and analysis of TP53, beta-catenin, EGFR, and CCND1 genes. Am J Surg Pathol. 2014;38:23–33.

25.

Cipriani NA, Blair EA, Finkle J, Kraninger JL, Straus CM, Villaflor VM, Ginat DT. Salivary gland secretory carcinoma with high-grade transformation, CDKN2A/B loss, distant metastasis, and lack of sustained response to crizotinib. Int J Surg Pathol. 2017;25:613–8.

26.

Jung MJ, Song JS, Kim SY, Nam SY, Roh JL, Choi SH, Kim SB, Cho KJ. Finding and characterizing mammary analogue secretory carcinoma of the salivary gland. Korean J Pathol. 2013;47:36–43.

27.

Costa AF, Altemani A, Hermsen M. Current concepts on dedifferentiation/high-grade transformation in salivary gland tumors. Pathol Res Int. 2011;2011:325965.
Ethics declarations
Conflict of interest
The authors declare that they have no conflict of interest.
Additional information
Publisher's Note
Springer Nature remains neutral with regard to jurisdictional claims in published maps and institutional affiliations.
About this article
Cite this article
Lee, H., Roh, JL., Choi, YJ. et al. High Grade Transformation in Mucoepidermoid Carcinoma of the Minor Salivary Gland with Polyploidy of the Rearranged MAML2 Gene. Head and Neck Pathol 14, 822–827 (2020). https://doi.org/10.1007/s12105-019-01064-8
Received:

Accepted:

Published:

Issue Date:
Keywords
High-grade transformation

Mucoepidermoid carcinoma

MAML2

Polyploidy