Abstract
Objectives
To report the data of burden of rotaviral acute gastroenteritis in under-five children from two states post-introduction of the vaccine.
Methods
Children under 5 y of age hospitalized with diarrhea from the states of Haryana and Himachal Pradesh in north India were recruited in the study. Commercially available ELISA kits were used for testing rotavirus in the collected stool samples. Genotyping of the positive samples was done by reverse-transcription polymerase chain reaction.
Results
Out of 345 samples collected, 69 (20%) were found to be positive for rotavirus by ELISA. Genotyping was done and G3P[8] (31.3%), G1P[8] (13.4%), G2P[4] (13.4%) were found to be prevalent strains. Mixed strains were also found in 19.4% stool samples.
Conclusions
The study highlighted the high burden of rotavirus associated diarrhea in north Indian states. The data is helpful for evaluating the impact of vaccine on the severity of acute gastroenteritis and the changing strains after the introduction of rotavirus vaccine in the Universal Immunization Program.
Access options
Buy single article
Instant access to the full article PDF.
US$ 39.95
Tax calculation will be finalised during checkout.
Subscribe to journal
Immediate online access to all issues from 2019. Subscription will auto renew annually.
US$ 79
Tax calculation will be finalised during checkout.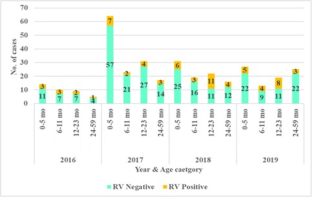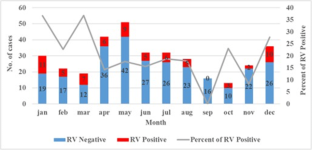 References
1.

Troeger C, Forouzanfar M, Rao PC, et al. Estimates of global, regional, and national morbidity, mortality, and aetiologies of diarrhoeal diseases: a systematic analysis for the global burden of disease study 2015. Lancet Infect Dis. 2017;17(9):909–48.

2.

Wang H, Naghavi M, Allen C, et al. Global, regional, and national life expectancy, all-cause mortality, and cause-specific mortality for 249 causes of death, 1980–2015: a systematic analysis for the Global Burden of Disease Study 2015. Lancet. 2016;388(10053):1459–544.

3.

Million Death Study Collaborators. Causes of neonatal and child mortality in India: a nationally representative mortality survey. Lancet. 2010;376(9755):1853–60.

4.

Jain VDB, Bhan MK, Glass RI, Gentsch JR, Indian Strain Surveillance Collaborating Laboratories. Great diversity of group A rotavirus strains and high prevalence of mixed rotavirus infections in India. J Clin Microbiol. 2001;39(10):3524–9.

5.

Kang G, Desai R, Arora R, et al. Diversity of circulating rotavirus strains in children hospitalized with diarrhoea in India, 2005–2009. Vaccine. 2013;31(27):2879–83.

6.

Rotavirus vaccines: an update. Wkly Epidemiol Rec. 2009;84:533–40.

7.

ROTA Council. National and regional rotavirus vaccine introductions. 2018. Available at: https://preventrotavirus.org/vaccine-introduction/global-introduction-status/. Accessed 23 Oct 2018.

8.

Gupta M, Singh M, Guglani V, Mahajan K, Pandit S. Hospital-based surveillance of rotavirus diarrhoea among under-five children in Chandigarh. Indian Pediatr. 2016;53(7):651–2.

9.

Ruuska T, Vesikari T. A prospective study of acute diarrhoea in Finnish children from birth to 2 1/2 years of age. Acta Paediatr Scand. 1991;80:500–7.

10.

Saluja T, Sharma SD, Gupta M, et al. A multicenter prospective hospital based surveillance to estimate the burden of rotavirus gastroenteritis in children less than five years of age in India. Vaccine. 2014;32(1):A13–9.

11.

Jain S, Thakur N, Vashistt J, Grover N, Krishnan T, Changotra H. Predominance of unusual rotavirus G1P[6] strain in North India: an evidence from hospitalized children and adult diarrheal patients. Infect Genet Evol. 2016;46:65–70.

12.

Ilter AA, Gupta S, Khan N, Upadhayay A,  Roy P. Epidemiology and clinical features of rotavirus, adenovirus and astrovirus infections and co-infections in children with acute gastroenteritis prior to rotavirus vaccine introduction in Meerut, North India. J Med Virol. 2019;92(8):1102–9.

13.

Kumar A, Basu S, Vashishtha V, Choudhury P. Burden of rotavirus diarrhoea in under five Indian children. Indian Pediatr. 2016;53(7):607–17.

14.

Giri S, Nair NP, Mathew A, et al. Rotavirus gastroenteritis in Indian children < 5 years hospitalized for diarrhoea, 2012 to 2016. BMC Public Health. 2019;19(1):69.

15.

Gupta S, Chaudhary S, Bubber P, Ray P. Epidemiology and genetic diversity of group A rotavirus in acute diarrhea patients in pre-vaccination era in Himachal Pradesh, India. Vaccine. 2019;37(36):5350–6.

16.

Islamuddin M, Khan WH, Gupta S, et al. Surveillance and genetic characterization of rotavirus strains circulating in four states of North Indian children. Infect Genet Evol. 2018;62:253–61.
Acknowledgements
The study was supported by the Indian Council of Medical Research (ICMR), New Delhi; Ministry of Health and Family Welfare (MoHFW), Govt. of India and the State government of the participating institution. The authors thank the team at CMC, Vellore for support, and the children and families for participation.
Funding
Subcontract to CMC, Vellore via grant no MOA#871-15SC and the Translational Health Science and Technology Institute (grant no OPP1165083) was provided by Centers for Disease Control and Prevention, Atlanta, GA, USA which was funded by Bill and Melinda Gates Foundation for conducting the study.
Ethics declarations
Ethics Approval
Ethical approval for the study was taken from the Institute Ethics Committee, PGIMER, Chandigarh.
Conflict of Interest
None.
Additional information
Publisher's Note
Springer Nature remains neutral with regard to jurisdictional claims in published maps and institutional affiliations.
About this article
Cite this article
Gupta, M., Bansal, A., Bansal, A. et al. Epidemiology of Acute Gastroenteritis Caused by Rotavirus among Children Less than Five Years Old Admitted in Hospital, in North India. Indian J Pediatr 88, 22–27 (2021). https://doi.org/10.1007/s12098-020-03619-y
Received:

Accepted:

Published:

Issue Date:
Keywords
Acute gastroenteritis

Rotavirus

Rotavirus vaccine

Epidemiology

Surveillance