Abstract
Infantile spasms, though long recognised, are still a cause of significant morbidity in children. The knowledge of their etiology and pathogenesis is still evolving. Even the management strategies vary among different centres. Hormonal treatments and vigabatrin have been recognised as effective but controversies prevail on the exact protocols that best balance the risk benefit ratio. Collaborative studies have begun to provide some clarity on some of the management issues but further large scale studies that further standardise protocols are a felt need. This article attempts to provide a clinically relevant summary of the current knowledge.
This is a preview of subscription content, log in to check access.
Access options
Buy single article
Instant access to the full article PDF.
US$ 39.95
Price includes VAT for USA
Subscribe to journal
Immediate online access to all issues from 2019. Subscription will auto renew annually.
US$ 99
This is the net price. Taxes to be calculated in checkout.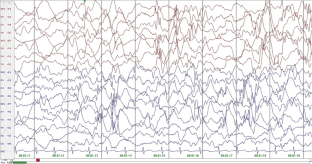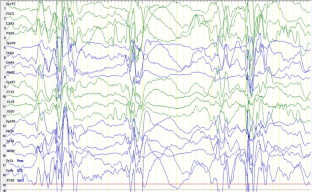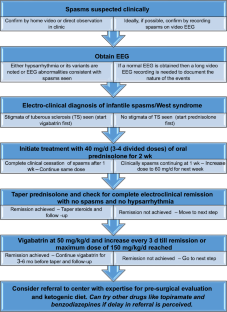 References
1.

Lux AL, Edwards SW, Hancock E, et al. The United Kingdom Infantile Spasms Study [UKISS] comparing hormone treatment with vigabatrin on developmental and epilepsy outcomes to age 14 months: a multicentre randomised trial. Lancet Neurol. 2005;4:712–7.

2.

Hussain SA, Lay J, Cheng E, Weng J, Sankar R, Baca CB. Recognition of infantile spasms is often delayed: the ASSIST study. J Pediatr. 2017;190:215–21.

3.

Chellamuthu P, Sharma S, Jain P, Kaushik JS, Seth A, Aneja S. High dose (4 mg/kg/day) versus usual dose (2 mg/kg/day) oral prednisolone for treatment of infantile spasms: an open-label, randomized controlled trial. Epilepsy Res. 2014;108:1378–84.

4.

Osborne JP, Lux AL, Edwards SW, et al. The underlying etiology of infantile spasms (west syndrome): information from the United Kingdom Infantile Spasms Study (UKISS) on contemporary causes and their classification. Epilepsia. 2010;51:2168–74.

5.

McTague A, Howell KB, Cross JH, Kurian MA, Scheffer IE. The genetic landscape of the epileptic encephalopathies of infancy and childhood. Lancet Neurol. 2016;15:304–16.

6.

Chugani HT. Pathophysiology of infantile spasms. Adv Exp Med Biol. 2002;497:111–21.

7.

Donat JF, Wright FS. Unusual variants of infantile spasms. J Child Neurol. 1991;6:313–8.

8.

Donat JF, Wright FS. Seizures in series: similarities between seizures of the west and Lennox-Gastaut syndromes. Epilepsia. 1991;32:504–9.

9.

Lux AL, Osborne JP. A proposal for case definitions and outcome measures in studies of infantile spasms and west syndrome: consensus statement of the West Delphi group. Epilepsia. 2004;45:1416–28.

10.

Fois A. Infantile spasms: review of the literature and personal experience. Ital J Pediatr. 2010;36:15.

11.

Wilmshurst JM, Ibekwe RC, O'Callaghan FJK. Epileptic spasms - 175 years on: trying to teach an old dog new tricks. Seizure. 2017;44:81–6.

12.

Hussain SA, Shinnar S, Kwong G, et al. Treatment of infantile spasms with very high dose prednisolone before high dose adrenocorticotropic hormone. Epilepsia. 2014;55:103–7.

13.

Ito M, Hashimoto K, Koroki S, et al. Low dose ACTH therapy for west syndrome. Initial effect and long term outcome. Neurology. 2002;58:110–4.

14.

Oguni H, Yanagaki S, Hayashi K, et al. Extremely low dose ACTH step-up protocol for west syndrome: maximum therapeutic effect with minimal side effects. Brain Dev. 2006;28:8–13.

15.

Mitchell WG, Shah NS. Vigabatrin for infantile spasms. Pediatr Neurol. 2002;27:161–4.

16.

Buncic JR, Westall CA, Panton CM, Munn JR, MacKeen LD, Logan WJ. Characteristic retinal atrophy with secondary "inverse" optic atrophy identifies vigabatrin toxicity in children. Ophthalmology. 2004;111:1935–42.

17.

Hammoudi DS, Lee SS, Madison A, et al. Reduced visual function associated with infantile spasms in children with vigabatrin therapy. Invest Ophtalmol Vis Sci. 2005;46:514–20.

18.

O'Callaghan FJK, Edwards SW, Alber FD, et al; International Collaborative Infantile Spasms Study (ICISS) investigators. Vigabatrin with hormonal treatment versus hormonal treatment alone (ICISS) for infantile spasms: 18-month outcomes of an open-label, randomised controlled trial. Lancet Child Adolesc Health. 2018;2:715–25.

19.

Dressler A, Benninger F, Trimmel-Schwahofer P, et al. Efficacy and tolerability of the ketogenic diet versus high-dose adrenocorticotropic hormone for infantile spasms: a single-center parallel-cohort randomized controlled trial. Epilepsia. 2019;60:441–51.

20.

Sharma S, Sankhyan N, Gulati S, Agarwala A. Use of the modified Atkins diet in infantile spasms refractory to first-line treatment. Seizure. 2012;21:45–8.

21.

Asano E, Chugani DC, Juhász C, Muzik O, Chugani HT. Surgical treatment of west syndrome. Brain Dev. 2001;23:668–76.

22.

Korinthenberg R, Schreiner A. Topiramate in children with west syndrome: a retrospective multicenter evaluation of 100 patients. J Child Neurol. 2007;22:302–6.

23.

Chandra S, Bhave A, Bhargava R, Kumar C, Kumar R. West syndrome: response to valproate. Front Neurol. 2012;3:166.

24.

Suzuki Y. Zonisamide in West syndrome. Brain Dev. 2001;23:658–61.

25.

Chamberlain MC. Nitrazepam for refractory infantile spasms and the Lennox-Gastaut syndrome. J Child Neurol. 1996;11:31–4.

26.

Hussain SA, Zhou R, Jacobson C, et al. Perceived efficacy of cannabidiol-enriched cannabis extracts for treatment of pediatric epilepsy: a potential role for infantile spasms and Lennox-Gastaut syndrome. Epilepsy Behav. 2015;47:138–41.

27.

Chen JW, Borgelt LM, Blackmer AB. Cannabidiol: a new hope for patients with Dravet or Lennox-Gastaut syndromes. Ann Pharmacother. 2019;53:603–11.

28.

Toribe Y. High dose vitamin B(6) treatment in west syndrome. Brain Dev. 2001;23:654–7.

29.

Kuo MF, Wang HS. Pyridoxal phosphate response in epilepsy with resistance to pyridoxine. Pediatr Neurol. 2002;26:146–7.

30.

O'Callaghan FJ, Lux AL, Darke K, et al. The effect of lead time to treatment and of age of onset on developmental outcome at 4 years in infantile spasms: evidence from the United Kingdom Infantile Spasms Study. Epilepsia. 2011;52:1359–64.

31.

Jóźwiak S, Kotulska K, Domańska-Pakieła D, et al. Antiepileptic treatment before the onset of seizures reduces epilepsy severity and risk of mental retardation in infants with tuberous sclerosis complex. Eur J Paediatr Neurol. 2011;15:424–31.

32.

Results of the International EPISTOP Research. Available at: https://www.iimcb.gov.pl/en/press-office/news/news/970-results-of-the-international-epistop-research. Accessed 15th Aug 2019.
Guarantor
Dr Shyam Kukreja, Director and Head of Department of Pediatrics, Max Super Speciality Hospital, Patparganj, New Delhi.
Ethics declarations
Conflict of Interest
None.
Additional information
Publisher's Note
Springer Nature remains neutral with regard to jurisdictional claims in published maps and institutional affiliations.
About this article
Cite this article
Chopra, S.S. Infantile Spasms and West Syndrome – A Clinician's Perspective. Indian J Pediatr (2020). https://doi.org/10.1007/s12098-020-03279-y
Received:

Accepted:

Published:
Keywords
Infantile spasms

West syndrome