Access options
Buy single article
Instant access to the full article PDF.
US$ 39.95
Tax calculation will be finalised during checkout.
Subscribe to journal
Immediate online access to all issues from 2019. Subscription will auto renew annually.
US$ 79
Tax calculation will be finalised during checkout.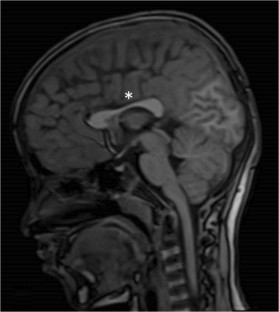 References
1.

Howard HC, Mount DB, Rochefort D, et al. The K-Cl cotransporter KCC3 is mutated in a severe peripheral neuropathy associated with agenesis of the corpus callosum. Nat Genet. 2002;32:384–92.

2.

Andermann F, Andermann E, Joubert M, Karpati G, Carpenter S, Melancon D. Familial agenesis of the corpus callosum with anterior horn cell disease, a syndrome of mental retardation, areflxia and paraplegia. Trans Am Neurol Assoc. 1972;97:242–4.

3.

Kahle KT, Flores B, Bharucha-Goebel D, et al. Peripheral motor neuropathy is associated with defective kinase regulation of the KCC3 cotransporter. Sci Signal. 2016;9:ra77.

4.

Mathieu J, Bedard F, Prevost C, Langevin P. Hereditary sensori-motor neuropathy with or without callosal body agenesis: radiological and clinical study of 64 cases [Article in French]. Canadian J Neurol Sci. 1990;17:103–8.
Ethics declarations
Conflict of Interest
None.
Ethical Clearance
Obtained from Institute Ethical committee, Indira Gandhi Institute of Child Health, Bengaluru.
Additional information
Publisher's Note
Springer Nature remains neutral with regard to jurisdictional claims in published maps and institutional affiliations.
About this article
Cite this article
Gowda, V.K., Srinivasan, V.M., Sarmast, S.N. et al. Report of Two Siblings with Andermann Syndrome. Indian J Pediatr 87, 656–657 (2020). https://doi.org/10.1007/s12098-020-03238-7
Received:

Accepted:

Published:

Issue Date: