Access options
Buy single article
Instant access to the full article PDF.
US$ 39.95
Tax calculation will be finalised during checkout.
Subscribe to journal
Immediate online access to all issues from 2019. Subscription will auto renew annually.
US$ 79
Tax calculation will be finalised during checkout.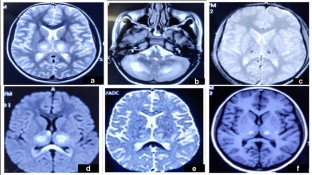 References
1.

Wu X, Wu W, Pan W, Wu L, Liu K, Zhang HL. Acute necrotizing encephalopathy: an underrecognized clinicoradiologic disorder. Mediat Inflamm. 2015;2015:792578.

2.

Ormitti F, Ventura E, Summa A, Picetti E, Crisi G. Acute necrotizing encephalopathy in a child during the 2009 influenza A (H1N1) pandemia: MR imaging in diagnosis and follow-up. AJNR Am J Neuroradiol. 2010;31:396–400.

3.

Barah F, Whiteside S, Batista S, Morris J. Neurological aspects of human parvovirus B19 infection: a systematic review. Rev Med Virol. 2014;24:154–68.

4.

Watanabe T, Kawashima H. Acute encephalitis and encephalopathy associated with human parvovirus B19 infection in children. World J Clin Pediatr. 2015;4:126–34.

5.

Suzuki H, Kusaka T, Okada H. Clinically mild encephalitis/encephalopathy with a reversible splenial lesion caused by parvovirus B19 infection: a case of two brothers with hereditary spherocytosis. Pediatr Neurol. 2014;51:470–2.
Ethics declarations
Conflict of Interest
None.
Additional information
Publisher's Note
Springer Nature remains neutral with regard to jurisdictional claims in published maps and institutional affiliations.
About this article
Cite this article
Mittal, A., Kuntar, S., Vaswani, N.D. et al. Acute Necrotizing Encephalopathy of Childhood Associated with Human Parvovirus B19 Infection. Indian J Pediatr 87, 648–649 (2020). https://doi.org/10.1007/s12098-020-03224-z
Received:

Accepted:

Published:

Issue Date: