Abstract
Purpose
To investigate the application value of serum CXC Chemokine-13 (CXCL-13) and platelet endothelial cell adhesion molecule-1 (PECAM-1) in elderly patients with gastric cancer (GC).
Methods
Ninety-eight elderly GC patients admitted to the Affiliated Hexian Memorial Hospital of Southern Medical University were selected as a research group, and 60 healthy subjects of the same age and in relatively good health who underwent physical examination at the same period were selected as a control group. Enzyme-linked immunosorbent assay (ELISA) was used to detect the levels of CXCL13 and PECAM-1 in serum. The clinical diagnosis and prognostic value of serum CXCL13 and PECAM-1 in elderly GC patients were analyzed.
Results
The levels of CXCL13 and PECAM-1 in serum of the research group were significantly higher than those of the control group (P < 0.001). The AUC value of combined diagnosis of elderly GC patients by serum CXCL13 and PECAM-1 was 0.950, and that of combined evaluation of prognosis of patients was 0.849. Serum CXCL13 and PECAM-1 were significantly related to TNM staging, differentiation degree and tumor diameter in elderly GC patients (P < 0.05). High levels of CXCL13 and PECAM-1 were significantly associated with lower 5-year OS (P < 0.05).
Conclusion
Elderly GC patients with higher TNM staging, longer tumor diameters, high levels of CXCL13 and PECAM-1 had an increased risk of poor prognosis. Serum CXCL13 and PECAM-1 can be used as effective indicators for diagnosis and prognosis of elderly patients with GC, and can predict the 5-year OS in patients.
This is a preview of subscription content, log in to check access.
Access options
Buy single article
Instant access to the full article PDF.
US$ 39.95
Price includes VAT for USA
Subscribe to journal
Immediate online access to all issues from 2019. Subscription will auto renew annually.
US$ 99
This is the net price. Taxes to be calculated in checkout.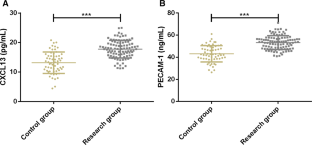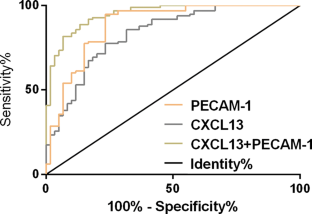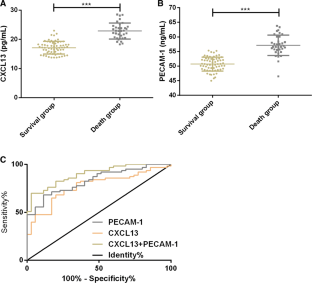 References
1.

Yamamoto M, Shimokawa M, Kawano H, et al. Benefits of laparoscopic surgery compared to open standard surgery for gastric carcinoma in elderly patients: propensity score-matching analysis. Surg Endosc. 2019;33:510–9.

2.

Bray F, Ferlay J, Soerjomataram I, Siegel RL, Torre LA, Jemal A. Global Cancer Statistics 2018: GLOBOCAN estimates of incidence and mortality worldwide for 36 cancers in 185 countries. CA Cancer J Clin. 2018;68:394–424.

3.

Tan MC, Balakrishnan M, Graham DY. Gastric Cancer Worldwide Except Japan. 2019.

4.

Wan JJ, Fei SJ, Lv SX, et al. Role of gastroscopic biopsy of gastric ulcer margins and healed sites in the diagnosis of early gastric cancer: a clinical controlled study of 513 cases. Oncol Lett. 2018;16:4211–8.

5.

Yamamichi N, Hirano C, Takahashi Y, et al. Comparative analysis of upper gastrointestinal endoscopy, double-contrast upper gastrointestinal barium X-ray radiography, and the titer of serum anti-Helicobacter pylori IgG focusing on the diagnosis of atrophic gastritis. Gastric Cancer. 2016;19:670–5.

6.

Xu C, Liu Y, Ge X, et al. Tumor containing fragment number influences immunohistochemistry positive rate of HER2 in biopsy specimens of gastric cancer. Diagn Pathol. 2017;12:41.

7.

Necula L, Matei L, Dragu D, et al. Recent advances in gastric cancer early diagnosis. World J Gastroenterol. 2019;25:2029–44.

8.

Nagarsheth N, Wicha MS, Zou W. Chemokines in the cancer microenvironment and their relevance in cancer immunotherapy. Nat Rev Immunol. 2017;17:559–72.

9.

Schiffer L, Worthmann K, Haller H, Schiffer M. CXCL13 as a new biomarker of systemic lupus erythematosus and lupus nephritis—from bench to bedside? Clin Exp Immunol. 2015;179:85–9.

10.

Li G, Wu K, Tao K, et al. Vasoactive intestinal peptide induces CD14+HLA-DR?/low myeloid-derived suppressor cells in gastric cancer. Mol Med Rep. 2015;12:760–8.

11.

Paddock C, Zhou D, Lertkiatmongkol P, Newman PJ, Zhu J. Structural basis for PECAM-1 homophilic binding. Blood. 2015;127:1052.

12.

Feng YM, Chen XH, Zhang X. Roles of PECAM-1 in cell function and disease progression. Eur Rev Med Pharmacol Sci. 2016;20:4082.

13.

Venkataramani V, Küffer S, Cheung KCP, et al. CD31 Expression determines redox status and chemoresistance in human angiosarcomas. Clin Cancer Res. 2017;24:460.

14.

Darom A, Gomatos IP, Leandros E, Chatzigianni E, Panousopoulos D, Konstadoulakis MM, Androulakis G. Molecular markers (PECAM-1, ICAM-3, HLA-DR) determine prognosis in primary non-Hodgkin's gastric lymphoma patients. World J Gastroenterol. 2006;12:1924–32.

15.

Mizutani K, Horie K, Kato T, et al. Serum PD-1 levels measured by ELISA using Nivolumab increased in advanced RCC patients: novel approach to develop companion diagnostics for antibody therapy. J Cancer Res Clin Oncol. 2019;145:1661–3.

16.

Peng W, Wu J, Fan H, Lu J, Feng J. LncRNA EGOT promotes tumorigenesis via hedgehog pathway in gastric cancer. Pathol Oncol Res. 2019;25:883–7.

17.

Kim MJ, Yoo KH, Lee SJ, et al. P-072 Overall survival (OS) of patients with advanced gastric cancer (AGC) according to the availability of 5-FU, platinum, taxanes and irinotecan as first, second and third-line chemotherapy. Ann Oncol. 2015;26:iv20.

18.

Chen XZ, Huang CZ, Hu WX, Liu Y, Yao XQ. Gastric cancer screening by combined determination of serum Helicobacter pylori antibody and pepsinogen concentrations: ABC method for gastric cancer screening. Chin Med J (Engl). 2018;131:1232–9.

19.

Nocturne G, Seror R, Fogel O, et al. CXCL13 and CCL11 serum levels and lymphoma and disease activity in primary Sjogren's syndrome. Arthritis Rheumatol. 2016;67:3226–333.

20.

Kuang BH, Wen XZ, Ding Y, et al. The prognostic value of platelet endothelial cell adhesion molecule-1 in non-small-cell lung cancer patients. Med Oncol. 2013;30:536.

21.

Li C, Kang D, Sun X, Liu Y, Wang J, Gao P. The effect of C-X-C motif chemokine 13 on hepatocellular carcinoma associates with Wnt signaling. Biomed Res Int. 2015;2015:345413.

22.

Maass T, Thieringer FR, Mann A, Longerich T, Schirmacher P, Strand D, Hansen T, Galle PR, Teufel A, Kanzler S. Liver specific overexpression of platelet-derived growth factor-B accelerates liver cancer development in chemically induced liver carcinogenesis. Int J Cancer. 2011;128:1259–68.

23.

Chowdhury SR, Biswas S, Mandal G, et al. Abstract 943: RelA regulates CXCR5/CXCL13 transcription and associated immune response in breast cancer. Cancer Res. 2017;77:943–943.

24.

Tchou J, Satija C, Zhang P, et al. P1–03-09: significance of FAP, SMA and CD31 expression in the Stroma of Breast Cancer. Cancer Res. 2011;71:P1-03-09-P1-03-09.

25.

Hassanalilou T, Ghavamzadeh S, Khalili L. Curcumin and gastric cancer: a review on mechanisms of action. J Gastrointest Cancer. 2019;50:1–8.

26.

Wei Y, Lin C, Li H, et al. CXCL13 expression is prognostic and predictive for postoperative adjuvant chemotherapy benefit in patients with gastric cancer. Cancer Immunol Immunother. 2017;67:261–9.

27.

Meng X, Yu X, Dong Q, Xu X, Li J, Xu Q, Ma J, Zhou C. Distribution of circulating follicular helper T cells and expression of interleukin-21 and chemokine C-X-C ligand 13 in gastric cancer. Oncol Lett. 2018;16:3917–22.

28.

Yin T, Ji XL, Shen MS. Relationship between lymph node sinuses with blood and lymphatic metastasis of gastric cancer. World J Gastroenterol. 2003;9:40–3.

29.

Terashima M, Ichikawa W, Ochiai A, et al. TOP2A, GGH, and PECAM1 are associated with hematogenous, lymph node, and peritoneal recurrence in stage II/III gastric cancer patients enrolled in the ACTS-GC study. Oncotarget. 2017;8:57574–822.

30.

Handumrongkul C, Collins C, Delisser H, et al. Abstract 2847: PECAM-1 targeting extends overall survival in various advanced metastatic mouse tumor models. Cancer Res. 2012;72:2847–2847.

31.

Smiljanovic B, Stuhlmüller B, Maslinski W, et al. A10.6 dissecting disease-specific differences in RA and OA by transcriptome analyses of synovial tissue, blood and bone marrow monocytes. Ann Rheum Dis. 2013;72:A73.2–A74.

32.

Palaj J, Kečkéš Š, Marek V, Dyttert D, Waczulíková I, Durdík Š. Fibrinogen levels are associated with lymph node involvement and overall survival in gastric cancer patients. Anticancer Res. 2018;38:1097.
Ethics declarations
Conflict of interest
The authors declare that they have no conflict of interest.
Ethical approval
The study was approved by Ethical Committee of the Affiliated Hexian Memorial Hospital of Southern Medical University and conducted in accordance with the ethical standards.
Informed consent
Yes.
Additional information
Publisher's Note
Springer Nature remains neutral with regard to jurisdictional claims in published maps and institutional affiliations.
About this article
Cite this article
Li, Y., Guo, X.B., Wei, Y.H. et al. Serum CXCL13 and PECAM-1 can be used as diagnostic and prognostic markers in elderly patients with gastric cancer. Clin Transl Oncol (2020). https://doi.org/10.1007/s12094-020-02403-w
Received:

Accepted:

Published:
Keywords
Elderly patients with gastric cancer

CXCL13

PECAM-1

Serum

Prognosis