Abstract
Purpose
Epithelial to mesenchymal transition (EMT) plays an important role in acquired resistance to gefitinib in lung cancer. This study aimed to explore the underlying mechanism of gefitinib-induced EMT in lung adenocarcinoma cells harboring EGFR mutation.
Methods
CXC chemokine receptor 4 (CXCR4) expression was determined through qRT-PCR, Western blot and flow cytometry assays in lung cancer cell line (PC9) bearing mutated EGFR. Functional role of CXCR4 was inhibited applying siRNAs as well as the specific antagonist AMD3100. The expression of EMT markers was determined, and the migration of PC9 cells was measured with transwell assay.
Results
We found that gefitinib promoted the migratory capacity of PC9 cells in vitro, which correlated with EMT occurrence through upregulation of CXCR4. Blocking CXCR4 significantly suppressed gefitinib-induced enhancement of migration and EMT. Moreover, we determined that the upregulation of CXCR4 by gefitinib was dependent on TGF-β1/Smad2 signaling activity.
Conclusions
Our study suggested a potential mechanism by which gefitinib induced EMT in cells harboring EGFR mutation through a pathway involving TGF-β1 and CXCR4. Thus, the combination of CXCR4 antagonist and TGFβR inhibitors might provide an alternative strategy to overcome progression of lung cancer after gefitinib treatment.
This is a preview of subscription content, log in to check access.
Access options
Buy single article
Instant access to the full article PDF.
US$ 39.95
Price includes VAT for USA
Subscribe to journal
Immediate online access to all issues from 2019. Subscription will auto renew annually.
US$ 99
This is the net price. Taxes to be calculated in checkout.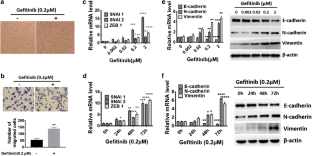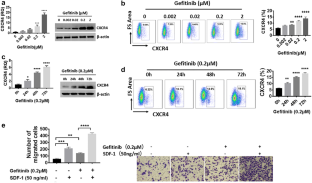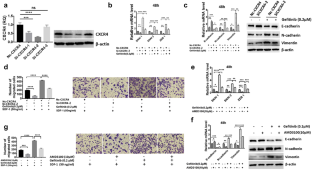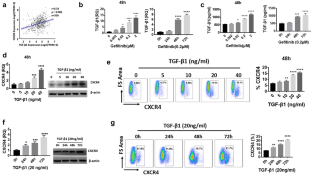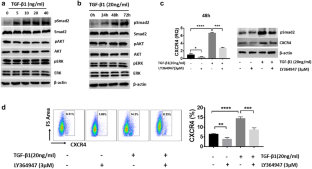 References
1.

Jemal A, Bray F, Center MM, Ferlay J, Ward E, Forman D. Global cancer statistics. CA-Cancer J Clin. 2011;61(2):69–90.

2.

Lynch TJ, Bell DW, Sordella R, Gurubhagavatula S, Okimoto RA, Brannigan BW, et al. Activating mutations in the epidermal growth factor receptor underlying responsiveness of non-small-cell lung cancer to gefitinib. New Engl J Med. 2004;350(21):2129–39.

3.

Mitsudomi T, Yatabe Y. Mutations of the epidermal growth factor receptor gene and related genes as determinants of epidermal growth factor receptor tyrosine kinase inhibitors sensitivity in lung cancer. Cancer Sci. 2007;98(12):1817–24.

4.

Paez JG, Janne PA, Lee JC, Tracy S, Greulich H, Gabriel S, et al. EGFR mutations in lung cancer: correlation with clinical response to gefitinib therapy. Science (NY). 2004;304(5676):1497–500.

5.

Appleman LJ. MET signaling pathway: a rational target for cancer therapy. J Clin Oncol. 2011;29(36):4837–8.

6.

Jackman D, Pao W, Riely GJ, Engelman JA, Kris MG, Janne PA, et al. Clinical definition of acquired resistance to epidermal growth factor receptor tyrosine kinase inhibitors in non-small-cell lung cancer. J Clin Oncol. 2010;28(2):357–60.

7.

Kobayashi S, Boggon TJ, Dayaram T, Janne PA, Kocher O, Meyerson M, et al. EGFR mutation and resistance of non-small-cell lung cancer to gefitinib. New Engl J Med. 2005;352(8):786–92.

8.

Nakamura T, Sakai K, Nakamura T, Matsumoto K. Hepatocyte growth factor twenty years on: much more than a growth factor. J Gastroen Hepatol. 2011;26(Suppl 1):188–202.

9.

Thomson S, Buck E, Petti F, Griffin G, Brown E, Ramnarine N, et al. Epithelial to mesenchymal transition is a determinant of sensitivity of non-small-cell lung carcinoma cell lines and xenografts to epidermal growth factor receptor inhibition. Cancer Res. 2005;65(20):9455–62.

10.

Suda K, Tomizawa K, Fujii M, Murakami H, Osada H, Maehara Y, et al. Epithelial to mesenchymal transition in an epidermal growth factor receptor-mutant lung cancer cell line with acquired resistance to erlotinib. J Thorac Oncol. 2011;6(7):1152–61.

11.

Rho JK, Choi YJ, Lee JK, Ryoo BY, Na II, Yang SH, et al. Epithelial to mesenchymal transition derived from repeated exposure to gefitinib determines the sensitivity to EGFR inhibitors in A549, a non-small cell lung cancer cell line. Lung Cancer. 2009;63(2):219–26.

12.

Iwatsuki M, Mimori K, Yokobori T, Ishi H, Beppu T, Nakamori S, et al. Epithelial-mesenchymal transition in cancer development and its clinical significance. Cancer Sci. 2010;101(2):293–9.

13.

Moustakas A, Heldin CH. Signaling networks guiding epithelial-mesenchymal transitions during embryogenesis and cancer progression. Cancer Sci. 2007;98(10):1512–20.

14.

Hu TH, Yao Y, Yu S, Han LL, Wang WJ, Guo H, et al. SDF-1/CXCR4 promotes epithelial-mesenchymal transition and progression of colorectal cancer by activation of the Wnt/beta-catenin signaling pathway. Cancer Lett. 2014;354(2):417–26.

15.

Li X, Li P, Chang Y, Xu Q, Wu Z, Ma Q, et al. The SDF-1/CXCR4 axis induces epithelial-mesenchymal transition in hepatocellular carcinoma. Mol Cell Biochem. 2014;392(1–2):77–84.

16.

Bertran E, Caja L, Navarro E, Sancho P, Mainez J, Murillo MM, et al. Role of CXCR4/SDF-1 alpha in the migratory phenotype of hepatoma cells that have undergone epithelial-mesenchymal transition in response to the transforming growth factor-beta. Cell Signal. 2009;21(11):1595–606.

17.

Bartolome RA, Galvez BG, Longo N, Baleux F, Van Muijen GN, Sanchez-Mateos P, et al. Stromal cell-derived factor-1alpha promotes melanoma cell invasion across basement membranes involving stimulation of membrane-type 1 matrix metalloproteinase and Rho GTPase activities. Cancer Res. 2004;64(7):2534–43.

18.

Zhao XP, Huang YY, Huang Y, Lei P, Peng JL, Wu S, et al. Transforming growth factor-beta1 upregulates the expression of CXC chemokine receptor 4 (CXCR4) in human breast cancer MCF-7 cells. Acta Pharmacol Sin. 2010;31(3):347–54.

19.

Gu J, Ding JY, Lu CL, Lin ZW, Chu YW, Zhao GY, et al. Overexpression of CD88 predicts poor prognosis in non-small-cell lung cancer. Lung cancer. 2013;81(2):259–65 (Amsterdam, Netherlands).

20.

Ehtesham M, Winston JA, Kabos P, Thompson RC. CXCR4 expression mediates glioma cell invasiveness. Oncogene. 2006;25(19):2801–6.

21.

Koshiba T, Hosotani R, Miyamoto Y, Ida J, Tsuji S, Nakajima S, et al. Expression of stromal cell-derived factor 1 and CXCR4 ligand receptor system in pancreatic cancer: a possible role for tumor progression. Clin Cancer Res. 2000;6(9):3530–5.

22.

Komatani H, Sugita Y, Arakawa F, Ohshima K, Shigemori M. Expression of CXCL12 on pseudopalisading cells and proliferating microvessels in glioblastomas: an accelerated growth factor in glioblastomas. Int J Oncol. 2009;34(3):665–72.

23.

Engelman JA, Zejnullahu K, Mitsudomi T, Song Y, Hyland C, Park JO, et al. MET amplification leads to gefitinib resistance in lung cancer by activating ERBB3 signaling. Science. 2007;316(5827):1039–43 (NY).

24.

Guix M, Faber AC, Wang SE, Olivares MG, Song Y, Qu S, et al. Acquired resistance to EGFR tyrosine kinase inhibitors in cancer cells is mediated by loss of IGF-binding proteins. J Clin Invest. 2008;118(7):2609–19.

25.

Sos ML, Koker M, Weir BA, Heynck S, Rabinovsky R, Zander T, et al. PTEN loss contributes to erlotinib resistance in EGFR-mutant lung cancer by activation of Akt and EGFR. Cancer Res. 2009;69(8):3256–61.

26.

Serizawa M, Takahashi T, Yamamoto N, Koh Y. Combined treatment with erlotinib and a transforming growth factor-beta type I receptor inhibitor effectively suppresses the enhanced motility of erlotinib-resistant non-small-cell lung cancer cells. J Thorac Oncol. 2013;8(3):259–69.

27.

Zhang SS, Han ZP, Jing YY, Tao SF, Li TJ, Wang H, et al. CD133(+)CXCR4(+) colon cancer cells exhibit metastatic potential and predict poor prognosis of patients. BMC Med. 2012;10:85.

28.

Zhu Y, Yang P, Wang Q, Hu J, Xue J, Li G, et al. The effect of CXCR4 silencing on epithelial-mesenchymal transition related genes in glioma U87 cells. Anat Rec. 2013;296(12):1850–6 (Hoboken, NJ : 2007).
Funding
The work was supported by the National Natural Science Foundation (81872291) Major Research Plan, the Doctoral Fund for Young Scholar of Ministry of Education of China (20110071120065).
Ethics declarations
Conflict of interest
The authors have declared that no competing interest exists.
Ethical approval
No human participants or animals were involved in this study, no ethical approval was required.
Informed consent
For this type of study, formal consent is not required.
Additional information
Publisher's Note
Springer Nature remains neutral with regard to jurisdictional claims in published maps and institutional affiliations.
Electronic supplementary material
Below is the link to the electronic supplementary material.
About this article
Cite this article
Zhu, Q., Zhang, Z., Lu, C. et al. Gefitinib promotes CXCR4-dependent epithelial to mesenchymal transition via TGF-β1 signaling pathway in lung cancer cells harboring EGFR mutation. Clin Transl Oncol 22, 1355–1363 (2020). https://doi.org/10.1007/s12094-019-02266-w
Received:

Accepted:

Published:

Issue Date:
Keywords
Gefitinib

CXCR4

Epithelial to mesenchymal transition

TGF-β1

EGFR