Abstract
Purpose
Transoral robotic surgery (TORS) is one of the main treatment options for non-locally advanced primary oropharyngeal cancer in the United States. However, its use is more limited in countries with a low incidence of human papillomavirus (HPV), such as Spain, in patients with advanced disease, and as salvage surgery. To shed light on the use and potential benefit of TORS in Spanish patients, we analyzed the functional and oncologic outcomes of TORS as both primary and salvage surgery in a primarily HPV-negative population which is representative of oropharyngeal squamous cell carcinoma (OPSCC) patients in Spain.
Material and methods
This is a retrospective analysis of prospectively collected data on OPSCC patients treated with TORS at our center between February 2017 and February 2019.
Results
Fifty-four OPSCC patients were included; 79.6% were males and 80.5% were HPV negative. Median age was 62 years. Primary surgery was performed on 73.7% (48.1% stage I–II; 51.9% stage III–IV) and salvage surgery on 25.9% of patients. Positive margin rates were 4.3% for T1–2 and 25.8% for T3–4. None of the stage I–II patients and 27.7% of stage III–IV patients required adjuvant treatment. Reconstructive surgery was performed in 19.2% of all patients. Normal swallowing was achieved in 92.7% of patients at 6 months after surgery. 1- and 2-year survival rates for all patients were 94.5% and 89%, respectively. The overall complication rate was 16.1%. Bleeding occurred in 11.5% of patients. Longer hospitalization time was associated with surgical complications (P = 0.03) and reconstructive surgery (P = 0.03) but not with salvage surgery.
Conclusion
TORS is a safe and effective treatment for HPV-negative T1–2 OPSCC patients. The positive margin rate was worse in T3–4 patients, indicating the need for careful patient selection in this subgroup.
This is a preview of subscription content, log in to check access.
Access options
Buy single article
Instant access to the full article PDF.
US$ 39.95
Price includes VAT for USA
Subscribe to journal
Immediate online access to all issues from 2019. Subscription will auto renew annually.
US$ 99
This is the net price. Taxes to be calculated in checkout.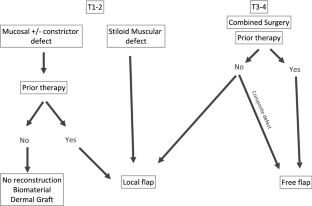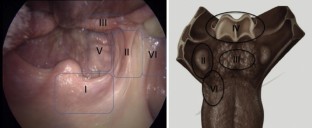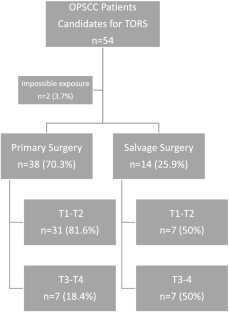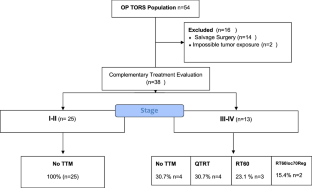 Abbreviations
ALT:

Anterolateral thigh

CRT:

Chemoradiotherapy

CT:

Computed tomography

ECE:

Extracapsular extension

FAMM:

Facial artery musculomucosal

FEES:

Fiberoptic endoscopic evaluation of swallowing

HPV:

Human papillomavirus

IMRT:

Intensity-modulated radiation therapy

MRI:

Magnetic resonance imaging

OPSCC:

Oropharyngeal squamous cell carcinoma

PCR:

Polymerase chain reaction

PET:

Positron emission tomography

RF:

Radial forearm

RT:

Radiotherapy

RTOG:

Radiation therapy oncology group

SCC:

Squamous cell carcinoma

SCORL:

Sociedad Catalana de Otorrinolaringología (Catalan Society of Otorhinolaryngology)

TORS:

Transoral robotic surgery
References
1.

Urban D, Corry J, Rischin D. What is the best treatment for patients with human papillomavirus-positive and -negative oropharyngeal cancer? Cancer. 2014;120(10):1462–70.

2.

Pignon JP, le Maître A, Maillard E, Bourhis J, MACH-NC collaborative group. Meta-analysis of chemotherapy in head and neck cancer (MACH-NC): an update on 93 randomised trials and 17,346 patients. Radiother Oncol. 2009;92(1):4–14.

3.

Machtay M, Moughan J, Trotti A, Garden AS, Weber RS, Cooper JS, et al. Factors associated with severe late toxicity after concurrent chemoradiation for locally advanced head and neck cancer: an RTOG analysis. J Clin Oncol. 2009;26(21):3582–9.

4.

Steiner W. Experience in endoscopic laser surgery of malignant tumours of the upper aero-digestive tract. Adv Otorhinolaryngol. 1998;39:135–44.

5.

O'Malley BW Jr, Weinstein GS, Snyder W, Hockstein NG. Transoral robotic surgery (TORS) for base of tongue neoplasms. Laryngoscope. 2006;116(8):1465–72.

6.

Mandal R, Duvvuri U, Ferris RL, Kaffenberger TM, Choby GW, Kim S. Analysis of post-transoral robotic-assisted surgery hemorrhage: Frequency, outcomes, and prevention. Head Neck. 2016;38(Suppl 1):E776–E78282.

7.

Leonhardt FD, Quon H, Abrahão M, Malley BW Jr, Weinstein GS. Transoral robotic surgery for oropharyngeal carcinoma and its impact on patient-reported quality of life and function. Head Neck. 2012;34:146–54.

8.

Williams CE, Kinshuck AJ, Derbyshire SG, Upile N, Tandon S, Roland NJ, et al. Transoral laser resection versus lip-split mandibulotomy in the management of oropharyngeal squamous cell carcinoma (OPSCC): a case match study. Eur Arch Otorhinolaryngol. 2014;271(2):367–72. https://doi.org/10.1007/s00405-013-2501-5(Epub 2013 May 4).

9.

Yeh DH, Tam S, Fung K, MacNeil SD, Yoo J, Winquist E, et al. Transoral robotic surgery vs radiotherapy for management of oropharyngeal squamous cell carcinoma—a systematic review of the literature. Eur J Surg Oncol. 2015;41(12):1603–14.

10.

White H, Ford S, Bush B, Holsinger FC, Moore E, Ghanem T, et al. Salvage surgery for recurrent cancers of the oropharynx: comparing TORS with standard open surgical approaches. JAMA Otolaryngol Head Neck Surg. 2013;139(8):773–8. https://doi.org/10.1001/jamaoto.2013.3866.

11.

de Almeida JR, Moskowitz AJ, Miles BA, Goldstein DP, Teng MS, Sikora AG, et al. Cost–effectiveness of transoral robotic surgery versus (chemo) radiotherapy for early T classification oropharyngeal carcinoma: a cost–utility analysis. Head Neck. 2016;38(4):589–600.

12.

Rodin D, Caulley L, Burger E, Kim J, Johnson-Obaseki S, Palma D, et al. Cost-effectiveness analysis of radiation therapy versus transoral robotic surgery for oropharyngeal squamous cell carcinoma. Int J Radiat Oncol Biol Phys. 2017;97(4):709–17.

13.

Chaturvedi AK, Engels EA, Anderson WF, Gillison ML. Incidence trends for human papillomavirus-related and -unrelated oral squamous cell carcinomas in the United States. J Clin Oncol. 2008;26:612–9.

14.

Taberna M, Mena M, Pavón MA, Alemany L, Gillison ML, Mesía R. Human papillomavirus-related oropharyngeal cancer. Ann Oncol. 2017;28(10):2386–98.

15.

Castellsagué X, Mena M, Alemany L. Epidemiology of HPV-positive tumors in Europe and in the World. Recent Results Cancer Res. 2017;206:27–35.

16.

Rodrigo JP, Heideman DA, García-Pedrero JM, Fresno MF, Brakenhoff RH, Díaz Molina JP, et al. Time trends in the prevalence of HPV in oropharyngeal squamous cell carcinomas in northern Spain (1990–2009). Int J Cancer. 2014;134:487–92.

17.

Cerezo L, de la Torre A, Hervás A, Ruiz A, Liñán O, López M, et al. Oropharyngeal cancer related to human papilloma virus: incidence and prognosis in Madrid Spain. Clin Transl Oncol. 2014;16:301–6.

18.

Ang KK, Harris J, Wheeler R, Weber R, Rosenthal DI, Nguyen-Tân PF, et al. Human papillomavirus and survival of patients with oropharyngeal cancer. N Engl J Med. 2010;363(1):24–35.

19.

Olsen SM, Moore EJ, Laborde RR, Garcia JJ, Janus JR, Price DL, et al. Transoral surgery alone for human-papillomavirus-associated oropharyngeal squamous cell carcinoma. Ear Nose Throat J. 2013;92(2):76–83.

20.

Broglie MA, Soltermann A, Rohrbach D, et al. Impact of p16, p53, smoking, and alcohol on survival in patients with oropharyngeal squamous cell carcinoma treated with primary intensity-modulated chemoradiation. Head Neck. 2013;35(12):1698–706.

21.

Mena M, Taberna M, Tous S, Marquez S, Clavero O, Quiros B, et al. Double positivity for HPV-DNA/p16ink4a is the biomarker with strongest diagnostic accuracy and prognostic value for human papillomavirus related oropharyngeal cancer patients. Oral Oncol. 2018;78:137–44.

22.

González García JÁ, Pollán Guisasola C, Chiesa Estomba CM, Viña Soria C, Virós PD. Reconstruction of oropharyngeal defects after transoral robotic surgery. Review and recommendations of the commission of head and neck surgery of the Spanish society of otolaryngology and head and neck surgery. Acta Otorrinolaringol Esp. 2018;70(4):235–44.

23.

Amin MB, Greene FL, Edge SB, Compton CC, Gershenwald JE, Brookland RK, et al. The Eighth Edition AJCC cancer staging manual: continuing to build a bridge from a population-based to a more "personalized" approach to cancer staging. CA Cancer J Clin. 2017;67(2):93–9.

24.

Virós Porcuna D, Avilés Jurado F, Pollán Guisasola C, Ramirez Ruiz RD, García Lorenzo J, Tobed Secall M, et al. Transoral oropharyngeal resection classification: proposal of the SCORL working group. Acta Otorrinolaringol Esp. 2017;68(5):289–93.

25.

Smith RV, Schiff BA, Garg M, Haigentz M. The impact of transoral robotic surgery on the overall treatment of oropharyngeal cancer patients. Laryngoscope. 2015;125(Suppl 10):S1–S15.

26.

de Almeida JR, Li R, Magnuson JS, Smith RV, Moore E, Lawson G, Remacle M, et al. Oncologic outcomes after transoral robotic surgery: a multi-institutional study. JAMA Otolaryngol Head Neck Surg. 2015;141(12):1043–51.

27.

McMullen CP, Garneau J, Weimar E, Ali S, Farinhas JM, Yu E, et al. Occult nodal disease and occult extranodal extension in patients with oropharyngeal squamous cell carcinoma undergoing primary transoral robotic surgery with neck dissection. JAMA Otolaryngol Head Neck Surg. 2019;145(8):701–7.

28.

Lörincz BB, Jowett N, Knecht R. Decision management in transoral robotic surgery: indications, individual patient selection, and role in the multidisciplinary treatment for head and neck cancer from a European perspective. Head Neck. 2016;38(Suppl 1):E2190–E21962196.

29.

Setton J, Lee NY, Riaz N, Huang SH, Waldron J, O'Sullivan B, et al. A multi-institution pooled analysis of gastrostomy tube dependence in patients with oropharyngeal cancer treated with definitive intensity-modulated radiotherapy. Cancer. 2015;121(2):294–330.

30.

Chen AM, Daly ME, Luu Q, Donald PJ, Farwell DG. Comparison of functional outcomes and quality of life between transoral surgery and definitive chemoradiotherapy for oropharyngeal cancer. Head Neck. 2015;37(3):381–5.
Acknowledgments
This study received no outside funding.
Ethics declarations
Conflict of interest
The authors declare that they have no conflict of interest.
Ethical approval
This study was approved by the ethics local committee at Hospital Universitari Germans Trias i Pujol, Badalona, Barcelona (PI-17-267).
Informed consent
Informed consent was obtained from all individuals included in the study.
Additional information
Publisher's Note
Springer Nature remains neutral with regard to jurisdictional claims in published maps and institutional affiliations.
About this article
Cite this article
Viros Porcuna, D., Pollan Guisasola, C., Viña Soria, C. et al. Transoral robotic surgery for squamous cell carcinoma of the oropharynx in a primarily human papillomavirus-negative patient population. Clin Transl Oncol 22, 1303–1311 (2020). https://doi.org/10.1007/s12094-019-02256-y
Received:

Accepted:

Published:

Issue Date:
Keywords
Head and neck cancer

Oropharyngeal cancer

Reconstructive surgery

Salvage surgery

Squamous cell carcinoma

TORS