The 'Checkmate' for Iron Between Human Host and Invading Bacteria: Chess Game Analogy
Abstract
Iron is an essential nutrient for all living organisms with critical roles in many biological processes. The mammalian host maintains the iron requirements by dietary intake, while the invading pathogenic bacteria compete with the host to obtain those absorbed irons. In order to limit the iron uptake by the bacteria, the human host employs numerous iron binding proteins and withholding defense mechanisms that capture iron from the microbial invaders. To counteract, the bacteria cope with the iron limitation imposed by the host by expressing various iron acquisition systems, allowing them to achieve effective iron homeostasis. The armamentarium used by the human host and invading bacteria, leads to the dilemma of who wins the ultimate war for iron.
Keywords
Iron 
Host–pathogen 
Iron homeostasis 
Host defense 
Siderophore 
Microbial iron acquisition 
Introduction
Iron is the fourth most abundant element on the Earth, approximately 32% of the planet's mass; it is a crucial micronutrient for all forms of life including humans, other vertebrates, and pathogens. However, some microorganisms such as Streptococcus sanguis [1], Lactobacillus plantarum [2], Borrelia burgdorferi [3] and Treponema pallidum [4] utilize manganese in the place of iron. According to Virulence Factor of Pathogenic Bacteria (VFDB) [5], iron acquisition systems among medically significant bacteria have tremendously evolved in recent years. In this review, a chess game analogy was used to understand the interaction between human host and invading pathogen in the battle for obtaining iron for their survival.
In general, chess is a well-known two-player abstract strategy board game played on a chequered chessboard consisting 64 squares arranged in an 8 × 8 grid. The opposing pieces are designated white and black, lined up on either side initially, which in this scenario represented by the human host (white pieces) and invading bacteria (black pieces) as shown in Fig. 
1
. The board game consists of sixteen pieces each sides; a king, a queen, two rocks, two knights, two bishops and eight pawns. Overall, the ultimate aim of the game is: (1) to protect the king; (2) not to lose the pieces carelessly as each of them are valuable; and (3) to make sure all the pieces take part in defending the opponent. Using the same strategy as research model, we compare and discuss the 'army in battle array' employed by both human host and invading bacteria and their characteristics in biological context. Besides, the aspect of host–pathogen interaction in infectious diseases such as tuberculosis, malaria and HIV were also reviewed in this study.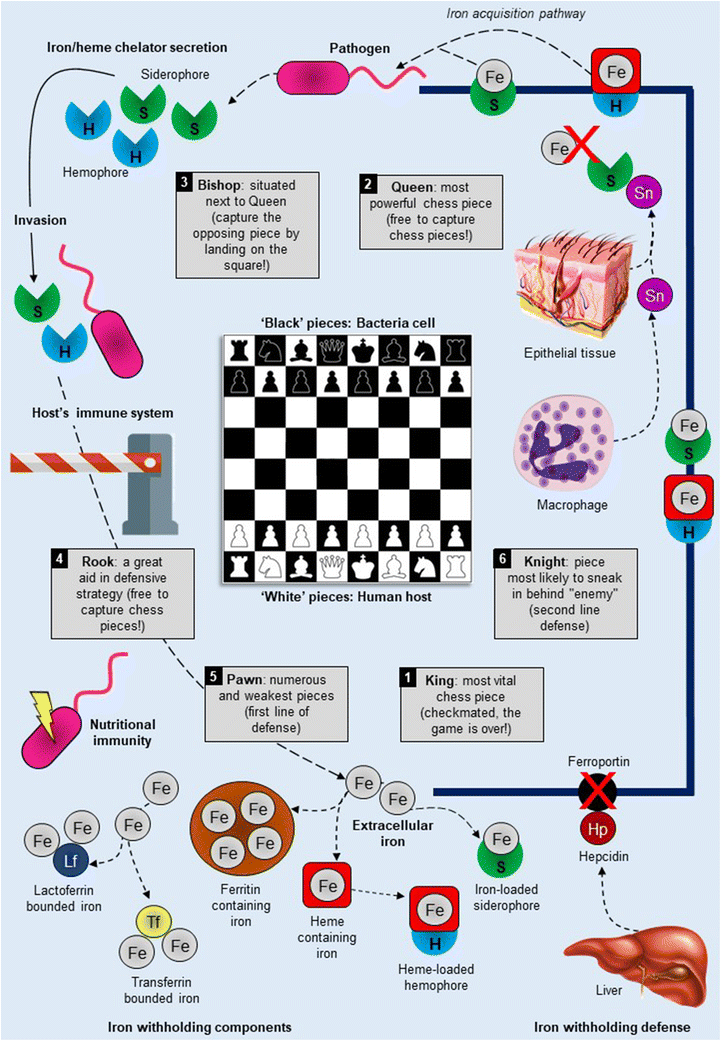 The Chess Pieces: The 'Army in Battle Array'
Iron and Microbial Infections
During clinical infections, iron is freely available from three main sources such as iron overload due to altered metabolic diseases, haemolysis of erythrocytes and normal bodily fluid from an altered homeostatic condition [
66
]. In view of the increasing worldwide epidemic of tuberculosis (TB), malaria and HIV/AIDS, it may be crucial to decipher the complete machinery employed by both human and microbial invader, in the struggle for iron in these infectious diseases. A comparative representation of the pathogenesis of TB, malaria, and HIV/AIDS in relation to iron withholding defense mechanisms is illustrated in Fig. 
2
.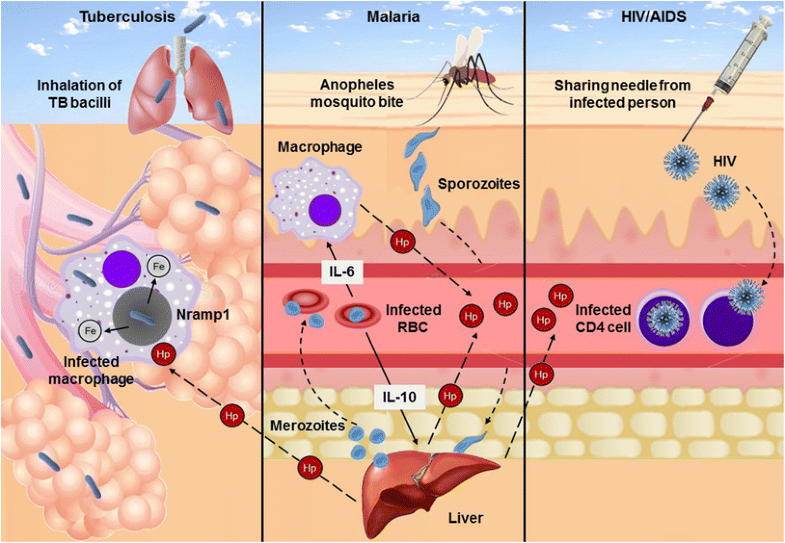 Notes
Funding
This work was supported by Ministry of Higher Education, Malaysia through Fundamental Research Grant Scheme [04-01-14-53FR] and Universiti Putra Malaysia through Geran Putra—Inisiatif Putra Siswazah (IPS) [GP-IPS/2016/9478200].
Compliance of Ethical Standards
Conflicts of interest
The authors declare that they have no competing interests.
Copyright information
© Association of Microbiologists of India 2018