Abstract
Introduction
Studies of changes in taste threshold, perceived intensity, liking, and preference during pregnancy were reviewed, because such changes have the potential to negatively impact nutrient intake in pregnant women.
Methods
Medline and Web of Science were searched; eligibility was based on inclusion, exclusion, and quality criteria.
Results
Fourteen articles were included: 5 reported taste thresholds, 8 taste intensity, and 13 liking/preferences. Articles addressed sweet, salty, sour, and bitter, not umami. Results of self-reported changes suggested that many women experienced some sort of alteration in taste during pregnancy. Studies with real stimuli demonstrated that the only consistent finding for taste thresholds was that pregnant women showed higher thresholds for bitterness in their first trimester. For taste intensity, no consistent differences between pregnant women and controls were observed. However, over the course of pregnancy, salty intensity seemed to decrease, the intensity of other tastes did not change. During pregnancy, higher saltiness was liked more and salty snacks were consumed more, particularly in the second and/or third trimester. Drinks with lower sweetness were preferred and intake of sweet snacks was highest in the second trimester. Preference for sour and bitter did not seem to be affected.
Conclusion
Self-reports suggested that many women experienced some taste changes during pregnancy, while changes based on studies with real stimuli were limited.
Implications
Many women experienced a higher threshold for bitter perception in the first trimester, a preference for sweet snacks in the second trimester, and higher saltiness appetite in the second and third trimester of pregnancy, which may have nutritional consequences.
Access options
Buy single article
Instant access to the full article PDF.
US$ 39.95
Tax calculation will be finalised during checkout.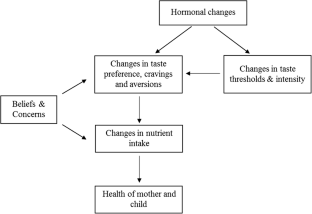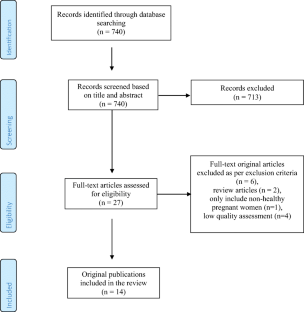 References
Belzer LM, Smulian JC, Lu SE, Tepper BJ (2009) Changes in sweet taste across pregnancy in mild gestational diabetes mellitus: relationship to endocrine factors. Chem Senses 34(7):595–605

Belzer LM, Smulian JC, Lu SE, Tepper BJ (2010) Food cravings and intake of sweet foods in healthy pregnancy and mild gestational diabetes mellitus. A prospective study. Appetite 55(3):609–615

Bowen DJ (1992) Taste and food preference changes across the course of pregnancy. Appetite 19(3):233–242

Brown JE, Toma RB (1986) Taste changes during pregnancy. Am J Clinl Nutr 43:414–418

Butte NF, Wong WW, Treuth MS, Ellis KJ, O'Brian Smith E (2004) Energy requirements during pregnancy based on total energy expenditure and energy deposition. Am J Clin Nutr 79(6):1078–1087

Cameron EL (2014) Pregnancy and olfaction: a review. Front Psychol 5:67

Choo E, Dando R (2017) The impact of pregnancy on taste function. Chem Senses 42(4):279–286

Dippel RL, Elias JW (1980) Preferences for sweet in relationship to use of oral contraceptives and pregnancy. Horm Behav 14:1–6

Duffy VB, Bartoshuk LM, Striegel-Moore R, Rodin J (1998) Taste changes across pregnancy. Ann N Y Acad Sci 855:805–809

Faas MM, Melgert BN, de Vos P (2010) A brief review on how pregnancy and sex hormones interfere with taste and food intake. Chemosens Percept 3(1):51–56

Habr F, Raker C, Lin CL, Zouein E, Bourjeily G (2013) Predictors of gastroesophageal reflux symptoms in pregnant women screened for sleep disordered breathing: a secondary analysis. Clin Res Hepatol Gastroenterol 37(1):93–99

Hill AJ, Cairnduff V, McCance DR (2016) Nutritional and clinical associations of food cravings in pregnancy. J Hum Nutr Diet 29(3):281–289

IOM (2005) Dietary reference intakes for energy, carbohydrate, fiber, fat, fatty acids, cholesterol, protein, and amino acids. Retrieved 26 May 2016, from http://www.nap.edu/read/10490/chapter/1

Karasawa K, Muto S (1978) Taste preference and aversion in pregnancy. Jpn J Nutr Diet 38:31–37

King JC (2000) Physiology of pregnancy and nutrient metabolism. Am J Clin Nutr 71(5 Suppl):1218S–1225S

Kolble N, Hummel T, von Mering R, Huch A, Huch R (2001) Gustatory and olfactory function in the first trimester of pregnancy. Eur J Obstet Gynecol Reprod Biol 99(2):179–183

Kuga M, Ikeda M, Suzuki K, Takeuchi S (2002) Changes in gustatory sense during pregnancy. Acta Otolaryngol 122(4):146–153

Lim SW, Chun JK, Cho WI (2008) Effect of pregnancy on food consumption and consciousness factors associated with food satisfaction. Appetite 50(2–3):519–528

Martin CL, Siega-Riz AM, Sotres-Alvarez D, Robinson WR, Daniels JL, Perrin EM, Stuebe AM (2016) Maternal dietary patterns during pregnancy are associated with child growth in the first 3 years of life. J Nutr 146(11):2281–2288

Martin CL, Sotres-Alvarez D, Siega-Riz AM (2015) Maternal dietary patterns during the second trimester are associated with preterm birth. J Nutr 145(8):1857–1864

Nanou E, Brandt S, Weenen H, Olsen A (2016) Sweet and bitter taste perception of women during pregnancy. Chemosens Percept 9(4):141–152

Nordin S, Broman DA, Olofsson JK, Wulff M (2004) A longitudinal descriptive study of self-reported abnormal smell and taste perception in pregnant women. Chem Senses 29(5):391–402

Ochsenbein-Kolble N, von Mering R, Zimmermann R, Hummel T (2005) Changes in gustatory function during the course of pregnancy and postpartum. BJOG 112(12):1636–1640

Pike RL, Yao C (1971) Increased sodium chloride appetite during pregnancy in the rat. J Nutr 101(2):169–75

Pomeranz JL (2012) The Bittersweet Truth About Sugar Labeling Regulations: They Are Achievable and Overdue. Am J Public Health 102(7):e14–e20

Popkin BM, Adair LS, Ng SW (2012) Global nutrition transition and the pandemic of obesity in developing countries. Nutr Rev 70(1):3–21

Richter CP, Holt LE, Barelare B (1938) Nutritional requirements for normal growth and reproduction in rats studied by the self-selection Method. American Journal of Physiology-Legacy Content 122(3):734–744

Ruxton CH, Gardner EJ, McNulty HM (2010) Is sugar consumption detrimental to health? A review of the evidence 1995-2006. Crit Rev Food Sci Nutr 50(1):1–19

Skinner JD, Pope JF, Carruth BR (1998) Alterations in adolescents' sensory taste preferences during and after pregnancy. J Adolesc Health 22(1):43–49

Sonbul H, Ashi H, Aljahdali E, Campus G, Lingstrom P (2016) The influence of pregnancy on sweet taste perception and plaque acidogenicity. Matern Child Health J 21:1037

Tepper BJ, Seldner AC (1999) Sweet taste and intake of sweet foods in normal pregnancy and pregnancy complicated by gestational diabetes mellitus. Am J Clin Nutr 70(2):277–284

Verbeke W, De Bourdeaudhuij I (2007) Dietary behaviour of pregnant versus non-pregnant women. Appetite 48(1):78–86

Webb J, Bolhuis DP, Cicerale S, Hayes JE, Keast R (2015) The relationships between common measurements of taste function. Chemosens Percept 8(1):11–18
Acknowledgements
We thank Adeline Kartika Putri for her support in refining the search terms and retrieving literature for this review.
Ethics declarations
Conflict of Interest
Hugo Weenen, Smita Nambiar, Carel Vereijken, and Leilani Muhardi are employees of Danone Nutricia Research, Evangelia Nanou and Esmée Moreau were student trainees at Danone Nutricia Research when they contributed to this review. Annemarie Olsen has no conflict of interest.
Ethical Approval
This article does not contain any studies with human participants performed by any of the authors of this review, for which no ethical approval had been obtained previously.
About this article
Cite this article
Weenen, H., Olsen, A., Nanou, E. et al. Changes in Taste Threshold, Perceived Intensity, Liking, and Preference in Pregnant Women: a Literature Review. Chem. Percept. 12, 1–17 (2019). https://doi.org/10.1007/s12078-018-9246-x
Received:

Accepted:

Published:

Issue Date:
Keywords
Pregnancy

Taste

Threshold

Intensity

Liking

Preference