Abstract
Background/aim
The importance of hepatocellular carcinoma (HCC) caused by obesity has been emphasized. Many studies have shown that weight fluctuations as well as high BMI are associated with various adverse outcomes. In this study, we investigated the relationship between weight fluctuation and HCC in general populations drawn from a nationwide population-based cohort.
Method
A population-based cohort study including 8,001,829 subjects participating in more than three health examinations within 5 years from the index year were followed until the end of 2017. The degree of weight fluctuation and incidence of HCC during the period were evaluated.
Results
When we classified groups according to baseline body mass index (BMI) level, the highest risk for HCC was observed in subjects with BMI of 30 or greater (adjusted hazard ratio [aHR] 1.40, 95% confidence interval [CI] 1.27–1.54). Also, increasing trends for the relationship between weight fluctuation and HCC were observed in multivariable Cox proportional analyses. The risk of HCC increased by 16% (aHR 1.16, 95% CI 1.12–1.20) for the highest quartile of weight fluctuation relative to the lowest quartile. These findings were consistent regardless of the baseline BMI or other metabolic factors. However, these effects of weight fluctuation on HCC were not observed in liver cirrhosis or viral hepatitis subgroups.
Conclusion
Weight fluctuation is an independent predictor of HCC. In the absence of liver cirrhosis or chronic hepatitis, the impact of weight fluctuation on HCC is further emphasized. These results suggest maintaining steady weight is recommended to reduce the risk of HCC.
Access options
Buy single article
Instant access to the full article PDF.
US$ 39.95
Tax calculation will be finalised during checkout.
Subscribe to journal
Immediate online access to all issues from 2019. Subscription will auto renew annually.
US$ 79
Tax calculation will be finalised during checkout.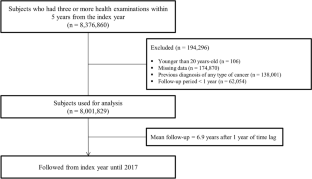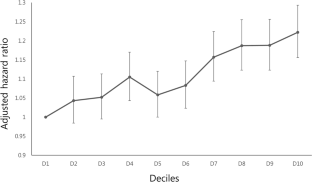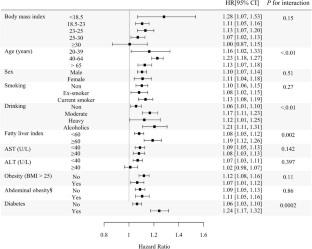 Abbreviations
aHR:

Adjusted hazard ratio

ARV:

Average real variability

BMI:

Body mass index

CI:

Confidence interval

CKD:

Chronic kidney disease

CV:

Coefficient of variation

HDL:

High density lipoprotein

HR:

Hazard ratio

ICD-10:

International Classification of Disease, 10th revision

IL:

Interleukin

LDL:

Low density lipoprotein

NAFLD:

Nonalcoholic fatty liver disease

NHIS:

National Health Insurance Service

NHSP:

National Health Screening Program

Q:

Quartile

TNF:

Tumor necrosis factor

VIM:

Variability independent of the mean
References
1.

Bertuccio P, Turati F, Carioli G, Rodriguez T, La Vecchia C, Malvezzi M, et al. Global trends and predictions in hepatocellular carcinoma mortality. J Hepatol. 2017;67:302–9.

2.

Goldberg D, Ditah IC, Saeian K, Lalehzari M, Aronsohn A, Gorospe EC, et al. Changes in the prevalence of hepatitis c virus infection, nonalcoholic steatohepatitis, and alcoholic liver disease among patients with cirrhosis or liver failure on the waitlist for liver transplantation. Gastroenterology. 2017;152(1090–9):e1.

3.

Henry ZH, Caldwell SH. Obesity and hepatocellular carcinoma: a complex relationship. Gastroenterology. 2015;149:18–20.

4.

Bangalore S, Fayyad R, Laskey R, DeMicco DA, Messerli FH, Waters DD. Body-weight fluctuations and outcomes in coronary disease. N Engl J Med. 2017;376:1332–40.

5.

Yeboah P, Hsu FC, Bertoni AG, Yeboah J. Body mass index, change in weight, body weight variability and outcomes in Type 2 diabetes mellitus (from the ACCORD Trial). Am J Cardiol. 2019;123:576–81.

6.

Trentham-Dietz A, Nichols HB, Hampton JM, Newcomb PA. Weight change and risk of endometrial cancer. Int J Epidemiol. 2006;35:151–8.

7.

Nagle CM, Marquart L, Bain CJ, O'Brien S, Lahmann PH, Quinn M, et al. Impact of weight change and weight cycling on risk of different subtypes of endometrial cancer. Eur J Cancer. 2013;49:2717–26.

8.

Eng SM, Gammon MD, Terry MB, Kushi LH, Teitelbaum SL, Britton JA, et al. Body size changes in relation to postmenopausal breast cancer among women on Long Island, New York. Am J Epidemiol. 2005;162:229–37.

9.

Luo J, Margolis KL, Adami HO, Lopez AM, Lessin L, Ye W, et al. Body size, weight cycling, and risk of renal cell carcinoma among postmenopausal women: the Women's Health Initiative (United States). Am J Epidemiol. 2007;166:752–9.

10.

Stevens VL, Jacobs EJ, Patel AV, Sun J, McCullough ML, Campbell PT, et al. Weight cycling and cancer incidence in a large prospective US cohort. Am J Epidemiol. 2015;182:394–404.

11.

Nam GE, Park YG, Han K, Kim MK, Koh ES, Kim ES, et al. BMI, weight change, and dementia risk in patients with new-onset Type 2 diabetes: a nationwide cohort Study. Diabetes Care. 2019;42:1217–24.

12.

Suh S, Kim JH. Glycemic variability: how do we measure it and why is it important? Diabet Metab J. 2015;39:273–82.

13.

Rothwell PM, Howard SC, Dolan E, O'Brien E, Dobson JE, Dahlof B, et al. Prognostic significance of visit-to-visit variability, maximum systolic blood pressure, and episodic hypertension. Lancet. 2010;375:895–905.

14.

Rothwell PM, Howard SC, Dolan E, O'Brien E, Dobson JE, Dahlof B, et al. Effects of beta blockers and calcium-channel blockers on within-individual variability in blood pressure and risk of stroke. Lancet Neurol. 2010;9:469–80.

15.

Kikuya M, Ohkubo T, Metoki H, Asayama K, Hara A, Obara T, et al. Day-by-day variability of blood pressure and heart rate at home as a novel predictor of prognosis: the Ohasama study. Hypertension. 2008;52:1045–50.

16.

Wong VW, Chan WK, Chitturi S, Chawla Y, Dan YY, Duseja A, et al. Asia-Pacific working party on non-alcoholic fatty liver disease guidelines 2017-Part 1: definition, risk factors and assessment. J Gastroenterol Hepatol. 2018;33:70–85.

17.

Bedogni G, Bellentani S, Miglioli L, Masutti F, Passalacqua M, Castiglione A, et al. The Fatty Liver Index: a simple and accurate predictor of hepatic steatosis in the general population. BMC Gastroenterol. 2006;6:33.

18.

Oh SW, Yoon YS, Shin SA. Effects of excess weight on cancer incidences depending on cancer sites and histologic findings among men: Korea National Health Insurance Corporation Study. J Clin Oncol. 2005;23:4742–54.

19.

Chen Y, Wang X, Wang J, Yan Z, Luo J. Excess body weight and the risk of primary liver cancer: an updated meta-analysis of prospective studies. Eur J Cancer. 2012;48:2137–45.

20.

Schlesinger S, Aleksandrova K, Pischon T, Fedirko V, Jenab M, Trepo E, et al. Abdominal obesity, weight gain during adulthood and risk of liver and biliary tract cancer in a European cohort. Int J Cancer. 2013;132:645–57.

21.

Marengo A, Rosso C, Bugianesi E. Liver cancer: connections with obesity, fatty liver, and cirrhosis. Annu Rev Med. 2016;67:103–17.

22.

Shoelson SE, Herrero L, Naaz A. Obesity, inflammation, and insulin resistance. Gastroenterology. 2007;132:2169–80.

23.

Park EJ, Lee JH, Yu GY, He G, Ali SR, Holzer RG, et al. Dietary and genetic obesity promote liver inflammation and tumorigenesis by enhancing IL-6 and TNF expression. Cell. 2010;140:197–208.

24.

Chettouh H, Lequoy M, Fartoux L, Vigouroux C, Desbois-Mouthon C. Hyperinsulinaemia and insulin signalling in the pathogenesis and the clinical course of hepatocellular carcinoma. Liver Int. 2015;35:2203–17.

25.

Sharma D, Wang J, Fu PP, Sharma S, Nagalingam A, Mells J, et al. Adiponectin antagonizes the oncogenic actions of leptin in hepatocellular carcinogenesis. Hepatology. 2010;52:1713–22.

26.

Ikeda A, Shimizu T, Matsumoto Y, Fujii Y, Eso Y, Inuzuka T, et al. Leptin receptor somatic mutations are frequent in HCV-infected cirrhotic liver and associated with hepatocellular carcinoma. Gastroenterology. 2014;146(222–32):e35.

27.

Cereda E, Malavazos AE, Caccialanza R, Rondanelli M, Fatati G, Barichella M. Weight cycling is associated with body weight excess and abdominal fat accumulation: a cross-sectional study. Clin Nutr. 2011;30:718–23.

28.

Dankel SN, Degerud EM, Borkowski K, Fjaere E, Midtbo LK, Haugen C, et al. Weight cycling promotes fat gain and altered clock gene expression in adipose tissue in C57BL/6J mice. Am J Physiol Endocrinol Metab. 2014;306:E210–24.

29.

Li X, Jiang L, Yang M, Wu YW, Sun JZ. Impact of weight cycling on CTRP3 expression, adipose tissue inflammation and insulin sensitivity in C57BL/6J mice. Exp Ther Med. 2018;16:2052–9.

30.

Grohmann M, Wiede F, Dodd GT, Gurzov EN, Ooi GJ, Butt T, et al. Obesity Drives STAT-1-Dependent NASH and STAT-3-Dependent HCC. Cell. 2018;175(1289–306):e20.

31.

Kim S, Parks CG, DeRoo LA, Chen H, Taylor JA, Cawthon RM, et al. Obesity and weight gain in adulthood and telomere length. Cancer Epidemiol Biomarkers Prev. 2009;18:816–20.

32.

Plentz RR, Caselitz M, Bleck JS, Gebel M, Flemming P, Kubicka S, et al. Hepatocellular telomere shortening correlates with chromosomal instability and the development of human hepatoma. Hepatology. 2004;40:80–6.
Acknowledgements
This work was supported by the Soonchunhyang University Research Fund.
Ethics declarations
Conflict of interest
All the authors have no conflict of interest.
Ethical approval
The study protocol was approved by the Institutional Review Board of Seoul National University Hospital (E-1909-088-1065) and also conformed to the ethical guidelines of the World Medical Association Declaration of Helsinki. The requirement for informed consent from individual subjects was waived, because we used de-identified secondary data.
Novelty and impact statements
This study demonstrated that weight fluctuation is an independent predictor of hepatocellular carcinoma in the nationwide population cohort. Therefore, maintaining steady weight is recommended to reduce the risk of hepatocellular carcinoma.
Data availability statement
The data that support the findings of this study are available on request from the corresponding author. The data are not publicly available due to privacy or ethical restrictions.
Additional information
Publisher's Note
Springer Nature remains neutral with regard to jurisdictional claims in published maps and institutional affiliations.
Supplementary Information
Below is the link to the electronic supplementary material.
About this article
Cite this article
Chang, Y., Yoo, JJ., Cho, E.J. et al. Weight fluctuation and risk of hepatocellular carcinoma: a nationwide population-based 8-million-subject study. Hepatol Int (2021). https://doi.org/10.1007/s12072-021-10149-y
Received:

Accepted:

Published:
Keywords
Hepatocellular carcinoma

Fluctuation

Weight

Obesity

Body mass index

Metabolic dysfunction

Inflammation

Telomere

Fatty liver

Diabetes