Abstract
Background
Although sorafenib has been used to treat advanced hepatocellular carcinoma (HCC), the efficacy of sorafenib in patients with recurrent HCCs after liver transplantation (LT) has not been compared with that in patients without LT (non-LT).
Methods
Between 2008 and 2019, a total of 832 consecutive HCC patients treated with sorafenib (790 in the non-LT group and 42 in the LT group) were enrolled. The primary outcome was overall survival (OS). Secondary outcomes were time-to-progression (TTP), objective response rate (ORR) and disease control rate (DCR). Treatment outcomes were assessed by multiple subgroup analyses and propensity-score matching (PSM).
Results
The median follow-up duration was 152.5 days. The LT group was younger and had smaller intrahepatic HCC than the non-LT group. The LT group showed significantly better OS (16.8 vs. 7.1 months, p < 0.001), TTP, ORR and DCR than the non-LT group. The superior efficacy of sorafenib in the LT group was corroborated in multiple subgroup analyses stratified by metastasis, effective sorafenib maintenance dose, or Child-Turcotte-Pugh class A. LT was identified as an independent factor for favorable OS. Intrahepatic HCC was the strongest tumor-related factor for both OS and TTP and was significantly associated with tumor response and hepatic function. Finally, subanalyses including only patients with small intrahepatic HCC or PSM modeling showed no difference in sorafenib efficacy between the LT and the non-LT groups.
Conclusion
Sorafenib provides better outcomes in the LT setting than the non-LT setting. This benefit may be associated with the smaller intrahepatic HCC coupled with preserved hepatic function in LT recipients.
Access options
Buy single article
Instant access to the full article PDF.
US$ 39.95
Tax calculation will be finalised during checkout.
Subscribe to journal
Immediate online access to all issues from 2019. Subscription will auto renew annually.
US$ 79
Tax calculation will be finalised during checkout.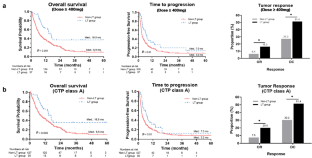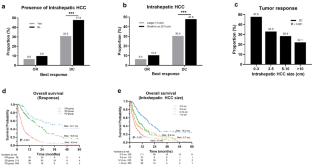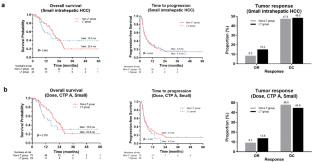 Data availability
The data that support the findings of this study are available from the corresponding author, upon reasonable request.
Abbreviations
HCC:

Hepatocellular carcinoma

LT:

Liver transplantation

CTP:

Child-Turcotte-Pugh

CT:

Computed tomography

MRI:

Magnetic resonance imaging

BCLC:

Barcelona clinic liver cancer

mUICC:

Modified union for international cancer control

OS:

Overall survival

TTP:

Time to progression

ORR:

Objective response rate

DCR:

Disease control rate

mRECIST:

Modified response evaluation criteria in solid tumor

SD:

Standard deviation

PSM:

Propensity-score matching

AFP:

Alpha fetoprotein
References
1.

Choo SP, Tan WL, Goh BKP, Tai WM, Zhu AX. Comparison of hepatocellular carcinoma in Eastern versus Western populations. Cancer. 2016;122:3430–46.

2.

Keating GM. Sorafenib: a review in hepatocellular carcinoma. Target Oncol. 2017;12:243–53.

3.

Llovet JM, Ricci S, Mazzaferro V, Hilgard P, Gane E, Blanc JF, et al. Sorafenib in advanced hepatocellular carcinoma. N Engl J Med. 2008;359:378–90.

4.

Branco F, Alencar RS, Volt F, Sartori G, Dode A, Kikuchi L, et al. The impact of early dermatologic events in the survival of patients with hepatocellular carcinoma treated with sorafenib. Ann Hepatol. 2017;16:263–8.

5.

Rimola J, Díaz-González Á, Darnell A, Varela M, Pons F, Hernandez-Guerra M, et al. Complete response under sorafenib in patients with hepatocellular carcinoma: relationship with dermatologic adverse events. Hepatology. 2018;67:612–22.

6.

Tak KY, Nam HC, Choi JY, Yoon SK, Kim CW, Kim HY, et al. Effectiveness of sorafenib dose modifications on treatment outcome of hepatocellular carcinoma: Analysis in real-life settings. Int J Cancer. 2020;147:1970–8.

7.

Yao FY, Ferrell L, Bass NM, Watson JJ, Bacchetti P, Venook A, et al. Liver transplantation for hepatocellular carcinoma: expansion of the tumor size limits does not adversely impact survival. Hepatology. 2001;33:1394–403.

8.

Forner A, Llovet JM, Bruix J. Hepatocellular carcinoma. Lancet. 2012;379:1245–55.

9.

Mazzaferro V, Regalia E, Doci R, Andreola S, Pulvirenti A, Bozzetti F, et al. Liver transplantation for the treatment of small hepatocellular carcinomas in patients with cirrhosis. N Engl J Med. 1996;334:693–9.

10.

Sapisochin G, Bruix J. Liver transplantation for hepatocellular carcinoma: outcomes and novel surgical approaches. Nat Rev Gastroenterol Hepatol. 2017;14:203–17.

11.

Vivarelli M, Cucchetti A, Piscaglia F, La Barba G, Bolondi L, Cavallari A, et al. Analysis of risk factors for tumor recurrence after liver transplantation for hepatocellular carcinoma: key role of immunosuppression. Liver Transpl. 2005;11:497–503.

12.

Angelis N, Landi F, Nencioni M, Palen A, Lahat E, Salloum C, et al. Role of sorafenib in patients with recurrent hepatocellular carcinoma after liver transplantation. Prog Transplant. 2016;26:348–55.

13.

EASL Clinical Practice Guidelines. Management of hepatocellular carcinoma. J Hepatol. 2018;69:182–236.

14.

2018 Korean Liver Cancer Association-National Cancer Center Korea Practice Guidelines for the Management of Hepatocellular Carcinoma. Gut Liver 2019;13:227–299

15.

Lencioni R, Llovet JM. Modified RECIST (mRECIST) assessment for hepatocellular carcinoma. Semin Liver Dis. 2010;30:52–60.

16.

Forner A, Reig ME, de Lope CR, Bruix J. Current strategy for staging and treatment: the BCLC update and future prospects. Semin Liver Dis. 2010;30:61–74.

17.

Cheng AL, Kang YK, Chen Z, Tsao CJ, Qin S, Kim JS, et al. Efficacy and safety of sorafenib in patients in the Asia-Pacific region with advanced hepatocellular carcinoma: a phase III randomised, double-blind, placebo-controlled trial. Lancet Oncol. 2009;10:25–34.

18.

Mancuso A, Mazzola A, Cabibbo G, Perricone G, Enea M, Galvano A, et al. Survival of patients treated with sorafenib for hepatocellular carcinoma recurrence after liver transplantation: a systematic review and meta-analysis. Dig Liver Dis. 2015;47:324–30.

19.

Invernizzi F, Iavarone M, Zavaglia C, Mazza S, Maggi U, Cesarini L, et al. Experience With Early Sorafenib Treatment With mTOR Inhibitors in Hepatocellular Carcinoma Recurring After Liver Transplantation. Transplantation. 2020;104:568–74.

20.

Sanduzzi-Zamparelli M, Díaz-Gonzalez Á, Reig M. New Systemic Treatments in Advanced Hepatocellular Carcinoma. Liver Transpl. 2019;25:311–22.

21.

Bruix J, Raoul JL, Sherman M, Mazzaferro V, Bolondi L, Craxi A, et al. Efficacy and safety of sorafenib in patients with advanced hepatocellular carcinoma: subanalyses of a phase III trial. J Hepatol. 2012;57:821–9.

22.

McNamara MG, Slagter AE, Nuttall C, Frizziero M, Pihlak R, Lamarca A, et al. Sorafenib as first-line therapy in patients with advanced Child-Pugh B hepatocellular carcinoma-a meta-analysis. Eur J Cancer. 2018;105:1–9.

23.

Wong RJ, Ahmed A, Gish RG. Elevated alpha-fetoprotein: differential diagnosis - hepatocellular carcinoma and other disorders. Clin Liver Dis. 2015;19:309–23.

24.

Hsiao P, Hsieh KC, Chen YS, Hsu CC, Lo GH, Li YC, et al. Sorafenib with concurrent multiple-line therapies improves overall survival in advanced stage hepatocellular carcinoma. Medicine (Baltimore). 2019;98:e16074.

25.

Jung SM, Jang JW, You CR, Yoo SH, Kwon JH, Bae SH, et al. Role of intrahepatic tumor control in the prognosis of patients with hepatocellular carcinoma and extrahepatic metastases. J Gastroenterol Hepatol. 2012;27:684–9.

26.

Kudo M, Ueshima K, Chiba Y, Ogasawara S, Obi S, Izumi N, et al. Objective Response by mRECIST Is an Independent Prognostic Factor for Overall Survival in Hepatocellular Carcinoma Treated with Sorafenib in the SILIUS Trial. Liver Cancer. 2019;8:505–19.

27.

Uka K, Aikata H, Takaki S, Shirakawa H, Jeong SC, Yamashina K, et al. Clinical features and prognosis of patients with extrahepatic metastases from hepatocellular carcinoma. World J Gastroenterol. 2007;13:414–20.

28.

Iavarone M, Invernizzi F, Czauderna C, Sanduzzi-Zamparelli M, Bhoori S, Amaddeo G, et al. Preliminary experience on safety of regorafenib after sorafenib failure in recurrent hepatocellular carcinoma after liver transplantation. Am J Transplant. 2019;19:3176–84.

29.

DeLeon TT, Salomao MA, Aqel BA, Sonbol MB, Yokoda RT, Ali AH, et al. Pilot evaluation of PD-1 inhibition in metastatic cancer patients with a history of liver transplantation: the Mayo Clinic experience. J Gastrointest Oncol. 2018;9:1054–62.

30.

Finn RS, Qin S, Ikeda M, Galle PR, Ducreux M, Kim TY, et al. Atezolizumab plus bevacizumab in unresectable hepatocellular carcinoma. N Engl J Med. 2020;382:1894–905.
Funding
This study was supported by the Basic Science Research Program through the National Research Foundation of Korea (NRF) funded by the Ministry of Science, ICT & Future Planning (NRF-2019R1A2C1009439).
Ethics declarations
Conflicts of interest
The authors have no financial or personal relationships with other persons or organizations that could inappropriately affect the work. Jeong Won Jang has served as a consultant to or has served on the advisory board of BMS, Gilead, AbbVie, and Bayer. Soon Kyu Lee, Jeong Won Jang, Heechul Nam, Pil Soo Sung, Hee Yeon Kim, Jung Hyun Kwon, Sung Won Lee, Do Seon Song, Chang Wook Kim, Myeong Jun Song, Ho Joong Choi, Young Kyoung You, Si Hyun Bae, Jong Young Choi, Seung Kew Yoon have no conflicts of interests.
Ethics approval
This study was approved by the Institutional Review Board of the Catholic University of Korea (XC20RIDI0073).
Consent to participate
Informed consents were waived by the Institutional Reviewer Board of Catholic University of Korea due to retrospective design of the study.
Consent to publish
I give my consent for the publication of identifiable details, which can include photograph(s) and/or videos and/or case history and/or details within the text ("Material") to be published.
Additional information
Publisher's Note
Springer Nature remains neutral with regard to jurisdictional claims in published maps and institutional affiliations.
Supplementary Information
Below is the link to the electronic supplementary material.
About this article
Cite this article
Lee, S.K., Jang, J.W., Nam, H. et al. Sorafenib for advanced hepatocellular carcinoma provides better prognosis after liver transplantation than without liver transplantation. Hepatol Int 15, 137–145 (2021). https://doi.org/10.1007/s12072-020-10131-0
Received:

Accepted:

Published:

Issue Date:
Keywords
Sorafenib

Liver transplantation

Hepatocellular carcinoma

Liver function

Tumor size