Abstract
Background and aim
Nonalcoholic fatty liver disease (NAFLD) is becoming the leading cause of chronic liver disease in China. The early identification and management of patients at risk are essential. We aimed to develop a novel clinical and laboratory-based nomogram (CLN) model to predict NAFLD with high accuracy.
Methods
We designed a retrospective cross-sectional study and enrolled 21,468 participants (16,468 testing and 5000 validation). Clinical information and laboratory/imaging results were retrieved. Significant variables independently associated with NAFLD were identified by a logistic regression model, and a NAFLD prediction CLN was constructed. The CLN was then compared with four existing NAFLD-related prediction models: the fatty liver index (FLI), the hepatic steatosis index (HSI), the visceral adiposity index (VAI) and the triglycerides and glucose (TyG) index. Area under the receiver operator characteristic curve (AUROC) and decision curve analysis (DCA) were performed.
Results
A total of 6261/16,468 (38.02%) and 1759/5000 (35.18%) participants in the testing and validation datasets, respectively, had ultrasound-proven NAFLD. Six variables were selected to build the CLN: body mass index (BMI), diastolic blood pressure (DBP), uric acid (UA), fasting blood glucose (FBG), triglyceride (TG), and alanine aminotransferase (ALT). The diagnostic accuracy of the CLN for NAFLD (AUROC 0.857, 95% CI 0.852–0.863) was significantly superior to that of the FLI (AUROC 0.849, 95% CI 0.843–0.855), the VAI (AUROC 0.752, 95% CI 0.745–0.760), the HSI (AUROC 0.828, 95% CI 0.822–0.834), and the TyG index (AUROC 0.774, 95% CI 0.767–0.781) (all p < 0.001). DCA confirmed the clinical utility of the CLN.
Conclusions
This physical examination and laboratory test-based, nonimage-assisted novel nomogram has better performance in predicting NAFLD than the FLI, the VAI, the HSI and the TyG index alone. This model can be used as a quick screening tool to assess NAFLD in the general population.
This is a preview of subscription content, log in to check access.
Access options
Buy single article
Instant access to the full article PDF.
US$ 39.95
Price includes VAT for USA
Subscribe to journal
Immediate online access to all issues from 2019. Subscription will auto renew annually.
US$ 99
This is the net price. Taxes to be calculated in checkout.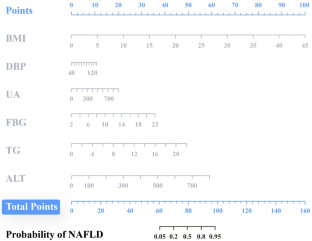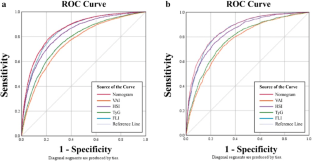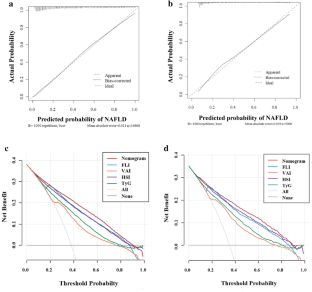 Abbreviations
CLN:

Clinical and laboratory-based nomogram

BMI:

Body mass index

WC:

Waist circumference

SBP:

Systolic blood pressure

DBP:

Diastolic blood pressure

HR:

Heart rate

Hb:

Hemoglobin

PLT:

Platelet count

WBC:

White blood cell count

NEU:

Neutrophil count

LYM:

Lymphocyte count

MNC:

Monocyte count

ALB:

Albumin

GLB:

Globulin

UA:

Uric acid

FBG:

Fasting blood glucose

TG:

Triglyceride

TC:

Total cholesterol

LDL-C:

Low-density lipoprotein cholesterol

HDL-C:

High-density lipoprotein cholesterol

AFU:

Alpha fucosidase

ALT:

Alanine aminotransferase

AST:

Aspartate aminotransferase

GGT:

Gamma-glutamyl transpeptidase

ChE:

Cholinesterase

ALP:

Alkaline phosphatase

CEA:

Carcinoembryonic antigen

AFP:

Alpha fetoprotein
References
1.

Fan JG, Kim SU, Wong VW. New trends on obesity and NAFLD in Asia. J Hepatol. 2017;67:862–873.

2.

Mahady SE, Adams LA. Burden of non-alcoholic fatty liver disease in Australia. J Gastroenterol Hepatol. 2018;33(Suppl 1):1–11.

3.

In non-alcoholic fatty liver disease: assessment and management. London: National Institute for Health and Care Excellence: Guidance]; 2016.

4.

Balakrishnan M, Loomba R. The role of noninvasive tests for differentiating NASH From NAFL and diagnosing advanced fibrosis among patients With NAFLD. J Clin Gastroenterol. 2019.

5.

Machado MV, Cortez-Pinto H. Non-invasive diagnosis of non-alcoholic fatty liver disease. A critical appraisal. J Hepatol. 2013;58:1007–1199.

6.

Bedogni G, Bellentani S, Miglioli L, Masutti F, Passalacqua M, Castiglione A, Tiribelli C. The Fatty Liver Index: a simple and accurate predictor of hepatic steatosis in the general population. BMC Gastroenterol. 2006;6:33.

7.

Kotronen A, Peltonen M, Hakkarainen A, Sevastianova K, Bergholm R, Johansson LM, Lundbom N, Rissanen A, Ridderstrale M, Groop L, et al. Prediction of non-alcoholic fatty liver disease and liver fat using metabolic and genetic factors. Gastroenterology. 2009;137:865–872.

8.

Lee JH, Kim D, Kim HJ, Lee CH, Yang JI, Kim W, Kim YJ, Yoon JH, Cho SH, Sung MW, Lee HS. Hepatic steatosis index: a simple screening tool reflecting nonalcoholic fatty liver disease. Dig Liver Dis. 2010;42:503–508.

9.

Carvalhana S, Leitao J, Alves AC, Bourbon M, Cortez-Pinto H. How good is controlled attenuation parameter and fatty liver index for assessing liver steatosis in general population: correlation with ultrasound. Liver Int. 2014;34:e111–117.

10.

Koehler EM, Schouten JN, Hansen BE, Hofman A, Stricker BH, Janssen HL. External validation of the fatty liver index for identifying nonalcoholic fatty liver disease in a population-based study. Clin Gastroenterol Hepatol. 2013;11:1201–1204.

11.

Guerrero-Romero F, Simental-Mendia LE, Gonzalez-Ortiz M, Martinez-Abundis E, Ramos-Zavala MG, Hernandez-Gonzalez SO, Jacques-Camarena O, Rodriguez-Moran M. The product of triglycerides and glucose, a simple measure of insulin sensitivity. Comparison with the euglycemic-hyperinsulinemic clamp. J Clin Endocrinol Metab. 2010, 95:3347–3351.

12.

Amato MC, Giordano C, Galia M, Criscimanna A, Vitabile S, Midiri M, Galluzzo A. Visceral Adiposity Index: a reliable indicator of visceral fat function associated with cardiometabolic risk. Diabetes Care. 2010;33:920–922.

13.

Bonnett LJ, Snell KIE, Collins GS, Riley RD. Guide to presenting clinical prediction models for use in clinical settings. BMJ. 2019;365:l737.

14.

Balachandran VP, Gonen M, Smith JJ, DeMatteo RP. Nomograms in oncology: more than meets the eye. Lancet Oncol. 2015;16:e173–e180.

15.

Lu ZY, Cen C, Shao Z, Chen XH, Xu CF, Li YM. Association between serum alpha-l-fucosidase and non-alcoholic fatty liver disease: Cross-sectional study. World J Gastroenterol. 2016;22:1884–1900.

16.

Fan JG, Wei L, Zhuang H. Guidelines of prevention and treatment of nonalcoholic fatty liver disease (2018, China). J Dig Dis. 2019;20:163–173.

17.

Zhou F, Zhou J, Wang W, Zhang XJ, Ji YX, Zhang P, She ZG, Zhu L, Cai J, Li H. Unexpected rapid increase in the burden of NAFLD in China from 2008 to 2018: a systematic review and meta-analysis. Hepatology. 2019;70:1119–1133.

18.

Friedman SL, Neuschwander-Tetri BA, Rinella M, Sanyal AJ. Mechanisms of NAFLD development and therapeutic strategies. Nat Med. 2018;24:908–922.

19.

Bertot LC, Jeffrey GP, Wallace M, MacQuillan G, Garas G, Ching HL, Adams LA. Nonalcoholic fatty liver disease-related cirrhosis is commonly unrecognized and associated with hepatocellular carcinoma. Hepatol Commun. 2017;1:53–60.

20.

Motamed N, Faraji AH, Khonsari MR, Maadi M, Tameshkel FS, Keyvani H, Ajdarkosh H, Karbalaie Niya MH, Rezaie N, Zamani F. Fatty liver index (FLI) and prediction of new cases of non-alcoholic fatty liver disease: a population-based study of northern Iran. Clin Nutr. 2019.

21.

Khang AR, Lee HW, Yi D, Kang YH, Son SM. The fatty liver index, a simple and useful predictor of metabolic syndrome: analysis of the Korea National Health and Nutrition Examination Survey 2010–2011. Diabetes Metab Syndr Obes. 2019;12:181–190.

22.

Sviklane L, Olmane E, Dzerve Z, Kupcs K, Pirags V, Sokolovska J. Fatty liver index and hepatic steatosis index for prediction of non-alcoholic fatty liver disease in type 1 diabetes. J Gastroenterol Hepatol. 2018;33:270–276.

23.

Kantartzis K, Rettig I, Staiger H, Machann J, Schick F, Scheja L, Gastaldelli A, Bugianesi E, Peter A, Schulze MB, et al. An extended fatty liver index to predict non-alcoholic fatty liver disease. Diabetes Metab. 2017;43:229–239.

24.

Silaghi CA, Silaghi H, Colosi HA, Craciun AE, Farcas A, Cosma DT, Hancu N, Pais R, Georgescu CE. Prevalence and predictors of non-alcoholic fatty liver disease as defined by the fatty liver index in a type 2 diabetes population. Clujul Med. 2016;89:82–88.

25.

Petta S, Amato M, Cabibi D, Camma C, Di Marco V, Giordano C, Galluzzo A, Craxi A. Visceral adiposity index is associated with histological findings and high viral load in patients with chronic hepatitis C due to genotype 1. Hepatology. 2010;52:1543–1552.

26.

Petta S, Di Marco V, Di Stefano R, Cabibi D, Camma C, Marchesini G, Craxi A. TyG index, HOMA score and viral load in patients with chronic hepatitis C due to genotype 1. J Viral Hepat. 2011;18:e372–e380.
Acknowledgements
This work was supported by research grants from Zhejiang Provincial Medical & Hygienic Science and Technology Project of China (2018KY385). Zhejiang Provincial Natural Science Foundation of China (LY20H160023). The supporting institutions had no involvement in the study design; the collection, analysis and interpretation of the data; the writing of the manuscript; or the decision to submit the manuscript for publication.
Ethics declarations
Conflict of interest
The authors declare that they have no competing interests.
Ethical approval
The study protocol was approved by the Ethics Committee of the First Affiliated Hospital of Zhejiang University School of Medicine.
Informed consent
Informed consent was obtained from all individual participants included in the study.
Additional information
Publisher's Note
Springer Nature remains neutral with regard to jurisdictional claims in published maps and institutional affiliations.
Electronic supplementary material
Below is the link to the electronic supplementary material.
About this article
Cite this article
Cen, C., Wang, W., Yu, S. et al. Development and validation of a clinical and laboratory-based nomogram to predict nonalcoholic fatty liver disease. Hepatol Int (2020). https://doi.org/10.1007/s12072-020-10065-7
Received:

Accepted:

Published:
Keywords
Nonimage assisted

Prediction model

Healthy population

Metabolic syndrome

Liver biopsy

Early diagnosis and prevention

Fatty liver index

Hepatic steatosis index

Triglycerides and glucose index

Visceral adiposity index