Abstract
Paranasal sinus mucocele or mucopyocele development after functional endoscopic sinus surgery is an infrequent phenomenon. The risk of mucocele development after endoscopic surgery for nasal polyposis or for chronic rhinosinusitis with nasal polyposis increases with greater preoperative Lund-Mackay score, with suboptimal post-operative management and with infrequent follow up post-surgery. We are reporting a case of bilateral fronto-ethmoidal mucocele developing secondary to FESS, its management and a brief literature review.
Access options
Buy single article
Instant access to the full article PDF.
US$ 39.95
Tax calculation will be finalised during checkout.
Subscribe to journal
Immediate online access to all issues from 2019. Subscription will auto renew annually.
US$ 79
Tax calculation will be finalised during checkout.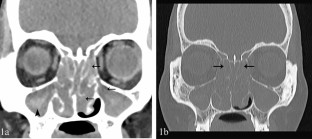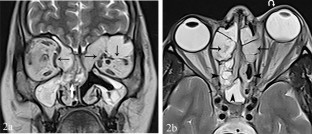 Availability of Data and Material
Already available data has been reviewed, tabulated and analysed. Consent for the same has been obtained from the patient.
References
1.

Cumberworth VL, Sudderich RM, Mackay IS (1994) Major complication of Functional Endoscopic Sinus Surgery. ClinOtolaryngol Allied Sci 19:248–253

2.

Sen DK, Puri ND, Majid A (1979) FrontoEthmoidalmucocele as a cause of unilateral proptosis. Indian J Opthalmol 27:45–48

3.

Schlewet M (2017) Frontal sinus mucocele after osteoplastic flap surgery: case report. Ann Clin Case Rep 2:1453

4.

Barrow EM, DelGaudio JM (2015) In Office drainage of sinus mucoceles: aalternative to operative-Room Drainage. Laryngoscope 125:1043–1047

5.

Van Tassel P, Lee Y-Y, Jing B-S, De Pena CA (1989) Mucoceles of the paranasal sinuses: MR imaging with CT correlation. Am J Neuroradiol 10(3):607–612

6.

Benkhatar H, Khettab I, Sultanik P et al (2018) Mucocele development after endoscopic sinus surgery for nasal polyposis: a long-term analysis. ENT J 97(9):284–294

7.

Tysome J, Sharp. Current trends in pre and post operative management of functional endoscopic sinus surgery. Internet J Otorhinolaryngol 5(2)
Funding
The authors did not receive support from any organization for the submitted work.
Ethics declarations
Conflict of interest
The authors have no conflicts of interest to declare that are relevant to the content of this article.
Ethics Approval
This is a case report (observational study). The AIIMS Bhopal Human Ethics Committee has confirmed that no ethics approval is required.
Consent to Participate
Informed consent was obtained from the participant included in the study.
Consent for Publication
The authors affirm that human research participants provided informed consent for publication of the images in Figure(s) 1a, 1b, 2a and 2b. The participant has consented to the submission of the case report to the journal.
Additional information
Publisher's Note
Springer Nature remains neutral with regard to jurisdictional claims in published maps and institutional affiliations.
About this article
Cite this article
Sidam, S., Gupta, V. & Kumar, A. Mucopyocele: An Entity Infrequently Reported as a Complication of Functional Endoscopic Sinus Surgery. Indian J Otolaryngol Head Neck Surg (2021). https://doi.org/10.1007/s12070-021-02430-1
Received:

Accepted:

Published:
Keywords
Mucocele

Mucopyocele

Functional endoscopic sinus surgery

Proptosis