Abstract
Necrotizing fasciitis is severe inflammation of the muscle sheath that leads to necrosis of the subcutaneous tissue and adjacent fascia. The disease entity is more commonly described in adults and the literature seems quite sparse with respect to children and even lesser in neonates. Monomicrobial infection with necrotizing fasciitis in Neck following insect bite is rare and even rarer in neonates. 07 day old neonate had history of rapid onset discoloration and swelling of the Right side of Neck following an insect bite which was followed fever and irritability and eventually black discoloration. The neonate was irritable with excessive crying, had tachycardia, tachypnea and was febrile. There was a diffuse swelling in the right side of neck with multiple patchy areas of tissue necrosis in form of blackening of the skin over the swelling Management: Necrotizing fasciitis was identified early and the neonate prepped for surgery. All the biochemical parameters were WNL. CRP was raised. Empirical treatment with Cefotaxime, Clindamycin and cloxacillin started and neonate taken for local debridement. All necrotic tissue was removed including tail of parotid. Over next 5 days serial debridement and wound wash with Hydrogen peroxidase, Betadine, saline and metronidazole was done. The edges of the wound became healthy with no new slough formation and necrotic tissue. An early diagnosis and definitive management with both surgery and antibiotics is the key to a reduce mortality in the neonates. It needs to be followed up with good local wound care.
Access options
Buy single article
Instant access to the full article PDF.
US$ 39.95
Tax calculation will be finalised during checkout.
Subscribe to journal
Immediate online access to all issues from 2019. Subscription will auto renew annually.
US$ 79
Tax calculation will be finalised during checkout.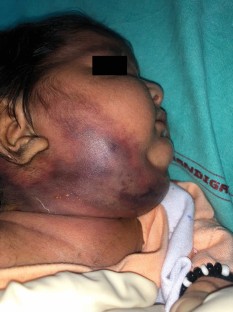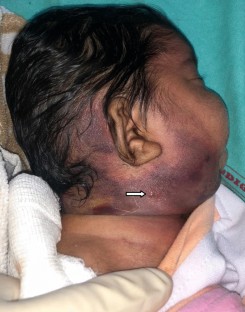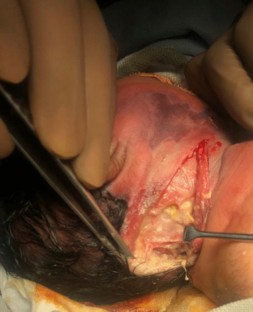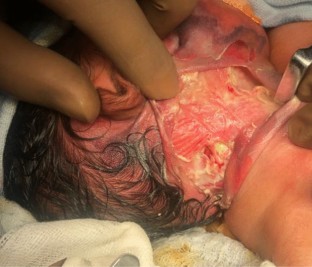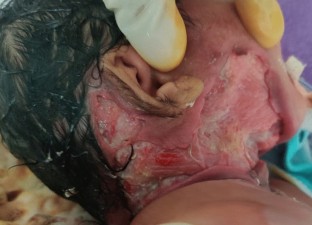 References
1.

O'Brien KL, Beall B, Barrett NL, Cieslak PR, Reingold A, Farley MM et al (2002) Epidemiology of invasive group a streptococcus disease in the United States, 1995–1999. Clin Infect Dis 35(3):268–276

2.

Giuliano A, Lewis FJ, Hadley K, Blaisdell FW (1977) Bacteriology of necrotizing fasciitis. Am J Surg 134(1):52–57

3.

Romano R, Lu D, Holtom P (2006) Outbreak of community-acquired methicillin-resistant Staphylococcus aureus skin infections among a collegiate football team. J Athl Train 41(2):141–145

4.

Olsen RJ, Burns KM, Chen L, Kreiswirth BN, Musser JM (2008) Severe necrotizing fasciitis in a human immunodeficiency virus-positive patient caused by methicillin-resistant Staphylococcus aureus. J ClinMicrobiol 46(3):1144–1147

5.

Minodier P, Bidet P, Rallu F, Tapiero B, Bingen E, Ovetchkine P (2009) Clinical and microbiologic characteristics of group A streptococcal necrotizing fasciitis in children. Pediatr Infect Dis J 28(6):541–543

6.

Stamenkovic I, Lew PD (1984) Early recognition of potentially fatal necrotizing fasciitis. The use of frozen-section biopsy. N Engl J Med 310(26):1689–1693

7.

Rantala S, Vuopio-Varkila J, Vuento R, Huhtala H, Syrjänen J (2009) Predictors of mortality in beta-hemolytic streptococcal bacteremia: a population-based study. J Infect 58(4):266–272

8.

Moss RL, Musemeche CA, Kosloske AM (1996) Necrotizing fasciitis in children: prompt recognition and aggressive therapy improve survival. J PediatrSurg 31(8):1142–1146

9.

Green RJ, Dafoe DC, Raffin TA (1996) Necrotizing fasciitis. Chest 110(1):219–229

10.

Kumar M, Meeks A, Kearl L (2015) Necrotizing fasciitis of the chest wall: report of pediatric cases. PediatrEmerg Care 31(9):656–660

11

Zundel S, Lemaréchal A, Kaiser P, Szavay P (2017) Diagnosis and treatment of pediatric necrotizing fasciitis: a systematic review of the literature. Eur J Pediatr Sur 27(2):127–137

12

Schröder A, Gerin A, Firth GB, Hoffmann KS, Grieve A, Oetzmann von Sochaczewski C (2019) A systematic review of necrotising fasciitis in children from its first description in 1930 to 2018. BMC Infect Dis 19(1):317

13.

Kosloske AM, Cushing AH, Borden TA, Woodside JR, Klein MD, Kulasinghe HP et al (1981) Cellulitis and necrotizing fasciitis of the abdominal wall in pediatric patients. J PediatrSurg 16(3):246–251

14.

Childers BJ, Potyondy LD, Nachreiner R, Rogers FR, Childers ER, Oberg KC et al (2002) Necrotizing fasciitis: a fourteen-year retrospective study of 163 consecutive patients. Am Surg 68(2):109–116

15.

Pandey V, Gangopadhyay AN, Gupta DK, Sharma SP, Kumar V, Tiwari P (2014) Neonatal necrotising fasciitis managed conservatively: an experience from a tertiary centre. J Wound Care 23(5):270–273

16.

Annane D, Bellissant E, Cavaillon J-M (2005) Septic shock. Lancet (London, England) 365(9453):63–78

17.

Morgan MS (2010) Diagnosis and management of necrotising fasciitis: a multiparametric approach. J Hosp Infect 75(4):249–257

18

Al-Subhi F, Zuker R, Cole W (2010) Vacuum-assisted closure as a surgical assistant in life-threatening necrotizing fasciitis in children. Can J PlastSurg 18:139–142
Additional information
Publisher's Note
Springer Nature remains neutral with regard to jurisdictional claims in published maps and institutional affiliations.
About this article
Cite this article
Sharma, V., Panda, N.K., Kapoor, A. et al. Necrotising Fasciitis of Neck in a 7 Day Neonate Following Insect Bite. Indian J Otolaryngol Head Neck Surg (2021). https://doi.org/10.1007/s12070-021-02421-2
Received:

Accepted:

Published:
Keywords
Necrotizing fasciitis

Neonate

Insect bite