Abstract
Rhinosporidiosis is a chronic granulomatous disease involving the mucous membranes of nose and nasopharynx caused by Rhinosporidium seeberi. Rhinosporidiosis involving the eye is known as Oculosporidiosis. Usually affected patients present with nasal obstruction with an associated mass, epistaxis and watery discharge. In our case, there was involvement of the nasolacrimal duct which resulted in bloody discharge from the punctum.
Access options
Buy single article
Instant access to the full article PDF.
US$ 39.95
Tax calculation will be finalised during checkout.
Subscribe to journal
Immediate online access to all issues from 2019. Subscription will auto renew annually.
US$ 79
Tax calculation will be finalised during checkout.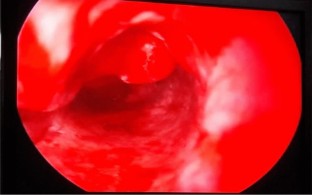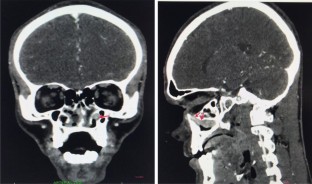 References
1.

Seeber G (1900) Un nuevoesporozuarioparasito del hombre: dos casosencontrados en poliposnasales. Universidad Nacional de Buenos Aires, Thesis

2.

Keskin G, Ustundag E, Kacarozkara S et al (2004) An erosive mass involving the nasal cavity and maxillary sinus: rhinosporidiosis. Kulak Burun BogazIhtis Derg 13:143–147

3.

Khoo JJ, Kumar KS (2003) Rhinosporidiosis presenting as recurrent nasal polyps. Med J Malaysia 58:282–285

4.

Reidy JJ et al (1997) Infection of the conjunctiva by Rhinosporidiumseeberi. Surv Ophthalmol 41(5):409–413

5.

Karunaratne WAE (1964) Rhinosporidiosis in man. The Athlone Press, London, England

6.

Hospenthal DR (2005) Uncommon fungi. In: Mandell GL, Bennett JE, Dolin R (eds) Principles and practice of infectious diseases, 6th edn. Churchill Livingstone, Philadelphia, PA, pp 3068–3079

7.

Gupta N, Singla P, Pradhan B, Gurung U (2019) Lacrimal sac rhinosporidiosis: case report and review of literature with a new grading system to optimize treatment. Saudi J Ophthalmol 33:283–290

8.

Satyanarayana C (1960) Rhinosporidiosis with a record of 255 cases. Acta Otolaryngologica 51(3–4):348–366

9.

Girish N, Prathima, (2017) Rhinosporidiosis of lacrimal sac: a case report. Int Clin Pathol J. 4(4):85–86

10.

Mishra LK, Gupta S, Pradhan SK, Baisakh MR (2015) Lacrimal sac rhinosporidiosis. Plast Aesthet Res 2:353–356

11.

David SS, Sivaramasubrahmanyam P (1973) Ocular rhinosporidiosis, a study of twenty cases. Indian J Ophthalmol 21:204–207
Ethics declarations
Conflict of interest
The authors declare that they have no conflict of interest.
Ethical Approval
Institutional Ethical Committee approval obtained.
Consent to Participate
Written Informed consent obtained from the participant.
Consent for Publication
Consented.
Additional information
Publisher's Note
Springer Nature remains neutral with regard to jurisdictional claims in published maps and institutional affiliations.
About this article
Cite this article
R., I., K., S. Tears of Blood–An Uncommon Presentation of Rhinosporidiosis. Indian J Otolaryngol Head Neck Surg (2021). https://doi.org/10.1007/s12070-021-02408-z
Received:

Accepted:

Published:
Keywords
Rhinosporidiosis

Epistaxis

Nasolacrimal duct

Lacrimal sac

Dapsone