Abstract
The aim of the present study was to determine the cytotoxic, anticancerous and antiproliferative activity of CGA on oral squamous cell carcinoma (OSCC) cell line (KB) and to evaluate expression level of p21 and p53 in these CGA treated OSCC cell line. Different concentrations of CGA varying from 500 to 2500 µM were tested on OSCC cell line. Trypan blue and MTT assay were performed to establish IC50. DNA fragmentation and expression level of p21 and p53 were evaluated with the help of RT-PCR. CGA exerted antiproliferative and cytotoxic effect on OSCC (KB) cell line. Statistically significant results were found regarding effect of different CGA concentrations on KB cell line with IC50 at 1800 µM. No DNA fragmentation was observed. p21 and p53 expression were down regulated after CGA treatment. CGA revealed neither apoptosis nor damage to the nucleus after DNA fragmentation. Antiproliferative role of CGA was hinted by down regulation of p53 and p21 probably through cell cycle arrest at G1-S phase. It was reaffirmed that CGA a natural chemo preventive agent could enhance the treatment modalities with minimal side effects.
Access options
Buy single article
Instant access to the full article PDF.
US$ 39.95
Tax calculation will be finalised during checkout.
Subscribe to journal
Immediate online access to all issues from 2019. Subscription will auto renew annually.
US$ 79
Tax calculation will be finalised during checkout.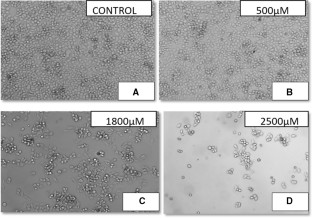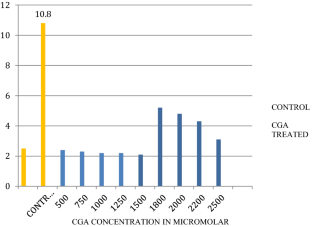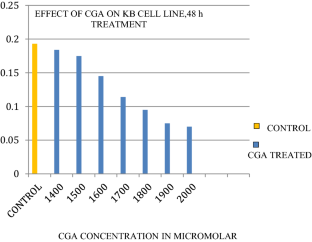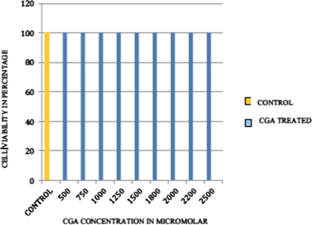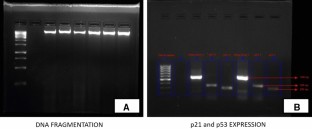 References
1.

Nicolini G, Maggioni D, Biffi L, Ceresa C, Scuteri A, Garavello W, Miloso M (2013) Human oral squamous cell carcinoma proliferation and migration prevented by two flavonoids. IJAE 118(2):148. https://doi.org/10.13128/IJAE-24159

2.

Mortazavi H, Baharvand M, Mehdipour M (2014) Oral potentially malignant disorders: an overview of more than 20 entities. J Dent Res Dent Clin Dent Prospects 8(1):6–14. https://doi.org/10.5681/joddd.2014.002

3.

Maggioni D, Biffi L, Nicolini G, Garavello W (2015) Flavonoids in oral cancer prevention and therapy. Eur J Cancer Prev 24(6):517–528. https://doi.org/10.1097/CEJ.0000000000000109

4.

Neville BW, Damm DD, Allen CR, Bouquot JE (2002) Oral and maxillofacial pathology, 2nd edn. WB Saunders, Philadelphia, pp 316–376

5.

Garsia M, Jemal A, Ward EM, Hao Y, Siegel RL, Thun MJ (2007) Global cancer facts and figures. American Cancer Society, Atlanta

6.

Llewellyn CD, Johnson NW, Warnakulasuriya KA (2001) Risk factors for squamous cell carcinoma of the oral cavity in young people—a comprehensive literature review. Oral Oncol 37:401–418

7.

Andre K, Schraub S, Mercier M, Bontemps P (1995) Role of alcohol and tobacco in the aetiology of head and neck cancer: a case-control study in the Doubs region of France. Oral Oncol Eur J Cancer 31B:301–309

8.

Mahajan S, Gupta R (2016) Oral squamous cell carcinoma—an update. J Adv Med Dent Sci Res 4(1):101–104

9.

Iriti M, Faoro F (2009) Chemical diversity and defence metabolism: how plants cope with pathogens and ozone pollution. Int J Mol Sci 10(8):3371–3399. https://doi.org/10.3390/ijms10083371

10.

Naveed M, Hejazi V, Abbas M, Kamboh AA, Khan GJ, Shumzaid M, Ahmad F, Babazadeh D, FangFang X, Modarresi-Ghazani F, WenHua L (2018) Chlorogenic acid (CGA): a pharmacological review and call for further research. Biomed Pharmacother 97:67–74. https://doi.org/10.1016/j.biopha.2017.10.064

11.

Kang NJ, Shin SH, Lee HJ, Lee KW (2011) Polyphenols as small molecular inhibitors of signaling cascades in carcinogenesis. Pharmacol Ther 130(3):310–324

12.

Gouthamchandra K, Sudeep HV, Venkatesh BJ, Prasad KS (2017) Chlorogenic acid complex (CGA7), standardized extract from green coffee beans exerts anticancer effects against cultured human colon cancer HCT-116 cells. Food Sci Hum Wellness 6(3):147–153

13.

Bandyopadhyay G, Biswas T, Roy CK, Mandal S, Mandal C, Pal CB, Bhattacharya S, Rakshit S (2004) Chlorogenic acid inhibits Bcr-Abl tyrosine kinase and triggers p38 mitogen activated protein kinase dependent apoptosis in chronic myelogenous leukemic cells. Blood 104(8):2514–2522

14.

Xu R, Kang Q, Ren J, Li Z, Xu X (2013) Antitumor molecular mechanism of chlorogenic acid on inducting genes GSK-3 beta and APC and inhibiting gene beta-catenin. J Anal Methods Chem. https://doi.org/10.1155/2013/951319

15.

Belkaid A, Currie JC, Desgagnes J, Annabi B (2006) The chemo preventive properties of chlorogenic acid reveal a potential new role for the microsomal glucose-6-phosphate translocase in brain tumor progression. Cancer Cell Int 6:7. https://doi.org/10.1186/1475-2867-6-7

16.

Jiang Y, Kusama K, Satoh K, Takayama F, Watanabe S, Sakagami H (2000) Induction of cytotoxicity by chlorogenic acid in human oral tumor cell lines. Phytomedicine 7(6):483–491

17.

Patil TT, Kowtal PK, Nikam A, Barkume MS, Patil A, Kane SV, Juvekar AS, Mahimkar MB, Kayal JJ (2014) Establishment of a tongue squamous cell carcinoma cell line from Indian gutka chewer. J Oral Oncol. https://doi.org/10.1155/2014/286013

18.

Kashyap CP, Tikka B, Sharma S, Kumari S, Verma P, Sharma S, Arya V (2011) Human cancer cell lines-a brief communication. J Chem Pharm Res 3(6):514–520

19.

Hoffmann TK (2012) Systemic therapy strategies for head-neck carcinomas: Current status. GMS Curr Top Otorhinolaryngol Head Neck Surg 11:3. https://doi.org/10.3205/cto000085

20.

American Cancer Society [cited 24 April 2019]. Available from: https://www.cancer.org/treatment/treatments-andsideeffects/treatmenttypes/chemotherapy/chemotherapy-side-effects.html

21.

Greenwell M, Rahman PK (2015) Medicinal plants: their use in anticancer treatment. Int J Pharm Sci Res 6(10):4103

22.

Bender O, Atalay A (2017) Evaluation of anti-proliferative and cytotoxic properties of chlorogenic acid against breast cancer cell lines by real time monitoring. Multidiscip Digit Publ Inst Proc 1(10):1009

23.

Bansal P, Das SN (2010) Study of antiproliferative activity of Tinospora Cordifolia extracts in normal and malignant cells. J Pharm Res 3(2):382–385

24.

D'Andrilli G, Kumar C, Scambia G, Giordano A (2004) Cell cycle genes in ovarian cancer: steps toward earlier diagnosis and novel therapies. Clin Cancer Res 10(24):8132–8141

25.

Jin UH, Lee JY, Kang SK, Kim JK, Park WH, Kim JG, Moon SK, Kim CH (2005) A phenolic compound, 5-caffeoylquinic acid (chlorogenic acid), is a new type and strong matrix metalloproteinase-9 inhibitor: isolation and identification from methanol extract of Euonymus alatus. Life Sci 77(22):2760–2769

26.

Lee WJ, Zhu BT (2006) Inhibition of DNA methylation by caffeic acid and chlorogenic acid, two common catechol-containing coffee polyphenols. Carcinogenesis 27(2):269–277

27.

Yang JS, Liu CW, Ma YS, Weng SW, Tang NY, Wu SH, Ji BC, Ma CY, Ko YC, Funayama S, Kuo CL (2012) Chlorogenic acid induces apoptotic cell death in U937 leukemia cells through caspase-and mitochondria-dependent pathways. in Vivo 26(6):971–978
Ethics declarations
Conflict of interest
All authors have indicated they have no potential conflicts of interest and no financial relationships relevant to this article to disclose.
Ethical Statement
The study was started after prior approval from the institutional ethics committee (PGIDS/ IEC/2018/20).
Additional information
Publisher's Note
Springer Nature remains neutral with regard to jurisdictional claims in published maps and institutional affiliations.
About this article
Cite this article
Sharma, G., Kamboj, M., Narwal, A. et al. Cytotoxic Role of Chlorogenic Acid on Oral Squamous Cell Carcinoma Cell Line. Indian J Otolaryngol Head Neck Surg (2021). https://doi.org/10.1007/s12070-021-02395-1
Received:

Accepted:

Published:
Keywords
In vitro/cell culture

Chlorogenic acid

Cancer prevention

Antioxidant

Flavonoids