Abstract
Accurate assessment of site of obstruction in Obstructive Sleep Apnoea (OSA) is key to its effective management, especially the surgical intervention. Currently, Drug induced sleep endoscopy (DISE) is widely used to assess the obstruction during sleep as assessing during physiologic sleep is impractical and cumbersome. To assess the site, pattern and degree of airway obstruction in patients with moderate to severe obstructive sleep apnoea using DISE and to find a co-relation of DISE findings with awake fibreoptic assessment and severity of OSA. 41 adult patients (29 males, 12 females, mean AHI 40.58 ± 16.94, mean age 54 ± 9.15 years underwent awake fibreoptic nasal endoscopy in the outpatient department and propofol induced DISE in the main operation theatre. The site/s, degree and pattern of obstruction were recorded as per VOTE and Fujita classification. Velum was the commonest site of collapse followed by oropharynx, base of tongue and epiglottis. All had multilevel collapse with velum, oropharynx and base of tongue being the most common combination. At velum, base of tongue and epiglottis, antero-posterior pattern of collapse was commonest and at oropharynx lateral pattern of collapse was the commonest. We found no difference in the site, pattern or severity of collapse between the moderate and severe group though there was a tendency of epiglottis collapse being present more frequently in severe OSA. Awake fibreoptic endoscopic evaluation was able to assess the collapse at level of velum with higher sensitivity but with poor specificity. There was high chances of missing a hypopharyngeal collapse with fibreoptic endoscopic evaluation.
Access options
Buy single article
Instant access to the full article PDF.
US$ 39.95
Tax calculation will be finalised during checkout.
Subscribe to journal
Immediate online access to all issues from 2019. Subscription will auto renew annually.
US$ 79
Tax calculation will be finalised during checkout.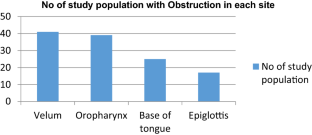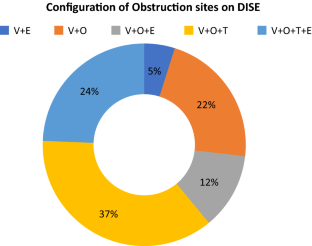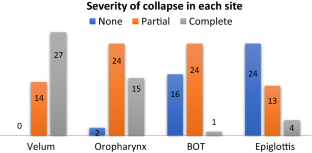 References
1.

Marshall NS, Wong KKH, Liu PY et al (2008) Sleep apnea as an independent risk factor for all-cause mortality: the Busselton Health Study. Sleep 31(8):1079–1085

2.

O'Reilly J (2018) Physiology of sleep and sleep disorders-73. CRC Press, Boca Raton, pp 1049–1060

3.

Patel SR, White DP, Malhotra A et al (2003) Continuous positive airway pressure therapy for treating sleepiness in a diverse population with obstructive sleep apnea: results of a meta-analysis. Arch Intern Med 163:565–571

4.

Weaver TE, Grunstein RR (2008) Adherence to continuous positive airway pressure therapy: the challenge to effective treatment. Proc Am Thorac Soc 5(2):173

5.

Campanini A, Canzi P, De Vito A et al (2010) Awake versus sleep endoscopy: personal experience in 250 OSAHS patients. Acta Otorhinolaryngol Ital 30:73–77

6.

Fujita S (ed) (1994) Snoring and obstructive sleep Apnoea, FairbanksDNF, 2nd edn. Raven Press, New York, p 90

7.

Kezirian EJ, Hohenhorst W, De Vries N (2011) Drug-induced sleep endoscopy: the VOTE classification. Eur Arch Oto-Rhino-Laryngol 268(8):1233–1236. https://doi.org/10.1007/s00405-011-1633-8

8.

Bharathi MB, Rajendra Prasad J, Satish K (2017) Drug-induced sleep endoscopy as a selection tool for surgical management of obstructive sleep apnoea syndrome: our personal experience. Indian J Otolaryngol Head Neck Surg 69(3):313–318

9.

De Corso E, Fiorita A, Rizzotto G, Mennuni GF et al (2013) The role of drug-induced sleep endoscopy in the diagnosis and management of obstructive sleep apnoea syndrome: our personal experience. Acta Otorhinolaryngologicaitalica 33:405–413

10.

Vroegop AV, Vanderveken OM, Boudewyns AN, Scholman J, Saldien V, Wouters K, Braem MJ, Van de Heyning PH, Hamans E (2014) Drug-induced sleep endoscopy in sleep-disordered breathing: report on 1,249 cases. Laryngoscope 124(3):797–802

11.

Hybášková J, Jor O, Novák V et al (2016) Drug-induced sleep endoscopy changes the treatment concept in patients with obstructive sleep apnoea. Hindawi Publishing Corporation BioMed Research International, vol 2016, Article ID 6583216, 5 p. https://doi.org/10.1155/2016/6583216.

12.

Ravesloot MJL, De Vries N (2011) One hundred consecutive patients undergoing drug-induced sleep endoscopy: results and evaluation. Laryngoscope 121(12):2710–2716
Additional information
Publisher's Note
Springer Nature remains neutral with regard to jurisdictional claims in published maps and institutional affiliations.
About this article
Cite this article
Joy, J., Bhat, N. & Bhandarkar, P. Assessment of Site, Degree and Pattern of Airway Obstruction in Patients with Moderate to Severe Obstructive Sleep Apnoea (OSA) Using Drug Induced Sleep Endoscopy (DISE)and Its Association with Awake Fibreoptic Evaluation and Polysomnography Parameters. Indian J Otolaryngol Head Neck Surg (2021). https://doi.org/10.1007/s12070-021-02390-6
Received:

Accepted:

Published:
Keyword
Obstructive sleep apnoea

Drug induced sleep endoscopy

VOTE classification

Level of collapse

Awake FONPL

Fujita classification