Abstract
Fine needle aspiration cytology (FNAC) reduces the number of unnecessary thyroid surgeries for patients with benign nodules and appropriately triages patients with thyroid cancer to appropriate treatment. This was a observational study done on cases presenting with clinical suspicion of thyroid malignancy which underwent ultrasonography followed by FNAC of thyroid nodule. Ultrasonographic characterization of nodules was based on Thyroid Imaging Reporting and Data System (TIRADS) and cytology reporting was based on Bethesda system. All recruited patients underwent thyroidectomy. Pre-operative cytology and ultrasonography features were compared with final histopathology report. In our study, Bethesda system of cytology reporting for thyroid nodules had a better sensitivity, specificity and diagnostic accuracy than TIRADS system of ultrasound reporting. Bethesda system in FNAC had a larger area under the ROC curve (0.91) as compared to ultrasound TIRADS (0.70). Malignancy rate of TIRADS 5 nodules was 97.1% with significant p value (0.022). 100% of Bethesda VI lesions were malignant according to final histopathology report. Ultrasound TIRADS could pre-operatively predict malignancy in 63.6% of indeterminate thyroid nodules which were malignant according to post-operative histopathology. The overall concordance of ultrasound TIRADS, Bethesda system and histopathology was 69.8%. Higher TIRADS and Bethesda scoring among thyroid nodules was associated with increased risk of malignancy. US TIRADS is a good predictor of malignancy in indeterminate thyroid nodules.
Access options
Buy single article
Instant access to the full article PDF.
US$ 39.95
Tax calculation will be finalised during checkout.
Subscribe to journal
Immediate online access to all issues from 2019. Subscription will auto renew annually.
US$ 79
Tax calculation will be finalised during checkout.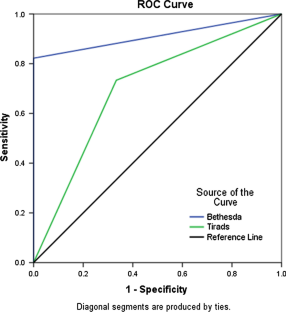 References
1.

Heller MT, Gilbert C, Ohori NP et al (2013) Correlation of ultrasound findings with the Bethesda cytopathology classification for thyroid nodule fine-needle aspiration: a primer for radiologists. Am J Roentgenol 201(3):W487–W494

2.

Haugen BR, Alexander EK, Bible KC et al (2016) American thyroid association management guidelines for adult patients with thyroid nodules and differentiated thyroid cancer: the American thyroid association guidelines task force on thyroid nodules and differentiated thyroid cancer. Thyroid 26(1):12–16

3.

Mendes GF, Garcia MRT, Falsarella PM et al (2018) Fine needle aspiration biopsy of thyroid nodule smaller than 1.0 cm: accuracy of TIRADS classification system in more than 1000 nodules. Br J Radiol 91:1083

4.

Bray F, Ferlay J, Soerjomataram I (2018) Global cancer statistics: GLOBOCAN estimates of incidence and mortality worldwide for 36 cancers in 185 countries. CA Cancer J Clin 68:394–424

5.

Mathew IE, Mathew A (2017) Rising thyroid cancer incidence in Southern India: an epidemic of overdiagnosis? J Endocr Soc 1(5):480–487

6.

Singaporewalla RM, Hwee J, Lang TU et al (2017) Clinico-pathological correlation of thyroid nodule ultrasound and cytology using the TIRADS and Bethesda classifications. World J Surg 41:1807

7.

Abdelkader AM, Zidan AM, Younis MT et al (2018) Preoperative evaluation of thyroid nodules: a prospective study comparing the accuracy of ultrasound (TI-RADS) versus the FNAC Bethesda system in relation to the final postoperative histo-pathological diagnosis. Ann Pathol Lab Med 5(10):A801–A809

8.

Krzysztof K, Dorota D, Beata W et al (2016) Fine-needle aspiration biopsy as a preoperative procedure in patients with malignancy in solitary and multiple thyroid nodules. PLoS One. https://doi.org/10.1371/journal.pone.0146883

9.

Horvath E, Silva CF, Majlis S et al (2017) Prospective validation of the ultrasound based TIRADS (thyroid imaging reporting and data system) classification: results in surgically resected thyroid nodules. Eur Radiol 7:2619

10.

Periakaruppan G, Seshadri KG, Krishna GMV et al (2018) Correlation between ultrasound-based TIRADS and Bethesda system for reporting thyroid-cytopathology: 2-year experience at a tertiary care center in India. Indian J Endocrinol Metab 22(5):651–655

11.

Chandramohan A, Khurana A, Pushpa BT et al (2016) Is TIRADS a practical and accurate system for use in daily clinical practice? Indian J Radiol Imaging 26:145–152

12.

Srinivas MN, Amogh VN, Gautam MS et al (2016) A prospective study to evaluate the reliability of thyroid imaging reporting and data system in differentiation between benign and malignant thyroid lesions. J Clin Imaging Sci 6:5

13.

Moifo B, Takoeta EO, Tambe J et al (2013) Reliability of thyroid imaging reporting and data system (TIRADS) classification in differentiating benign from malignant thyroid nodules. Open J Radiol 3:103

14.

Barbosa TLM, Junior COM, Graf H et al (2019) ACR TI-RADS and ATA US scores are helpful for the management of thyroid nodules with indeterminate cytology. BMC Endocr Disord 19:112

15.

Vargas-Uricoechea H, Meza-Cabrera I, Herrera-Chaparro J (2017) Concordance between the TIRADS ultrasound criteria and the BETHESDA cytology criteria on the nontoxic thyroid nodule. Thyroid Res 10:1

16.

Chaigneau E, Russ G, Royer B et al (2018) TIRADS score is of limited clinical value for risk stratification of indeterminate cytological results. Eur J Endocrinol 179(1):13–20
Acknowledgements
We take this opportunity to thank the faculty, fellows, post graduates and staff of the department of Head and Neck Surgery for their whole-hearted cooperation in completion of this study. We also express our gratitude to staff of the departments of Radiology and Pathology for the support they provided.
Funding
There was no funding for this research work.
Ethics declarations
Conflict of interest
The author declares that they have no conflict of interest.
Ethical Approval
All procedures performed in studies were in accordance with the ethical standards of Regional Cancer Centre, Thiruvananthapuram approved by the Institutional Ethics Committee
Additional information
Publisher's Note
Springer Nature remains neutral with regard to jurisdictional claims in published maps and institutional affiliations.
About this article
Cite this article
George, N.A., Suresh, S., Jiji, V. et al. Correlation of TIRADS and Bethesda Scoring Systems with Final Histopathology of Thyroid Nodules – An Institutional Experience. Indian J Otolaryngol Head Neck Surg (2021). https://doi.org/10.1007/s12070-021-02380-8
Received:

Accepted:

Published:
Keywords
Thyroid

Cancer

TIRADS

Ultrasonography

Bethesda

Histopathology