Abstract
Microtia comprises a spectrum of congenital malformation characterized by partial deformities of the auricular components to complete absence of pinna. Surgical reconstructions of this anomaly are often complex and technically challenging. Infection, hematoma, and skin necrosis with resultant exposed cartilage graft tend to occur in the early phase of post-operative care. Herein, we report a case of a spontaneous auricular abscess with exposed cartilage framework 20 years following rib cartilage reconstruction. To our knowledge, this is the first case of such an occurrence. The treatment options are discussed, along with the review of the literature.
Access options
Buy single article
Instant access to the full article PDF.
US$ 39.95
Tax calculation will be finalised during checkout.
Subscribe to journal
Immediate online access to all issues from 2019. Subscription will auto renew annually.
US$ 79
Tax calculation will be finalised during checkout.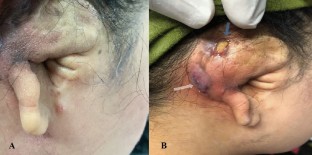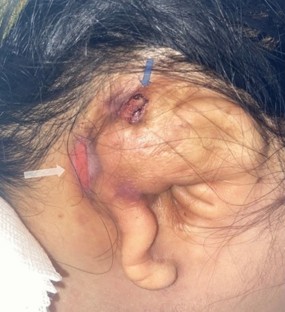 References
1.

Cuccolo NG, Zwierstra MJ, Ibrahim AMS et al (2019) Reconstruction of congenital microtia and anotia: analysis of practitioner epidemiology and postoperative outcomes. Plast Reconstr Surg Glob Open 7(6):e2318

2.

Baluch N, Nagata S, Park C et al (2014) Auricular reconstruction for microtia: a review of available methods. Plast Surg (Oakv) 22(1):39–43

3.

Long X, Yu N, Huang J et al (2013) Complication rate of autologous cartilage microtia reconstruction: a systemic review. Plas Reconstr Surg Glob Open 1(7):e57

4.

Fu YY, Li CL, Zhang JL et al (2019) Autologous Cartilage Microtia Reconstruction: complications and risk factors. Int J Pediatr Otorhinolaryngol 116:1–6

5.

Park C, Yoo YS, Park HJ et al (2010) An analysis of the bacterial flora found in the external auditory canals of microtia patients: results and clinical applications. Ann Plast Surg 65(2):197–200

6.

Oyama A, Sasaki S, William M et al (2008) Salvage of cartilage framework exposure in microtia reconstruction using a mastoid fascia flap. J Plast Reconstr Aesthet Surg 61:110–113

7.

Hirase Y, Kojima T, Hirakawa M (1990) Secondary ear reconstruction using deep temporal fascia after temporoparietal fascia reconstruction in microtia. Ann PlastSurg 25(1):53–57

8.

Reinisch JF, Van Hovell tot Westerflier C, Gould DJ et al (2020) secondary salvage of the unsatisfactory microtia reconstruction. PlastReconstrSurg 145(5):1252–1261

9.

Cugno S, Bulstrode NW (2019) Cartilage exposure following autologous microtia reconstruction: an algorithmic treatment approach. J Plast Reconstr Aesthet Surg 72(3):498–504
Funding
The author(s) received no specific funding for this work.
Ethics declarations
Conflict of interest
The author(s) declare no conflict of interest.
Informed Consent
Written consent was obtained from the patient for publication of this case report and accompanying images.
Additional information
Publisher's Note
Springer Nature remains neutral with regard to jurisdictional claims in published maps and institutional affiliations.
About this article
Cite this article
Tuang, G.J., Mansor, M. & Abdullah, A. An Unusual Delayed Complication of Rib Graft Microtia Reconstruction After Two Decades: A Case Report. Indian J Otolaryngol Head Neck Surg (2021). https://doi.org/10.1007/s12070-020-02316-8
Received:

Accepted:

Published:
Keywords
Congenital microtia

Reconstructive surgical procedure

Abscess

Complication