Abstract
Oral cavity is the most common site of cancer in India, tongue forms the most common single subsite. Neck node involvement plays an important prognostic role in disease-free survival and overall survival. Most of the nodal metastasis are occult and only an elective neck dissection can disclose the nodal metastasis, which is accepted only when the risk of metastasis exceeds 15–20%. Contralateral nodal metastasis(CLNM) are rarely analyzed due to sparse event.Retrospective analysis of data of patients who underwent surgery for carcinoma tougue with a curative intend between April 2017 and March 2019 were collected. Factors influencing CLNM in carcinoma tongue were studied.The study included 149 patients, with 102 men and 47 women. The mean age of study subjects was 51.5 ± 11.8 years. Thirteen (8.7%) patients had CLNM. With respect to tumor, advanced stage(p < 0.001), floor of mouth involvement(p = 0.001) and lesion crossing midline(p < 0.001) had an increased risk of CLNM. Extranodal extension(ENE)(p < 0.001) and lymphnode ratio(p = 0.002) in ipsilateral node ratio influenced CLNM. Multivariant analysis showed that in addition to lesion crossing midline(p = 0.03), ENE played significant role in CLNM (p < 0.001), with a risk of 12.8 times compared to no ENE. Suspicion of CLNM either clinically/radiologically was a good predictor of metastasis(p < 0.001).CLNM in tongue cancer was significantly influenced by lesion crossing midline and ENE. Contralateral neck dissection should be performed in any case with clinical/radiological suspicion of nodal involvement and above mentioned risk factors.
This is a preview of subscription content, log in to check access.
Access options
Buy single article
Instant access to the full article PDF.
US$ 39.95
Price includes VAT for USA
Subscribe to journal
Immediate online access to all issues from 2019. Subscription will auto renew annually.
US$ 99
This is the net price. Taxes to be calculated in checkout.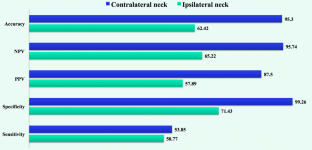 References
1.

Gupta N, Gupta R, Acharya AK, Patthi B, Goud V, Reddy S, Garg A, Singla A (2016) Changing Trends in oral cancer-a global scenario. Nepal J Epidemiol 6(4):613

2.

Rao KN, Jagade M, Kale VD, Rengaraja D, Hekare A (2018) Margin Status and Duration of Surgery in Resection of Tongue Carcinoma with Ultrasound Coagulation Device: a Comparative Study. Indian J Surg Oncol 9(4):501–504

3.

Safi AF, Grandoch A, Nickenig HJ, Zöller JE, Kreppel M (2017) Importance of lymph node ratio for locoregional recurrence of squamous cell carcinoma of the buccal mucosa. Head neck 39(12):2488–2493

4.

Feng Z, Niu LX, Yuan Y, Peng X, Guo CB (2014) Risk factors and treatment of contralateral neck recurrence for unilateral oral squamous cell carcinoma: a retrospective study of 1482 cases. Oral oncol 50(11):1081–1088

5.

Lin TC, Tsou YA, Bau DT, Tsai MH (2012) Factors influencing contralateral neck metastasis in oral squamous cell carcinoma. Formos J Surg 45(3):83–87

6.

Villanueva-Alcojol L (2016) Contralateral neck dissection in oral squamous cell carcinoma: When it shoud be done. Plast Aesthet Res 3:181

7.

Kurita H, Koike T, Narikawa JN, Sakai H, Nakatsuka A, Uehara S, Kobayashi H, Kurashina K (2004) Clinical predictors for contralateral neck lymph node metastasis from unilateral squamous cell carcinoma in the oral cavity. Oral oncol 40(9):898–903

8.

González-García R, Naval-Gías L, Sastre-Pérez J, Rodríguez-Campo FJ, Muñoz-Guerra MF, Usandizaga JG, Díaz-González FJ (2007) Contralateral lymph neck node metastasis of primary squamous cell carcinoma of the tongue: a retrospective analytic study of 203 patients. Int J Oral Maxillofac Surg 36(6):507–513

9.

Spiro RH, Strong EW (1973) Epidermoid carcinoma of the oral cavity and oropharynx: elective vs therapeutic radical neck dissection as treatment. Arch Surg 107(3):382–384

10.

Kaya S, Yilmaz T, Gürsel B, Saraç S, Sennaroğlu L (2001) The value of elective neck dissection in treatment of cancer of the tongue. Am J Otolaryngol 22(1):59–64

11.

Lim YC, Lee JS, Koo BS, Kim SH, Kim YH, Choi EC (2006) Treatment of contralateral N0 neck in early squamous cell carcinoma of the oral tongue: elective neck dissection versus observation. Laryngoscope 116(3):461–465

12.

Fan S, Tang QL, Lin YJ, Chen WL, Li JS, Huang ZQ, Yang ZH, Wang YY, Zhang DM, Wang HJ, Dias-Ribeiro E (2011) A review of clinical and histological parameters associated with contralateral neck metastases in oral squamous cell carcinoma. Int J Oral Sci 3(4):180

13.

Singh B, Nair S, Nair D, Patil A, Chaturvedi P, D'Cruz AK (2013) Ipsilateral neck nodal status as predictor of contralateral nodal metastasis in carcinoma of tongue crossing the midline. Head neck 35(5):649–652

14.

Su Z, Duan Z, Pan W, Wu C, Jia Y, Han B, Li C (2016) Predicting extracapsular spread of head and neck cancers using different imaging techniques: a systematic review and meta-analysis. Int J Oral Maxillofac Surg 45(4):413–421

15.

Spiro RH, Alfonso AE, Farr HW, Strong EW (1974) Cervical node metastasis from epidermoid carcinoma of the oral cavity and oropharynx: a critical assessment of current staging. Am J Surg 128:562–567

16.

Koo BS, Lim YC, Lee JS, Choi EC (2006) Management of contralateral N0 neck in oral cavity squamous cell carcinoma. Head neck 28(10):896–901
Ethics declarations
Conflict of Interest
None.
Additional information
Publisher's Note
Springer Nature remains neutral with regard to jurisdictional claims in published maps and institutional affiliations.
About this article
Cite this article
Vidya, K., Riju, J., Rajinikanth, J. et al. Contralateral Nodal Metastasis from Tongue Malignancy. Indian J Otolaryngol Head Neck Surg (2020). https://doi.org/10.1007/s12070-020-01921-x
Received:

Accepted:

Published:
Keywords
Oral cancer

Contralateral neck node

Squammous cell cancer

Tongue

Neck dissection