Abstract
Otolaryngology is one of the branch where endoscopes is being widely used nowadays to perform different surgeries. Ear surgeries are of special interest among the ENT surgeons. It has several advantages compared to the microscopes. 60 patients underwent endoscopic transcanal myringoplasty by the postgraduate residents under direct supervision of same consultants, using temporalis facia graft. The overall success rate in terms of graft uptake was 86.67% and the AB gap closure of < 10 dB in 63.3% of cases and 10–20 dB in 33.3%. Endoscopic myringoplasty was found to be equally effective, less morbid and very cost effective than the microscopic myringoplasty. This was applicable irrespective of the size of the perforation and condition of the middle ear (dry/wet) in our centre.
This is a preview of subscription content, log in to check access.
Access options
Buy single article
Instant access to the full article PDF.
US$ 39.95
Price includes VAT for USA
Subscribe to journal
Immediate online access to all issues from 2019. Subscription will auto renew annually.
US$ 99
This is the net price. Taxes to be calculated in checkout.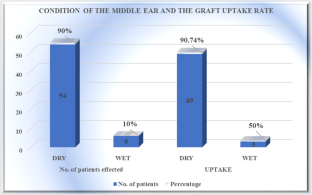 References
1.

Das Arindam et al (2015) Myringoplasty: impact of size and site of perforation on success rate. Indian J Otolaryngol Head Neck Surg 67(2):185–189

2.

Tarabichi M (1999) Endoscopic middle ear surgery. Ann Otol Rhinol Laryngol 108(1):39–46

3.

Tarabichi M, Ayache S, Nogueira JF, Al Qahtani M, Pothier DD (2013) Endoscopic management of chronic otitis media and tympanoplasty. Otol Laryngol Clin N Am 46(2):155–163

4.

Furukawa T, Watanabe T, Ito T, Kubota T, Kakehata S (2014) Feasibility and advantages of transcanal endoscopic myringoplasty. Otol Neurotol 35(4):e140–e145

5.

Lade H, Choudhary SR, Vashishth A (2014) Endoscopic vs microscopic myringoplasty: a different perspective. Eur Arch Oto-Rhino Laryngol 271(7):1897–1902

6.

Harugop AS, Mudhol RS, Godhi RA (2008) A comparative study of endoscope assisted myringoplasty and micrsoscope assisted myringoplasty. Indian J Otolaryngol Head Neck Surg 60(4):298–302

7.

Ayache S (2013) Cartilaginous myringoplasty: the endoscopic transcanal procedure. Eur Arch Otorhinolaryngol 270(3):853–860

8.

Sheehy JL, Anderson RG (1980) Myringoplasty: are view of 472 cases. Ann Otol Rhinol Laryngol 89(4, pt 1):331–334

9.

Rizer FM (1997) Overlay vs underlay tympanoplasty, II: the study. Laryngoscope 107(12):26–36

10.

El-Guindy A (1992) Endoscopic transcanal myringoplasty. J Laryngol Otol 106(6):493–495

11.

Karhuketo TS, Ilomäki JH, Puhakka HJ (2001) Tympanoscope-assisted myringoplasty. ORLJ Otorhinolaryngol Relat Spec 63(6):353–357

12.

Yadav SP, Aggarwal N, Julaha M, Goel A (2009) Endoscope-assisted myringoplasty. Singap Med J 50(5):510–512

13.

Mohindra S, Panda NK (2010) Ear surgery without microscope; is it possible. Indian J Otolaryngol Head Neck Surg. 62(2):138–141. https://doi.org/10.1007/s12070-010-0033

14.

Glasscock ME, Shambaugh GE (2003) Tympanoplasty. Glasscock and Shambaugh, surgery of the ear, 5th edn. People's Medical Publishing House, Connecticut, pp 350–370

15.

Raj A, Meher R (2001) Endoscopic transcanal myringoplasty—a study. Indian J Otolaryngol Head Neck Surg 53(1):47–49. https://doi.org/10.1007/BF02910979

16.

Mc Kennan KX (1993) Endoscopic second look mastoidoscopy to rule out residual epitympanic—mastoid cholesteatoma. Laryngoscope 103:810–814
Ethics declarations
Conflict of interest
The authors declare that they have no conflict of interest.
Ethical Approval
All procedures performed in studies involving human participants were in accordance with the ethical standards of the institutional and/or national research committee and with the 1964 Helsinki declaration and its later amendments or comparable ethical standards.
Informed Consent
Informed consent was obtained from all individual participants included in the study.
Additional information
Publisher's Note
Springer Nature remains neutral with regard to jurisdictional claims in published maps and institutional affiliations.
About this article
Cite this article
Kumar, A., Namdeorao, M.S. & Gupta, A. Endoscopic Transcanal Myringoplasty–Smart Myringoplasty for Nex Gen ENT Surgeons: Our Experience. Indian J Otolaryngol Head Neck Surg (2020). https://doi.org/10.1007/s12070-020-01917-7
Received:

Accepted:

Published:
Keywords
Endoscopic myringoplasty

Otoendoscopy

Myringoplasty

Conductive deafness