Abstract
To analyse the pattern of laryngotracheal invasion (LTI) by papillary-thyroid-carcinoma (PTC) and outcomes of their management. We undertook a retrospective chart review to study patterns of LTI by PTC and to evaluate outcomes of surgical modalities used to treat PTC with LTI. Out of 246cases of PTC, 26-cases had LTI (male-12, female-14, mean-age-55.6 years, range 42–73 years). Common clinical presentation were neck swelling, respiratory distress/stridor and vocal cord paralysis in 100%, 8 (30.8%) and 10 (38.5%) cases respectively. PTC was staged according to AJCC-TNM staging system (T4a-24, T4b-02, N1a-12, N1b-14, M0-25, and M1-01). CT-scan showed obvious LTI and tracheal narrowing in 11(42.3%) and 18(69.2%) cases respectively. All cases underwent total thyroidectomy with central-compartment-clearance. Unilateral and bilateral lateral-neck-dissection was performed in 08 and 06cases respectively. Pattern of Intra-operative LTI were as follows: trachea-13cases, trachea and cricoid-05cases, thyroid cartilage-6cases, trachea, cricoid and thyroid cartilage-2 cases and intra-luminal involvement in 4cases. Modified Shin's staging was used to stage LTI. LTI were superficial, deep-extra-luminal and intra-luminal in 13, 09 and 04cases respectively. LTI was managed by shave-excision, window-resection of trachea, sleeve-resection of trachea and anastomosis, partial laryngectomy and total-laryngectomy in 13,02,04,05 and 2 cases respectively. All patients received radio-active-iodine (RAI) and TSH-suppression-therapy post-operatively. Mean follow-up period was two-years (range 18–30 months). One-case had radio-iodine non-avid local recurrence with lung metastases one-year post-operatively. Shave-excision is adequate for tumours not infiltrating into outer perichondrium. Tracheal-resection and total/partial laryngectomy may be required in cases with laryngo-tracheal cartilage or intra-luminal involvement. Adequate surgical excision along with postoperative RAI and TSH-suppression-therapy gives good loco-regional disease control in PTC with LTI.
This is a preview of subscription content, log in to check access.
Access options
Buy single article
Instant access to the full article PDF.
US$ 39.95
Price includes VAT for USA
Subscribe to journal
Immediate online access to all issues from 2019. Subscription will auto renew annually.
US$ 99
This is the net price. Taxes to be calculated in checkout.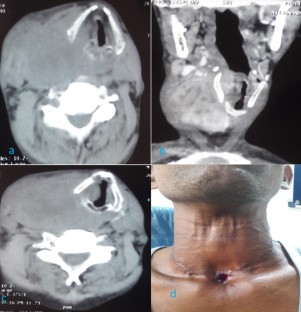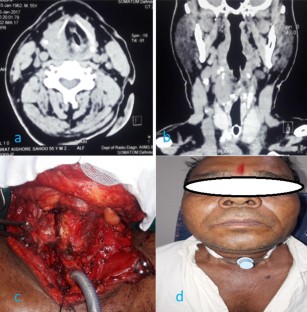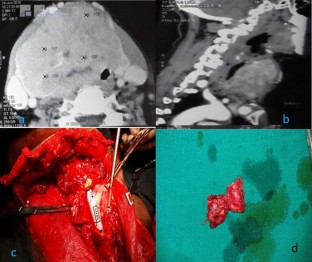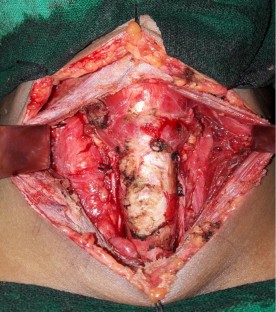 Availability of Data and Material
Yes available for verification.
References
1.

Dralle H, Brauckhoff M, Machens A, Gimm O (2005) Surgical management of advanced thyroid cancer invading the aerodigestive tract. In: Clark OH, Duh QY, Kebebew E (eds) Textbook on endocrine surgery, 2nd edn. Elsevier Saunders, Philadelphia, pp 318–333

2.

Brauckhoff M, Dralle H (2011) Organüberschreitende Schilddrüsenkarzinome. Chirurg 82(2):134–140

3.

Brauckhoff M, Dralle H (2009) Cervicovisceral resection in invasive thyroid tumors. Chirurg 80(2):88–98

4.

Kim H, Jung HJ, Lee SY, Kwon T-K, Kim KH, Sung M-W et al (2016) Prognostic factors of locally invasive well-differentiated thyroid carcinoma involving the trachea. Eur Arch Otorhinolaryngol 273(7):1919–1926

5.

Shin D-H, Mark EJ, Suen HC, Grillo HC (1993) Pathologic staging of papillary carcinoma of the thyroid with airway invasion based on the anatomic manner of extension to the trachea: a clinicopathologic study based on 22 patients who underwent thyroidectomy and airway resection. Hum Pathol 24(8):866–870

6.

Sobin LH, Gospodarowicz MK, Wittekind C (eds) (2009) TNM classification of malignant tumors (UICC International Union Against Cancer), 7th edn. Wiley, Oxford

7.

Perrier ND, Brierley JD, Tuttle RM (2018) Differentiated and anaplastic thyroid carcinoma: major changes in the American Joint Committee on Cancer eighth edition cancer staging manual. CA Cancer J Clin 68(1):55–63

8.

Xu X, Wang X, Yin X, Li Z (2006) Treatment and prognosis of tracheal invasion by papillary thyroid carcinoma. ZhonghuaEr Bi Yan HouTou Jing WaiKeZaZhi 41(4):284–288

9.

Brauckhoff M (2014) Classification of aerodigestive tract invasion from thyroid cancer. Langenbecks Arch Surg 399:209–216

10.

Mccaffrey TV, Lipton RJ (1990) Thyroid carcinoma invading the upper aerodigestive system. Laryngoscope 100:824–830

11.

Shah JP, Loree TR, Dharker D et al (1992) Prognostic factors in differentiated carcinoma of the thyroid gland. Am J Surg 164(6):658–661

12.

McCaffrey TV, Bergstralh EJ, Hay ID (1994) Locally invasive papillary thyroid carcinoma: 1940–1990. Head Neck 16(2):165–172 [PubMed: 8021137]

13.

Machens A, Hinze R, Lautenschläger C et al (2001) Thyroid carcinoma invading the cervicovisceral axis: routes of invasion and clinical implications. Surgery 129(1):23–28 [PubMed: 11150030]

14.

Andersen PE, Kinsella J, Loree TR et al (1995) Differentiated carcinoma of the thyroid with extrathyroidal extension. Am J Surg 170(5):467–470 [PubMed: 7485734]

15.

Czaja JM, McCaffrey TV (1997) The surgical management of laryngotracheal invasion by welldifferentiated papillary thyroid carcinoma. Arch Otolaryngol Head Neck Surg 123(5):484–490 [PubMed: 9158394]

16.

Talpos GB (1999) Tracheal and laryngeal resections for differentiated thyroid cancer. Am Surg 65(8):754–759 [PubMed: 10432086] [discussion: 759]

17.

Friedman M, Danielzadeh JA, Caldarelli DD (1994) Treatment of patients with carcinoma of the thyroid invading the airway. Arch Otolaryngol Head Neck Surg 120(12):1377–1381 [PubMed: 7980904]

18.

Donnelly MJ, Timon CI, McShane DP (1994) The role of total laryngectomy in the management of intraluminal upper airway invasion by well-differentiated thyroid carcinoma. Ear Nose Throat J 73(9):659–662 [PubMed: 7988395]

19.

Kim KH, Sung MW, Chang KH et al (2000) Therapeutic dilemmas in the management of thyroid cancer with laryngotracheal involvement. Otolaryngol Head Neck Surg 122(5):763–767 [PubMed: 10793362]

20.

Segal K, Abraham A, Levy R et al (1984) Carcinomas of the thyroid gland invading larynx and trachea. Clin Otolaryngol Allied Sci 9(1):21–25 [PubMed: 6723096]

21.

Ballantyne AJ (1994) Resections of the upper aerodigestive tract for locally invasive thyroid cancer. Am J Surg 168(6):636–639 [PubMed: 7978010]

22.

Segal K, Shpitzer T, Hazan A et al (2006) Invasive well-differentiated thyroid carcinoma: effect of treatment modalities on outcome. Otolaryngol Head Neck Surg 134(5):819–822 [PubMed: 16647541]

23.

Nishida T, Nakao K, Hamaji M (1997) Differentiated thyroid carcinoma with airway invasion: indication for tracheal resection based on the extent of cancer invasion. J Thorac Cardiovasc Surg 114(1):84–92 [PubMed: 9240297]

24.

Park CS, Suh KW, Min JS (1993) Cartilage-shaving procedure for the control of tracheal cartilage invasion by thyroid carcinoma. Head Neck 15(4):289–291 [PubMed: 8360048]

25.

Kasperbauer JL (2004) Locally advanced thyroid carcinoma. Ann Otol Rhinol Laryngol 113(9):749–753 [PubMed: 15453535]

26.

Cody HS, Shah JP (1981) Locally invasive, well-differentiated thyroid cancer: 22 years' experience at memorial Sloan-Kettering cancer center. Am J Surg 142(4):480–483 [PubMed: 7283051]

27.

Grillo HC, Suen HC, Mathisen DJ et al (1992) Resectional management of thyroid carcinoma invading the airway. Ann Thorac Surg 54(1):3–9 [PubMed: 1610250] [discussion: 9]

28.

Grillo HC, Zannini P (1986) Resectional management of airway invasion by thyroid carcinoma. Ann Thorac Surg 42(3):287–298 [PubMed: 3753077]

29.

Cooper DS, Specker B, Ho M et al (1998) Thyrotropin suppression and disease progression in patients with differentiated thyroid cancer: results from the national thyroid cancer treatment cooperative registry. Thyroid 8(9):737–744 [PubMed: 9777742]

30.

McGriff NJ, Csako G, Gourgiotis L et al (2002) Effects of thyroid hormone suppression therapy on adverse clinical outcomes in thyroid cancer. Ann Med 34(7–8):554–564 [PubMed: 12553495]

31.

Mazzaferri EL (1997) Thyroid remnant 131I ablation for papillary and follicular thyroid carcinoma. Thyroid 7(2):265–271 [PubMed: 9133698]

32.

Tsang RW, Brierley JD, Simpson WJ et al (1998) The effects of surgery, radioiodine, and external radiation therapy on the clinical outcome of patients with differentiated thyroid carcinoma. Cancer 82(2):375–388 [PubMed: 9445196]

33.

Kiess AP, Agrawal N, Brierley JD, Duvvuri M, Ferris RL, Genden E et al (2016) External-beam radiotherapy for differentiated thyroid cancer locoregional control: a statement of the American Head and Neck Society. Head Neck 38(4):493–498
Ethics declarations
Conflict of interest
Nil.
Ethics Approval
The study was approved by institutional ethics committee.
Consent to Participate
Not applicable.
Consent for Publication
Not applicable.
Additional information
Publisher's Note
Springer Nature remains neutral with regard to jurisdictional claims in published maps and institutional affiliations.
About this article
Cite this article
Parida, P.K., Herkal, K., Preetam, C. et al. Analysis of Pattern of Laryngotracheal Invasion by Papillary Thyroid Carcinoma and Their Management: Our Experience. Indian J Otolaryngol Head Neck Surg (2020). https://doi.org/10.1007/s12070-020-01914-w
Received:

Accepted:

Published:
Keywords
Papillary thyroid carcinoma

Extra-thyroidal extension

Thyroidectomy

Tracheal resection