Abstract
Epiphora is a bothersome condition seen in chronic dacryocystitis. The mainstay of treatment is surgical, that is creating an opening to establish a drainage pathway. With the advent of endoscope, endonasal DCR has gained popularity. Use of silicone stent in endonasal DCR has added advantage in improving the surgical outcome. And the use of DOS system in improving the success rates of endonasal DCR: (Mohammad et al. in Clin Ophthalmol 8:2491–2499, 2014) a total of 35 patients with chronic dacryocystitis were subjected for endonasal DCR with silicone bicanalicular stent. Patients were followed up at an interval of 1 week, 3 weeks, 6 weeks and 6 months post surgery. DCR ostium parameters were evaluated using DOS system. Silicone stent removal was done at sixth week and evaluated for success. The success rate in our study was 89%. The DOS score of the patient with successful surgery had a score of more than 30 and in the failed cases the score was between 22 and 28. The success rate of the procedure primarily depends on the ostium parameters and the position of the silicone stent. The DOS scoring system can be suitable tool in evaluating the same.
This is a preview of subscription content, log in to check access.
Access options
Buy single article
Instant access to the full article PDF.
US$ 39.95
Price includes VAT for USA
Subscribe to journal
Immediate online access to all issues from 2019. Subscription will auto renew annually.
US$ 99
This is the net price. Taxes to be calculated in checkout.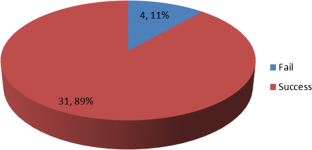 References
1.

Caldwell GW (1893) Two new operations for obstruction of the nasal duct with preservation of the canaliculi and an incidental description of a new lachrymal probe. NY Med J 57:581–582

2.

Mohammad JA, Alikis JP, Peter JW (2014) Dacryocystorhinostomy ostium: parameters to evaluate and DCR ostium scoring. Clin Ophthalmol 8:2491–2499

3.

Rinki S, Anuradha S, Jyoti PP (2013) Endoscopic versus external approach dacryocystorhinostomy: a comparative analysis. Niger Med J 54(3):165–169

4.

Neeraj S, Bhavya BM (2018) Endoscopic dacryocystorhinostomy with silicon stent: our experience. Int J Otorhinolaryngol Head Neck Surg 4(3):785–788

5.

Borlingegowda V, Mallyappanahalli SV (2015) Silicone stenting and polypropylene stenting in endoscopic dacryocystorhinostomy: a prospective comparative study. Res Otolaryngol 4(4):49–53

6.

Satya PD, Vishal RM (2014) Endoscopic DCR: how to improve the results. Indian J Otolaryngol Head Neck Surg 66(2):178–181

7.

Saurabh K, Mohammed JA, Akshay GA (2016) Outcomes of endoscopic dacryocystorhinostomy: experience of a fellowship trainee at a tertiary care center. Indian J Ophthalmol 64(9):648–653

8.

Groessl SA, Sires BS, Lemke BN (1997) An anatomical basis for primary acquired nasolacrimal duct obstruction. Arch Ophthalmol 115(1):71–74

9.

Jong JL, Han ML, Hyung BL et al (2017) Learning curve for endoscopic endonasal dacryocystorhinostomy. Korean J Ophthalmol 31(4):299–305

10.

Fayers T, Dolman PJ (2016) Bicanalicular silicone stents in endonasal dacryocystorhinostomy: results of a randomized clinical trial. Ophthalmology 123(10):2255–2259

11.

Onerci M, Orhan M, Ogretmenoglu O, Irkeç M (2000) Long-term results and reasons for failure of intranasal endoscopic dacryocystorhinostomy. Acta Otolaryngol 120:319–322
Acknowledgements
The authors thank JSS Academy of higher education and research for providing us all the suitable materials and equipment for our study. We would also like to thank all the teaching faculty of the Department of Otorhinolaryngology for their constant support and guidance.
Funding
All the authors declare that they haven't received any funding.
Ethics declarations
Conflict of interest
All the authors declare they have no conflicts of interest.
Ethics Approval
All procedures performed in the study were in accordance with the ethical standards of the institute.
Additional information
Publisher's Note
Springer Nature remains neutral with regard to jurisdictional claims in published maps and institutional affiliations.
About this article
Cite this article
Prakash, B.G., Prabhakar, S.K., Nahid, A. et al. Assessment of Rhinostomy Parameters in Endonasal Dacryocystorhinostomy. Indian J Otolaryngol Head Neck Surg (2020). https://doi.org/10.1007/s12070-020-01908-8
Received:

Accepted:

Published:
Keywords
Chronic dacryocystitis

Endonasal DCR

Bicanalicular silicone stent

Ostium