Abstract
Hoarseness of voice is one of the common symptoms with which patient presents to an otorhinolaryngologist. Hoarseness is a symptom of diverse etiology. The aim of the study was to study the problem of hoarseness relating to its incidence and to identify the common etiologies and predisposing factors leading to hoarseness of voice. This study comprises of 70 cases of hoarseness presenting to Department of Otorhinolaryngology, VIMS, Ballari, Karnataka from October 2015 to March 2017. After taking a thorough history, a complete otolaryngological examination was carried out and supported by relevant investigations, diagnosis was reached. The incidence of hoarseness of voice was noted to be 0.21% in our study. The majority of patients were in 31–40 years and 51–60 years of age group, and male to female ratio was 3.7:1, farmers constituted single largest group (34.3%), and most of the patients were from the rural area (82.9%). Smoking was the commonest habit (54.29%) predisposing to hoarseness of voice. Maximum patients presented with hoarseness of duration of 1–3 months. Laryngeal malignancy was the commonest aetiology noted in our study (38.6%). A complaint of hoarseness may represent a serious disease and, therefore, should not be ignored, especially if present for more than 2 weeks. It needs a complete evaluation to rule out malignancy as a cause.
This is a preview of subscription content, log in to check access.
Access options
Buy single article
Instant access to the full article PDF.
US$ 39.95
Price includes VAT for USA
Subscribe to journal
Immediate online access to all issues from 2019. Subscription will auto renew annually.
US$ 99
This is the net price. Taxes to be calculated in checkout.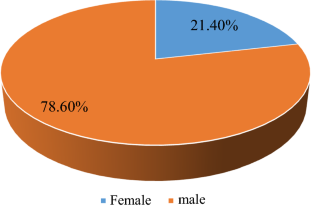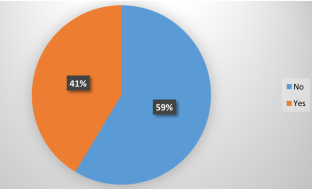 References
1.

Maheshwari S (2003) Management of hoarseness. Asian J Ear Nose Throat 1(1):1–9

2.

English GM (1996) Otolaryngology. Revised edition Lippincot-Raven, vol 3, pp 1–25

3.

Batra K, Motwani G, Sagar PC (2004) Functional voice disorders and their occurrence in 100 patients of hoarseness as seen on fibreoptic laryngoscopy. Indian J Otolaryngol Head Neck Surg 6(2):91–95

4.

Parik N (1991) Aetiology study of 100 cases of hoarseness of Voice. Indian J Otolaryngol Head Neck Surg 43(2):71–73

5.

Baitha S, Raizada RM, Kennedy Singh AK, Puttewar MP, Chaturvedi VN (2002) Clinical profile of Hoarseness of voice. Indian J Otolaryngol Head Neck Surg 54(1):14–18

6.

Ghosh SK, Chattopadhyay S, Bora H, Mukherjee PB (2001) Microlaryngoscopic study of 100 cases of Hoarseness of voice. Indian J Otolaryngol Head Neck Surg 53(4):270–272

7.

Banjara H, Mungutwar V, Singh D, Gupta A (2011) Hoarseness of voice: a retrospective study of 251 cases. Int J Phonosurg Laryngol 1(1):21–27

8.

Herrington-Hall BL, Lee L, Stemple JC, Niemi KR, McHone MM (1988) Description of laryngeal pathologies by age, sex, and occupation in a treatment-seeking sample. J Speech Hear Disord 53(1):57–64

9.

Baitha S, Raizada RM, Singh AKK, Puttewar MP, Chaturvedi VN (2004) Predisposing factors and aetiology of Hoarseness of voice. Indian J Otolaryngol Head Neck Surg 56(3):186–190

10.

Hirschberg J, Dejonckere PH, Hirano M, Mori K, Schultz-Coulon HJ, Vrticka K (1995) Voice disorders in children. Int J Pediatr Otorhinolaryngol 32(Suppl):S109–S125

11.

Soni S, Chouksey S (2017) A study of clinicopathological profile of patients of hoarseness of voice presenting to tertiary care hospital. Indian J Otolaryngol Head Neck Surg Off Publ Assoc Otolaryngol India 69(2):244–247

12.

Shrestha BL, Amatya RCM, Kc S, Shrestha I, Pokharel M (2013) Aetiological factors of hoarseness in patients attending at Kathmandu University Hospital. Bangladesh J Otorhinolaryngol 19(1):14–17

13.

Cowls SR (1983) Cancer of larynx occupational and environmental associations. South Med J 76(6):894–898

14.

Kataria G, Saxena A, Singh B, Bhagat S, Singh R (2015) Hoarseness of voice :etiological spectrum. Otolaryngol Online J 5(1.5):13–22
Funding
No external sources of funding involved in this article.
Ethics declarations
Conflict of interest
The authors declare that they have no conflict of interest.
Informed Consent
Informed consent was obtained from all individual participants included in the study and from the parent or guardian when the patient is minor
Ethical Standards
All procedures performed in studies involving human participants were in accordance with the ethical standards of the institutional and/or national research committee and with the 1964 Helsinki declaration and its later amendments or comparable ethical standards
Additional information
Publisher's Note
Springer Nature remains neutral with regard to jurisdictional claims in published maps and institutional affiliations.
About this article
Cite this article
Vivek, S., Shankar, G. Changing Trend in the Etiological Spectrum of Hoarseness of Voice in Rural India: A Prospective Hospital-Based Study. Indian J Otolaryngol Head Neck Surg (2020). https://doi.org/10.1007/s12070-020-01902-0
Received:

Accepted:

Published:
Keywords
Hoarseness

Vocal cord

Laryngoscopy

Laryngeal neoplasm