Abstract
Saliva is an ideal tool for liquid biopsy as it is noninvasive, easily collected, and easily transported. Saliva is used to detect various biomarkers in oral cancer patients, but none used for detecting salivary dysplastic cells in potentially malignant and malignant disorders. To detect dysplastic cells from saliva in oral cancer and potentially malignant patients and compare with wedge biopsy. All potentially malignant and malignant cases of oral cavity were included in this study. In these patients, unstimulated saliva was collected and centrifuged. The concentrated salivary substrate was stained by Haematoxylin and Eosin (H&E) stain, PAP (Papanicolaou) method and May Grunwald Giemsa stain (MGG) and analyzed. Wedge biopsy was performed from the representative area in the oral cavity and compared with salivary cells. In our study, out of 24 patients, 16 cases were malignant, and 8 were potentially malignant. 12 patients were found to be positive for atypical cells, 10 patients were found to be positive for dysplastic cells and atypical cells, and two patients were negative for atypical cells/dysplastic cells. In 10 patients who were positive for dysplastic cells, all were diagnosed histologically as malignancies (P = 0.001). The two patients who were negative for atypical cells/dysplastic cells showed precursor epithelial lesion with hyperplasia in the biopsy. Few neutrophils were found in 15 patients and increased in 9 patients (P = 0.039). Saliva is readily available, and can be collected noninvasively for detecting dysplastic cells.
Access options
Buy single article
Instant access to the full article PDF.
US$ 39.95
Tax calculation will be finalised during checkout.
Subscribe to journal
Immediate online access to all issues from 2019. Subscription will auto renew annually.
US$ 79
Tax calculation will be finalised during checkout.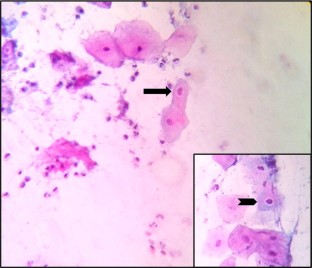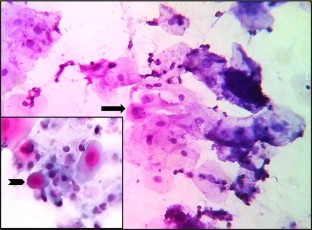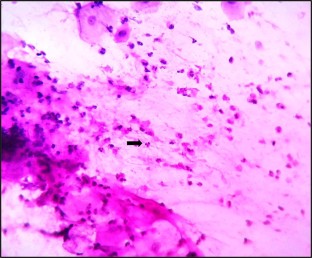 References
1.

Malamud D (2011) Saliva as a diagnostic fluid. Dent Clin North Am 55(1):159–178

2.

Lee YH, Wong DT (2009) Saliva: an emerging biofluid for early detection of diseases. Am J Dent 22(4):241–248

3.

Yoshizawa JM, Schafer CA, Schafer JJ, Farrell JJ, Paster BJ, Wong DT (2013) Salivary biomarkers: toward future clinical and diagnostic utilities. Clin Microbiol Rev 26(4):781–791

4.

Wang X, Kaczor-Urbanowicz KE, Wong DT (2017) Salivary biomarkers in cancer detection. Med Oncol 34(1):7

5.

Navazesh M (1993) Methods for collecting saliva. Ann N Y Acad Sci 20(694):72–77

6.

Ramachandra M, Mohiyuddin SMA, Suresh TN, Sagayaraj A, Merchant S (2015) Evaluating usefulness of 5-aminolevulinic acid induced fluorescence to guide biopsy of oral cancers and premalignant lesions. Int J Head Neck Surg 6(2):64–68

7.

Panta P, Venna VR (2014) Salivary RNA signatures in oral cancer detection. Anal Cell Pathol (Amst) 2014:450629

8.

Panneer Selvam N, Sadaksharam J (2015) Salivary interleukin-6 in the detection of oral cancer and precancer. Asia Pac J Clin Oncol 11(3):236–241

9.

Cohen RF, Contrino J, Spiro JD, Mann EA, Chen LL, Kreutzer DL (1995) Interleukin-8 expression by head and neck squamous cell carcinoma. Arch Otolaryngol Head Neck Surg 121:202–209

10.

Zhi X, Lamperska K, Golusinski P, Schork NJ, Luczewski L, Golusinski W, Masternak MM (2014) Expression levels of insulin-like growth factors 1 and 2 in head and neck squamous cell carcinoma. Growth Horm IGF Res 24(4):137–141

11.

Bahar G, Feinmesser R, Shpitzer T, Popovtzer A, Nagler RM (2007) Salivary analysis in oral cancer patients: DNA and protein oxidation, reactive nitrogen species, and antioxidant profile. Cancer 109(1):54–59

12.

Barnes L, Eveson JW, Reichart P, Sidransky D (2005) World Health Organization classification of tumours: pathology and genetics of head and neck tumours. IARC Press, Lyon

13.

Solomon D, Davey D, Kurman R, Moriarty A, O'Connor D, Prey M, Raab S, Sherman M, Wilbur D, Wright T Jr, Young N, Forum Group Members, Bethesda 2001 Workshop (2002) The 2001 Bethesda System: terminology for reporting results of cervical cytology. JAMA 287(16):2114–2119

14.

Trellakis S, Bruderek K, Dumitru CA, Gholaman H, Gu X, Bankfalvi A, Scherag A, Hütte J, Dominas N, Lehnerdt GF, Hoffmann TK, Lang S, Brandau S (2011) Polymorphonuclear granulocytes in human head and neck cancer: enhanced inflammatory activity, modulation by cancer cells and expansion in advanced disease. Int J Cancer 129:2183–2193

15.

Wang N, Feng Y, Wang Q, Liu S, Xiang L, Sun M, Zhang X, Liu G, Qu X, Wei F (2014) Neutrophils infiltration in the tongue squamous cell carcinoma and its correlation with CEACAM1 expression on tumor cells. PLoS ONE 9(2):e89991

16.

Goertzen C, Mahdi H, Laliberte C et al (2018) Oral inflammation promotes oral squamous cell carcinoma invasion. Oncotarget 9(49):29047–29063

17.

Krebs MG, Hou JM, Ward TH, Blackhall FH, Dive C (2010) Circulating tumour cells: their utility in cancer management and predicting outcomes. Ther Adv Med Oncol 2(6):351–365

18.

Chowdhury R, Bhatia S, Singh G, Nasreen S, De D (2018) Circulating tumor cells: screening and monitoring of oral cancers. J Stomatol Oral Maxillofac Surg 119(6):498–502

19.

Lousada-Fernandez F, Rapado-Gonzalez O, Lopez-Cedrun JL, Lopez-Lopez R, Muinelo-Romay L, Suarez-Cunqueiro MM (2018) Liquid Biopsy in Oral Cancer. Int J Mol Sci 19(6):1704

20.

Desai A, Kallianpur S, Mani A, Tijare MS, Khan S, Jain M, Mathur V, Ahuja R, Saxena V (2018) Quantification of circulating plasma cell free DNA fragments in patients with oral cancer and precancer. Gulf J Oncol 1(27):11–17

21.

Van Ginkel JH, Huibers MMH, van Es RJJ, de Bree R, Willems SM (2017) Droplet digital PCR for detection and quantification of circulating tumor DNA in plasma of head and neck cancer patients. BMC Cancer 17(1):428
Ethics declarations
Conflict of interest
None.
Ethical Approval
Obtained from Institutional Committee.
Additional information
Publisher's Note
Springer Nature remains neutral with regard to jurisdictional claims in published maps and institutional affiliations.
About this article
Cite this article
Mada, L., Kumarguru, B.N. & Gaur, U. A Clinical Study on Detection of Dysplastic Cells Through Saliva. Indian J Otolaryngol Head Neck Surg 73, 6–11 (2021). https://doi.org/10.1007/s12070-020-01791-3
Received:

Accepted:

Published:

Issue Date:
Keywords
Saliva

Liquid biopsy

Neutrophil

Atypical squamous cells