Abstract
Allergic rhinitis is a common disorder that affects several patients annually and the hallmark symptoms are nasal obstruction, rhinorrhea and sneezing which significantly impacts the quality of life. Many surgical options exist for the treatment of allergic rhinitis which is directed primarily addressing the nasal obstructive component. The purpose of this review article  is to highlight newer surgical options in the management of patients with nasal allergy. Surgical modalities such as endoscopic resection of the posterior nasal nerve and senior author's own mini inferior turbinoplasty tunnelling technique for patients with nasal allergy is described here. Most of the literature has focused on medical management for patients with allergic rhinitis. Endoscopic Posterior Nasal neurectomy combined with mini inferior turbinoplasty has good overall significant improvement in nasal allergy symptom scores by 60–80%. Although no single modality has evolved as the gold standard for the surgical management of allergic rhinitis. The main stay of surgical intervention targets the inferior turbinate and posterior nasal nerve which is the parasympathetic supply to the nose causing rhinorrhea. This combined technique provides consistent, robust results with long-term relief of nasal symptoms due to allergic and vasomotor rhinitis without additional risk of complication.
Access options
Buy single article
Instant access to the full article PDF.
US$ 39.95
Tax calculation will be finalised during checkout.
Subscribe to journal
Immediate online access to all issues from 2019. Subscription will auto renew annually.
US$ 79
Tax calculation will be finalised during checkout.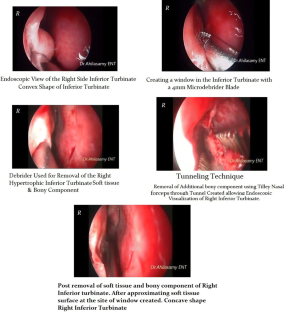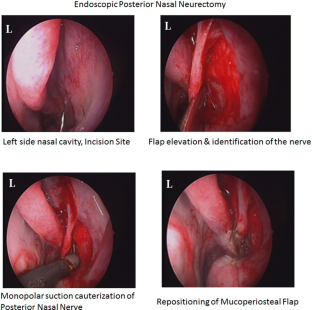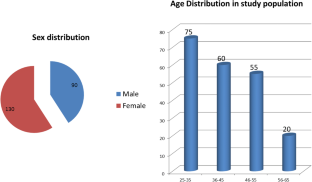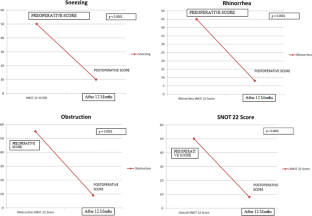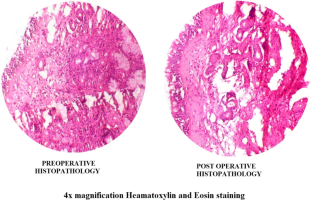 References
1.

Kizilkaya Z, Ceylan K, Emir H et al (2008) Comparison of radio-frequency tissue volume reduction and submucosal resection with microdebrider in inferior turbinate hypertrophy. Otolaryngol Head Neck Surg 138:176–181

2.

Lee CF, Chen TA (2004) Power microdebrider-assisted modification of endoscopic inferior turbinoplasty: a preliminary report. Chang Gung Med J 27:359–365

3.

Chen YL, Liu CM, Huang HM (2007) Comparison of microdebrider-assisted inferior turbinoplasty and submucosal resection for children with hypertrophic inferior turbinates. Int J Pediatr Otorhinolaryngol 71:921–927

4.

Golding-Wood PH (1961) Observations on petrosal and vidian neurectomy in chronic vasomotor rhinitis. J Laryngol Otol 75:232–247

5.

Kikawada T (2007) Endoscopic posterior nasal neurectomy: an alternative to vidian neurectomy. Oper Tech Otolaryngol 18(4):297–301. https://doi.org/10.1016/j.otot.2007.05.010

6.

Kobayashi T, Hyodo M, Nakamura K, Komobuchi H, Honda N (2012) Resection of peripheral branches of the posterior nasal nerve compared to conventional posterior neurectomy in severe allergic rhinitis. Auris Nasus Larynx 39:593–596

7.

Toma S, Hopkins C (2016) Stratification of SNOT-22 scores into mild, moderate or severe and relationship with other subjective instruments. Rhinology 54(2):129–133. https://doi.org/10.4193/Rhin15.072

8.

Abramson M, Harker LA (1973) Physiology of the nose. Otolaryngol Clin N Am 6:623–635

9.

Haight JS, Cole P (1983) The site and function of the nasal valve. Laryngoscope 93:49–55

10.

Ogawa T, Takeno S, Ishino T, Hirakawa K (2007) Submucous turbinectomy combined with posterior nasal neurectomy in the management of severe allergic rhinitis: clinical outcomes and local cytokine changes. Auris Nasus Larynx 34:319–326

11.

Malcomson KG (1959) The vasomotor activities of the nasal mucous membrane. J Laryngol Otol 73:73–98
Ethics declarations
Conflict of interest
No potential conflict of interest.
Ethical approval
All procedures performed in studies involving human participants were in accordance with the ethical standards of the institutional and/or national research committee and with the 1964 Helsinki declaration and its later amendments or comparable ethical standards.
Informed consent
Informed consent was obtained from all individual participants included in the study.
Additional information
Publisher's Note
Springer Nature remains neutral with regard to jurisdictional claims in published maps and institutional affiliations.
Electronic supplementary material
Below is the link to the electronic supplementary material.
Supplementary material 1 (WMV 10400 kb)
Supplementary material 2 (WMV 19963 kb)
About this article
Cite this article
Nagalingeswaran, A., Kumar, R.D. Newer Surgical Options for Nasal Allergy. Indian J Otolaryngol Head Neck Surg 72, 133–139 (2020). https://doi.org/10.1007/s12070-019-01772-1
Received:

Accepted:

Published:

Issue Date:
Keywords
Nasal obstruction

Sneezing

Rhinorrhea

Inferior turbinate reduction

Tunneling

Microdebrider

Allergic rhinitis

Vasomotor rhinitis

Posterior nasal nerve

 Endoscopic Posterior Nasal Neurectomy