Abstract
To find out the improvement in cosmetic and functional aspects as measured using Rhinoplasty outcome evaluation questionnaire following Septorhinoplasty. To measure the increase in nasal airflow as measured using "Peak Nasal Inspiratory Flow meter" in patients undergoing Septorhinoplasty. Design: prospective cohort study. Settings: patients with complaints of nasal obstruction and external deformity who are undergoing Septorhinoplasty after evaluation. Subjects: patients undergoing Septorhinoplasty at Pushpagiri Institute of Medical Sciences and Research Centre, Thiruvalla during a period of 1½ years, starting from 01/01/2017. Methods: non-random, consecutive sampling. The mean age in this study is 26.10 years. The most common age group of patients who were included in the study was 11–20 years. We had 11 females and 8 males. Female to male ratio was 1.375. The mean duration of symptom was 6.33 years. Most of the patients in our study were students. The mean pre-op ROE score was 29.79 ± 15.28 and post-op score was 87.32 ± 8.75. There was significant improvement in ROE scores following Septorhinoplasty (p < 0.0001). The mean pre-op PNIF score was 76.58 ± 41.37 and post-op score was 125 ± 50.22. There was significant improvement in PNIF scores following surgery (p < 0.0001). There is significant improvement in cosmetic and functional aspects in patients undergoing Septorhinoplasty. There is significant improvement in external appearance and nasal obstruction following Septorhinoplasty. The patient satisfaction following Septorhinoplasty can be measured with ease with the help of Rhinoplasty outcome evaluation questionnaire and Peak nasal inspiratory flow meter.
Access options
Buy single article
Instant access to the full article PDF.
US$ 39.95
Tax calculation will be finalised during checkout.
Subscribe to journal
Immediate online access to all issues from 2019. Subscription will auto renew annually.
US$ 79
Tax calculation will be finalised during checkout.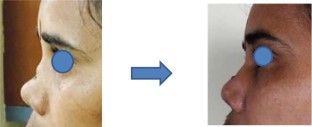 References
1.

Van Cauwenberge P, Sys L, De Belder T, Watelet J-B (2004) Anatomy and physiology of the nose and the paranasal sinuses. Immunol Allergy Clin N Am 24(1):1–17

2.

Başer E, Kocagöz GD, Çalim ÖF, Verim A, Yilmaz F, Özturan O (2016) Assessment of patient satisfaction with evaluation methods in open technique septorhinoplasty. J Craniofac Surg 27(2):420–424

3.

Eisenberg I (1982) A history of rhinoplasty. S Afr Med J 62(9):286–292

4.

Yalamanchili H, Sclafani A, Schaefer S, Presti P (2008) The path of nasal reconstruction: from ancient india to the present. Facial Plast Surg 24(1):003–010

5.

Mazzola R (2007) Reconstruction of the nose: a historical review. Handchir Mikrochir Plast Chir 39(3):181–188

6.

Mazzola I, Mazzola R (2014) History of reconstructive rhinoplasty. Facial Plast Surg 30(03):227–236

7.

Shiffman MA (2013) Primary rhinoplasty. In: Advanced aesthetic rhinoplasty: art, science and new clinical techniques. Springer, Berlin, pp 133–135

8.

Goodman WS, Charbonneau PA (1974) External approach to rhinoplasty. Laryngoscope 84(12):2195–2201

9.

Anderson JR, Johnson CM, Adamson P (1982) Open rhinoplasty: an assessment. Otolaryngol Head Neck Surg 90(2):272–274

10.

Wähmann MS, Bulut OC, Bran GM, Veit JA, Riedel F (2018) Systematic review of quality-of-life measurement after aesthetic rhinoplasty. Aesthe Plast Surg. https://doi.org/10.1007/s00266-018-1199-6

11.

Alsarraf R (2000) Outcomes research in facial plastic surgery: a review and new directions. Aesthet Plast Surg 24(3):192–197

12.

Barone M, Cogliandro A, Di Stefano N, Tambone V, Persichetti P (2017) A systematic review of patient-reported outcome measures after rhinoplasty. Eur Arch Otorhinolaryngol 274(4):1807–1811

13.

Strazdins E, Nie YF, Ramli R, Palesy T, Christensen JM, Alvarado R et al (2018) Association between mental health status and patient satisfaction with the functional outcomes of rhinoplasty. JAMA Facial Plast Surg 20(4):284

14.

Arima LM, Velasco LC, Tiago RSL (2011) Crooked nose: outcome evaluations in rhinoplasty. Braz J Otorhinolaryngol 77(4):510–515

15.

Faidiga GB, Carenzi LR, Yassuda CC, Silveira F, do Lago T, Leite MGJ et al (2010) Avaliação tardia em rinoplastia estética em um centro acadêmico de referência. Braz J Otorhinolaryngol 76(4):437–441

16.

Saleh AM, Younes A, Friedman O (2012) Cosmetics and function: quality-of-life changes after rhinoplasty surgery. Laryngoscope 122(2):254–259

17.

Chavan RP, Ingole SM, Birajdar SN (2017) Assessment of surgical outcomes of septorhinoplasty patients: a clinical study. Int J Otorhinolaryngol Head Neck Surg 3(2):268

18.

Timperley D, Srubisky A, Stow N, Marcells GN, Harvey RJ (2010) Minimal clinically important differences in nasal peak inspiratory flow. Int Rhinol Soc 31:37–40

19.

Fuller JC, Bernstein CH, Levesque PA, Lindsay RW (2018) Peak nasal inspiratory flow as an objective measure of nasal obstruction and functional septorhinoplasty outcomes. JAMA Facial Plast Surg 20(2):175

20.

Teixeira RUF, Zappelini CEM, Alves FS, da Costa EA (2011) Peak nasal inspiratory flow evaluation as an objective method of measuring nasal airflow. Braz J Otorhinolaryngol 77(4):473–480
Funding
No funding was received by any of the authors for this study.
Ethics declarations
Conflict of interest
The authors declare that they have no conflict of interest.
Ethical Approval
This article does not contain any studies with animals performed by any of the authors.
Informed Consent
Informed consent was obtained from all individual participants included in the study.
Additional information
Publisher's Note
Springer Nature remains neutral with regard to jurisdictional claims in published maps and institutional affiliations.
About this article
Cite this article
Sasindran, V., Harikrishan, B. & Mathew, N. Cosmetic and Functional Outcomes of Septorhinoplasty. Indian J Otolaryngol Head Neck Surg 72, 194–199 (2020). https://doi.org/10.1007/s12070-019-01756-1
Received:

Accepted:

Published:

Issue Date:
Keywords
Septorhinoplasty

Rhinoplasty outcome evaluation questionnaire

Peak nasal inspiratory flow

Cosmetic aspect

Functional aspect