Abstract
Septal correction is the commonest surgery by rhinologists worldwide. We aimed at studying the comfort level of the patient with standard postoperative nasal packing with Merocel and placing quilting sutures in septum leaving the nose unpacked in the postoperative period. We conducted the study in the tertiary care centre enrolling 82 patients in a quasi-randomised method of odd and even numbers placing them in the nasal packing group and the quilting group respectively. We used analogue scoring method for subjective assessment of comfort level in the postoperative period and the surgeon objectively assessed the patient on follow up. The results were tabulated and analysed. Postoperative pain, headache and sleep disturbance was significantly more in the nasal packing group. We found that the crusting is commonly seen in patients in the nasal packing group. Quilting the nasal septum and leaving the nasal cavity unpacked increases the comfort level of the patient in the postoperative period. The resultant pain, headache and sleep disturbance caused by nasal packing can be significantly avoided by using quilting the septum without nasal packing. We also observed that by avoiding nasal packing postoperatively, the patients were more comfortable and compliant with the treatment regimen and follow-up.
This is a preview of subscription content, log in to check access.
Access options
Buy single article
Instant access to the full article PDF.
US$ 39.95
Tax calculation will be finalised during checkout.
Subscribe to journal
Immediate online access to all issues from 2019. Subscription will auto renew annually.
US$ 79
Tax calculation will be finalised during checkout.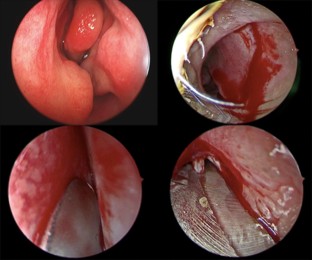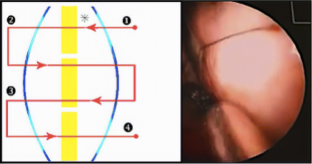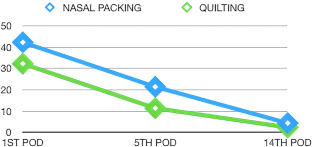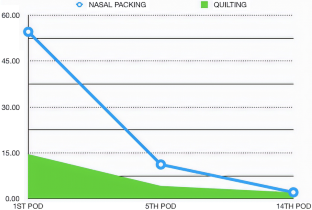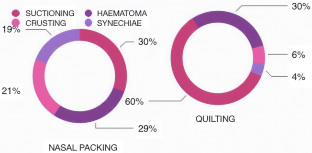 References
1.

Benson Mitchel R, Kenyon G (1996) Septoplasty as a day case procedure—a two centred study. J Laryngol Otol 110(2):129–131

2.

Bauman I (2010) Quality of life before and after septoplasty and rhinoplasty. Laryngorhinootology 45:35–45

3.

Low WK, Willat DJ (1992) Submucous resection for deviated nasal septum. Singap Med J 33:617–619

4.

Weber R, Hochapfel F, Draf W (2000) Packing and stents in endonasal surgery. Rhinology 38:49–62

5.

Hesham A, Ghali A (2011) Rapid Rhino versus Merocel nasal packs in septal surgery. J Laryngol Otol 125(12):1244–1246

6.

Samad I, Stevens HE, Maloney A (1992) The efficacy of nasal septal surgery. J Otolaryngol 21:88–91

7.

Naghibzadeh B, Peyvandi AA, Naghibzadeh G (2011) Does post septoplasty nasal packing reduce complications? Acta Med Iran 49(1):9–12

8.

Walikar BN, Rashinkar SM, Watwe MV, Fathima A, Kakkeri A (2011) A comparative study of septoplasty with or without nasal packing. Indian J Otolaryngol Head Neck Surg 63(3):247–248

9.

Muhammad IA, Rahman NU (2003) Complications of the surgery for deviated nasal septum. J Coll Physicians Surg Pak 13(10):565–568

10.

Sessions RB (1984) Membrane approximation by continuous mattress sutures following septoplasty. Laryngoscope 94:702–703

11.

Cukurova I, Cetinkaya EA, Mercan GC, Demirhan E, Gumussoy M (2012) Retrospective analysis of 697 septoplasty surgery cases: packing versus trans-septal suturing method. Acta Otorhinolaryngol Ital 32:111–114

12.

Awan MS, Iqbal M (2008) Nasal packing after septoplasty: a randomized comparison of packing versus no packing in 88 patients. Ear Nose Throat J 87(11):624–627

13.

Jawaid A, Tahir M, Abdullah A, Akbar F, Jamalullah M (2012) Intranasal pressure splints—a reliable alternative to nasal packing in septal surgery. Bangladesh J Otorhinolaryngol 18(2):124–128

14.

Turhan M, Bostancı A, Akdag M, Dinc O (2013) A comparison of the effects of packing or transseptal suture on polysomnographic parameters in septoplasty. Eur Arch Otorhinolaryngol 270(4):1339–1344

15.

Asaka D, Yoshikawa M, Okushi T, Nakayama T, Matsuwaki Y, Otori N, Moriyama H (2012) Nasal splinting using silicone plates without gauze packing following septoplasty combined with inferior turbinate surgery. Auris Nasus Larynx 39(1):53–58

16.

Korkut AY, Teker AM, Eren SB, Gedekli O, Askiner O (2010) A randomised prospective trial of trans-septal suturing using a novel device versus nasal packing for septoplasty. Rhinology 48:179–182

17.

Veluswamy A, Handa S, Shivaswamy S (2011) Nasal septal clips: an alternative to nasal packing after septal surgery? Indian J Otolaryngol Head Neck Surg. 64:1–5

18.

Ansari MA, Islam U, Hirani I, Khayani IAM, Kashmiri ZA (2013) Trans-septal suturing technique without intra-nasal packing in nasal septal surgery. Pak J Surg 29(2):123–126

19.

Günaydin RÖ, Aygenc E, Karakullukcu S, Fidan F, Celkkanat S (2011) Nasal packing and transseptal suturing techniques: surgical and anaesthetic perspectives. Eur Arch Otorhinolaryngol 268:1151–1156

20.

Thapa N, Pradhan B (2011) Postoperative complications of septal quilting and BIPP packing following septoplasty. J Nepal Health Res Counc 9(19):186–188

21.

Kula M, Yuce I, Unlu Y, Tutus A, Cagli S, Ketenci I (2010) Effect of nasal packing and haemostatic septal suture on mucociliary activity after septoplasty: an assessment by rhinoscintigraphy. Eur Arch Otorhinolaryngol 267(4):541–546

22.

Nunez DA, Martin FW (1991) An evaluation of post-operative packing in nasal septal surgery. Clin Otolaryngol Allied Sci 16:549–550
Funding
The author(s) received no financial support for the research, authorship, and/or publication of this article.
Ethics declarations
Conflict of interest
The author(s) declared the following potential conflicts of interest with respect to the research, authorship, and/or publication of this article: The authors certify that they have no affiliations with or involvement in any organisation or entity with any financial interest or non-financial interest in the subject matter or materials discussed in this manuscript.
Ethical Approval
The author hereby declares that there were no ethical issues involved in the publishing of this article in any journal.
Additional information
Publisher's Note
Springer Nature remains neutral with regard to jurisdictional claims in published maps and institutional affiliations.
About this article
Cite this article
Ramalingam, V., Venkatesan, R., Somasundaram, S. et al. A Comparative Study Between Septal Quilting Sutures Without Nasal Packing and Only Nasal Packing Post-septal Correction. Indian J Otolaryngol Head Neck Surg 72, 169–174 (2020). https://doi.org/10.1007/s12070-019-01730-x
Received:

Accepted:

Published:

Issue Date:
Keywords
Septal deviation

Nasal packing

Quilting suture

Postoperative