Abstract
The aim of the study is to determine epidemiological profile of cases admitted with suspicion of pre or post septal cellulitis and to define and evaluate the various factors associated with the aetiology, presentation, diagnosis and management of orbital and preseptal cellulitis via a one year study of ten cases presenting to a tertiary care hospital in western Rajasthan, India. All patients presenting to our department or being transferred from other departments to us with the diagnosis of pre/post septal cellulitis from the March of 2017 to February 2018 were considered for this case series. Data compilation of these patients was done which included age, sex, chief complain, duration of illness, associated co-morbidities, time of presentation, management plan undertaken and associated radiological findings. All these aspects were then evaluated. Our study included 10 cases. Of these 8 were less than 14 years and 2 were over 50 years. Both the adults were female and were positive for Diabetes Mellitus type two. 80% of these patients presented between the duration of November to February with maximum (40%) in the month of December. In 7 of these 10 patients, the cellulitis was associated with underlying sinusitis. Six patients were admitted directly from ENT OPD while other 4 were being managed in other ward before being transferred to us. All patients were managed conservatively except 1 who required surgical intervention. Pre/post septal cellulitis is a dangerous condition in which prompt intervention needs to be undertaken as it can be difficult to predict what course it will follow. Radiological evaluation should be done in all cases as most cases are associated with an underlying sinus infection. Also, it is more common in paediatric age group and the patient may initially be referred to an ophthalmologist or a paediatrician in which case it becomes very important that a good working interdepartmental collaboration be present so that correct management plan can be followed.
This is a preview of subscription content, log in to check access.
Access options
Buy single article
Instant access to the full article PDF.
US$ 39.95
Price includes VAT for USA
Subscribe to journal
Immediate online access to all issues from 2019. Subscription will auto renew annually.
US$ 99
This is the net price. Taxes to be calculated in checkout.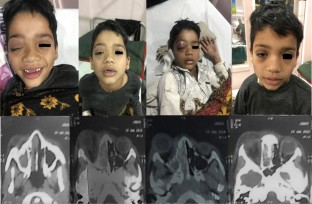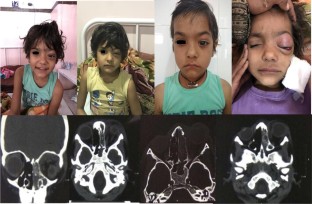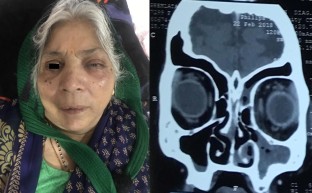 References
1.

Chaudhry IA, Shamsi FA, Elzaridi E, Al-Rashed W, Al-Amri A, Al-Anezi F et al (2007) Outcome of treated orbital cellulitis in a tertiary eye care center in the middle East. Ophthalmology 114:345–354

2.

Hawkins DB, Clark RW (1977) Orbital involvement in acute rhinosinusitis. Lessons from 24 childhood patients. Clin Pediatr 16:464–471

3.

Singh B (1995) The management of sinogenic orbital complications. J Laryngol Otol 109:300–303

4.

Moloney JR, Badham NJ, McRae A (1987) The acute orbit. Preseptal (periorbital) cellulitis, subperiosteal abscess and orbital cellulitis due to rhinosinusitis. J Laryngol Otol Suppl 12:1–18

5.

Ferguson MP, McNab AA (1999) Current treatment and outcome in orbital cellulitis. Aust N Z J Ophthalmol 27:375–379

6.

Harris GJ (1994) Subperiosteal abscess of the orbit: age as a factor in the bacteriology and response to treatment. Ophthalmology 101:585–595

7.

Hornblass A, Herschorn BJ, Stern K, Grimes C (1984) Orbital abscess. Surv Ophthalmol 29:169–178

8.

Yen T, Yen G (2005) Effect of corticosteroids in the acute management of pediatric orbital cellulitis with subperiosteal abscess. Ophthal Plast Reconstr Surg 21:363–367

9.

Napierkowski D (2013) Uncovering common bacterial skin infections. Nurse Pract 38(3):30–38

10.

Mathew A, Craig E, Al-Mahmoud R et al (2013) Paediatric post-septal and pre-septal cellulitis: 10 years' experience at a tertiary level children's hospital. Br J Radiol 87:1033

11.

Erickson B, Lee W (2015) Orbital cellulitis as a complication of sinusitis. J Nurse Pract 7(1):38–44

12.

Elshafei AMK, Sayed MF, Abdallah RMA (2017) Clinical profile and outcomes of management of orbital cellulitis in Upper Egypt. J Ophthalmic Inflamm Infect 7:8

13.

Buchanan M, Muen W, Heinz P (2012) Management of periorbital and orbital cellulitis. Paediatr Child Health 22(2):72–77
Ethics declarations
Conflict of interest
The authors declare that they have no conflict of interest.
Ethical Approval
All procedures performed in studies involving human participants were in accordance with the ethical standards of the institutional and national research committee and with the 1964 Helsinki declaration and its later amendments or comparable ethical standards.
Informed Consent
Informed consent was obtained from all individual participants included in the study.
Additional information
Publisher's Note
Springer Nature remains neutral with regard to jurisdictional claims in published maps and institutional affiliations.
About this article
Cite this article
Gupta, S., Sharma, S. Orbital Cellulitis: Defining Multidisciplinary Approach as the Need of the Hour. Indian J Otolaryngol Head Neck Surg 71, 464–469 (2019). https://doi.org/10.1007/s12070-019-01632-y
Received:

Accepted:

Published:

Issue Date:
Keywords
Orbital cellulitis

Preseptal cellulitis

Orbital abscess

Sinusitis

Periorbital