Abstract
Pre-auricular sinus usually presents in front of the auricle without any diagnostic dilemma. But confusion arises when it presents with post-auricular swelling, abscess or discharging sinus. Here we describe series of pre-auricular sinus with post-auricular extension, a "variant type" of pre-auricular sinus and their management. A prospective study was done in the department of ENT in a tertiary care hospital of West Bengal from April 2015 to March 2018. After control of infection and proper pre-operative investigations patients, sinus was excised using bi-directional approach. The sinus tract along with a thin rim of conchal cartilage and pre and post-auricular cuff of skin was excised in toto. Among 76 cases of pre-auricular sinus, seven had "variant type". There were five males and two females in the variant group. Five patients were in the first decade of life and two patients were in the second decade of life. Four patients presented with post-auricular scar, two patients presented with post-auricular discharging sinus and one patient presented with post-auricular abscess. Wound healing was perfectly normal in all patients. None had recurrence till 1 year follow up. Pre-auricular sinus may present as "variant type" with post-auricular abscess or discharging sinus. So when a patient presents with post-auricular abscess or discharging sinus, pre-auricular region and pinna should be examined carefully. This helps to avoid unnecessary investigations and interventions which only complicate future management of these patients.
This is a preview of subscription content, log in to check access.
Access options
Buy single article
Instant access to the full article PDF.
US$ 39.95
Price includes VAT for USA
Subscribe to journal
Immediate online access to all issues from 2019. Subscription will auto renew annually.
US$ 99
This is the net price. Taxes to be calculated in checkout.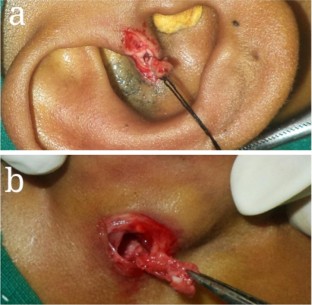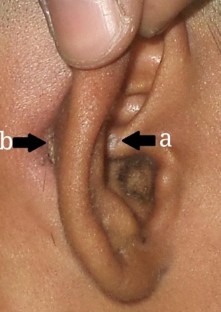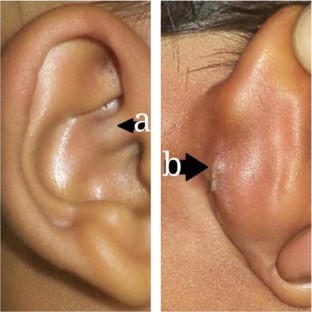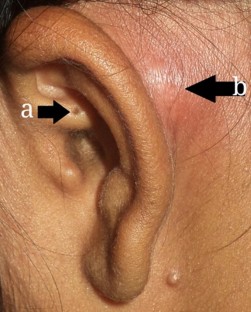 References
1.

Heusinger CF (1864) Hais-Kiemen-Fisteln von noch nicht beobachteter Form. Virchows Arch 29:358

2.

Malipatil SR (2014) Preauricular sinus as recurrent postaural abscess: a rare presentation. Otorhinolaryngol Clin Int J 6(2):84–86

3.

Choi SJ, Choung YH, Park K, Bae J, Park HY (2007) The variant type of preauricular sinus: postauricular sinus. Laryngoscope 117(10):1798–1802

4.

Dunham B, Guttenberg M, Morrison W et al (2009) The histologic relationship of preauricular sinuses to auricular cartilage. Arch Otolaryngol Head Neck Surg. 135(12):1262–1265

5.

Moore KL (1988) The developing human: clinically oriented embryology, 4th edn. WB Saunders Co., Philadelphia, pp 417–418

6.

Lam HC, Soo G, Wormald PJ, Van Hasselt CA (2001) Excision of the preauricular sinus: a comparison of two surgical techniques. Laryngoscope 111(2):317–319

7.

O'Mara W, Guarisco L (1999) Management of the preauricular sinus. J La State Med Soc 151:447–450

8.

Zou F, Peng Y, Wang X et al (2003) A locus for congenital preauricular fistula maps to chromosome 8q11.1-q13.3. J Hum Genet 48(3):155–158

9.

Minkowitz S, Minkowitz F (1964) Congenital aural sinuses. Surg Gynecol Obstet 118:801–806

10.

Lampert FM, Koulaxouzidis G, Stark GB (2013) The preauricular sinus: a novel approach for complete bilateral excision via a modified face-lift incision. Mod Plast Surg 3:76–79

11.

Nair S, James E, Chugh R (2011) An unusual case of recurrent post aural abscess. Indian J Otolaryngol Head Neck Surg 63:58–60

12.

Hassan ME, Samir A (2009) Pre-auricular sinus: comparative study of two surgical techniques. Ann Pediatr Surg 3:139–143

13.

Prasad S, Grundfast K, Milmoe G (1990) Management of congenital preauricular pit and sinus tract in children. Laryngoscope 100:320–321

14.

Baatenburg de Jong RJ (2005) A new surgical technique for treatment of preauricular sinus. Surgery 137:567–570

15.

Wright T, Valentine P (2008) The anatomy and embryology of the external and middle ear. In: Gleeson M, George GB, Burton MJ, Clarke R, Hibbert J, Jones NS et al (eds) Scott-Brown′s otorhinolaryngology, head and neck surgery, vol 3, 7th edn. Hodder Arnold, London, pp 3105–3106

16.

Lampert FM, Koulaxouzidis G, Stark GB (2013) The preauricular sinus: a novel approach for complete bilateral excision via a modified face-lift incision. Mod Plast Surg 3:76–79

17.

Sanji RR, Channegowda C, Patil SB, Anand B (2015) Pre- and post-auricular sinus. Indian J Otol 21:225–228
Ethics declarations
Conflict of interest
The authors declare that they have no conflict of interest
Ethical approval
All procedures performed in studies involving human participants were in accordance with the ethical standards of the institutional and/or national research committee and with the 1964 Helsinki declaration and its later amendments or comparable ethical standards.
Informed consent
Informed consent was obtained from all individual participants included in the study.
Additional information
Publisher's Note
Springer Nature remains neutral with regard to jurisdictional claims in published maps and institutional affiliations.
About this article
Cite this article
Das, C., Khaowas, A. Pre-auricular Sinus with Post-auricular Extension: An Uncommon Variant. Indian J Otolaryngol Head Neck Surg 71, 1511–1514 (2019). https://doi.org/10.1007/s12070-019-01605-1
Received:

Accepted:

Published:

Issue Date:
Keywords
Pre-auricular sinus

Variant type

Recurrence

Bi-directional approach