Abstract
Cochlear implants surgery is now routinely done at this center. Complications which have been experienced in cochlear implant surgery at our center are discussed, as a detailed knowledge about the complications and their early anticipation can save an expensive device and most importantly patients morbidity. To discuss the complications of the paediatric cochlear implantation in the population of Uttarakhand. The total of 60 patients were included in this study (age group 1–5 years) who had undergone the cochlear implantation surgery between Sept. 2015 and Sept. 2016. These patients were regularly monitored and followed up for 1 year. All the surgeries were performed by same team of surgeons. Rate of minor complications is 8.33% (reversible facial nerve paresis, injury to chorda tympani nerve, local skin reaction, perilymph gussher) and major complications is 5% (implant rejection and flap necrosis). The various complications should be closely monitored by the surgeon so that these can be avoided.
This is a preview of subscription content, log in to check access.
Access options
Buy single article
Instant access to the full article PDF.
US$ 39.95
Price includes VAT for USA
Subscribe to journal
Immediate online access to all issues from 2019. Subscription will auto renew annually.
US$ 99
This is the net price. Taxes to be calculated in checkout.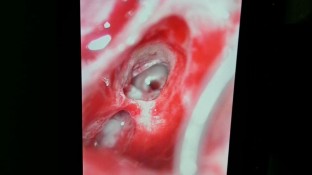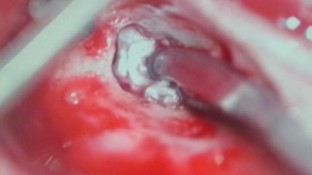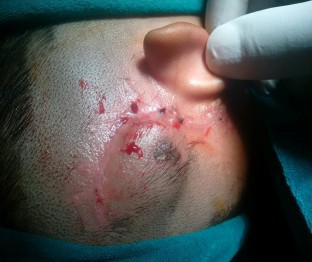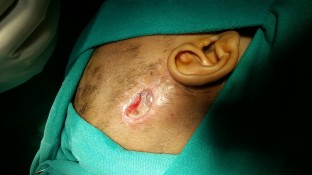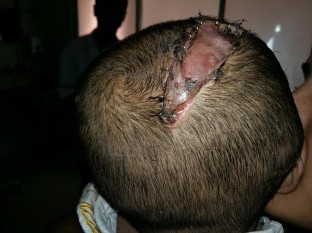 References
1.

Luxford W, Brackmann D (1985) The history of cochlear implants. In: Gray R (ed) Cochlear implants, vol 10. College Hill Press, San Diego, pp 1100–1106

2.

NUCLEUS®, Sistema de Implante Coclear; Manual do Cirurgião 2000

3.

Valencia DM, Rimell FL, Friedman BJ, Oblander MR, Helmbrecht J (2008) Cochlear implantation in infants less than 12 months of age. Int J Pediatr Otorhinolaryngol 72:767–773

4.

Cohen NL, Hoffman RA (1993) Surgical complications of multichannel cochlear implants in North America. Adv Otorhinolaryngol 48:70–74

5.

Webb RL, Lehnhardt E, Clark GM, Laszig R, Pyman BC, Franz BK (1991) Surgical complications with the cochlear multichannel intra cochlear implant: experience at Hannover and Melbourne. Ann Otol Rhinol Laryngol 100:131–136

6.

Cheng AK, Rubin HR, Powe NR, Mellon NK, Francis HW, Niparko JK (2000) Costutility analysis of the cochlear implant in children. JAMA 284:850–856

7.

Orhan KS, Guldiken Y, Basaran B, Ulusan M, Polat B, Celik M, Deger K (2012) Complications and their management following pediatric cochlear implantations. J Int Adv Otol 8(2):244–252

8.

Gurbuz MK, Incesulu A, Adapinar B, Erdinc M, Kecik C (2011) Recurrent meningitis due to non-implanted ear in cochlear implant patient with bilateral inner ear abnormality: a case report. Int Adv Otol 7:257–262

9.

Loundon N, Blanchard M, Roger G, Denoyelle F, Garabedian EN (2010) Medical and surgical complication in pediatric cochlear implantation. Arch Otolaryngol Head Neck Surg 136:12–15

10.

Tange RA, Grolman W, Maat A (2006) Intracochlear misdirected implantation of a cochlear implant. Acta Otolaryngol 126:650–652

11.

Arnoldner C, Helbig S, Wagenblast J, Gstoettner W (2009) Cochlear implant reference electrode migration to dura mater. Otol Neurotol 30:1013–1014

12.

Fayad JN, Wanna GB, Micheletto JN, Parisier SC (2003) Facial nerve paralysis following cochlear implant surgery. Laryngoscope 113:1344–1346

13.

Trinidade A, Rowlands G, Obholzer R, Lavy J (2008) Late skin flap failure following cochlear implantation. Cochlear Implants Int 9:167–175

14.

Bassim MK, Zdanski CJ (2007) Electrode extrusion through the tympanic membrane in a pediatric patient. Otolaryngol Head Neck Surg 137:680–681

15.

Kim CS, Oh SH, Chang SO, Kim HM, Hur DG (2008) Management of complications in cochlear implantation. Acta Otolaryngol 128:408–414

16.

Bhatia K, Gibbin KP, Nikolopoulos TP, O'Donoghue GM (2004) Surgical complications and their management in a series of 300 consecutive pediatric cochlear implantations. Otol Neurotol 25:730–739

17.

Hashemi B, Bayat A, Kazemei T (2010) Surgical complications of cochlear implantation. Iran J Med Sci 35:53–56

18.

Shiras S, Vaid N, Vaid S, Kothadiya A (2018) Surgical complications and their management in cochlear implantees less than 5 years of age: the KEMH Pune experience. Interdiscip J 19(2):67–71

19.

Raghunandhan S, Kameswaran M, Kumar RS, Agarwal AK, Hossain MD (2014) A study of complications and morbidity profile in cochlear implantation: the MERF experience. Indian J Otolaryngol Head Neck Surg 66(Suppl 1):S161–S168
Funding
There are no financial interests the authors may have in companies or other entities that have an interest in the information in the Contribution (e.g., grants, advisory boards, employment, consultancies, contracts, honoraria, royalties, expert testimony, partnerships, or stock ownership in medically related fields). The authors have no financial interest.
Ethics declarations
Conflict of interest
The authors declare that they have no conflict of interests.
Additional information
Publisher's Note
Springer Nature remains neutral with regard to jurisdictional claims in published maps and institutional affiliations.
About this article
Cite this article
Singh, V.P., Bansal, C. & Kanwar, T. Complications of Paediatric Cochlear Implantation in the Population of Uttarakhand. Indian J Otolaryngol Head Neck Surg 71, 1538–1542 (2019). https://doi.org/10.1007/s12070-019-01595-0
Received:

Accepted:

Published:

Issue Date:
Keywords
Cochlear implant

Complications

Posterior tympanotomy