Abstract
Functional endoscopic sinus surgery is the mainstay of surgical management of nasal polyposis since 1975. The decision between the partial resection and preservation of the middle turbinate (MT) has stirred up considerable debate. Partial MTR permits easy access to the affected paranasal sinuses intraoperatively and postoperatively. However, there may be alteration of nasal function, frontal sinusitis and anosmia. Preservation of middle turbinate is precludes these complications, and allows the MT to serve as a vital anatomical landmark for revision surgery. Therefore, our study compared the outcomes of the two approaches to aid surgeons in deciding the best possible approach. Randomized control trial. 31 patients (60 sides of nasal cavity) with nasal polyposis were divided into two groups. Group I consisted of 30 sides of nasal cavity with middle turbinate resection, while group II consisted of 30 sides of nasal cavity without middle turbinate resection. Both the groups were compared postoperatively for 6 months. In group I and group II, 5 sides (16.6%) and 11 sides (36.6%) showed polypoidal changes respectively. 3 sides (10%) in group I and 8 sides (26.6%) in group II showed blockage of maxillary sinus ostia. All the sides in group I had patency of frontal sinus. In group II, 5 sides (16.6%) showed blockage of frontal sinus ostia. The maxillary antrostomy patency in group I and group II were 90% (27) and 73.33% (22) respectively. Assessment of symptomatic improvements for nasal obstruction, hyposmia, headache and rhinorrhoea was done using questionnaires. Symptomatic improvement was higher in group I compared to group II with statistical significance (p = 0.001). Our study demonstrated that partial resection of middle turbinate decreased the chances of recurrence of disease and post-operative complications and resulted in significantly better symptomatic improvements.
This is a preview of subscription content, log in to check access.
Access options
Buy single article
Instant access to the full article PDF.
US$ 39.95
Price includes VAT for USA
Subscribe to journal
Immediate online access to all issues from 2019. Subscription will auto renew annually.
US$ 99
This is the net price. Taxes to be calculated in checkout.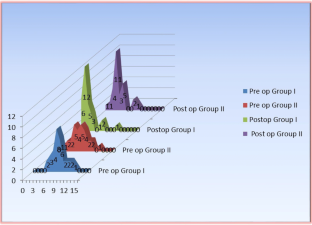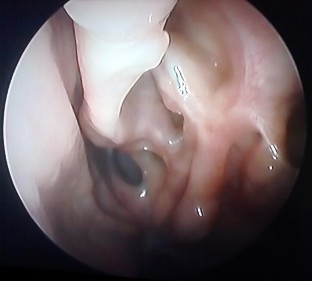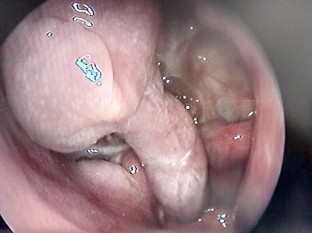 References
1.

Gleeson M (2008) Scott-Brown's otorhinolaryngology, head and neck surgery, vol 2, 7th edn. Hodder Arnold, London, p 1550

2.

Scangas GA, Remenschneider AK et al (2017) Does the timing of middle turbinate resection influence quality-of-life outcomes for patients with chronic rhinosinusitis. Otolaryngol Head Neck Surg 157(5):874–879

3.

Halderman AA, Stokken J et al (2016) The effect of middle turbinate resection on topical drug distribution into paranasal sinuses. Int Forum Allergy Rhinol 6(10):1056–1061

4.

Daniele M, Matteo AC, Francesco M, Alessio M, Gordana J, Federica M et al (2008) Middle turbinate resection versus preservation in endoscopic surgical treatment of nasal polyposis. Acta Oto Laryngol 128:1019–1026

5.

Havas TE, Lowinger DS (2000) Comparison of functional endonasal sinus surgery with and without partial middle turbinate resection. Ann Otol Rhinol Laryngol 109:634–637

6.

Solar ZM, Hwang PH, Mace J, Smith TL (2010) Outcomes after middle turbinate resection: revisiting a controversial topic. Laryngoscope 120:832–836

7.

Damm M, Quante G, Jungehuelsing M, Stennert E (2002) Impact of functional endoscopic sinus surgery on symptoms and quality of life in chronic rhinosinusitis. Laryngoscope 112:310–315

8.

Meltzer EO, Hamilos DL, Hadley JA et al (2006) Rhinosinusitis: developing guidance for clinical trials. Otolaryngol Head Neck Surg 135(5 Suppl):S31–S80

9.

Kuhn FA, Javer AR (1998) Allergic fungal rhinosinusitis-our experience. Arch Otolaryngol Head Neck Surg 124:755–757

10.

Wu AW, Ting JY, Platt MP et al (2014) Factors affecting time to revision sinus surgery for nasal polyps: a 25 year experience. Laryngoscope 124:29–33

11.

Wynn R, Har-El G (2004) Recurrence rates after endoscopic sinus surgery for massive sinus polyposis. Laryngoscope 114:811–813

12.

Pochon N, Lacroix JS (1994) Incidence and surgery of concha bullosa in chronic rhinosinusitis. Rhinology 32:11–14

13.

Lacroix JS, Kurt AM, Pochon N et al (1995) Neutral endopeptidase activity and concentration of sensory neuropeptide in the human nasal mucosa. Eur Arch Otorhinolaryngol 252:465–468

14.

Fortune DS, Duncavage JA (1998) Incidence of frontal sinusitis following partial middle turbinectomy. Ann Otol Rhinol Laryngol 107:447–453

15.

Davis WE, Templer JW, LaMear WR, Davis WE Jr, Craig SB (1991) Middle meatus antrostomy: patency rates and risk factors. Otolaryngol Head Neck Surg 104:467–472

16.

Biedlingmaier JF, Whelan P, Zoarski G, Michael R (1996) Histopathology and CT analysis of partially resected middle turbinate. Laryngoscope 106:102–104

17.

Cook PR, Ali B, Cullen B, Davis E (1995) Effect of partial middle turbinectomy on nasal airflow and resistance. Otolaryngol Head Neck Surg 113:413–419

18.

Leopold DA (1988) The relationship between nasal anatomy and human olfaction. Laryngoscope 98:1232–1238

19.

Choby GW, Hobson CE, Lee S et al (2014) Clinical effects of middle turbinate resection after endoscopic sinus surgery: a systematic review. Am J Rhinol Allergy 28:502–507
Ethics declarations
Conflict of interest
The authors declare that they have no conflict of interest.
Ethical Approval
All procedures involving human participants were in accordance with the ethical standards of the institution.
Informed Consent
Informed consent was obtained from all individual participants included in the study.
About this article
Cite this article
Roy, M., Lade, H. Functional Endoscopic Sinus Surgery of Nasal Polyposis: The Vexing Question of Whether to Resect or Preserve Middle Turbinate. Indian J Otolaryngol Head Neck Surg 71, 2025–2030 (2019). https://doi.org/10.1007/s12070-018-1450-0
Received:

Accepted:

Published:

Issue Date:
Keywords
Nasal polyposis

Middle turbinate

Functional endoscopic sinus surgery