Abstract
To compare the functional results between posterior cordotomy, cordoplasty and external procedure in managing bilateral vocal cord paralysis in one of the largest published study group. Retrospective and comparative study. 54 patients with bilateral vocal cord paralysis who underwent posterior cordotomy (Group-I), cordoplasty (Group-II) and external procedure (Group-III) from 2001 to 2013 were compared for functional outcomes. Successful decannulation was achieved more in Group-I and II than in Group-III. Voice outcome was better in Group-II patients compared to other groups. Outcomes of cordoplasty was better than posterior cordotomy and external procedures, with acceptable airway and good quality of voice. Posterior cordotomy is preferred in patients without tracheostomy and in pediatric patients. In patients with tracheostomy or who accept temporary tracheostomy, a cordoplasty is preferred for favorable voice. External procedure is preferred for patients not fit for general anesthesia.
Access options
Buy single article
Instant access to the full article PDF.
US$ 39.95
Tax calculation will be finalised during checkout.
Subscribe to journal
Immediate online access to all issues from 2019. Subscription will auto renew annually.
US$ 79
Tax calculation will be finalised during checkout.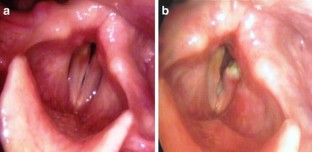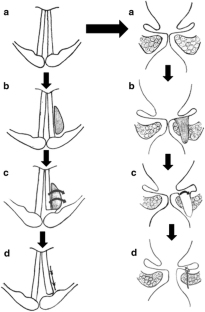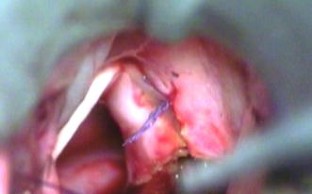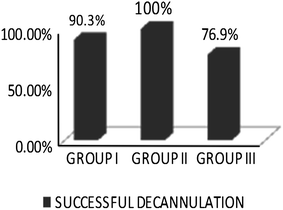 References
1.

Joshua B, Feinmesser R, Zohar L, Shvero J (2004) Endoscopic laser assisted posterior ventriculocordectomy without tracheostomy for bilateral vocal cord immobility. Isr Med Assoc J 6(6):336–338

2.

Benninger MS, Gillen JB, Altman JS (1998) Changing aetiology of vocal fold immobility. Laryngoscope 108(9):1346–1350

3.

Shvero J, Koren R, Stern Y, Segal K, Feinmesser R, Hadar T (2003) Laser posterior ventriculocordectomy with partial arytenoidectomy for the treatment of bilateral vocal fold immobility. J Laryngol Otol 117(7):540–543

4.

Laccourreye O, Paz Escovar MI, Gerhardt J, Hans S, Bicabe B, Brasnu D (1999) CO2 laser endoscopic posterior partial transverse cordotomy for bilateral paralysis of the vocal fold. Laryngoscope 109(3):415–418

5.

Ahmed B, Hydri AS, Malik KZ (2003) Laser arytenoidectomy and vocal cord lateralization for bilateral abductor vocal cord paralysis. Pak J Otolaryngol 19:19–21

6.

Gupta AK, Mann SB, Nagarkar N (1997) Surgical management of bilateral immobile vocal folds and long term followup. J Laryngol Otol 111(5):474–477

7.

Tucker HM (1976) Human laryngeal reinnervation. Laryngoscope 86:769–779

8.

Riffat F, Palme CE, Veivers D (2012) Endoscopic treatment of glottis stenosis: a report on the safety and efficacy of CO2 laser. J Laryngol Otol 126(5):503–505

9.

Pinto JA, Godoy LB, Marquis VW, Sonego TB, Leal Cde F (2011) Bilateral vocal fold immobility: diagnosis and treatment. Braz J Otorhinolaryngol 77(5):594–599

10.

Bajaj Y, Sethi N, Shayah A, Harris AT, Henshaw P, Coatesworth AP, Nicolaides AR (2009) Vocal fold paralysis: role of bilateral transverse cordotomy. J Laryngol Otol 123(12):1348–1351

11.

Dennis DP, Kashima H (1989) Carbon dioxide laser posterior cordectomy for treatment of bilateral vocal cord paralysis. Ann Otol Rhinol Laryngol 98(12 Pt 1):930–934

12.

Eckel HE, Thumfart M, Wassermann K, Vossing M, Thumfart WF (1994) Cordectomy versus arytenoidectomy in the management of bilateral vocal cord paralysis. Ann Otol Rhinol Laryngol 103(11):852–857

13.

Remacle M, Lawson G, Mayne A, Jamart J (1996) Subtotal carbon dioxide laser arytenoidectomy by endoscopic approach for treatment of bilateral cord immobility in adduction. Ann Otol Rhinol Laryngol 105(6):438–445

14.

Ossoff RH, Sisson GA, Duncavage JA, Moselle HI, Andrews PE, McMillan WG (1984) Endoscopic laser arytenoidectomy for the treatment of bilateral vocal cord paralysis. Laryngoscope 94(10):1293–1297

15.

Benninger MS, Bhattacharyya N, Fried MP (1998) Surgical management of bilateral vocal fold paralysis. Oper Tech Otolaryngol 9(4):224–229

16.

Bestall JC, Paul EA, Garrod R et al (1999) Usefulness of the Medical Research Council (MRC) dyspnoea scale as a measure of disability in patients with chronic obstructive pulmonary disease. Thorax 54(7):581–586

17.

Stenton C (2008) The MRC breathlessness scale. Occup Med 58(3):226–227

18.

Maurizi M, Paludetti G, Galli J, Cosenza A, Di Girolamo S, Ottaviani F (1999) CO2 laser subtotal arytenoidectomy and posterior true and false cordotomy in the treatment of post-thyroidectomy bilateral laryngeal fixation in adduction. Eur Arch Otorhinolaryngol 256(6):291–295

19.

Oswal VH, Gandhi SS (2009) Endoscopic laser management of bilateral abductor palsy. Indian J Otolaryngol Head Neck Surg 61(Suppl 1):47–51

20.

Werner JA, Lippert BM (2002) Lateral fixation of the vocal cord instead of tracheotomy in acute bilateral vocal cord paralysis. Dtsch Med Wochenschr 127(17):917–922

21.

Pérouse R, Coulombeau B, Arias C, Casanova C (2006) Lateral fixation of the vocal fold (Lichtenberger's technique): interest in the bilateral laryngeal immobilities. Rev Laryngol Otol Rhinol 127(5):353–355

22.

Aderriotis D, Sàndor GK (1999) Outcomes of irradiated polyglactin 910 Vicryl Rapide fast-absorbing suture in oral and scalp wounds. J Can Dent Assoc 65(6):345–347

23.

Kashima HK (1991) Bilateral vocal fold motion impairment: patho-physiology and management by transverse cordotomy. Ann Otol Rhinol Laryngol 100(9 Pt 1):717–721

24.

Mohamad I, Jihan WS, Mohamad H, Abdullah B (2008) Laser posterior cordotomy for bilateral abductor vocal cord palsy: a case report. Malays J Med Sci 15(1):42–43

25.

Harnisch W, Brosch S, Schmidt M, Hagen R (2008) Breathing and voice quality after surgical treatment for bilateral vocal cord paralysis. Arch Otolaryngol Head Neck Surg 134(3):278–284
Acknowledgments
All financial and material support by MCV Memorial ENT Trust Hospital.
Conflict of interest
None.
Electronic supplementary material
Below is the link to the electronic supplementary material.
Supplementary material 1 (MPG 34780 kb)
About this article
Cite this article
Anand, V., Kumaran, B.R. & Chenniappan, S. Cordoplasty: A New Technique for Managing Bilateral Vocal Cord Paralysis and Its Comparison with Posterior Cordotomy and External Procedure in a Large Study Group. Indian J Otolaryngol Head Neck Surg 67, 40–46 (2015). https://doi.org/10.1007/s12070-014-0740-4
Received:

Accepted:

Published:

Issue Date:
Keywords
Bilateral vocal cord paralysis

Laser surgery

Cordotomy

Voice quality