Abstract
Most literature on make-to-order shops assumes that service rates are independent of the system state. In practice however, the service rate is often dependent on the workload level experienced by the worker. While a body of knowledge on state-dependent service rates exists, the available literature has not given sufficient attention to make-to-order shops, which are often characterized by complex routings and defined due dates, which means delivery performance becomes a major concern. This study uses simulation to assess the performance impact of state-dependent service rates under different degrees of routing directedness. We show that including information on the load upstream of a station when making service rate adjustments has the potential to improve performance compared to considering the load directly queuing at a station only, as has been the case in previous research on state-dependent service rates. Moreover, using the same threshold to trigger service rate adjustments at each station in shops with directed routings leads to higher service rates at upstream stations. This service rate imbalance can be avoided by using different triggering thresholds for upstream and downstream stations. Further, and most importantly, we show that although speeding up behavior during high load periods significantly improves performance, if worker fatigue leads to a decrease in the service rate in response to the initial increase then performance may in fact deteriorate.
This is a preview of subscription content, log in to check access.
Access options
Buy single article
Instant access to the full article PDF.
US$ 39.95
Price includes VAT for USA
Subscribe to journal
Immediate online access to all issues from 2019. Subscription will auto renew annually.
US$ 99
This is the net price. Taxes to be calculated in checkout.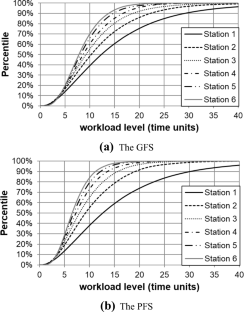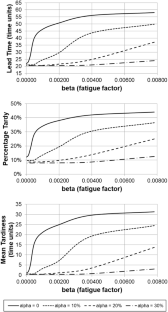 References
Altendorfer K, Hübl A, Jodlbauer H (2014) Periodical capacity setting methods for make-to-order multi-machine production systems. Int J Prod Res 52(16):4768–4784

Assen V (2018) The moderating effect of management behavior for lean and process improvement. Operation Management Review 11:1–13

Baker KR, Kanet JJ (1983) Job shop scheduling with modified operation due-dates. J Oper Manag 4(1):11–22

Batt RJ, Terwiesch C (2017) Early task initiation and other load-adaptive mechanisms in the emergency department. Manag Sci 63(11):3531–3551

Bendoly E, Croson R, Goncalves P, Schultz K (2010) Bodies of knowledge for research in behavioral operations. Production & Operations Management 19(4):434–452

Bertrand JWM, van Ooijen HPG (2002) Workload control order release and productivity: a missing link. Prod Plan Control 13(7):665–678

Childerhouse P, Aitken J, Towill DR (2002) Analysis and design of focused demand chains. J Oper Manag 20(6):675–689

Delasay M, Ingolfsson A, Kolfal B (2016) Modeling load and overwork effects in Queueing systems with adaptive service rates. Oper Res 64(4):867–885

Dode P, Greig M, Zolfaghari S, Neumann WP (2016) Integrating human factors into discrete event simulation: a proactive approach to simultaneously design for system performance and employees' well being. Int J Prod Res 54(10):3105–3117

Folgado R, Pecas P, Henriques E (2015) Mapping workers' performance to analyse workers heterogeneity under different workflow policies. J Manuf Syst 36:27–34

Galbreth MR, Philipoom PR, Malhorta MK (2012) Planning with uncertain materials availability: the value of workday flexibility. Oper Manag Res 5:91–100

Galeazzo A, Furlan A, Vinelli A (2017) The organizational infrastructure of continuous improvement – an empirical analysis. Oper Manag Res 10:33–46

Gstettner S, Kuhn H (1996) Analysis of production control systems kanban and CONWIP. Int J Prod Res 34(11):3253–3273

Hopp WJ, Iravani S, Yuen GY (2007) Operations systems with discretionary task completion. Manag Sci 53(1):61–77

Hudson S, McNamara T, Shaaban S (2015) Unbalanced lines: where are we now? Int J Prod Res 53(6):1895–1911

Jaber MY, Neumann WP (2010) Modelling worker fatigue and recovery in dual-resource constrained systems. Comput Ind Eng 59:75–84

Kenne JP, Gharbi A (2001) A simulation optimization approach in production planning of failure prone manufacturing systems. J Intell Manuf 12:421–431

Kim HJ (2017) Information technology and firm performance: the role of supply chain integration. Oper Manag Res 10:1–9

Land MJ, Stevenson M, Thürer M, Gaalman GJC (2015) Job shop control: in search of the key to delivery improvements. Int J Prod Econ 168:257–266

Mason S, Baines T, Kay JM, Ladbrook J (2005) Improving the design process for factories: modeling human performance variation. J Manuf Syst 24(1):47–54

Mincsovics GZ, Dellaert NP (2009) Workload-dependent capacity control in production-to-order systems. IIE Trans 41(10):853–865

Neumann WP, Medbo P (2009) Integrating human factors into discrete event simulations of parallel flow strategies. Prod Plan Control 20(1):3–16

Öner-Közen M, Minner S, Steinthaler F (2017) Efficiency of paced and unpaced assembly lines under consideration of worker variability – a simulation study. Comput Ind Eng 111(2017):516–526

Oosterman B, Land MJ, Gaalman GJC (2000) The influence of shop characteristics on workload control. Int J Prod Econ 68(1):107–119

Powell SG, Schultz KL (2004) Throughput in serial lines with state-dependent behavior. Manag Sci 50(8):1095–1105

Roser C (2016) Faster, better, cheaper in the history of manufacturing: from the stone age to lean manufacturing and beyond. Productivity Press

Samson D, Kalchschmidt M (2019) Looking forward in operations management research. Operation Management Research 12:1–3

Schultz KL, Juran DC, Boudreau JW, McClain JO, Thomas LJ (1998) Modeling and worker motivation in JIT production systems. Manag Sci 44(12):1595–1607

Schultz KL, Juran DC, Boudreau JW (1999) The effects of low inventory on the development of productivity norms. Manag Sci 45(12):1664–1678

Shunko M, Niederhoff J, Rosokha Y (2018) Humans are not machines: the behavioral impact of Queueing design on service time. Manag Sci 64(1):453–473

Sugimori, Y., Kusunoki, K., Cho., F., and Uchikawa, S., 1977, Toyota production system and Kanban system materialization of just-in-time and respect-for-human system, Int J Prod Res, 15, 6, 553–564

Thürer M, Stevenson M, Protzman CW (2015) COBACABANA (control of balance by card based navigation): an alternative to Kanban in the pure flow shop? Int J Prod Econ 166:143–151

Thürer M, Stevenson M, Land MJ (2016) On the integration of input and output control: workload control order release. Int J Prod Econ 174:43–53

Van Ooijen HPG, Bertrand JWM (2003) The effects of a simple arrival rate control policy on throughput and work-in-process in production systems with workload dependent processing rates. Int J Prod Econ 85:61–68

Weber M (2014) Wirtschaft und Gesellschaft: Soziologie, Studienausgabe der MaxWeber Gesamtausgabe Band I/23. Mohr Siebeck, Tubingen
Acknowledgements
This work was supported by National Natural Science Foundation of China [grant number 71872072]; Guangdong Province Universities and Colleges Pearl River Scholar Funded Scheme 2017.
Additional information
Publisher's note
Springer Nature remains neutral with regard to jurisdictional claims in published maps and institutional affiliations.
About this article
Cite this article
Thürer, M., Stevenson, M., Aitken, J. et al. State-dependent service rates in make-to-order shops: an assessment by simulation. Oper Manag Res 13, 70–84 (2020). https://doi.org/10.1007/s12063-020-00149-w
Received:

Revised:

Accepted:

Published:

Issue Date:
Keywords
Behavioral operations management

Capacity planning

Make-to-order production

Workload control

State-dependent service rates